Small Place with Big Island Taste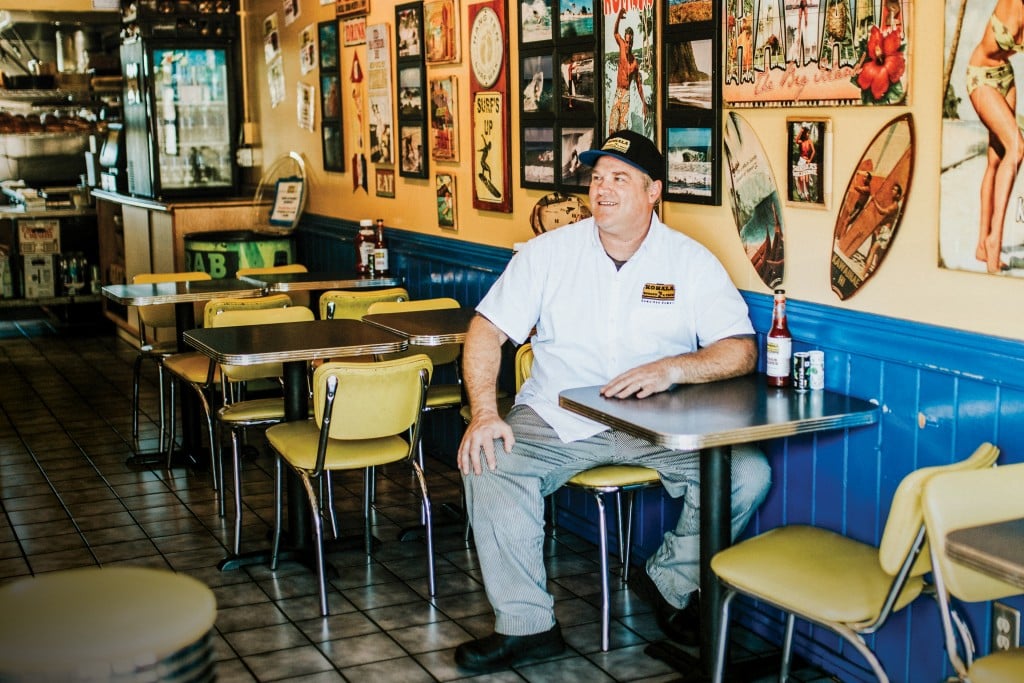 When chef Cary Peterson opened his Kohala Burger & Taco eatery on Hawaii Island in 2010, all the money he had – $80 – was in the register to make change for customers.
"I had exhausted every resource available to me, even going as far as borrowing from my mom in order to get the utilities turned on," Peterson recalls, wincing. "Everything was gone – retirement accounts, stock accounts, credit cards, you name it.
"It was Creative Financing 101 in the worst part of the recession that Hawaii had seen in awhile. It was going to be a make-it-or-break-it deal for me.
"But I've just been blessed that people like what I'm doing. I really didn't know if people were going to like hamburgers and fish tacos."
Even the name of the narrow, 600-square-foot, Hawaiiana-decorated restaurant emerged out of economic necessity. "The owner before me had named his place 'Kohala Pacific Diner.' So to save money, I simply painted over the last part of his sign with 'Burger & Taco,' and kept the first part with his logo!"
Peterson says he was still broke at the end of his first two-year lease with the Kawaihae Shopping Center, but "I was enjoying what I was doing, and it was apparent to me that we were catching on – we were getting great online reviews and I had won an award – so I asked for another two-year lease. At the end of those two years, I was convinced we were going to make it." He now has a 15-year lease, and the restaurant is in the black.
Peterson, 50, has been working in the restaurant business since he was 12. "My family owned a chain of Mexican restaurants when I was growing up, and I started working in the kitchens of those restaurants after school."
The Waimea resident is originally from Lake Tahoe, California, but his family moved to the Big Island in the '80s, and Peterson did two brief stints as prep cook at one of their restaurants in Kailua-Kona, then as chef at another in Kawaihae in the '90s.
"That last place was where I first found my passion for food," Peterson remembers. "Up until that time I had always approached it as production work, but once I started to get comments from customers about how much they liked what I was cooking, I really started to enjoy feeding people."
However, Peterson ended up taking a corporate restaurant operations management position in the San Francisco Bay area for nearly a decade. That's when he heard his childhood hangout, the Char-Pit restaurant in Lake Tahoe, was up for sale. The legendary eatery was styled after classic '50s and '60s drive-ins, with "secret" recipes for burgers and shakes.
Peterson snapped up the Char-Pit in 2001 and modernized operations but kept its classic style and menu, then sold it in 2009 to return to Hawaii Island to "get out of the snow." He opened Kohala Burger & Taco in 2010.
Much of the menu for Kohala Burger & Taco comes from the Char-Pit, according to Peterson. "The recipes for the burgers and dressings have been adapted from the Char-Pit. Some of the names have been changed to protect the innocent,'" he quips, "and we've added some local ingredients to make them more Hawaiian, and I've upgraded the quality of other ingredients. Then I drew on my years of Mexican restaurant experience for the taco part."
Peterson thinks it's cool that it all came together in Kawaihae for him. "First, I used to be a chef here. Then, Kawaihae historically is the nexus of the Hawaii cattle industry."
He says Kohala B&T uses only grass-fed, hormone-free beef from the Big Island; local line-caught fish; and tortillas, bread and dairy produced on-island. There are only 16 seats in the eatery, so many orders are to-go.
"It's quite an experience for people to come in and see how quickly we move the line – and the narrow space is totally transformed – we've got the TV on, and lights and signs, and all sorts of photos on the wall," Peterson says. "Some of them are family pictures or pictures from local photographers. Ultimately, I wanted to create a sense of familiarity for customers – 'Wow, this is just like a place I remember back home,' or 'This is like a place I remember as a kid.' "

About a third of Kohala B&T's customers are local residents and the rest visitors, Peterson estimates. "Most of them find us through word-of-mouth, since we do very little advertising." However, the business is active on Facebook and Instagram.
Peterson is proud to provide jobs for nine to 12 local kids, depending on the season, an alternative to working at the resorts. Business hours are also seasonal – the restaurant is always open for lunch, but dinner hours are mainly during the summer.
Kevin Rockwood, 52, a photographer and model from Waikoloa Village, says he's been going to Kohala B&T "since Day One. I always come back because I know I'm going to get an excellent meal, with all local ingredients. No short cuts and no fillers.
"The Dos 2-Soft Pork Tacos are killer, and so are the Island-Style Fresh Fish Tacos, but my go-to is the Jalapeno Burger. Just the right amount of spice."
Peterson this summer realized a four-year dream with completion of permitting for a food truck, which he plans to use for catering and special events.
His ultimate goal? To build a franchise or brand that son Connor, now 19, can eventually take over if he wishes.
---
Kohala Burger & Taco, LLC
61-3665 Akoni Pule Highway
(808) 880-1923
kohalaburgerandtaco.com