Transmitting Aloha Over the Phone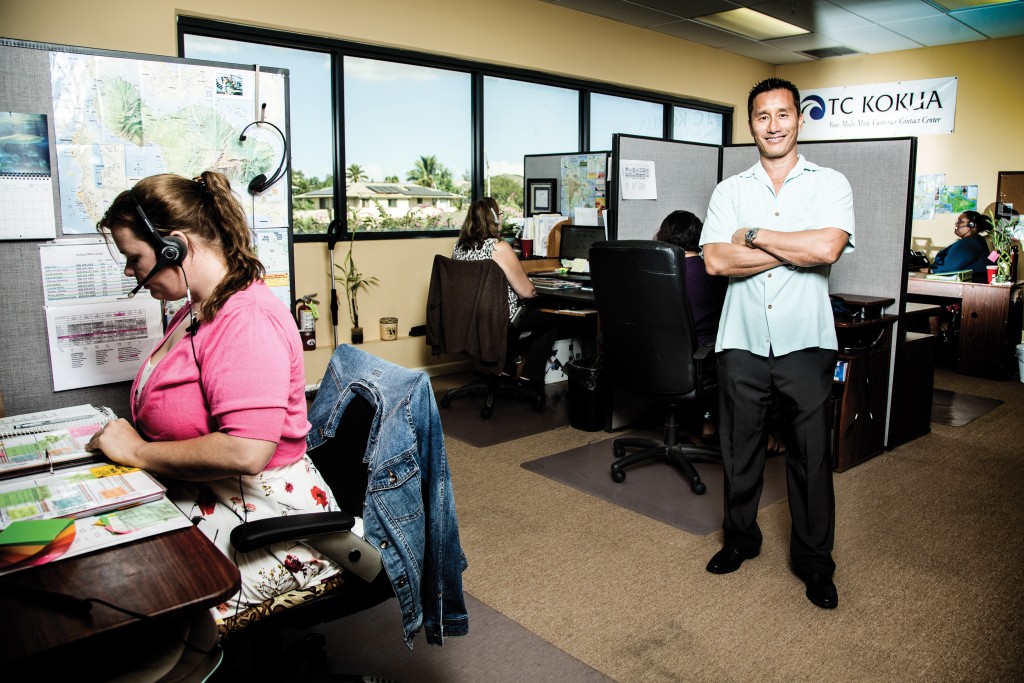 When Max Tsai and Matt Cooley were college roommates at Cal Poly-San Luis Obispo in the '90s, both were "unimpressed" with the customer call center service they received from companies.
"Whether you have to call your utility company or cell phone company, you have to go through a call center," explains Tsai, 49, president and owner of TC Kokua LLC, a call center on Maui. "We wanted to see how we could improve on that experience."
After graduating with a bachelor's in mechanical engineering, and a fast-paced management career traveling around the world for the semiconductor industry, Tsai exited the "rat race" and settled in Kihei in 2000.
A year later, TC Kokua (using Tsai's and Cooley's initials) began with just five telephone stations and two employees at the Maui Research and Technology Park, as an incubator project.
"Matt was the finance geek and I was the engineer," the Wailea resident recalls. Cooley was a "silent" partner; Tsai bought him out in 2003. "We both used our personal funds as well as bank loans to get the company started. But it was the worst time to start a business because 9/11 happened right afterward. For about four years, we had to borrow to keep the company going, while making no money."
After a move to the Kihei Professional Plaza in 2006, and to its current location at the Kihei Commercial Plaza in 2011, TC Kokua is now in the black and Tsai says he can finally pay himself. Its staff now stands at 12.
In 2006, TC Kokua was selected as a finalist in the Best Contact Center and Best Customer Service categories for the
ContactCenterWorld Awards for the Americas Region, the industry's most prestigious independent awards program.
"We're the first call center on Maui," Tsai notes, "we're the first outsourced multimode (meaning phone, email, instant messaging and live chat) contact center in Hawaii, and we're the only outsourced contact center in Hawaii capable of providing tech support."
Why Maui? "There are several advantages Hawaii has to offer," says Tsai, who considered other states. "There's an availability of English-speaking labor. We've got the best customer service with aloha, which is what Hawaii is all about. The aloha spirit here is real – it's already built into the culture. Being on a smaller island, it's more small-business friendly. You feel you can make a real difference. I was welcomed by the mayor when I came, and other organizations helped us start up."
About 90 percent of TC Kokua's business is "inbound" – meaning, people call the center. About 10 percent is "outbound," which means the center performs follow-up calls. The latter could also include telemarketing or telesales, which Tsai says he declines to participate in due to liability as a result of the 2003 Do Not Call registry. "However, the two exemptions from the Do Not Call law are political and religious, so we have done surveys for those purposes."
According to Tsai, his business went through various iterations of phone connectivity, from a hosted service on the Mainland (i.e., VoIP), to setting up his own in-house server and equipment to become his "own phone company," to obtaining connectivity from another communications company.
"Now, I've got service from a local company on the Big Island, Red Road Telecom, which is a hybrid of everything. All the data is carried through the Internet; the phones are also tied to the Internet, but it's more reliable because technology has progressed. This is essentially the latest industry trend of 'cloud computing' or a 'cloud phone system.'"
TC Kokua's clients have ranged from Mokulele Airlines to Mobi PCS to the state's Med-Quest program. "We have a niche market of smaller, boutique clients, who get personalized service," says Tsai. "That's what makes us unique."
Tricia Clement is owner of Maui Snorkel Charters in Kihei, and has been a customer of TC Kokua since 2013. "We've stayed with TC Kokua because of their excellent customer service," she says. "They handle all of our reservations. I like how timely they are when it comes to things like special reservations and cancellations.
"They're able to deliver a sort of 'Island spirit' in their customer service, and are mindful of local happenings, including weather issues."
MAX'S MATCHES
Max Tsai explains some of the specifics TC Kokua delivers:
RESERVATIONS: Local agents have quick access to information on a real-time or last-minute basis, which makes a client's business or event more successful.
PRODUCT ORDERS AND SALES: TC Kokua's skilled agents integrate the web and product knowledge to offer a more personalized experience for the buyer, resulting in increased sales and repeat business.
TECHNICAL SUPPORT: "We can put together a team specifically for a project," Tsai says. "We'll identify a 'lead' person as a contact, then draw up an implementation plan for training – which is usually a combination of in-house and on-site training. A typical contract is for a year."
---
TC Kokua LLC
Kihei Commercial Plaza
310 Ohukai Rd., #311
(808) 856-7674
tckokua.com