Making Macs Easy for All Hawaii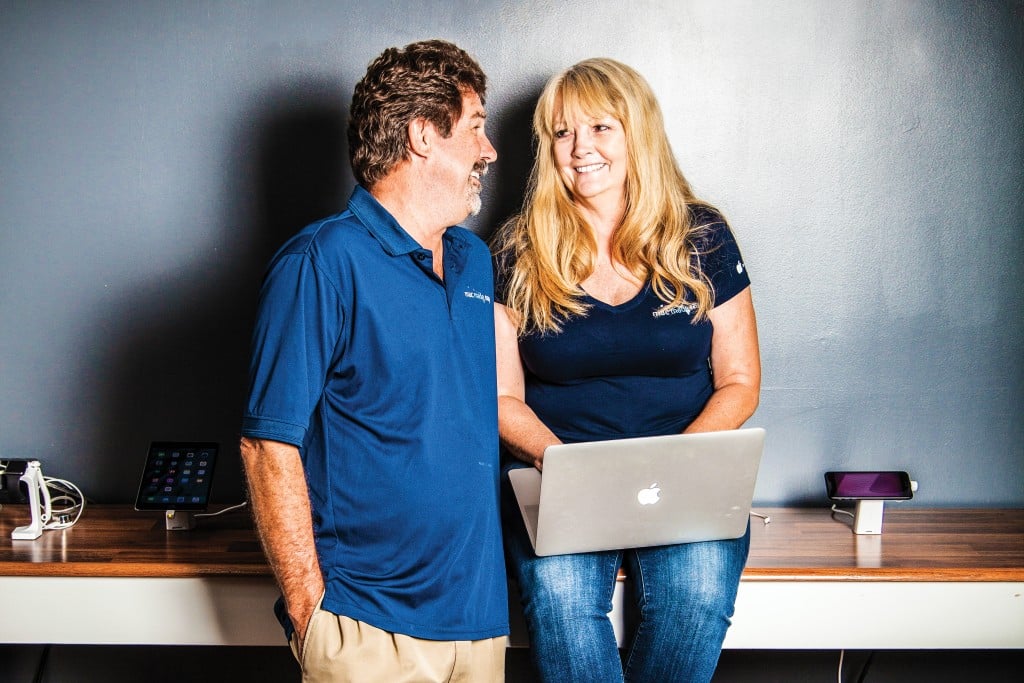 "What I find interesting is the change in laptops and devices I've seen people use at the airports since about 2006," observes Phil Markowski, CEO and co-owner of the five Mac Made Easy computer sales and repair shops spread across the Hawaiian Islands.
"At first there was a mix of PCs and Macs. Then, around 2012, I started to see more Macs and white ear buds and iPhones and other Apple products. Now, I only see about 10 percent PCs.
"The reason I hear most from PC users for switching to Macs is they're tired of chasing the viruses and the glitches."
The Markowskis grew up in the Bay Area. Betty is president and co-owner of MME, one of the few Apple-authorized repair centers in the state. She worked for Apple in California for 10 years in marketing, sales and tech support. Phil has a B.S. in industrial technology from Cal Poly-San Luis Obispo.
After Phil graduated from college in 1992, a friend offered him a job in Hawaii in industrial sales. The couple was going to try it as "an adventure" for only a year, Betty says, but they ended up staying.
Mac Made Easy was actually the name of Betty's former tutoring business in California. She kept the name after moving to Hawaii and began to do computer repairs out of their home, which was in Manoa; they now live a few miles from their headquarters in Kailua.
"Some of my friends needed help with their computers," explains Betty, "so I started that way. Then they would refer their friends, and I started to get involved with Mac user groups. I also helped train the Apple reps in the various computer stores around the Island, such as Computer City."
"Betty's abilities were in the sales, marketing and software side. She wrote the business plan for the consulting company," Phil points out. "My abilities were on the mechanical side.
"People later would ask if we could sell the equipment to them as well, so Betty used her contacts at Apple. Then the back end of sales is service, so I went off to Cupertino to get factory-certified."
Soon the Markowskis' home overflowed with computerware. Luckily, a customer offered to sublet 200 square feet of his space at Manoa Marketplace, and MME opened its first storefront in 1993.
In the beginning, the couple say they generated customers with cold calls, referrals from Apple's Hawaii office and Yellow Pages ads.
"I also had a large consulting contract with Kamehameha Schools at the time," Betty recalls, "so people heard about us that way."
Now they advertise in print publications, buy radio ads on the Neighbor Islands and use social media to get the word out.
In 2000, the couple opened an expanded location at the corner of Nuuanu Avenue and School Street with about 15 employees (the Manoa Marketplace store closed soon after). "The location did well," Phil notes, "but when the first Apple Store came to Ala Moana Center in 2003, that impacted our business. Then there was the 40-day flood in 2006 that damaged the property, so we had to close Nuuanu."
By that time, the Markowskis had moved their home to the Windward Side and opened a Kailua store in 2004. The couple are experts at moving – they're on their fourth Kailua storefront, now in the Davis Building on Kailua Road.
They also became good judges of when to expand: They opened a store in Hilo in 2008, on Kauai in 2009, in Kailua-Kona in 2010 and on Maui in 2015. A Kapolei store opened in 2011 but closed three years later.
Among the five branches, they have about 30 employees.
"It's a tough business," remarks Betty. "We don't make a lot of money through selling or servicing – especially with the advent of online ordering. And what worries me now is that it seems a lot of the brick-and-mortar businesses are going away."
Yet the couple keep finding opportunities in new markets. "With all the new technology, our business model needs to change," Betty says. "For example, some people need help setting up their home theater speakers, smart TVs, routers or printers; we'll charge a reasonable fee for that. We can help with various levels of data recovery, if they haven't been backing up their data. "We just recently became a Verizon dealer for the iPhone. Then we work with a lot of small companies who may need a technology firm to call upon for IT issues, and who may not be able to afford a designated staffer." About 30 percent of MME customers are students and schools, and about 10 percent are military (the store offers military and educational discounts). Craig Maddocks, president of Hawaii Stage and Lighting Rentals Inc., has been a customer since their Manoa Marketplace days. "I like the fact that they're a local store and that their staff is always helpful and courteous," Maddocks says. "I've bought many MacBook Pros, iMacs and various accessories from Betty over the years, and I take my computers to them for servicing when needed.
"I have never had a problem with their service, and sometimes they can even help you fix it over the phone. Their techs are efficient and knowledgeable."
Although the Markowskis' two college-age sons, Brandon and Jeremy, haven't shown an interest in taking over the business, Betty says she has no plans to retire and that she "still sees opportunities."
Mac Made Easy
767 Kailua Road, #104,
261-7444
Hilo 935-7505;
Kailua-Kona, 327-6001
Lihue, 245-6227
Kihei, 727-8444
macmadeeasy.com