Lots in Common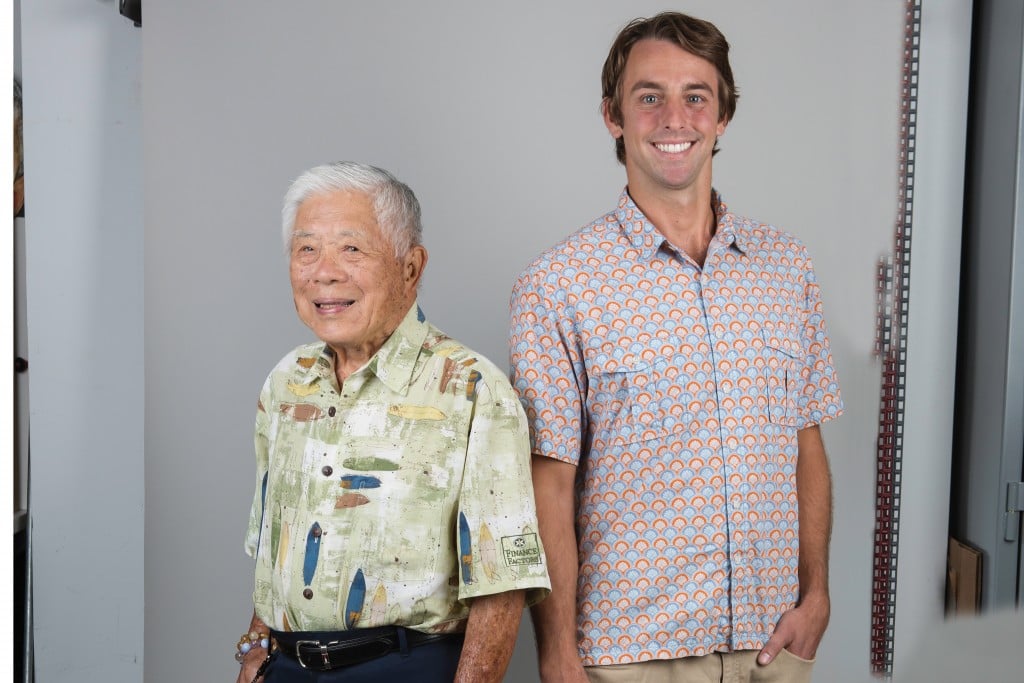 Daniel B.T. Lau, co-founder of Finance Factors, was born in 1919, the year the treaty officially ending World War I was signed, and Congress approved Constitutional amendments that created Prohibition and gave the vote to women.
Stephen Haugse, the owner of Flip Flop Shops in Waikiki and Ala Moana Center, was born in 1986, the year Chernobyl exploded and burned, and Ferdinand Marcos fled the Philippines for exile in Hawaii.
Very different times, yet these two men – the oldest and youngest among the 332 executives in the Hawaii Business Black Book published in December – took similar risks along their ways to business success, and share character traits such as confidence and an ability to trust their "gut."
The oldest of eight children, Lau helped in his parents' store in Liliha, including making milk deliveries to the nearby Mochizuki Tea House, he says. At McKinley High School, he took typing and other courses to help him in the business world. He studied business and economics at UH and was named intramural athlete of the year in his junior year. He graduated in June 1941, but, before the month was out, was drafted into the U.S. Army. Lau still remembers that, from his $21-a-month paycheck, the Army took $1.50 for laundry and $3.30 for his life insurance policy of $5,000.
While an Army Air Force aviation student at the University of Pittsburgh, he met his future wife, Evelyn Yee Quil Lau. He trained replacements for D-Day casualties in Europe, fought in the Battle of the Bulge, was seriously wounded twice, and was awarded a Purple Heart with Oak Leaf Cluster and a Bronze Star.
"You Need to Get a Job"
After the war, he asked Evelyn's mother for permission to marry her. A working woman herself – she ran a laundry service – the mother replied: "First, you need to get a job."
Back in Honolulu, with his typing skills, college degree and wartime history, he was in an excellent position to do that. "I could have had any job I qualified for," he says, and, though he was not certain what he wanted to do, he was sure he didn't want a lifetime of working for the government.
One day, as he got off the bus, he saw fraternity brother Mun On Chun sitting in the Honolulu Trust Co. office and stopped to say hello. Soon the trust company hired Lau to fill in for someone in one department, then another department and then another. After many such moves, he had learned a lot about banking, mortgages, loans, life insurance and real estate.
"We were lucky and we were aggressive. In 20-something years we had 30-some corporations."

– Daniel Lau, Co-founder of Finance Factors
Lau, Chun and four pals – Hiram Fong, Fong Choy, Clifford Yee and L.Q. Pang – decided to start their own company. Their combined assets included varied and extensive work experience, a host of contacts and a desire to offer small consumer loans to Honolulu's working-class minorities. Banks weren't interested in small household loans for appliances and automobiles, so the hui cobbled together investments from friends and family and founded Finance Factors in 1952.
Later, Lau says they started Grand Pacific Life Insurance Co. and Finance Realty, which developed Makakilo in West Oahu starting in the 1960s, all the while learning as they went along.
"We grew like crazy," Lau says. "… We built everything. We didn't know how but we did it! "
Corinne Tanna, VP and marketing manager of Finance Factors, says that Lau – whom she and close friends still call "Danny" – and his colleagues saw opportunity and said, "Hey, let's go for it!"
"In spite of not knowing very much, they did amazingly well," Tanna says. "They were very lucky knowing a lot of the local people, having had them as customers through the trust company. They were able to form alliances."
Lau agrees. "We were lucky and we were aggressive. In 20-something years we had 30-some corporations. And I'm not a smart guy – I'll tell you that – but I decided to learn and build and sell. We learned as we went along and the banks backed us up."
Today, at 95, Lau comes in to work every day, drives, golfs and only gave up baseball a few years ago, Tanna says.
Gave up baseball? Not entirely, Lau insists. He still sponsors and manages a Masters team and fills in occasionally for players on over-80 teams. His health? "Well, everything is wrong with me, high blood pressure, diabetic, everything's wrong, but I manage to play."
Long Route to Hawaii
Growing up in Northern California, Steve Haugse never imagined life as a Hawaii businessman. Today, he sells some 20,000-plus pairs of slippers and grosses over $1 million a year through his franchised Flip Flop Shops in Waikiki and Ala Moana Center.
It was an unusual path: At age 12, Haugse's best friend moved to San Diego, so Haugse visited Southern California each summer and became a surfer. The waves at Santa Barbara's Rincon surf spot were the best, so that's where he went to college.
Haugse (pronounced Howg-zee) ended up in the business and economics track at UC Santa Barbara. He met his future business partner, Kurt Haller, owner of Moto XXX Racing, and was hired to do shipping and receiving. That same year, Haller got into Flip Flop Shops with one of the original franchises in Santa Barbara, and asked Haugse to help manage it.
"Knowing what I now know, I would've been scared to come" to Hawaii because of the high costs.

– Steve Haugse, Owner of two Flip Flop Shops, who adds he's glad he took the risk
After a few months, Haugse secured a loan for a Flip Flop franchise and asked Haller if they could be business partners. In 2009, Haugse took his last final exam at UCSB early and got on a plane to Honolulu to scout locations on Oahu.  Some people advised him to launch his Flip Flop Shop in a high-rent, enclosed shopping mall in Waikiki.  He declined. When he found the right site, in the Diamond Head wing of the Moana Surfrider hotel, he knew it. It was along the sidewalk on Kalakaua Avenue and just around the corner from the beach. That meant that it was also just a stone's throw from his favorite avocation, surfing.
"Why put a slipper place inside an enclosed shopping center?" No matter what people call them, slippers, zoris, thongs, come-alongs, go-aheads or slippahs, he knew, "We need foot traffic to sell slippers."
While he believes fully in "trusting your gut," he also admonishes, "Be sure your gut has all the facts." He created his own formula: "Count the number of people who walk by in an hour. Then, if it's a thousand, ask yourself, 'How many will stop and how many will buy?' "
Three months after its September 2010 launch, his Waikiki shop became the top-selling Flip Flop store out of about 100 in the nation, he says. Two years later, he opened another at Ala Moana Center. (Haugse's stores are not connected with the similarly named Flip Flop Workshops.)
Haugse has learned that Hawaii is an expensive place to do business. "Knowing what I now know, I would've been scared to come in," he says, but he's glad he did.