Love (and success) Stories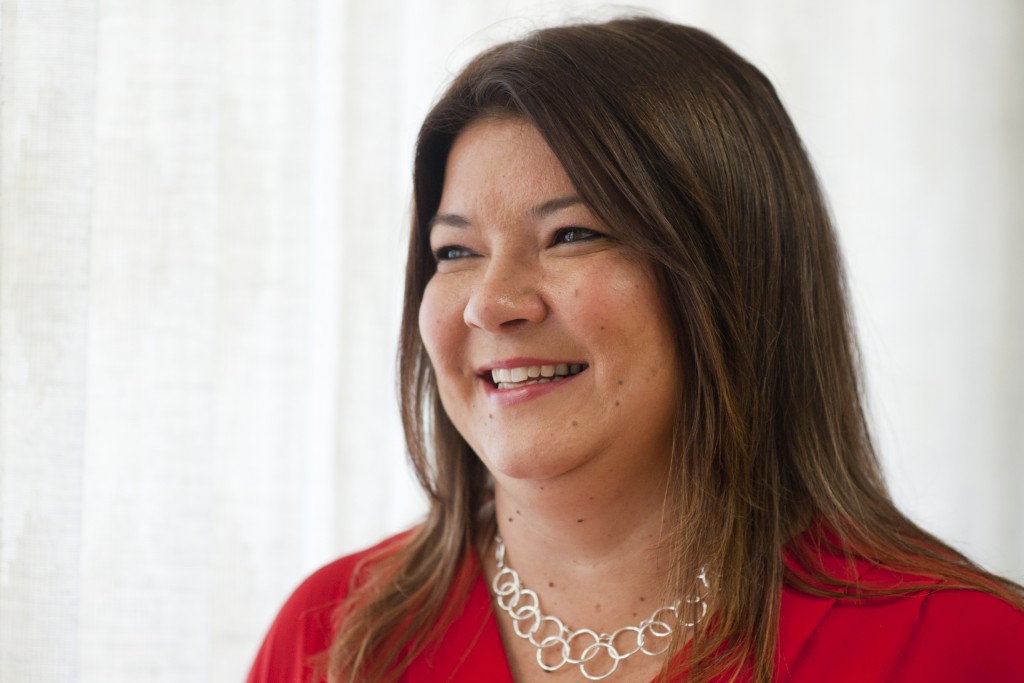 As Brian Adrian stands atop a 42-foot ladder on a Dallas construction site, the alarm on his mobile phone rings. It's time to call his wife, so he secures his grip and hits speed dial. Almost 4,000 miles away in Honolulu, Amy Aapala gets her cheery 7 a.m. wake-up call.
After she has had a few minutes to properly wake, he calls again and they talk for a few precious moments before Aapala prepares for work as VP for customer service at Hawaiian Telcom.
The wake-up calls are one of the many ways Adrian supports his wife. Such collaborative marriages are vital to many successful women in Hawaii, but the support system often goes beyond the marriage to include grandparents, aunties, children and friends. In fact, it seems almost impossible to balance a
family and a high-powered career without such a support system.
"Knowing her position and her job, I guess the biggest thing I try to do is make sure it's as easy as possible, so that when she gets home from work, she doesn't have to worry about anything in the household," says Adrian, who lives half of each month in Texas while running his construction company, and the other half in Honolulu with his wife. They were high school sweethearts in Michigan and got together again eight years ago after both were divorced.
Aapala laughs and says her friends want to clone her husband. Not only does he wake her every morning – even when he's thousands of miles away – he cooks, cleans, vacuums and often brings flowers.
"My husband and I have a unique relationship," agrees Aapala. "He shares his time back and forth with his children on the mainland and still runs his own construction company. … Every time he leaves, he prepares enough frozen meals for me, so I just have to pop them in the microwave."
It's been said that behind every successful man is a good woman, but these days you can flip that old saw and point out that behind successful women are men unafraid to throw in a load of laundry, wield a vacuum cleaner, pick up dinner or, better yet, cook it.
"I love my job, but it's really difficult for women," says Kalei Cadinha-Puaa, president and COO of Cadinha & Co., a Honolulu investment-counseling firm.
Her family of six lives by the 4-by-6-foot white board in the living room, which lists in detail the weekly schedules of mom and all four children – ages 16, 15, 10 and 2. With days that start at 2:30 a.m., when the financial markets open in New York, and often end after 10 p.m, Cadinha-Puaa's life has to revolve around organization and shared responsibility. While the children – except the 2-year-old – are all counted on to list their daily activities on the white board, mom fixes lunches and breakfast, dad does after-school pickup. Grandma – Kalei "Tutu" Cadinha, who is just two houses away – steps in for extra support.
Without her husband, Aloha Petroleum plant manager Ricky Puaa, handling any and all house and car repairs, Cadinha-Puaa wouldn't have the time and energy to organize meals and cook on Sunday to prepare for the week.
"It's not easy for significant others," Cadinha-Puaa admits. "There's frustration that comes with that because of both of our long hours. Sometimes everyone doesn't eat till after 9 o'clock when the older children get home from their activities."
The saving grace? Weekends are sacrosanct family time.
Successful individuals with challenging careers sometimes have trouble making a marriage work, says relationship counselor Renee Rokero.
"In order to get to that place where you do have a high-powered career, that person is driven, career-oriented, a workaholic, highly intelligent, and used to having her or his own way. All those traits can make it difficult to have a relationship," Rokero says.
What helps, she says, "is effective communication, listening, spending quality time together, responding to one another's feelings and sharing each other's interests.
"This is no different than the format for every healthy relationship, but sometimes high-powered people are so busy they don't have time. It's not that they don't have problems, but sometimes they just don't have the time to deal with them."
When Jan and Patrick Sullivan decided to work together 12 years ago at Oceanit, the high-tech company he founded in 1985, they were unsure if it was a good idea. She's an attorney and an expert at refining city government operations; he's a Ph.D. engineer full of ideas for products that solve modern technical problems. It turned out their skills were a good balance.
"You have the CEO who is the visionary out there in front pushing the company forward, and then someone more operational, like myself, keeping the wheels running and taking care of the day-to-day crises," says Jan Sullivan, who leads projects and the company's 160 employees, who are spread from Hawaii to the mainland. "We bring complementary skill sets to running the company. It's something that's an important element in a lot of successful businesses."
More and more women have ambitions, get professional and advanced degrees, and climb the career ladder. Their success often depends on
the people by their sides, especially when they have children.
"(Facebook COO) Sheryl Sandberg says that one of the most important decisions a woman can make is who she ends up marrying," says Sullivan. "Having a spouse who is supportive and can pick up the pieces if you are dropping them, is a critical thing. Pat has always been supportive and always helped me whenever I've needed help in the everyday things – without complaining if things don't get done or if the house is not run perfectly. That's part of the compromises. You support each other where you can."
Among American families with two parents, both parents work in 58 percent of households. But the number is higher in Hawaii: 64.9 percent of households, according to the state Department of Business, Economic Development and Tourism. And Maui County has the state's highest rate: 72.3 percent. That means a lot of parents are juggling work and home, which can create stress and crisis, or lead to compromise and coping.
For Marcie and Kevin Herring, the teamwork began long before they started a family. She's the director of girls' programs and counseling resources at St. Andrew's Priory School for Girls, and he's an attorney. Together, they made momentous decisions: where to put down roots and what lifestyle would be best for their family and careers. One big decision was to live in a condo downtown so they could walk to work and maximize their time together and with their son, Luke, now 3.
And both have sharpened their intuitions to recognize when the other is stressed.
"When we go through intense pressure, we have learned to schedule breaks," says Kevin Herring, office manager and law partner in the firm Ashford & Wriston. "After those times, we schedule time to relax.
"And when Marcie is particularly busy with something at the Priory, it means I'm going to come home a little earlier so I can watch Luke in the evening. It really is about mutual respect and teamwork. We really are a team. If we see something that needs to be done, we jump on it. For instance, if the dishwasher needs to be emptied, it's just much easier to take care of it."
Marcie laughs: "We play to our strengths. He's handy with the vacuum cleaner and I'm the queen of takeout!"
After Luke was born and Marcie Herring returned to work, her parents would leave their home in Mililani each morning at 5 a.m., drive downtown and make breakfast for the whole extended family, and then care for the baby. Now that Luke is in preschool, the Herrings still work as a team: Kevin handles morning drop-off and Marcie does pick-up.
Artist Alex Steelsmith understands the importance of partnership, too. When his wife, naturopath and author Laurie Steelsmith, walks in the house after a day of patient care and a long commute, he's often in the kitchen cooking dinner. Or maybe she'll rest after getting home and awaken as he comes in the door with a load of groceries.
"It's Team Steelsmith," she says with a laugh. It means neither has to ask the other for help with a chore; they both step in to handle whatever needs doing.
The teamwork began when he worked both a day and night job to pay the bills and put her through six years of medical school. It continued through writing two books together – with Alex doing illustrations and editing – then redesigning her new office space, and taking over the paperwork involving the Steelsmith Natural Health Center.
"Yes, he makes dinner and carries my bags and is my best friend and emotional support," says Laurie. "But he's also the mind behind the business, writing the business plan, reviewing all the contracts, talking to lawyers, dealing with all the stuff most people don't want to. And he's very involved in any of the articles we do nationally and internationally."
"We both totally take care of each other," Alex says. "I feel like I'm the one being supported. It's really a balance."
That balance has allowed them the time to expand on Laurie's practice as a naturopath in order to co-author their new book: "Great Sex, Naturally: Every Woman's Guide to Enhancing Her Sexuality Through the Secrets of Natural Medicine." And it has enabled Alex to display much of his landscape artwork throughout her medical office, and have the time to spend months on a commissioned portrait of the late Sen. Daniel K. Inouye.
For Barbara Campbell, VP of retail development and leasing for Outrigger Enterprises Group, creating success is partly about finding balance in her life with her husband, Jed Gaines, the founder of Read Aloud America, a nonprofit literacy program through which hundreds of volunteers have read to more than 350,000 people. For Campbell, the balance comes because of their contrasting careers – and the way he steps in at a moment's notice if her job calls.
Campbell handles the leasing for about 300 retail tenants in nine Outrigger hotel properties in Hawaii, plus the Waikiki Beach Walk shopping area. As hurricanes threatened Hawaii this summer, Campbell knew she might spend extra hours in Waikiki to help ensure guests and tenants were safe.
"I told Jed, 'You may be in charge of the storm at home, because I may be in Waikiki,' " she says.
"Jed is just very flexible. And we're both really independent people. If he has to make a quick trip to Hilo, we work it out. We just make the schedule work. If one of us is traveling, we just always back each other up (with household duties). If I call him at the end of the day and say, 'I have to work late,' he'll say 'OK, I'll just pick up dinner.' There are no demands on each other."
Gaines says their marriage enables both of them to succeed.
"I think a lot of it is trust," he says. "We're committed, and I have the utmost respect for her. She's a dynamic, brilliant person. When she walks
into a room, she turns the energy into a total, positive high. Because we're both very busy, I feel so grateful when we're home just talking, and spending an evening with a great meal. I just wish we had more time to spend together!"