Fourth Generation is a Chip Off the Old Block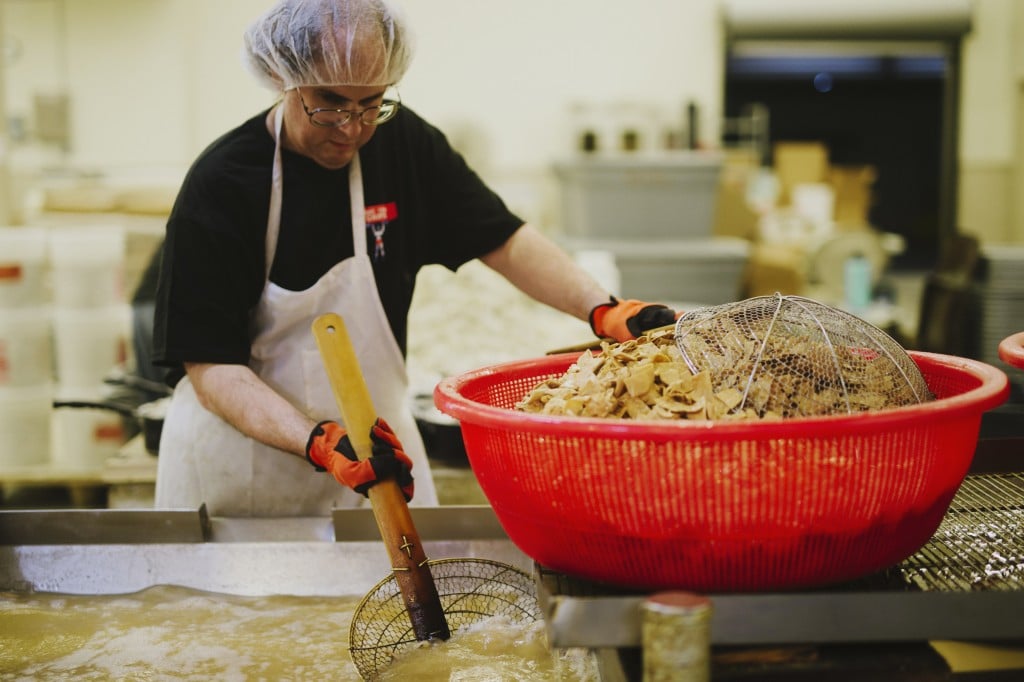 Maebo Noodle Factory was founded in 1950 and is still going strong.
Maebo Noodle Factory in Hilo, famous for its flavorful One-Ton Chips, is one of those rare local businesses that's still owned and operated by the same family after four generations.
"We don't plan on selling this business, so it will be kept in the family," says manager Chasity Silva, 35. "I think because we were around the business since we were kids, it's almost like we were born to it and it's our duty."
The company was founded in 1950 by Silva's great-grandparents, Japanese immigrants Toshito and Koto Maebo. Toshito was a food peddler, but he also sold a small crank machine that manually turned dough into noodles; one of those machines became the impetus for Koto to turn their garage into a noodle factory. About three years later, using bits of wonton pi, she created the family's recipe for One-Ton Chips.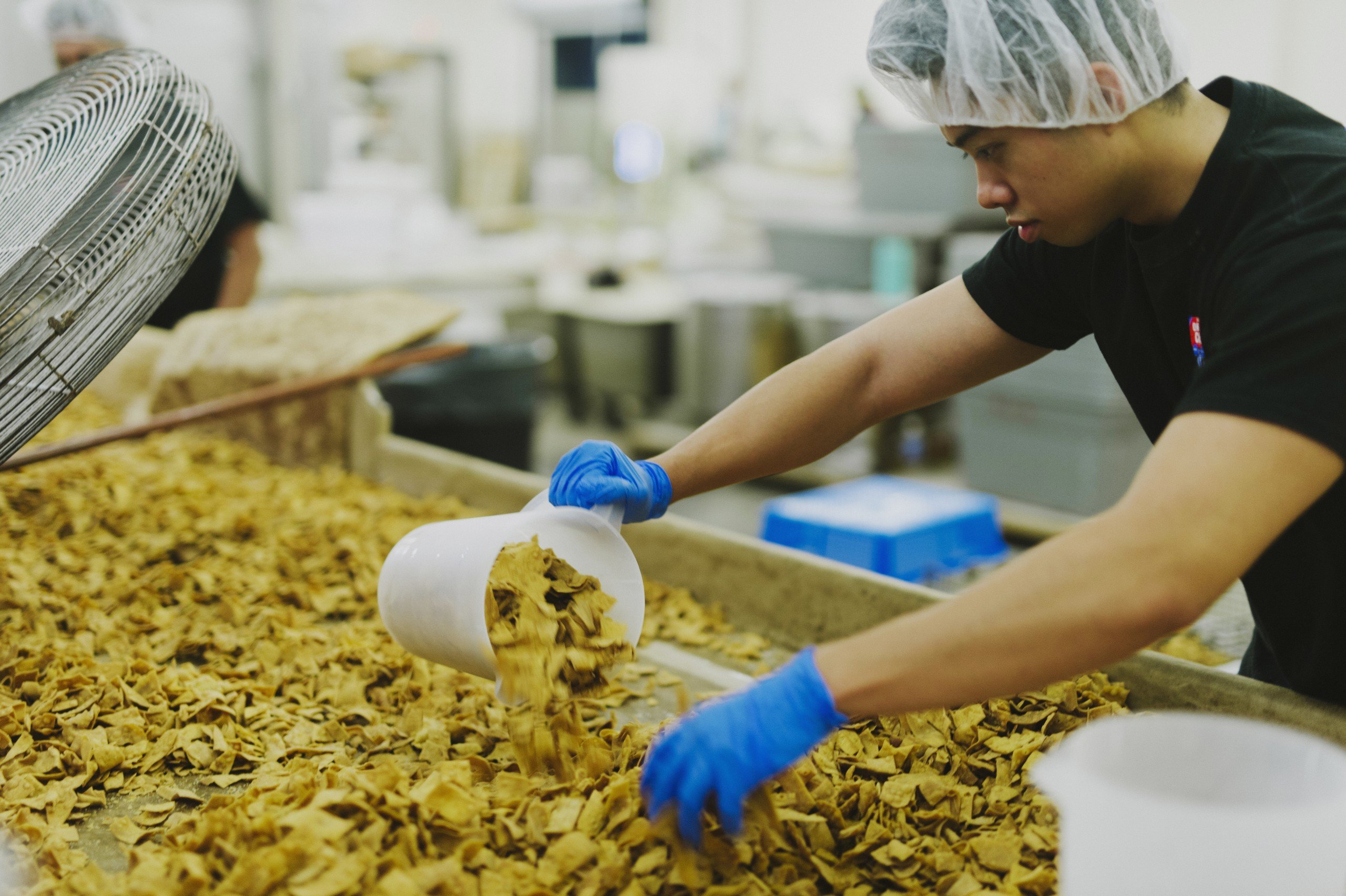 "My grandfather, Aketo, came up with the logo for the chips," Silva says. Aketo played off the name "wonton," turning it into "One-Ton," with a drawing of a weightlifter and a barbell. The brand and the sweet, savory chips became known statewide.
In 1964, the company acquired a half-acre on which it built a 2,400-square-foot factory. Unfortunately, a massive fire consumed the structure in 2003, and the company had to rebuild.
"My grandma, Rachael, and I were actually the first ones on-site, even before the firefighters," Silva recalls. "A friend called me to let me know, but we couldn't do anything – it was totally destroyed. They said it was accidental.
"But now we have a much larger factory, about six times the size of the old one."
Before they built the new factory, the resilient family made saimin in their garage to supply restaurants. "It was my grandma Rachael, my uncle Blane and his wife, Lehua, who were making only saimin," Silva says. "Later, the chips came back slowly."
In 2009, Silva's younger sister, Porsche, mixed bits of One-Ton Chips with homemade shortbread cookies to make One-Ton Chip Cookies. "She has a mixing machine, but otherwise scoops all the cookies by hand," Silva says in amazement. "She's very quick and has a lot of energy – and probably moves faster than a machine would!
"A friend helped her with the recipe. Her production varies between 3,200 and 16,000 hand-scooped cookies a week, depending on the season."
The family-run factory has 12 nonfamily employees and churns out about 350 pounds of saimin and chow fun noodles a week, and 900 pounds of chips a day – enough to fill 3,600 4-ounce bags. "About 80 percent of our business is chips," Silva points out.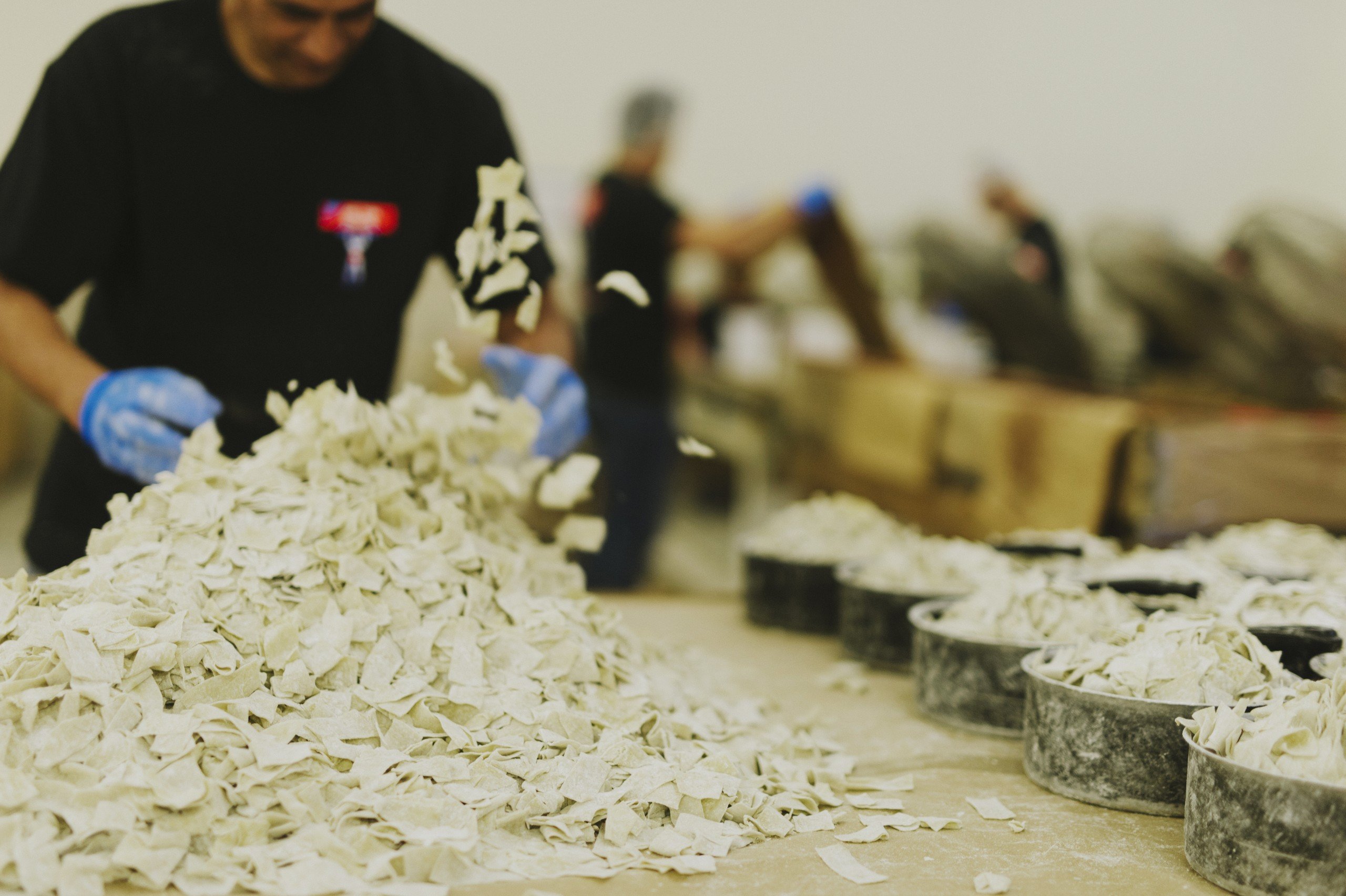 Grandmother Rachael Maebo, 80, was active in the business until she became sick last year, and still helps with bookkeeping and major decisions. Uncle Blane Maebo, 61, the company president, also helps with decision-making but is otherwise not actively involved.
Blane's wife, Lehua, 41, and his son, Jarek, 18, play key roles in the business. "We're still using my great-grandmother's original recipe to make our chips," says Silva. "It's Auntie Lehua and Jarek who have to guard that recipe because they pre-mix the dough for the workers in the morning. I don't even know what the recipe is."
"The Maebo brand has become a local favorite among our Big Island families, and it continues to grow in popularity statewide and beyond."

– Lisa Morimoto, Hilo Candy Co. Inc.
Silva occasionally uses social media for marketing but "most people know us because we've been around for so long. Most know the muscleman logo."
Still, she tries hard to keep that recognition alive and create new markets. "Recently, we did a trial run of our chips on Hawaiian Airlines on their snack carts. In October, we did the Taste of Hilo event.
"Then I'm thinking of bringing out a couple of new products, such as furikake chips, or different flavors of the cookies – like butterscotch or chocolate chips."
Hilo Candy Co. Inc. has wholesaled Maebo's products for over 40 years.
"The matriarchs of the companies have built a strong friendship over the years," says Lisa Morimoto, 44, the granddaughter of Hilo Candy's founders. "The Maebo brand has become a local favorite among our Big Island families, and it continues to grow in popularity statewide and beyond.
"We purchase weekly and distribute their chips and cookies islandwide."
As for the fifth generation and the future, Silva says, her daughter, Kaila, 12, and son, Landen, 11, are proud of the business, but it's too early to tell if they'll take it over.
"Otherwise, I may have to force them," she says with a laugh.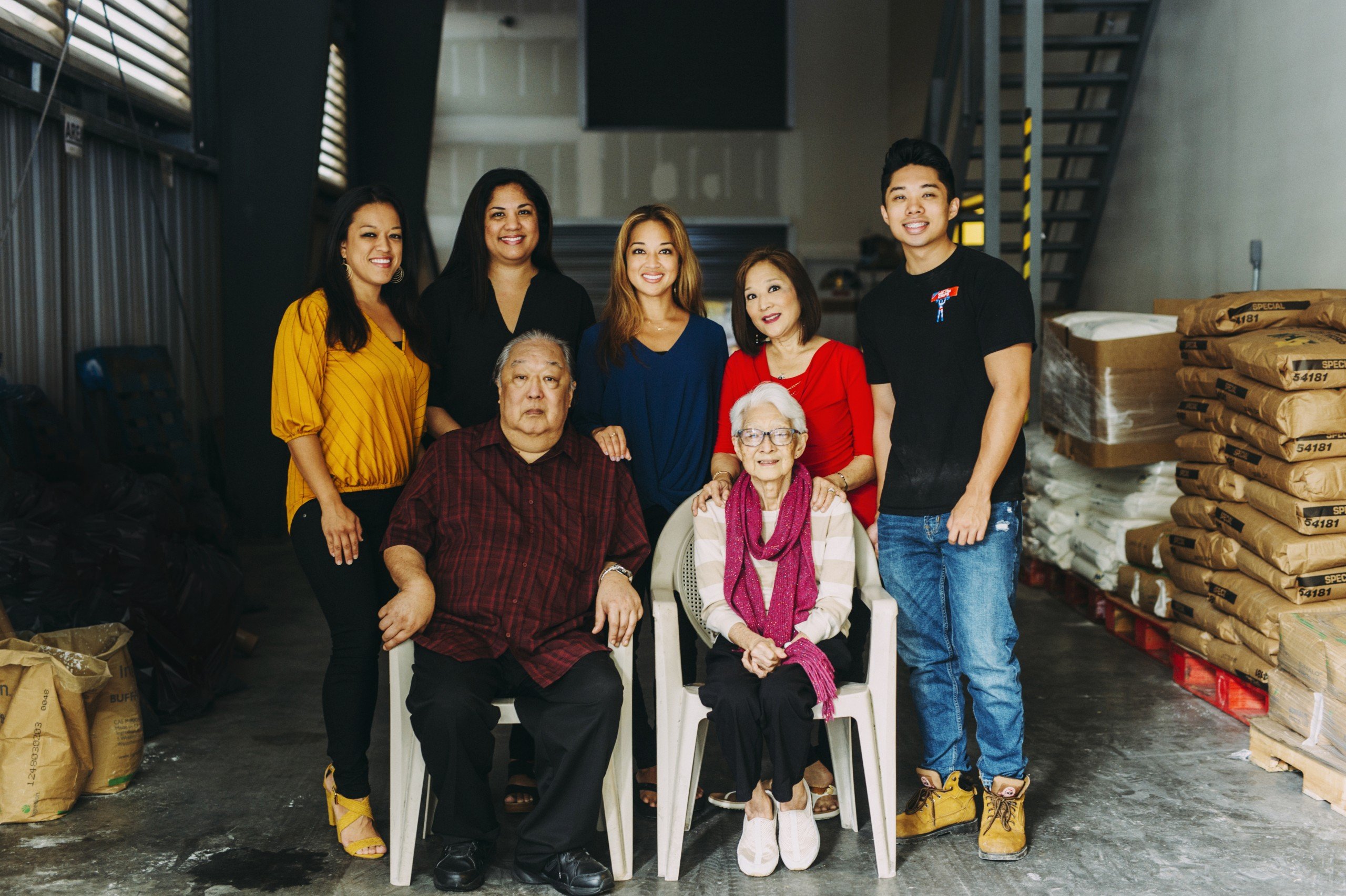 ---
MAEBO MUST-EATS:
ONE-TON CHIPS: Maebo's signature chips were developed by one of the founders, Koto Maebo. "She used sugar in the recipe, then deep-fried the chips. Salt is added afterward. Our chips are unique. They have a taste that is addictive – you can't eat just one," Silva says.
ONE-TON CHIP COOKIES: Silva's younger sister, Porsche Leopoldino, makes these by mixing shortbread cookies with bits of One-Ton Chips. "Our cookies have a buttery, homemade taste like old-school shortbread. The buttery cookie with pieces of crunchy chips make a great combination."
SAIMIN AND CHOW FUNN: These noodles are made fresh each day and delivered to Hawaii Island restaurants, according to Silva. "People like our saimin because they can taste the freshness in the product."
Maebo Noodle Factory
2036 Kilauea Ave., Hilo
(877) 663-8667
digitalalohadesigns.com/one-ton