Markets to Suit Every Taste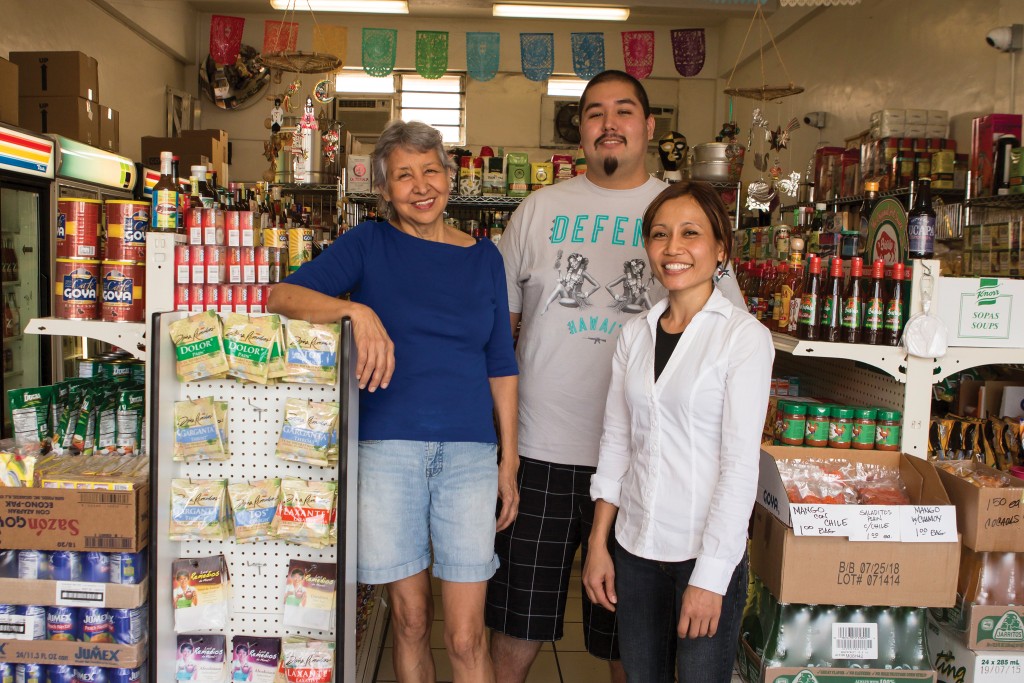 Hawaii's known for a unique blend of cultures and tastes, and that is evident in the wide variety of foods and products available in the Islands' many ethnic markets. These markets go far beyond the typical Japanese, Chinese and Korean markets that are well known to locals.
Martha Sanchez Romero's story is typical of those who have brought new foods to Hawaii's taste buds.
"I saw a real need here for Hispanic products," explains Sanchez Romero, 61, owner of Mercado De La Raza LLC in Makiki. "For my own cooking, I wasn't satisfied with what I found in the mainstream grocery stores and I couldn't always travel to the mainland easily to bring back the ingredients I needed, so I decided to open my own Latin American market." That was 20 years ago.
As our culture and tastes become more diverse, there's a growing demand for more diversity in local ingredients and foods. Typically, the call has been answered by small, family-owned businesses, with the family working long hours to run it. Here are five who have stepped up to the plate.
---
Mercado De La Raza
1315 S. Beretania St.
593-2226
Sanchez Romero came to Hawaii on vacation in 1976 from Cuernavaca, Mexico, fell in love with a local Korean boy, got married and had two children (Reynaldo Minn, 29, and Juliana Minn, 26).
She started here as a preschool teacher and also did retail sales and restaurant work, but after her children got older and she divorced, she yearned for her own business. "Everyone told me I was crazy," Sanchez Romero remembers. "And it was mostly my fellow Hispanics who didn't think I would make it. But the more they doubted me, the harder I worked."
The Manoa resident recalls making salsa, flan, tamales and guacamole for her customers early in the morning, before her children awoke, and late at night, while they slept.
She used her savings and then reinvested her small profits into the store. Sometimes, she'd use her credit cards or borrowed money temporarily from good friends, but never needed a bank loan.
She named her store after the indigenous Latin American people, "La Raza," and the entire name translates to "People's Market." It remains the only Hispanic market in the state, and folks from all over the Islands flock there for a variety of South American, Central American, Caribbean, Puerto Rican and Dominican products.
Pacific Heights resident Bobbie Slater, 72, has been shopping there for about 15 years. "Depending on the season, I'll come about three or four times a month. I make a special Day of the Dead mole sauce and Martha has all the supplies I need that aren't readily available elsewhere. And I love her dried chiles and her delicious, small corn tortillas."
About 90 percent of Mercado De La Raza's customers are non-Hispanic, with many from Texas or California ("They're looking for authentic products, with no sugar"). At first, there were only about 50 items on the shelves; now there are more than 1,000.
In the beginning, to establish her credibility with mainland distributors in California, New York and Miami, Sanchez Romero would travel about three or four times a year, but now only needs to make about one buying trip a year. "I'm always looking for new products or distributors, mainly in Texas or California," she says.
Unfortunately for her loyal customers, Sanchez Romero plans to put her store up for sale and retire to Portland, Oregon. She hopes her son, Reynaldo, and her assistant, Sopharat "Sophie" Gould, will run the store. If not, she's willing to stay to help whomever becomes the new owner during the transition.
"I still want this store to be successful after I leave."
Special Treats
"We have the largest selection of chiles in the Pacific" – more than 10 varieties, including mulato, morita, puya, guajillo, de arbol and ancho.
At least five types of Mexican cheeses (queso), including oaxaca, requeson and cotija.
Corn tortillas are made in the traditional manner, with no additives.
---
Fiji Market & Curry Kitchen
56-565 Kamehameha Highway, Kahuku
293-7120
Rajeev Singh and his father, Nitin, are entrepreneurs, while his mother, Sheila, loves to cook. This combination was the perfect formula for starting Fiji Market & Curry Kitchen in 2010 at the Kahuku Sugar Mill Shopping Center. Singh's two younger brothers and his aunt sometimes lend a hand.
"When my dad retired from his management job in California and was looking around for something to keep himself busy, this idea of a convenience store with products from Fiji and elsewhere came up," explains Singh. "Although we were born in Fiji, my brothers and I grew up in Kahuku and my parents still live here, so we wanted to do something for the community. We try to keep prices reasonable because we know people are struggling."
Singh and his father also own a wholesale distribution company, Shoreline Distributing, which helps them import goods for the store from the mainland, Fiji, Australia and New Zealand.
"Because Fiji at one time was a British colony and many immigrants from India settled there, we know quite a bit about Indian cooking and ingredients, but we just do it Fiji style," Singh smiles. "And since we grew up in Kahuku, we also know the taste of Tongans and Samoans, and those from Australia and New Zealand."
Adding to the recipe for success was Sheila's family background: in Fiji, her family started in the confections business (her deep-fried Indian Lakdhi is ono). People have been swarming the store since it opened four years ago.
"We converted what used to be a small break room into a kitchen and started to serve plate lunches, and it just took off! And my mom still loves making her sweets for the customers."
Juliette Murphey, an ER nurse for Queen's Medical Center – West Oahu and a flight attendant for Hawaiian Airlines, has been coming to Fiji Market from the beginning. "My sons and I love their Tucker's ice cream. The passion fruit flavor is so delicious! And their vegetarian dhal plate is very healthy."
Singh estimates about 65 percent of his customers are from the cultures that created his products; the rest are people who like trying something different.
There is a wide variety of Indian, Fijian and Thai powders and spices, Fijian breakfast crackers, New Zealand lamb, Australian goat meat and, sometimes, chestnuts from Tahiti. Hanging from the walls are music CDs from Fiji and Tonga.
"We also have the best quality of kava," Singh says, "because we're kava users ourselves, so we know the best strength and we go directly to the growers. We bring in the cloth straining bags straight from Fiji."
Singh is considering expanding to town (he's also the Manoa franchisee for Boston's North End Pizza Bakery), but he's waiting for the stars to align.
"It's a matter of having the right people at the right time."
Special Treats
"Our New Zealand meat pies are very popular, as are our samosas and our roti wraps," which are similar to naan.
"People go crazy over our Wattie's tomato sauce from New Zealand and our Weet-Bix crackers from Australia."
"Customers also love the imported chocolates: Smarties, Crunchies and Arnott's Tim Tams."
---
India Market
2357 S. Beretania St., #A
indiamarkethawaii.com
888-2277
As an aircraft provisions coordinator for United Airlines, Mohammed Shereen Khan traveled the world and was able to purchase East Indian and Middle Eastern food for his family. "But there was nothing in Hawaii providing that service for others, so I decided to open my own store," he says.
Khan was born and raised in Fiji, but he also spent part of his childhood in Hawaii, graduating from Moanalua High School and Honolulu Community College, where he majored in aircraft engineering.
"I love food and cooking is my hobby," Khan reveals, "and Hawaii has such a vast diversity of cultures, but there were no outlets here with the different ingredients, so that's where the idea of the store started."
During his travels, Khan contacted sources who were willing to ship him products. "It took a couple of years to plan and, even when we opened, I still would use my salary from my job to fund the store."
The Ewa Beach resident runs the Moiliili market with his wife, Rehnuma, and his grown son and daughter and other family members also help.
At first the inventory was small, but now it's nearly impossible to describe, because it runs the gamut from East Indian, Fijian, Mediterranean, European and British teas, jams and spices, to bottled and canned goods, to frozen foods, to hot foods and to health care products. There are even Indian videos and CDs lining the wall and front counter, and Indian jewelry and clothing. When customers ask for products, Khan tries to add them to the shelves.
"We couldn't make it without the local community's support," says Khan.
One of Khan's regular customers, Valentin Semenov, 32, of Moiliili, likes the diversity of the store. "I've been coming here at least once a week for the past year and a half because the selection is similar to what I'd find back in New York. I do my own cooking and it's hard to find some of the ingredients outside of India Market."
Most of the products come from local or mainland distributors, and Khan travels several times a year to scope out new products.
"We probably have the largest selection of authentic Indian spices in the Islands (over 50), the largest collection of various types of teas (over 100) and the largest selection of pickles (about 15)." The market also carries about seven types of rice and about 15 types of whole-wheat flour. Loyal Neighbor Island customers ask that items be shipped to them.
Looking to the future, Khan says he plans to stay small and sustainable. "We don't plan to go outside this store," he says.
Special Treats
Bosnian coffee and high-quality Turkish Mehmet Efendi coffee.
15 types of lentils and more than six Middle Eastern cheeses.
Neem antibacterial toothpaste, soap and powder from Fiji.
---
Tammy's Polynesian Market
Two locations:
717 N. King St., Kalihi
841-6000
94-839 Farrington Highway, Waipahu
671-3441
Tammy Kim came to Hawaii about 40 years ago with her family via Los Angeles, from Seoul, when she was in her 20s. In 1986, with her first husband, she opened a convenience store in Waipahu that has evolved into Tammy's Polynesian Market: a combination convenience store and South Pacific ethnic market.
Kim has tried a few second locations over the years, but the one she opened in 2010 on North King Street in Kalihi seems to be the most successful, as evidenced by the almost constant foot traffic there. She now owns both stores with her second husband, Steven Kim.
"My family in Korea were business people, so I came from a retail background," explains Kim. "I always wanted to open my own store."
Although both stores are still family-owned and -run, they've grown to where the Waipahu store has about nine employees and the Kalihi store about eight.
Even though Kim is not of Pacific Island descent, many of her customers and employees are. "At the beginning, it was my mom's idea to bring in more ethnic products," recalls her daughter, Gail Baracao, 33. "She got to know her customers and what they liked, and then she had a Samoan employee who taught her all about the Samoan goods. For her hot dishes, she'd cook them in the Samoan style, but just added Korean spices."
Kim first brought in canned goods such as Australian corned beef, and snacks such as cookies and crackers from Australia and New Zealand. "My mom was probably the first one to bring in Arnott's Tim Tam chocolates from Australia 30 years ago," Baracao says, "and now Costco and others are carrying it." Later, the store included fresh produce and hot foods. "We're the only store to fly in fresh taro from Fiji," Baracao says.
Now Tammy's carries such exotic items as Samoan jewelry, Samoan baby rash and sunburn medicines (Vaitane and Vailafa) and Anchor brand butter from New Zealand. Among the hot dishes are palusami (made from taro leaf, coconut milk and onion), oka (raw fish, coconut milk and lemon) and octopus with coconut milk. Its ethnic products are primarily Samoan, Tongan, Fijian, Micronesian and Polynesian – some imported through a Micronesian or Australian/New Zealand distributor here, and some imported directly from the Pacific islands.
"It also helps that we've had Luafa, a really great Samoan baker, with us since '93," Baracao enthuses, "since there's a high demand for Samoan baked goods and desserts. Sometimes there's a line out the door at the Waipahu store when we first open and we have to pass out numbers."
Baracao estimates about 80 percent of Tammy's customers are of South Pacific or Polynesian descent.
Mainany Rama, 28, a stay-at-home mom, says she's been coming to Tammy's for the past three years, about three times a week. "I like their Chuukese food, their cold food, bread, green bananas and corn. And it's close to where I live."
Although some stores in Kalihi and Waipahu have been hurt by crime, Tammy's has not fallen victim to any vandalism over the years. "I think it's because of the immense respect that her customers have for her," says Baracao of her mom. "Her customers have followed her for over 30 years, she's employed many in the community, given them clothes, sometimes she's even taken some of them to buy groceries. They just love her."
Special Treats
Popular desserts include banana bread (banana tapioca) and panipopo, a bread with coconut milk.
Both Fijian and Tongan kava, and Fijian candies.
Popular hot dishes are lamb flap with curry, lamb neck with curry and baked turkey tail.
---
Oahu Kosher
www.oahukosher.com
888-4949
Yehuda "Yudi" Weinbaum, 33, originally wanted to be a rabbi, and attended rabbinical school in his home city of London until he was 20. But in his final years of schooling, he decided he wanted to try something different: becoming a kosher chef.
"I thought owning my own business might be an easier path," Weinbaum says, "but it's not, although it is extremely rewarding. I receive emails daily from Jewish visitors to Hawaii who thank me profusely and say they couldn't have made the trip here without my catering services.
"I can't say I've done it singlehandedly," he chuckles, "but I think my business has contributed greatly to helping bring Jewish tourists to Hawaii."
Practicing Orthodox Jews are not allowed to eat any foods that are not prepared following kosher rituals and in a kosher kitchen, nor are they allowed to eat certain products, such as pork or shellfish. These restrictions make it difficult for people who are away from home.
Weinbaum spent about three years training as a chef at the upscale Sharett Kosher Caterers in London, then became a fine-dining manager at a kosher Italian steakhouse in Florida.
His wife, Estee, was born and raised here and Estee's mother convinced Weinbaum three years after they were married to move to Honolulu in 2006 so she could help raise the grandchildren.
Initially, Weinbaum began cooking kosher meals for others after advertising with Chabad of Hawaii, a Jewish outreach organization. He was gratified at the response, so, after a few months, opened Yudi's Deli in Manoa next to Boston's North End Pizza Bakery.
"The deli was very popular, and I'd say the clientele was mostly from the university area and 60 percent non-Jewish and those looking for the New York deli experience, while the rest were Jewish.
"However, there wasn't sufficient space there to also run the catering business, so in 2008 I decided to close the deli to focus on the catering. But I hope one day soon to reopen the deli, as I miss showing the general public kosher cooking."
Oahu Kosher caters and delivers individual packaged meals to guests around the island; for Neighbor Island guests, it delivers via Aloha Air Cargo.
It also caters events for as many as 150 people, including destination weddings, bar and bat mitzvahs, kosher wine tastings and other Jewish occasions. "We've been supplying the potato pancakes and the jelly doughnuts for the Hanukkah festivities at Schofield Barracks for many years now," he says.
Weinbaum doesn't feel there'd be enough demand to open a stand-alone kosher market here, but he does allow others to collaborate with him when he orders supplies about once a month from his L.A. distributor.
Although all of Oahu Kosher's regular clients are Jewish and the majority are also Israeli, a small percentage are non-Israeli and the visitors who order from him belong to many ethnicities.
Lior Fahima, 39, a Kahala resident and Orthodox Jew, has been Weinbaum's customer for about eight years and loves Weinbaum's falafels, schnitzels and steaks. "I stock up once a month on ground beef, steak and chicken, and every Friday for the traditional Jewish Sabbath, I buy his challah bread.
"I love Yudi's style of cooking. He can do Mediterranean, Chinese, anything. He's a great chef."
For those new to kosher cooking, Weinbaum says, he tries to give his customers a "fresh, vibrant experience. We pride ourselves on making everything from scratch. Non-Jews say kosher food tastes cleaner and, of course, it's healthier for you."
Special Treats
Kosher is about the preparation and types of food used, not the style of cuisine. Dishes can be prepared in American, Mediterranean, Chinese, German or even Hawaiian style.
"Our falafel was our No. 1 seller in Manoa."
"Also popular are our potato knishes and other varieties, and our deli sandwiches, from corned beef to pastrami."