Meaning Built Into the State Capitol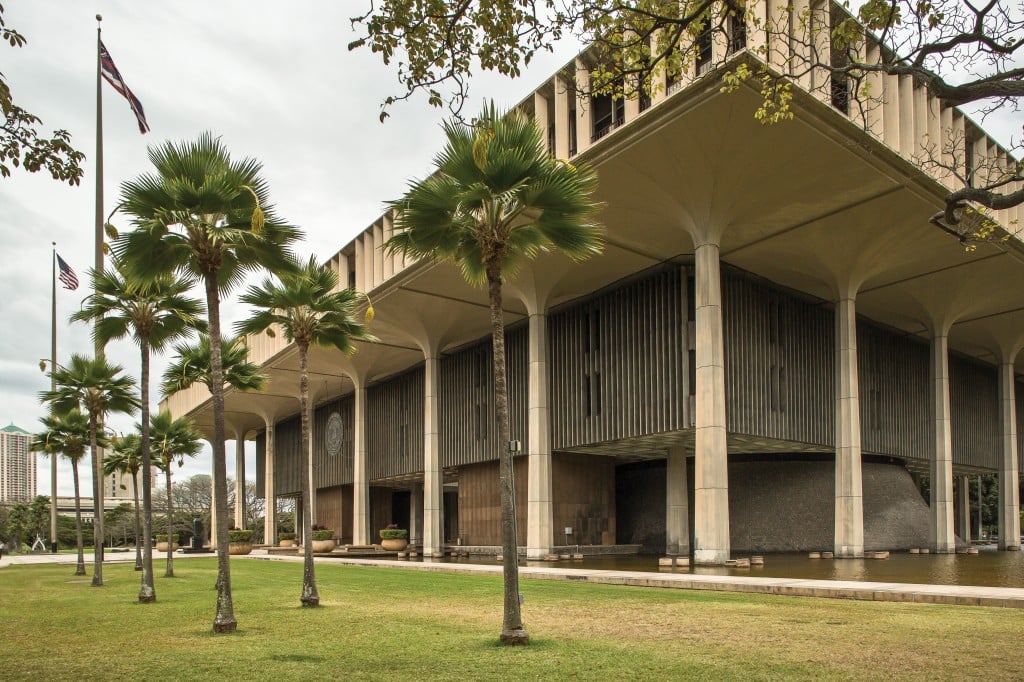 Some say symbols are all around us if we know how to look and that's certainly true at the state Capitol, which is imbued with representations of Hawaii's culture, history and aina.
One major theme of the design is the number eight, which represents the number of main Hawaiian Islands, says Joe Farrell, an architect for 54 years with Architects Hawaii (formerly Belt, Lemon, and Lo), the local firm that helped design the 46-year-old Capitol and oversaw maintenance for over a decade.
For example, there are eight columns in the front, back and balcony area of the Capitol, and the doors that guide visitors to the governor's and lieutenant governor's chambers have eight panels.
"If you take a look at all the rotunda in the United States, they are all enclosed in domes, where in this building everything is inviting from the outside. This represents Hawaii and its people."

—JOE FARRELL, ARCHITECTS HAWAII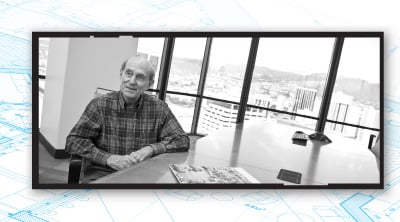 SURROUNDED BY WATER
To symbolize the Pacific Ocean, an "ocean" surrounds the Capitol – though that pool now has algae, which has been countered with tilapia and ozone treatment. The columns that emerge from the "ocean" are broad on the bottom, narrowing as they rise before blooming onto the Capitol's roof to represent our ubiquitous palm trees.
The ocean contrasts with the "fire" of the arcing chamber walls of the House and Senate, which, along with the interior lava colors, are an ode to the volcanoes that gave birth to the Islands, a juxtaposition of water and fire that Farrell calls "the strongest piece of symbolism within the Capitol."
He suggests the volcanic metaphor may have even deeper significance than the architects intended. "We often joke that things do blow up in the House and Senate from time to time. It's a very appropriate shape."
"Other capitols were inspired from history – Greek columns and the looks of the buildings. Most still are today. They were beautiful buildings, but the symbolism was of another time. Hawaii's Capitol is modern, with attributes of Hawaii."

—JOE FARRELL, ARCHITECTS HAWAII
OVERT SYMBOLS
Other elements in the Capitol's design are more obvious: The state seal is posted at each entrance; native materials, such as ohia and koa woods, were commonly used; statues of Queen Liliuokalani and Saint Damien oversee the two entrances; and next to Damien is a replica of the Liberty Bell.
A glass mosaic mural called "Aquarius" is built into the floor of the courtyard that is exposed to the Hawaiian sky, and represents the colors and reflections of the sea.
One unique feature is the openness of the design, Farrell says. A central, open courtyard leads to the doors of the House and Senate chambers, welcoming citizens to their government building.
"If you take a look at all the rotunda in the United States, they are all enclosed in domes, where in this building everything is inviting from the outside," he says. "This represents Hawaii and its people."
MODERN SHIFT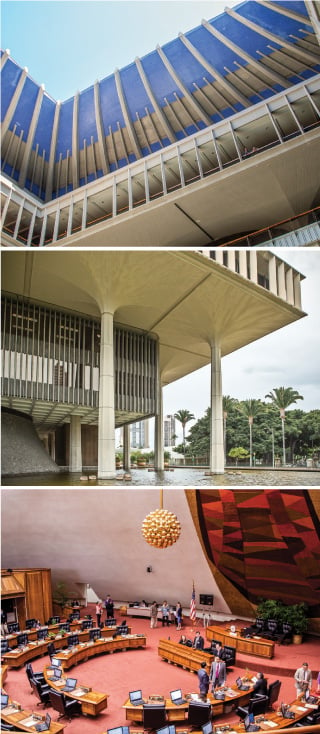 The Capitol's design represents a historic shift: Hawaii's was the first American capitol to use modern architecture, Farrell says. "Other capitols were inspired from history – Greek columns and the looks of the buildings. Most still are today. They were beautiful buildings, but the symbolism was of another time. Hawaii's Capitol is modern, with attributes of Hawaii."
The Capitol's design also respects Hawaii's past. "The designers first looked at lining it up with Iolani Palace and it diminished Iolani Palace," he says. "They didn't want to do that, so they moved it over so it lined up with the huge banyan tree. That was a very respectful and human thing to do."