Meticulously Whimsical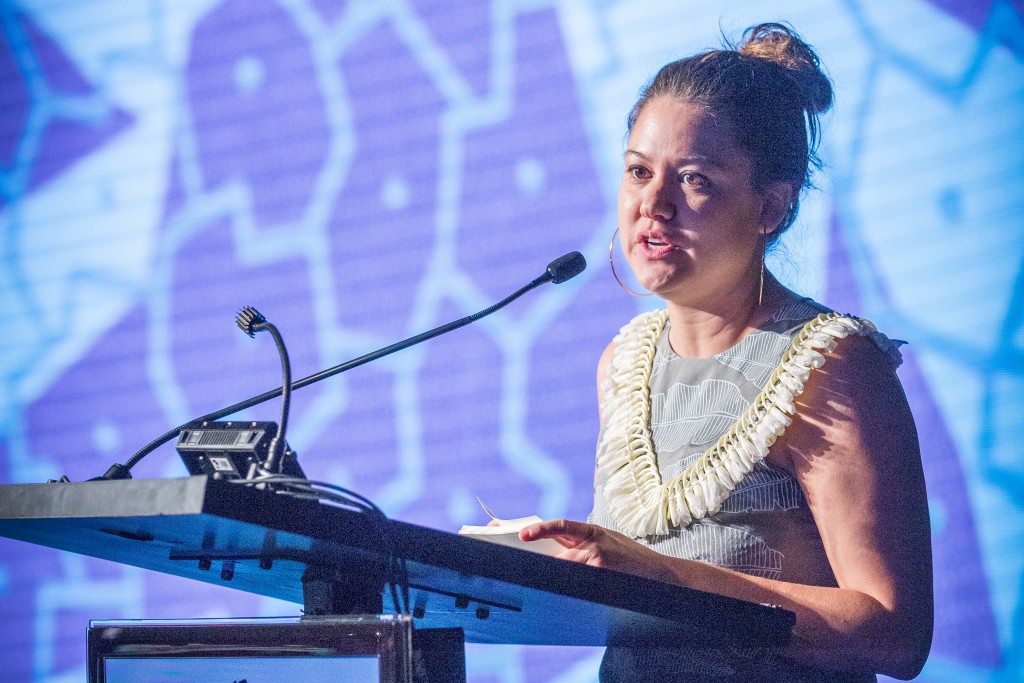 It's hard to tell if it was her business model or her impressive multimedia presentation that won Jana Lam the second annual Pitch Panel at Honolulu Fashion Week. Whatever did it, she received an impressive package of business services, advertising and other resources and opportunities that will help take her "meticulously whimsical" prints to the next level.
"I'm really hopeful," Lam says. "There is so much I want to do and so much I want to accomplish and sometimes I think that I'm too scattered and I don't know where to focus my energy, but I'm hoping at this point I'm going to be able to move in the right direction.
"I'm hoping to start licensing work, do creative work commercially, try to do artwork for commercial venues and also start looking at how to expand my line into other products by licensing or growing my own brand."
Pitch Panel pits three designers against one another to propose ideas to investors and business executives. This year's other contestants were Brooke Hauguel of Peace of Paradise, and Danene and Pono Lunn of Manuhealii.
Hearing their pitches were four mentors: Innovation Global Capital CEO Yasunobu Kyogoku, American Savings Bank executive VP Johnathan Choe, Nordstrom Ala Moana GM Melanie Ellis and Georja Skinner, chief of the Creative Industries Division at the Hawaii Department of Business, Economic Development and Tourism.
"The biggest takeaway so far has been working with the mentors," Lam says. "It's been amazing and eye-opening. They don't sugar coat anything and they just tell you like it is. It's been really good and I learned a lot from them.
"They give you feedback on where you're going and what you need to do, and then come up with new ideas that you haven't even thought of that are invaluable."
Peace of Paradise was looking for investments to grow its marketing initiatives and Manuhealii wanted capital to start a new line to enter the wholesale market. Although their pitches were strong, their plans faced numerous challenges and long timelines. On the other hand, Jana Lam's prints were ready for licensing – with legal guidance – and could be easily launched in a quarter.
The Jana Lam brand built a cult following on Oahu with its handbags and clutches, but the future is expansion into bedding and other home goods, Lam says. She grew her company organically, producing pieces at home in Niu Valley with her son, husband and friends. Lam is a 1999 graduate of Punahou School who received a B.A. in English from Davidson College in North Carolina and then a bachelor's degree in architecture and design from the Academy of Arts in San Francisco. As a creative and entrepreneur, Lam sees tremendous value in Pitch Panel and Honolulu Fashion Week for the focus they bring to local designers and brands.
"I think [Honolulu Fashion Week] is super important," she said. "I think it's a vehicle for everyone to see what the local creatives are doing. It is a focal point that everybody can see and see what is coming next and be excited to see what's going on. I think it's super important and I hope people will continue to support it."
---
WHAT SHE WON
Jana Lam's first-prize package from the Pitch Panel at Honolulu Fashion Week in November:
Quarterly strategic sessions and consultations from Innovation Global Capital;
Executive consultation with a business banking expert from American Savings Bank;
Business leader lunch with panelists from Nordstrom, aio and the state Department of Business Economic Development and Tourism;
One sponsored post and six months of banner ads on Frolic Hawaii;
VIP access to all of the 2017 Hawaii Business magazine events;
Two full-page ads in HONOLULU magazine, including design and photography;
Digital and social-media strategy consultation and followup from Upspring Media.
Both runner-up companies won slimmed-down versions of the same support services.