How to Evolve in the Modern Media World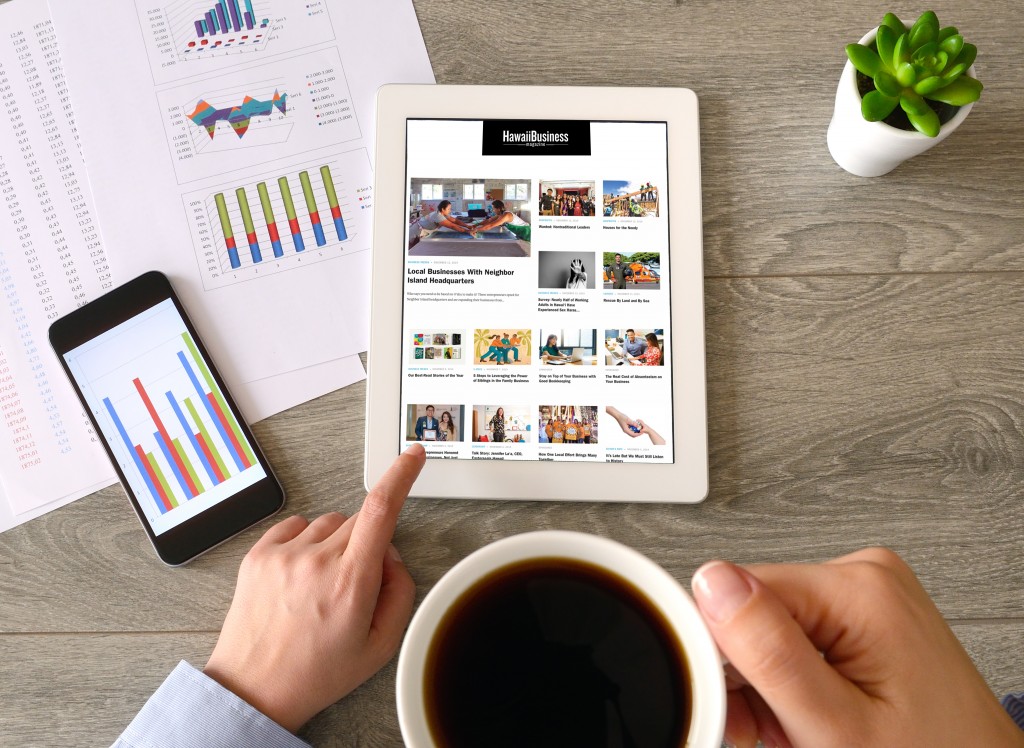 We could spend hours discussing which industry has been disrupted the most over the past few decades, but certainly the media ranks near the top.
Remember, media is a plural noun and it encompasses millions of different businesses, nonprofits, platforms and print publications worldwide – everything from Hollywood studios to this regional business magazine in the middle of the Pacific. Some media are flourishing, others surviving and too many are dying.
Count Hawaii Business Magazine as strong, getting stronger and constantly evolving to stay that way. The latest good news on that journey is our selection for the much-coveted second cohort of Newspack by WordPress.com, a new platform for small and medium-size news organizations. One factor in our selection was being named two years in a row as the best regional business magazine in the country.
Newspack aims to solve a big problem for local and niche media. National news outlets like the New York Times, Fox News and NPR can spend a lot of money on websites, video and podcasts because their potential audience is hundreds of millions of people across the country. We focus all our coverage on Hawai'i, and do it well, but that means our potential audience is in the hundreds of thousands.
Newspack aims to provide small news media like Hawaii Business Magazine with cost-efficient websites and other technology and business solutions so we can focus on our journalism, events, advertising and customer service. Web development and maintenance are a huge cost for small news media, so easy-to-use yet first-class digital services from Newspack will be a big help. To fund the innovations, Newspack says, it has raised $2.65 million, mostly from the Google News Initiative, The Lenfest Institute for Journalism, ConsenSys and The Knight Foundation.
While one Newspack goal is efficiency and sustainable costs for all small news outlets, another goal is increasing the revenue that helps those media survive. Newspack has promised to develop the tools to make that happen.
Hawaii Business Magazine survives mostly on money from advertising and from event sponsorships. Our print advertising continues to flourish – that's because we have 67,000 print readers a month, most of them affluent business owners and executives.
Digital revenue is more of a challenge: Our digital dollars are growing dramatically each year, but from a smaller base than print. Because we want to reach the most readers possible, we have avoided a paywall such as those erected by the Honolulu Star-Advertiser and Pacific Business News.
Instead of a paywall, we must figure out how to raise revenue from our digital products. We've done well with the advertising that pays for our free, twice daily email newsletter, Today's Hawai'i News. The advertising succeeds because the subscribers are engaged with the content – for instance, THN's PM edition has an astonishing open rate of about 40%. (Subscribe at hawaiibusiness.com/newsletter to get a quick summary of the top local news stories.)
Movers & Makers launched this year and is already another successful and fast-growing digital product for us. It tells our readers about promotions and other successes by local executives and professionals. For a small fee, tell your story or that of your colleagues at hawaiibusiness.com/movers-makers.
We have plenty more useful and engaging articles and products coming out in print and digitally in 2020. Stay tuned for all that.