Moneyball: What Hawaii's Sports Stars Earn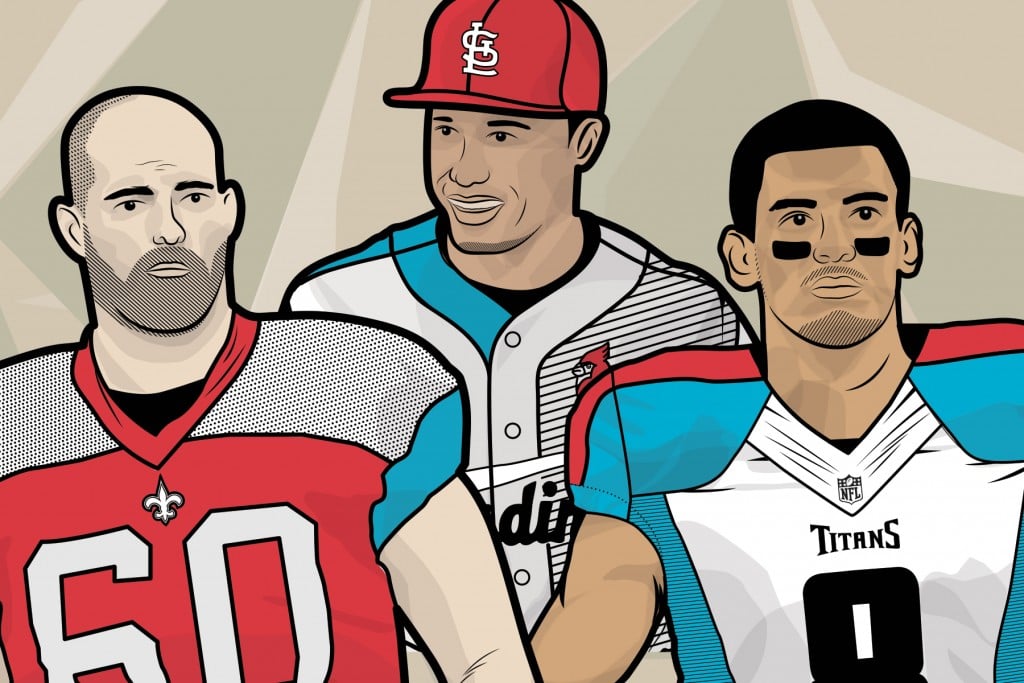 Our list of professional athletes with Hawaii ties includes a baker's dozen making at least $1 million in 2018
In 1926, Red Grange – football's first superstar – signed a contract with the Chicago Bears that paid him $100,000 for 19 games. At the time, the average NFL salary was less than $100 a game.
Sixty years later, in 1986, the year Max Unger was born, the average NFL salary was $203,565. Today, at age 32, Unger will pull in $8 million in salary and bonuses.
Unger tops our 2018 list of highest-paid professional athletes with Hawaii ties. Marcus Mariota is right behind him and will undoubtedly shoot to the top spot in 2019. Some NFL observers speculate he could command a new contract that will pay him at least $30 million annually.
Here's our list for 2018. Please note: Endorsement money is not included in the figures. The list does not include athletes in individual sports. (Just for comparison's sake, through July 23, Michelle Wie has earned $551,815 in 14 LPGA tournaments this year – with 13 events remaining on the schedule.)
Our main source is Spotrac.com, a website that specializes in tracking the compensation of professional athletes.
1
MAX UNGER
Center, New Orleans Saints
Born: Kailua-Kona, Hawaii Preparatory Academy
2018 salary: $8 million*
Three-year contract (2017-2019): $22.2 million
Now in his 10th NFL season, the two-time Pro Bowl center didn't miss a snap for the Saints last year despite battling a preseason foot injury. Unger is scheduled to be an unrestricted free agent after the 2019 season.
* Includes a $1.75 million signing bonus and $1.75 million roster bonus
2
MARCUS MARIOTA
Quarterback, Tennessee Titans
Born: Honolulu, Saint Louis School
2018 salary: $7,704,446*
Four-year contract (2015-2018): $24,213,974
In 2017, Mariota helped lead Tennessee to the franchise's first playoff victory since 2003. While 2018 is technically the final year of his contract with Tennessee, the Titans have already exercised their fifth-year option to retain the former Saint Louis School standout through the 2019 season. His total salary in 2019 will be $20,922,000. Considering the rising market for talented QBs, expect the Titans to try to sign Mariota to a new, long-term contact worth in excess of $30 million per season.
* Includes $3,967,541 signing bonus and $3,031,905 roster bonus
3
DEFOREST BUCKNER
Defensive end, San Francisco 49ers
Born: Honolulu, Punahou School
2018 salary: $4,961,179*
Four-year contract (2016-2019): $18,190,995
One of the NFL's rising defensive stars, Buckner enters the third year of his four-year contract with the 49ers. Pro Football Focus, which provides advanced statistics and grades for every player in the league, ranks Buckner No. 1 among all defensive tackles in terms of "quarterback hits." He's likely due for a big payday in the next year or two.
* Includes a $2,857,453 signing bonus and $1,473,726 roster bonus
4
KOLTEN WONG
Second baseman, St. Louis Cardinals
Born: Hilo, Kamehameha – Hawaii, UH
2018 salary: $4 million
Five-year contract (2016-2020): $25.5 million
Wong is in the middle of a five-year deal with the Cardinals. His escalating deal will pay him $6.5 million next season and $10.25 million in 2020. St. Louis also has a club option to retain the infielder in 2021 for $12.5 million. Although he had a poor start offensively in 2018, Wong was named by Fielding Bible as the best defensive second baseman in the league.
5
TYSON ALUALU
Defensive tackle, Pittsburgh Steelers
Born: Honolulu, Saint Louis School
2018 salary: $3.625 million*
Two-year contract (2017-2018): $6 million
Alualu enters his ninth season in the league and his second with the Steelers. He spent his first seven seasons with the Jacksonville Jaguars. Regarded as one of the team's best run defenders, Alualu is scheduled to hit the free agent market after the season.
*Includes a $625,000 roster bonus
6
KURT SUZUKI
Catcher, Atlanta Braves
Born: Wailuku, Baldwin HS
2018 salary: $3.5 million
One-year contract (2018): $3.5 million
Just when it appeared the veteran catcher's career was winding down, Suzuki responded with a banner 2017 season, slugging a career-high 19 home runs for the Atlanta Braves. The team rewarded the Maui native with a one-year contract that more than doubled his 2017 salary ($1.5 million). The team would like to retain Suzuki's services for another season, but may have to choose between him and the younger Tyler Flowers, who is also having a solid 2018.
7
MANTI TEO
Linebacker, New Orleans Saints
Born: Laie, Punahou School
2018 salary: $2.8 million*
Two-year contract (2017-2018): $5 million
After four mediocre and injury-plagued seasons with the then-San Diego Chargers, Teo joined the Saints last season and the change did wonders for him. For the first time in his career, the Punahou School alum was able to play all 16 regular-season contests, making 11 starts. He may be in line for a full-time starting position and increased playing time in 2018.
* Includes $300,000 signing bonus, $750,000 roster bonus and $50,000 workout bonus
8
DAVID AMERSON
Cornerback, Kansas City Chiefs
Born: Honolulu (grew up in Greensboro, North Carolina)
2018 salary: $2.25 million*
One-year contract (2018): $2.25 million
What a difference a year makes. In 2017, Amerson pulled in a hefty $8.5 million salary as a member of the Oakland Raiders. Once looked upon as a mainstay in the Raiders' secondary, his subpar season made him a salary cap liability and the Raiders released him in February. The Chiefs picked up Amerson on a one-year "prove it" deal.
*Includes a $234,372 roster bonus, $500,000 signing bonus and $125,000 workout bonus
9
HAUOLI KIKAHA
Linebacker, New Orleans Saints
Born: Laie, Kahuku HS
2018 salary: $1,675,644*
Four-year contract (2014-2018): $5,266,310
Injuries have hampered Kikaha's progress as a Saint. The former Kahuku standout missed the entire 2016 season with a torn ACL; he has yet to play a full NFL season. Still, he is a talented player who has posted eight sacks in 27 career games.
*Includes a $522,511 signing bonus
10
KAMALEI CORREA
Linebacker, Baltimore Ravens
Born: Honolulu, Saint Louis School
2018 salary: $1,568,082*
Four-year contract (2016-2019): $5,749,639
Correa has struggled to gain his footing with the Ravens' defense, compiling only eight total tackles in his first two seasons. In 2017, Correa played the entire season, starting three games. It's likely he will have to improve his numbers to continue his stay in Baltimore.
*Includes a $595,388 signing bonus
11
SHAWN LAUVAO
Guard, Washington Redskins
Born: Honolulu, Farrington HS
2018 salary: $1.5 million*
One-year contract (2018): $1.5 million
*Includes a $300,000 signing bonus and $140,625 roster bonus
12
STEVEN WRIGHT
Pitcher, Boston Red Sox
UH
2018 salary: $1.1 million
One-year contract (2018): $1.1 million
13
KIRBY YATES
Pitcher, San Diego Padres
Born: Lihue, Kauai HS
2018 salary: $1,062,500
One-year contract (2018): $1,062,500
14
ISAAC SEUMALO
Guard, Philadelphia Eagles
Born: Honolulu (grew up in Corvallis, Oregon)
2018 salary: $854,966*
Four-year contract (2016-2019): $3,200,864
*Includes $190,966 signing bonus
15
TREVOR DAVIS
Wide receiver, Green Bay Packers
UH
2018 salary: $686,794*
Four-year contract (2016-2019): $2,567,176
*Includes $56,794 signing bonus
16
NICK NELSON
Cornerback, Oakland Raiders
UH
2018 salary: $654,670*
Four-year contract (2018-2021): $3,158,680
*Includes $174,670 signing bonus
17
KAMU GRUGIER-HILL
Linebacker, Philadelphia Eagles
Born: Honolulu, Kamehameha-Kapālama
2018 salary: $630,000
Four-year contract (2016-2019): $2,440,356
18
GREG GARCIA
Second baseman, St. Louis Cardinals
UH
2018 salary: $569,600
One-year contract (2018): $569,600
19
RIGOBERTO SANCHEZ
Punter, Indianapolis Colts
UH
2018 salary: $559,000*
Three-year contract (2017-2019): $1,677,000
*Includes $4,000 signing bonus
20
KAIMI FAIRBAIRN
Placekicker, Houston Texans
Born: Kailua, Punahou School
2018 salary: $557,500*
Three-year contract (2016-2018): $1,625,000
*Includes $2,500 signing bonus
21
JERROL GARCIA-WILLIAMS
Linebacker, Denver Broncos
UH
2018 salary: $555,000
One-year contract (2018): $555,000
*Includes $2,666 signing bonus
22
ISIAH KINER-FALEFA
Third baseman, Texas Rangers
Born: Honolulu, Mid-Pacific Institute, UH
2018 salary: $545,000
One-year contract (2018): $545,000
23
DEJON ALLEN
Offensive lineman, Chicago Bears
UH
2018 salary: $480,000
Three-year contract (2018-2020): $1,710,000
T-23
TRAYVON HENDERSON
Safety, Cincinnati Bengals
UH
2018 salary: $480,000
Three-year contract (2018-2020): $1,710,000
T-23
MARCUS KEMP
Wide receiver, Kansas City Chiefs
UH
2018 salary: $480,000
Three-year contract (2017-2019): $1,665,000
T-23
LEO KOLOAMATANGI
Tackle, Detroit Lions
UH
2018 salary: $480,000
Two-year contract (2018-2019): $1,050,000
27
ANDREW DYKSTRA
Goalkeeper, Colorado Rapids
Born: Honolulu
2018 salary: $100,008