Moneyball 2019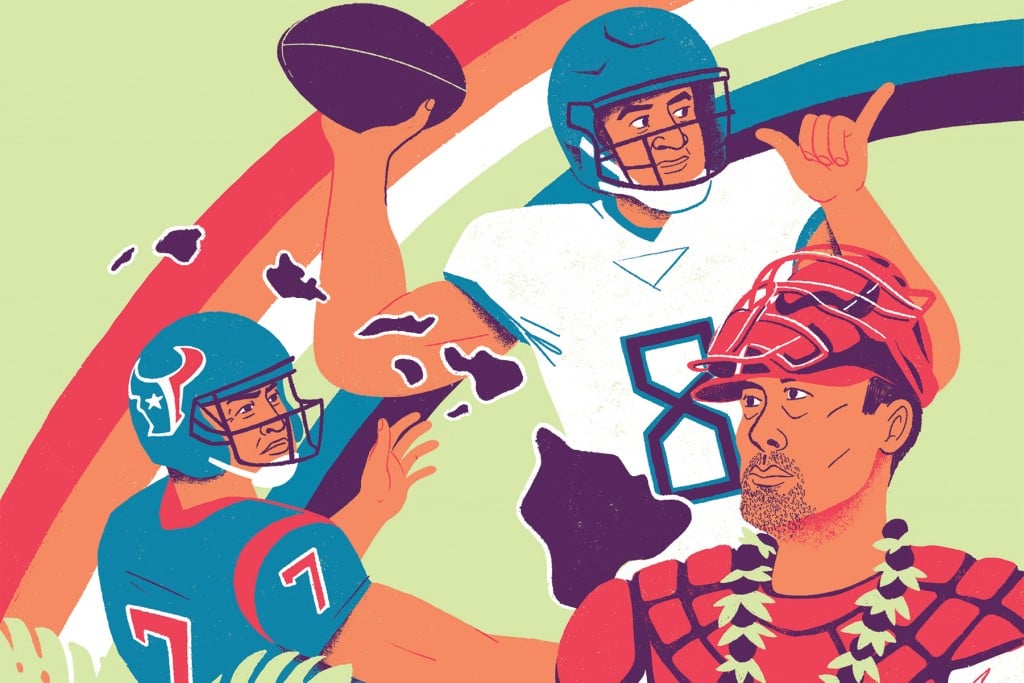 A dozen professional athletes with Hawai'i ties will earn more than $1 million in 2019, but a Titan stands head and shoulders above the rest.
Marcus Mariota knows the financial rewards of being a starting NFL quarterback.
Now in his fifth season with the Tennessee Titans, the former Saint Louis School standout stands to pocket a base salary of more than $20.9 million in 2019 – and that's not including his endorsement income from companies such as Nike, First Hawaiian Bank and Island Insurance.
Nonetheless, in terms of overall contracts, Mariota ranks only 26th among current NFL quarterbacks. Matt Ryan of the Atlanta Falcons tops that list, having signed a five-year, $150 million contract in 2018. Patrick Mahomes, in his third year with the Kansas City Chiefs, is reportedly hoping to become the league's first $40 million-per-year player.
Mariota heads our 2019 list of highest-paid professional athletes with Hawai'i ties. In second place is Kolten Wong, the former Kamehameha-Hawai'i and UH standout who is now in his seventh season with MLB's St. Louis Cardinals. In total, 12 Hawai'i athletes will make more than $1 million in 2019.
Our source is Spotrac.com, a website that tracks the compensation of professional athletes. Endorsement money is not included in the figures. The list does not include athletes in individual sports such as golf.
1. MARCUS MARIOTA
Quarterback, Tennessee Titans
Hawai'i tie: Born in Honolulu; Saint Louis School
2019 Salary: $20,922,000
Four-Year Contract (2015-2018): $24,213,974
The Titans exercised their fifth-year contract option on Mariota, ensuring that the former Saint Louis Crusader stays with the team through the 2019 season. The Titans seem to be taking a wait-and-see approach in deciding whether to offer Mariota a new contract. His growth as an NFL QB has been curtailed by a rash of lingering injuries.
2. KOLTEN WONG
Second baseman, St. Louis Cardinals
Hawai'i tie: Born in Hilo; Kamehameha-Hawai'i, UH
2019 Salary: $6.5 million
Five-year contract(2016-2020): $25.5 million
Wong is in the fourth season of his five-year deal with the Cardinals. He's been inconsistent offensively but is on target to garner his first Gold Glove award for defensive play. At the time of this writing, Wong ranks first among all second basemen in three defensive categories.
3. DEFOREST BUCKNER
Defensive End, San Francisco 49ers
Hawai'i tie: Born in Honolulu; Punahou School
2019 Salary: $5,788,044*
Four-year contract (2016-2019): $18,190,995
This spring, the 49ers exercised their fifth-year option on Buckner, which will keep him with the team through 2020. His salary next season will increase to more than $12.3 million, and the rising star stands to earn more than that in the future. The team is looking to lock up the 2018 Pro Bowl honoree to a new long-term deal.
*Includes $2,857,455 signing bonus and $2,210,589 roster bonus
4. KURT SUZUKI
Catcher, Washington Nationals
Hawai'i tie: Born in Wailuku; Baldwin HS
2019 Salary: $4 million
Two-year contract (2019-2020): $10 million
After enjoying an offensive renaissance the past two seasons with the Atlanta Braves, the 35-year-old Suzuki signed with the Nationals, where he is an above-average hitter and a respected locker room presence. He currently splits time behind the plate with fellow catcher Yan Gomes.
5. KA'IMI FAIRBAIRN
Placekicker, Houston Texans
Hawai'i tie: Born in Kailua; Punahou School
2019 Salary: $3,095,000
One-year contract
Now in this third season in the NFL, Fairbairn has established himself as one of the best young kickers in the league. He set a franchise record with 37 made field goals in 2018 and converted 85% of his field goal attempts. The Texans are reportedly hoping to sign the former Punahou standout to a long-term deal.
6. KIRBY YATES
Pitcher, San Diego Padres
Hawai'i tie: Born in Līhu'e; Kaua'i HS
2019 Salary: $3,062,500
One-year contract
7. RIGOBERTO SANCHEZ
Punter, Indianapolis Colts
Hawai'i tie: UH
2019 Salary: $3,004,000*
Four-year contract (2019-2023): $11,600,000
*Includes $4,000 signing bonus and $2,355,000 roster bonus
8. TYSON ALUALU
Defensive Tackle, Pittsburgh Steelers
Hawai'i tie: Born in Honolulu; Saint Louis School
2019 Salary: $2,125,000*
Two-year contract (2019-2020): $5,750,000
*Includes a $875,000 signing bonus
9. ISAAC SUEMALO
Offensive guard, Philadelphia Eagles
Hawai'i tie: Born in Honolulu
2019 Salary: $1,739,966*
Four-year contract (2019-2022): $15,918,000
*Includes $990,966 signing bonus
10. STEVEN WRIGHT
Pitcher, Boston Red Sox
Hawai'i tie: UH
2019 Salary: $1,375,000
One-year contract
11. JAHLANI TAVAI
Linebacker, Detroit Lions
Hawai'i tie: UH
2019 Salary: $1,253,449*
Four-year contract (2019-2022): $6,893,968
*Includes a $758,449 signing bonus
12. KAMALEI CORREA
Linebacker, Tennessee Titans
Hawai'i tie: Born in Honolulu; Saint Louis School
2019 Salary: $1,234,043
Four-year contract (2016-2019): $5,749,639
13. GREG GARCIA
Second baseman, San Diego Padres
Hawai'i tie: UH
2019 Salary: $910,000
One-year contract (2019): $910,000
14. TREVOR DAVIS
Wide Receiver, Green Bay Packers
Hawai'i tie: UH
2019 Salary: $776,794*
Four-year contract (2016-2019): $2,567,176
*Includes $56,794 signing bonus
15.NICK NELSON
Cornerback, Oakland Raiders
Hawai'i tie: UH
2019 Salary: $744,670*
Four-year contract (2018-2021): $3,158,680
*Includes $174,670 signing bonus
16. KAMU GRUGIER-HILL
Linebacker, Philadelphia Eagles
Hawai'i tie: Born in Honolulu;
Kamehameha-Kapālama
2019 Salary: $720,000
Four-year contract (2016-2019): $2,440,356
17. MARCUS KEMP
Wide Receiver, Kansas City Chiefs
Hawai'i tie: UH
2019 Salary: $570,000
One-year contract
18. lEO KOLOAMATANGI
Guard, Detroit Lions
Hawai'i tie: UH
2019 Salary: $570,000
Two-year contract (2019-2020): $1,050,000
19. MITCHELL LOEWEN
Tight End, Detroit Lions
Hawai'i tie: Born in Lahaina; Lahainaluna HS
2019 Salary: $570,000
One-year contract
20. ISIAH KINER-FALEFA
Third Baseman, Texas Rangers
Hawai'i tie: Born in Honolulu; Mid-Pacific Institute, UH
2019 Salary: $569,500
One-year contract
21. JORDAN YAMAMOTO
Pitcher, Miami Marlins
Hawai'i tie: Born in Pearl City; Saint
Louis School
2019 Salary: $555,000
One-year contract
22. JOHN URSUA
Wide Receiver, Seattle Seahawks
Hawai'i tie: Born in Kailua-Kona; UH
2019 Salary: $515,590*
Four-year contract (2019-2022): $2,602,360
*Includes a $20,590 signing bonus
23. TRAYVON HENDERSON
Safety, Cincinnati Bengals
Hawai'i tie: UH
2019 Salary: $497,000*
Three-year contract (2018-2020): $1,712,000
*Includes a $2,000 signing bonus
24. HERCULES MATA'AFA
Linebacker, Minnesota Vikings
Hawai'i tie: Born in Lahaina; Lahainaluna HS
2019 Salary: $496,333
Three-year contract (2018-2020): $1,714,000
25. JORDAN AGASIVA
Offensive guard, Jacksonville Jaguars
Hawai'i tie: Born in Honolulu; Mililani HS
2019 Salary: $495,000
Three-year contract (2019-2021): $1,755,000