My Job: Car Trouble – Who You Going to Call?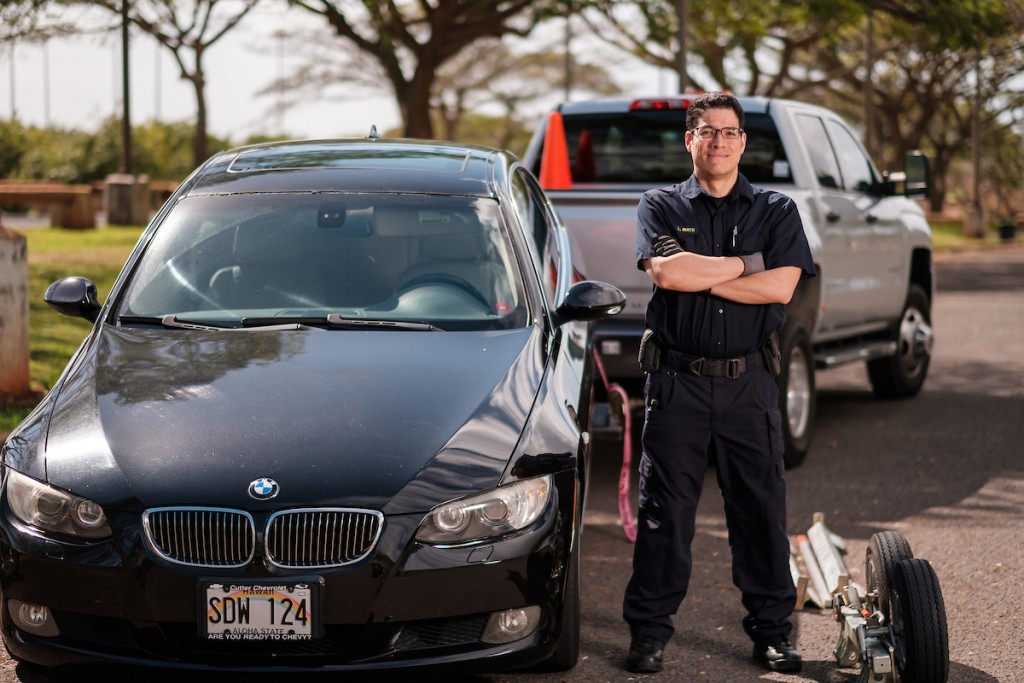 Name:

Lincoln Smith


Age:

34


Job:

Tow Truck Operator and Owner, Areo Towing & Recovery
The Kaimuki High School graduate got the idea to start his own towing company in 2012 when he was working as a security guard at a location where he often had to call tow companies. "I picked up a used tow truck and practiced maneuvering my own car, friends' cars or cars that were donated to me," Smith recalls. "If I had questions, I would Google the answer or ask veteran tow companies.
"I do emergency response, towing, recovery, traffic and parking control, lockouts, fluid delivery, hazardous cleanup, tire changes, battery jump-starts and basic vehicle maintenance."
What It Takes: "You have to be willing to work under pressure without supervision, have a passion to help others, but also be willing to take enforcement action if needed. You should have first-aid/CPR/AED defibrillator skills; basic knowledge of vehicles, traffic and parking control; and a basic knowledge of hazmat/chemical/fire/electrical hazards. "The job is very dangerous, so training, education and an alert mind are very important."
Challenges: "Other drivers at times do get in the way by delaying me from getting to an emergency scene by blocking me or cutting me off on the road. Drivers sometimes never slow down or move over when I'm at a scene performing roadside assistance, even though I have detour signs out and vehicle hazard lights on. "The hardest part of the job is the enforcement side, such as ticketed vehicles, repossessions or vehicles that are trespassing, where people look at me as the bad guy – not thinking there is always a reason why I have to take action against the vehicle."
Payment: "I was forced to change my policy by collecting money or a credit card number upfront after being stiffed a few times after a tow. However, safety is always first, so if the location is unsafe, I would take my chances in getting stiffed."
Sleep: "I'm on call 24/7 – my phone never turns off. At times, the calls do affect my free time with family and friends, and my sleep time. This is why I make friends with other tow companies or hire workers." 
Unusual Accident: "I arrived to find this vehicle in a parking lot with a sign pole lodged into the transmission, with transmission fluid everywhere. The only way I could figure out how to remove the pole from the vehicle without causing more damage, was to pull the vehicle off the pole the opposite way it had gone on. The pole was cemented onto the ground, so I couldn't pull it out. I still can't figure out how that person damaged their vehicle."
This interview has been edited for clarity and conciseness.