My Job: Forecasting Weather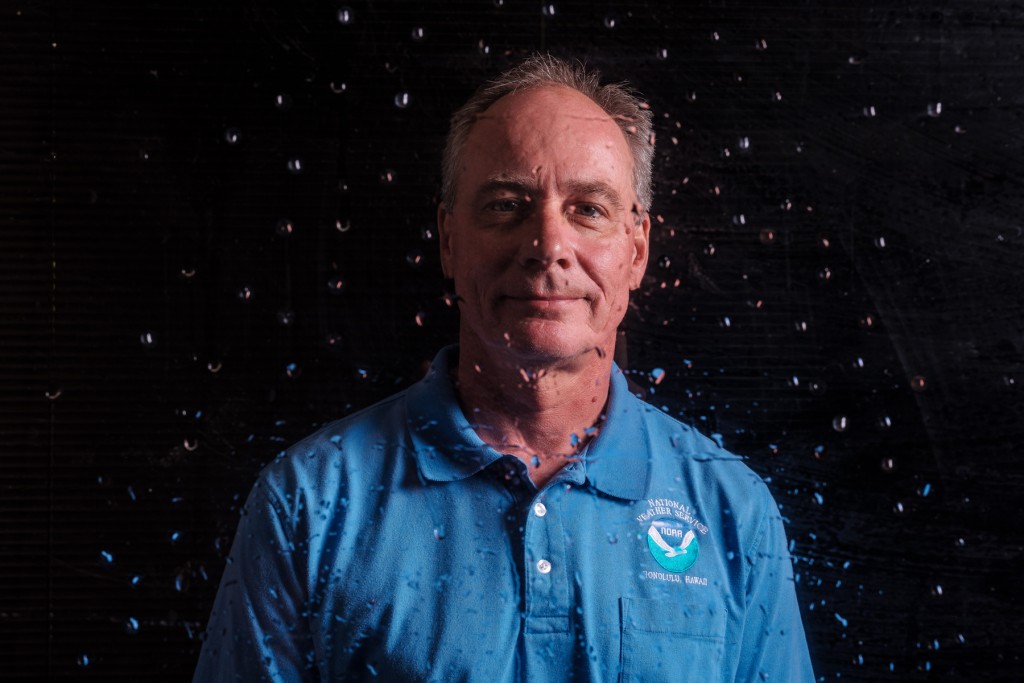 Name: Thomas R. Birchard Jr.
Age: 50
Job: Senior forecaster,
National Weather Service Honolulu/Central Pacific Hurricane Center
Beginnings: After high school in the New Jersey/New York area, Birchard joined his mother on Kaua'i. "I worked as a crew member for both Captain Zodiac and Na Pali Adventures on the north shore of Kaua'i before attending UH Mānoa," Birchard recalls. "The captains and crew liked to surf or bodyboard, and would talk about when the next big swell was expected."
This led the young undergraduate to consider oceanography as his major, but it wasn't available, so he "sort of stumbled upon meteorology."
He graduated from UH with a master's degree in meteorology in 1999. While in graduate school, Birchard also worked as a part-time weather anchor at KHNL-TV. Shortly after graduating, he joined the National Weather Service.
What It Takes: "I supervise a team of three to four meteorologists in the preparation of both routine and nonroutine forecasts for the public, aviation, marine and surfing communities of Hawai'i. We work rotating 12-hour shifts. There are always at least four meteorologists on duty, 24/7/365.
"We are also tasked with keeping an eye out for any potential weather hazards that could impact Hawai'i and other areas of the Pacific."
Misconceptions: "People will say being a weather forecaster in Hawai'i is easy – but there are so many unique weather regions in the Islands, with microclimates that exist due to elevation and wind/rain shadows on every island.
"We also have forecast responsibilities for a large chunk of the tropical North and South Pacific."
Uncertainty Definitions: There are guidelines, Birchard says, for what terms to use in forecasts, based on the probability of precipitation: "slight chance/isolated" if 20%; "chance, scattered" if 30% to 50%; "likely, numerous" if 60% to 70%; and "rain" if 80% to 100%.
Tough Days: "One of the hardest shifts I can remember working was when Hurricane Ana approached Kaua'i from the south in 2014, but was expected to make a hard turn to the west instead of significantly impacting the island. Every minute that passed without seeing Ana turn was excruciating. Thankfully, by about hour 10 or 11 of our 12-hour shift we saw signs that Ana was turning away as expected.
"I was working the night the Kaloko Dam burst on Kaua'i in 2006, subsequently killing seven people. It was unnerving to watch the amount of rain that night, and we were issuing flash flood warnings throughout the night to warn residents and visitors. After the shift I went home to sleep, only to find out about the deaths after waking up."
Notoriety: "Guy Hagi at Hawaii News Now gets approached by people all the time with comments about his forecasts. At least I only take heat from people in my inner circle who know what I do for a living."
Pay Range: "Entry-level at the NWS is around $35,000 to $40,000 a year, with promotion potential up to about $130,000."
This interview has been edited for clarity and conciseness.