My Job: I'm Underwater With Sharks, Polar Bears, Walruses
This marine biologist works everywhere from the tropics to the poles. His goal: To understand and protect the ocean for the benefit of all.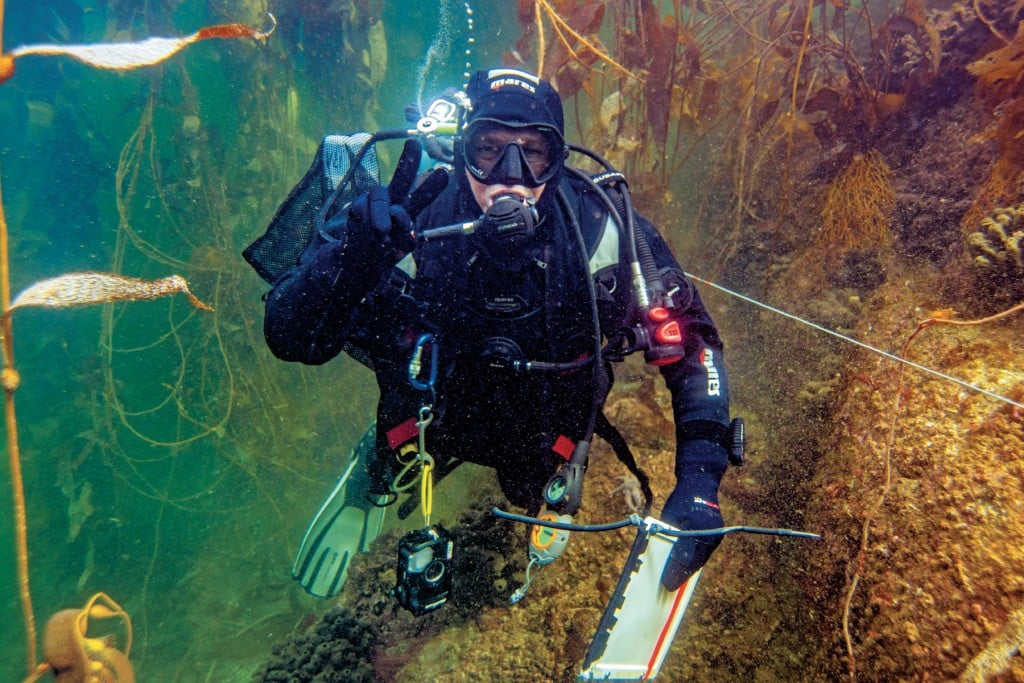 NAME: Alan Friedlander
JOB: Marine Biologist, Chief Scientist for National Geographic's Pristine Seas Project and Director of UH's Fisheries Ecology Research Laboratory
BEGINNINGS: "I grew up surfing on the East Coast and moved after college to San Diego for warmer waves," he says. "I joined the Peace Corps and worked with the local fishing community on an outer island in Tonga.
"I realized how important healthy oceans were to people and the encyclopedic knowledge within a lot of these communities about how the ocean worked. I decided I wanted to try to understand and help protect the ocean for the benefit of all."
So Friedlander got his master's in oceanography, then worked in Puerto Rico, the Virgin Islands and elsewhere in the Caribbean before getting his doctorate at UH.
CHALLENGES: "We work everywhere from the tropics to the poles. I've been in Antarctica and the Arctic. Diving under the ice has its own challenges. The first time I was in the Russian Arctic, I got frostbite and I've been chased out of the water by polar bears and walruses."
Friedlander says he has been surrounded by a hundred sharks in the South Pacific and though he has not been bitten, a shark bit his team's rubber boat once, he says. Luckily, the boat had multiple air compartments, so it was able to limp home.
TRAVEL: In addition to Antarctica and the Arctic, he's been to seemingly countless exotic places.
"We were in Cape Horn, the most treacherous body of water on Earth at the southern tip of South America between the Atlantic, the Pacific and the Southern Ocean. Being in the middle of nowhere sometimes has crazy consequences but you see amazing things as well."
He's also been to Rapa Nui (Easter Island); the Juan Fernández Islands off Chile; the Galápagos; Malpelo Island off Colombia; Cocos Island, which is famous for its hammerhead sharks, off Costa Rica; the Revillagigedo Islands off Mexico; Niue, a small country between the Cook Islands and Tonga; Palau; Rapa Iti, one of the southernmost islands in French Polynesia; the Seychelles; Mozambique and Gabon in Africa; and in the Atlantic, the Selvagens, Azores and Tristan da Cunha, the most isolated populated island on earth.
"I think that's probably it. How many is that?"
EQUIPMENT: "Before everything else, you need a boat and many places we go are so remote that it's hard to find a nearby boat to charter." When his team first went in 2005 to the Line Islands, which are south of Hawai'i near the equator, the team used a rusted World War II boat that was falling apart.
"We ran out of food, all kinds of stuff. But it was kind of 'misery loves company.' It was such an amazing trip because we had this just great group of scientists on board and everybody was like a little kid out there."
Friedlander says many of these places are relatively unexplored, so the teams do as much as possible.
That includes "basic scuba diving surveys for fish, coral, kelp or whatever is there. We do rebreathers with deeper diving or technical diving that can take us down 50 to 100 meters. We have used submersibles that got us down to 500 meters. We've used deep-water drop cameras that National Geographic developed in the deepest parts of the ocean, including the Marianas Trench.
"We do a lot of collecting, including water samples, looking at microplastics. We have been collecting microfossils in the sediment because they're a good indicator of previous climates."
MISCONCEPTIONS: "One misconception about most marine biologists is that you scuba dive all the time. That is actually my job, but most marine biologists aren't as fortunate.
"I think a lot of people become biologists or scientists because they don't like people or numbers, but having worked a lot on policy, you need skills with both. Being at sea for weeks can be challenging for people. Fortunately, we all get along very well."
OCEAN MANAGEMENT: "The oceans are resilient and manage themselves very well. It's people that need to be managed. We need to figure out the optimal way to balance human needs and a healthy ocean."
COVID-19 PIVOTS: His last pre-pandemic expedition was to Palau. Since then, he's done a lot of writing and worked at Pūpūkea on O'ahu's North Shore and at Molokini, off Maui.
He says many areas thrived during Hawai'i's tourism shutdown. "Nature rebounds really quickly when people go away. Even though Hanauma Bay, Pūpūkea and Molokini aren't being fished, the animals respond negatively to too many people. They don't reproduce the same way, they don't feed the same way."
This interview has been edited for clarity and conciseness.