My Job: Protecting Animals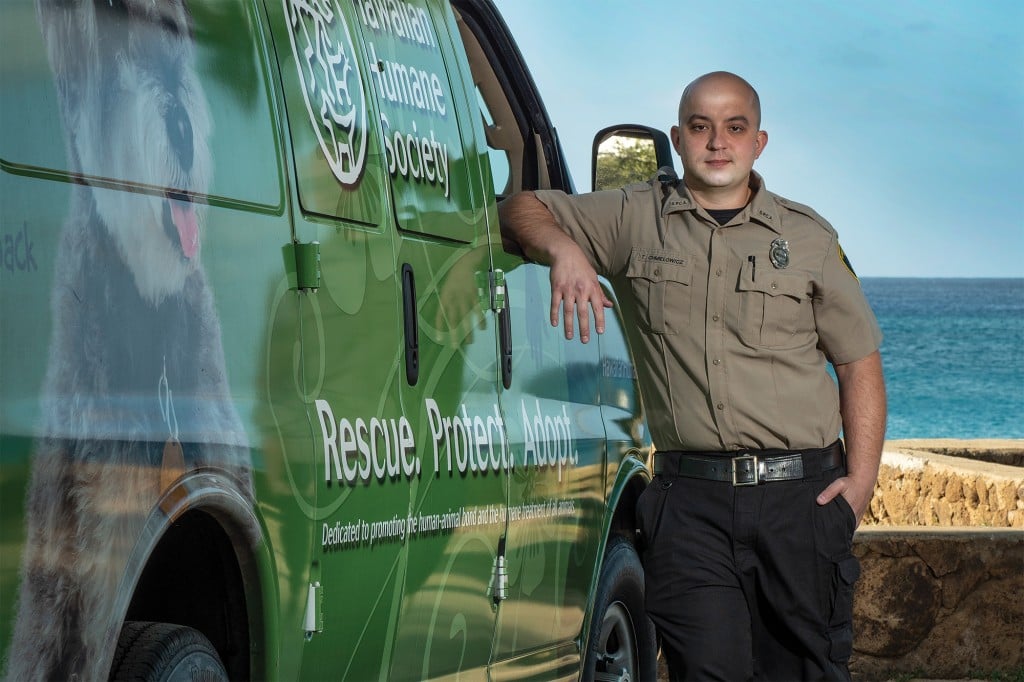 Name: 
Tom Chmielowicz

Age: 
36

Job: 
Humane investigator, Hawaiian Humane Society
Start: The New Jersey native received a bachelor's degree in environmental economics  from Rutgers University in 2006. He moved to Honolulu in 2014 to be closer to his fiancee's family.
"I had wanted to work with animals for a long time prior to joining the Hawaiian Humane Society, specifically in an area where I could do something about animal abuse and cruelty," Chmielowicz explains. "Previously, I had worked as a carpenter, in foreign currency trading and as an English-language teacher in Singapore. I use all of these experiences in my current job.
"For instance, carpentry helps when animals need to be rescued from tight spots and a rescue tool needs to be improvised."
What It Takes: As a humane investigator, I am a badged special police officer with the Honolulu Police Department and have jurisdiction to enforce animal-related laws. Though we issue citations around 12 city and county ordinances, there are probably a few hundred that we need to have a working knowledge of.
"Technically, anyone can apply to be an investigator. I would say experience in education or customer service might be more valuable than animal-related experience, but experience handling animals certainly helps. Educating people about animal care and the surrounding law is a huge part of my job."
Toughest Days: "The job can be stressful. It is often slightly dangerous and occasionally very dangerous. I can't even think of all the times I have been locked in an area with a large, scared or aggressive dog that I needed to rescue or remove. People can also be unpredictable in some situations."
Challenges: "The job can be difficult emotionally. I would compare it to social work with children, where something so innocent needs help and you just can't fix it every time.
"One huge misconception is that we would take a pet from someone against their will. The removal of an animal only occurs in situations where the life of the animal is at risk, and the owner is unable or unwilling to do what is required under the law.
"Another misconception is that we work more with animals than with people. I would say about 75 percent of my time is spent working with and educating people, and 25 percent working with animals."
Rescue: "A cat had gotten stuck between two cement walls. It could only be reached by balancing on top of two narrow walls, about 7 to 8 feet high, and reaching down to pull the cat out. The owner and I spent more than two hours balancing on top of the walls and using long tools I had to make on the spot, and with rope we were able to slowly pull the cat backwards out of there. The family was really happy to have him back.
Pay: Depending on experience, an investigator starts at around $35,000 a year.
This interview has been edited for clarity and conciseness.