My Job: Staying Balanced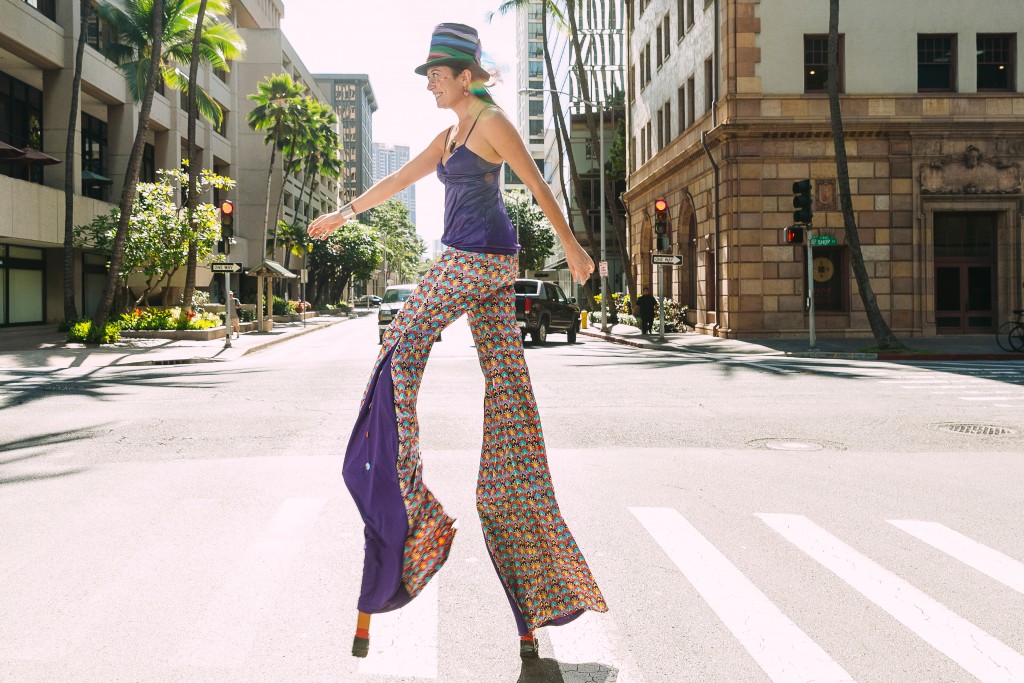 NAME: Lealyn Poponi
AGE: 39
JOB: Stilt walker
START: Poponi, originally from Monroe, Michigan, dreamed of moving to the Islands since she visited Maui with her family when she was 18. "In 2013, I sold almost everything, quit my job and came out here to give it a shot. Besides clothes, my stilts were one of the only things I brought to Hawaii."
Although she doesn't have any specific gymnastics experience, Poponi says she's always been fit and active. "I started stilt walking in 2009 when a friend asked me to teach his daughter hula hooping in exchange for my own pair of stilts. I started making pants for the stilts and inviting myself to walk in Fourth of July parades. I got my first job in 2013 for Kamehameha Schools' high school circus-themed prom.
"I never really thought of it as a job, but just getting paid to do something fun and silly."
Now, the Kailua resident gets paid to entertain on her 2-foot-high peg stilts at weddings, baby luau, special events, parades and fundraisers.
WHAT IT TAKES: "It took me seven to 10 walks to get comfortable enough to look like I was just walking and not all stiff and wobbly. Nobody wants to think the stilt walker is going to fall down when they come by."
What happens if she does fall down? "I would need to take the stilts off first, then walk over to something high to sit on. When I am outside, I usually look for those plastic trash bins or the hood of a van. I sit on that and then strap on the stilts. If all I had was a regular chair, then I would need someone to help me sit down and stand up." Poponi says she's only fallen once after she got distracted, and luckily wasn't hurt.
CHALLENGES: "Doing the Macarena is easier than standing still for a picture on stilts! Walkers on peg stilts have to keep shifting weight from one stilt to the other in order to stay balanced because those are our only two balance points. If I stand on both stilts at the same time, I only have one balance point and so there is no other point to shift to except the floor!"
"The hardest job I got was working for the New Year's party at Kakaako Waterfront Park in 2014. They wanted me to just stand in a small area next to a display. Since the motion of walking helps me stay up, I just shifted from one peg to the other for two hours!"
NEW STUFF: "To stay exciting as a stilt walker it's good to keep investing in costumes. Your job is to make an event look exciting and playful, and your costume really brings the fun."
ADVICE TO NEWBIES: "Just buy some stilts and start practicing. When I first started off, I held onto a wall and just walked back and forth. I also made a big, fancy cane out of PVC pipe. Invest in a nice costume. Also, make friends in the circus community, because they will send you referrals."
PAY: "I usually get paid $150 to $250 for a gig, depending on the length of time."
This interview has been edited for clarity and conciseness.