Native Hawaiian Businesses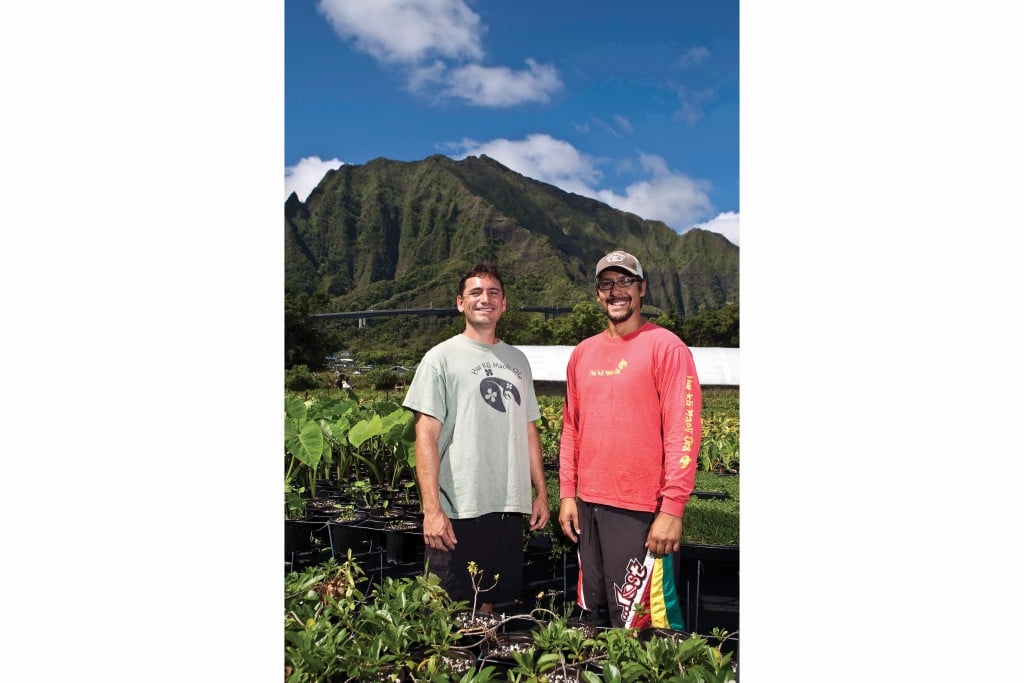 Finding a way to preserve culture
Hui Ku Maoli Ola, a native plant nursery nestled deep in Haiku Valley on Windward Oahu, is a kind of island unto itself. Except for the steepest, most inaccessible parts of the Koolau Mountains, which tower over the nursery, the surrounding landscape is awash with plants from other parts of the world. Exotic trees from Asia; shrubs and vines from South America; and a flood of invasive grasses from Africa and Europe.
Although many of these plants are beautiful, collectively they have inundated most of the native flora of Hawaii. Even formerly common plants, like the hibiscus maohauhele, the official state flower, are now rare and endangered in the wild. But the nursery, its tidy greenhouses and gardens brimming with native plants, is an ambitious attempt to stem the tide of extinction. It's also a fascinating model for integrating Native Hawaiian values and Western business practices.
There have, of course, always been successful Native Hawaiian business owners. But their success rarely had anything to do with their culture. In fact, many of the basic assumptions of business success — profit, development, growth — were disparaged by many in the Native Hawaiian community. It seemed there were Native Hawaiian business owners, but few Native Hawaiian businesses.
But that's all changed. Now, with the growing relevance of Native Hawaiian issues — in politics, education, the arts and the environment — Hawaiian culture itself has become a medium of success. And that has created a new kind of business model. For many emerging companies like Hui Ku Maoli Ola, the whole reason for existence is to preserve, promote and explain Hawaiian culture. Profit has become a means — a way to finance their greater missions — rather than an end.
The business side of Hui Ku Maoli Ola's equation is simple enough. Partners Rick Barboza and Matt Schirman founded Hui Ku Maoli Ola nearly 10 years ago in the backyard of a Waimanalo home. In 2005, emboldened by surprising early success, they moved to their current location in Kaneohe. As a sign of their ambition, Barboza and Schirman chose to carve their nursery from an overgrown, 63-acre parcel that includes lands leased from Kamehameha Schools, old kuleana lands and land purchased from the Hawaiian Electric Co. "We're probably about six acres of that now," Schirman says. "In nursery terms, that's on the smaller size. But what's really interesting about those six acres is that they're strictly native. We're definitely the largest producer of natives in the state."
Hui Ku Maoli Ola is best known as the supplier for the popular native plant section at Home Depot garden centers. For the past several years, this has been consumers' only reliable source for a variety of hard-to-find (and even rare and endangered) Hawaiian plants. The big-box outlet was also a critical step in the company's growth, providing the volume that allowed the founders to expand from backyard hobbyists into a commercial nursery. "Probably, if you took it collectively, we do $150,000 a year through Home Depot," Schirman says.
But retail is no longer their primary focus. Today, Hui Ku Maoli Ola largely acts as a wholesaler, supplying native plant material for large developments and government projects. In addition, the company is an important contractor for habitat restoration, providing services such as alien species removal, site planning and out-planting of special materials. Schirman points to the company's ongoing restoration projects in Kalaeloa, Hamakua Marsh, Waimanalo Stream and Kahana Pond on Maui. "And we're working on test plots for that Disney project that's coming through," he notes. "The shoreline there will all be in natives." All this growth hinges on the efficient production of large quantities of native plants by the small nursery.
Native Books/Na Mea Hawaii
Another fascintating example of Native Hawaiian entrepreneurship is Native Books/Na Mea Hawaii, an intriguing pastiche of bookstore, art gallery, gift shop and cultural center. Maile Meyer, who opened Native Books nearly 20 years ago, has succeeded by focusing scrupulously on Hawaii — first, by offering a comprehensive selection of books about Hawaiian subjects; and, later, a variety of exclusively Hawaiian-made crafts, even when they were difficult and unprofitable to stock. It's a business model that has taken Meyer from the old downtown cooperative, Mana Hawaii, to her big store in Ward Warehouse, to two, tiny new boutiques in Waikiki.
But, like Hui Ku Maoli Ola, Native Books/Na Mea Hawaii blurs the lines between for-profit and nonprofit. Indeed, despite the wide array of exquisite Hawaiian crafts and the state's largest collection of books devoted to na mea Hawaii — things Hawaiian — perhaps the most distinguishing feature of the stores is the ongoing stream of cultural programs. There are free classes in hula, ukulele and the Hawaiian language. Maybe more important, Meyer allows other cultural groups to use her facilities, giving them a venue to practice and teach traditional crafts. "Turning on the lights, for them, would be really expensive," she says. "But here, the lights are already on. I'm open for anyone who needs space, and those are easy things to do; I'm paying for them already." But Meyer is quick to point out this is hardly the route to riches. "I'm a revenue-generating organization that's always operated like a nonprofit."
She also notes that this model works in reverse. "There are a lot of Hawaiian nonprofit entities that really do function in a business model," Meyer says. "Charter schools, for example: They're really businesses. In fact, they generate some of the best-selling books in the store." She points out that these organizations include many of the touchstones of contemporary Native Hawaiian culture: hula halau with large and vibrant communities, and even branches in Japan and on the Mainland; a thriving Hawaiian music industry; and the Merrie Monarch Festival. "There are probably 200 to 300 small businesses that make as much as 50 to 60 percent of their income in those three days," Meyer says. All these organizations thrive by embracing Hawaiian culture.
Curiously, though, the nursery isn't really the heart of Hui Ku Maoli Ola. Its spiritual center lies farther up the valley in a wild section where Barboza and Schirman are building a kind of traditional Hawaiian village. This is the home of Papahana Kualoa, a nonprofit they created to preserve and promote Hawaiian culture and natural history. A steady stream of volunteers and student groups has constructed a heiau, an impressive structure of dry-stack stones built in broad terraces up a hillside. From its summit, you can gaze over ancient loi they have excavated and restored. Frequently, you can see small groups of children and their teachers tending the kalo.
For Barboza and Schirman, native plants have always been a surrogate for cultural practices. "If you look at Hawaii's culture," Schirman says, "what makes us unique are Hawaii's plants." He points out that, for aboriginal peoples around the world, cultural practices are remarkably similar; the differences depend on the plants available. "And we have a whole range of endemic plants that are unique to Hawaii," he says. "That's what sets us apart. Take something like nau (a native gardenia). No one else in the world has nau. We use it to make a certain dye, also called nau. And it's plants like this that have determined our culture over the centuries." For both Hui Ku Maoli Ola and Papahana Kualoa, the fundamental business model involves educating people about this link between environment and culture. In the end, Barboza and Schirman succeed because of their love and understanding of Hawaiian culture, not in spite of it.
Renaissance in Hawaiian commerce
The re-ascendance of Hawaiian culture in commerce probably has its origins in the visitor industry, particularly with George Kanahele and his campaign to bring Hawaiian people back to Waikiki. This nod to culture, though often window dressing, has nevertheless been influential in changing how business interacts with the Native Hawaiian community. Within the visitor industry, it's resulted in a cadre of distinguished cultural practitioners — people like Clifford Naeole at the Ritz Carlton Maui, Daniel Akaka Jr. at the Mauna Lani on the Big Island, and Stella Burgess at the Hyatt Regency Kauai — who educate visitors and employees about Native Hawaiian values and culture. Frequently, they also serve as moral compasses for their resorts.
Independent consultants like Peter Apo and Ramsay Taum have also emerged to advise hotels and other organizations on culture. "I would say this has only emerged as a viable business opportunity in the last five years," Apo says. But for those who are able to move easily between the worlds of business and culture, it's a growing niche.
"The trick," says Apo, "is that the person who has a handle on the culture can only make themselves valuable to a business if they have the ability to make those values operational. When you sit down and have a spreadsheet, how do these values pencil out?"
Among these new cultural consultants is Dawn Chang, whose company, Kuiwalu, specializes in building community support for development projects. Much of that work involves controversial issues like burial grounds and access rights. Chang has a broad background in social work and community service. She's also an attorney, and founded Kuiwalu after several years as a state deputy attorney general. "I did a lot of real estate transactions," she says. "The last case I worked on was the Hokulia case," referring to the controversial Kona development. "I sat there doing preliminary injunctions, and I thought to myself, 'There's got to be a better way to do development in Hawaii. And it's not through litigation.' "
Her strategy is to promote an early dialog between the developer and the community. "I try to educate both the developer and the community that there's a positive way — a culturally appropriate, nonlitigious way — to do projects," Chang says. Her view is that, by engaging the community early and often, there is a much better chance for the two sides to reach consensus. "If the community has a sense of ownership, it's more willing to sustain the project in the long run," she says. Recently, she worked with the University of Hawaii, other scientific organizations and numerous community groups to create a comprehensive management plan for Mauna Kea. For Chang, that process was about personal conversations with the community. "I must have met with more than 200 groups," she says. "I do a lot of what we call 'small talk' conversations, going out to them in venues that they feel comfortable in — sometimes, it's even in their homes." In the end, she adds, "Many of them were so moved, they actually did a sign-waving campaign, saying, 'We support the management plan for Mauna Kea.' "
Importantly, Chang's model also calls for compromise from the developers and agencies with which she works. "These are very difficult, hard decisions," she says. "So it's not necessarily a fast process either. Sometimes you're going to have to delay construction. But you have to be respectful of this process."
Of course, Kuiwalu's success depends on the support of its clients, a mix of developers, government agencies and other large organizations. This is the most important change for the new Native Hawaiian businesses: the growing market for their services. Chang notes that business is brisk. She acknowledges that some clients go through the motions simply because they have to. ("I tell them, you're either going to pay on the front end, or you're going to pay on the back end because of lawsuits.") But she points out that there are also clients who are motivated by a sincere interest in community. "That also creates opportunities for companies like mine. There are people looking for the services that I can provide."
Conflicts remain among Native Hawaiians
Of course, despite the success of companies like Hui Ku Maoli Ola, Na Mea Hawaii and Kuiwalu, there are still real and often intransigent conflicts between the Western business model and traditional Hawaiian values. Even the idea of profit, the cornerstone of Western capitalism, runs against the grain for many Native Hawaiian business people. "Sometimes, the hardest thing is to charge people for what we do," says Matt Schirman. "It just doesn't seem like something that you should charge for." This kind of internal conflict is hardly surprising in a group whose motivation isn't fundamentally money. "Don't get me wrong," Schirman says, "we're trying to make a living — but to make a living so we can continue to do this, to get this stuff out as much as possible."
Native Hawaiian businesses also sometimes provoke conflict within the Native Hawaiian community — often because there's real disagreement about what makes true Hawaiian culture. "There have been some who will see the work that I do as 'selling out,' " says Dawn Chang. "There are some in the Hawaiian community, for example, who don't think I should assist the university at all." Indeed, Chang's work has been criticized by organizations like the Kanaka Council, a Big Island cultural group that has opposed development on Mauna Kea. For Chang, the key to dealing with groups like the Kanaka Council is to maintain a fundamental level of respect, whatever their differences. "We have had some heated discussions," she says. "But, when we walk out of that meeting, we continue to aloha each other."
Nevertheless, the idea of growth, implicit in the Western business model, is a concept that continues to trouble many Native Hawaiian business people. For example, Rob Iopa, principal and founder of WCIT Architecture, has made a reputation for designing some of the most culturally sensitive projects in Hawaii. "Not only structures," he says, "but programs that will invite Native Hawaiians back into the space." Yet, despite this cultural focus, he can't help but note an inherent contradiction in what he does. "I do personally struggle with being in a profession that looks to build," he says. "Hospitality in Hawaii means oceanfront — and usually oceanfront areas that have been open for quite some time." The resulting conflict between traditional use and visitor use is often intractable.
The idea of profit, the cornerstone of Western capitalism, runs against the grain for many Native Hawaiian business people.
In the end, business owners come to their own terms with these conflicts. Sometimes, it simply means passing up certain opportunities. "We've had occasions when the type of project, or its location, or the rationale behind the project just wasn't right for us," Iopa says. "I don't say that they're bad projects or bad people; they just don't fit our values. We've made it known that cultural sensitivity is extremely important to us — and not just as window dressing. If that's not inherently important to the people that we're dealing with, we just won't take the project."
There will always be some in the Native Hawaiian community who will oppose any development, people who will view the work of intermediaries like Apo, Iopa and Chang with suspicion. These cultural advisers all deal with criticism in their own way. "Everyone in life picks and chooses their battles," says Schirman. "We get a lot of criticism because we do a lot of projects for the military and for large-scale development. I don't support development; but what we're doing is we're putting native plants in the ground."
That commitment to act on their values is what sets these new Native Hawaiian business owners apart. "We all choose different paths to make change," Chang says. "I'm not going to apologize that this is the path I've chosen.
"I choose not to be stuck; I choose to move forward."