Negotiating Haleiwa's Future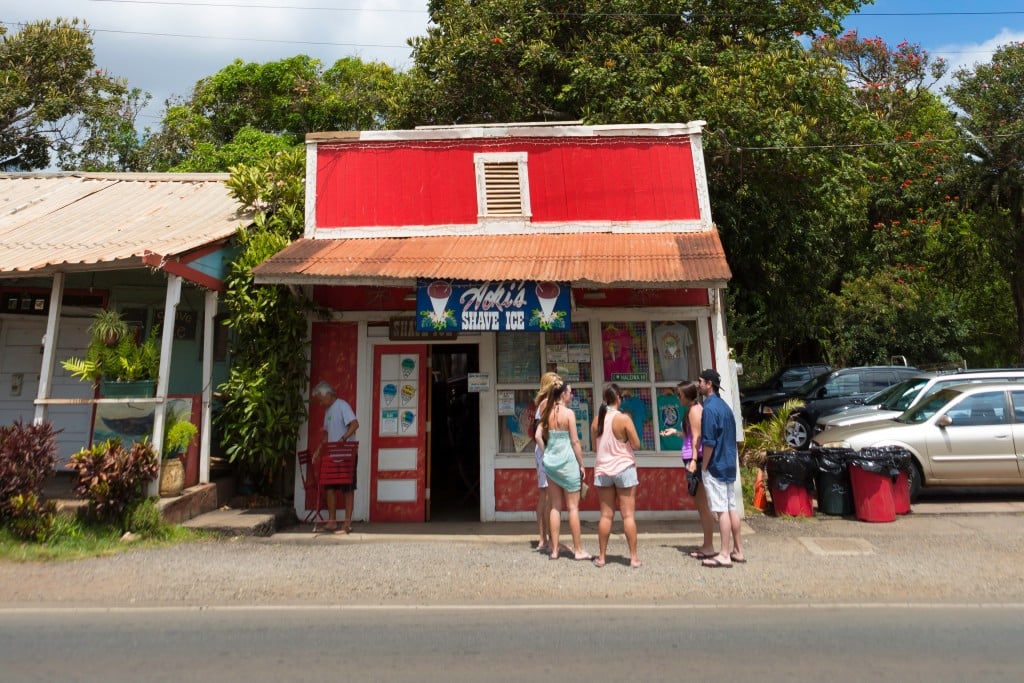 The line of customers outside Matsumoto Grocery Store is 15 deep. Visitors and locals alike wait patiently to place their orders, huddling under the eaves of the ramshackle old building to avoid the noon sun. In the dusty gravel parking lot, a Hawaiian family nurses their shave ice in the shade of a banyan tree. Out front, a steady parade of tourists shuffles along Kamehameha Highway, inches from the road, slowing traffic to a crawl.
It's a tableau repeated almost every day in sleepy Haleiwa town. For decades, these 1920s-era storefronts, like Matsumoto's, Aoki's Shave Ice, Iwa Gallery and the twin Yoshida buildings, have served as the cultural center of the North Shore. Legions of Japanese tourists, budget-conscious surfers, high- and low-brow bohemians, and "keep-country country" bourgeoisie have been drawn by the area's nostalgic charm. But it's also still the hub of a decidedly local community, a collection of longtime, extended families who cling jealously to Haleiwa's rural character.
By early 2013, though, big changes could be under way for the area around Matsumoto's. Kamehameha Schools, which owns most of downtown Haleiwa, has plans to redevelop the commercial district. The Haleiwa Commercial Redevelopment Project is expected to nearly double the area's retail space. The project also calls for additional parking behind the shops, converting the old gravel lot into a park-like gathering space and adding much-needed walkways along busy Kamehameha Highway. These components of the project address longstanding needs in the community.
But KS also plans to demolish the historic buildings currently occupied by Aoki's Shave Ice and Iwa Gallery (along with the unremarkable cinderblock building that houses the Assembly of God Church). Like Matsumoto's, these old buildings may be run down, but they're viewed by many as essential parts of the Haleiwa aesthetic. That's why it was so surprising when the North Shore Neighborhood Board voted unanimously in October to approve KS's redevelopment plans.
This is the story about the remarkable forces that shaped those plans, and the lengths Kamehameha Schools has gone to make those plans palatable to the development-averse North Shore community.
Reaching the Community
"It began with small groups," says Kalani Fronda, KS's senior land assets manager for the North Shore, and point man for its community engagement activities. "Purposely, we kind of sought out people that represent different parts of the community and we went out and talked to them. Prior to all of this, we sat down with kupuna and talked story with them about the area, about families, about them and about us, and what our thoughts were, our goals and visions."
That, he says, was the key to KS's community engagement strategy: Rather than approach the community with detailed, finished plans, they started with basic principles and broad objectives.
For many developers, of course, community engagement is often just a box they have to check as part of the zoning and entitlement process. In this case, though, most members of the business community say KS took the process seriously.
"They asked key leaders in the community to host these small group meetings," says Antya Miller, executive director of the North Shore Chamber of Commerce. "For example, I hosted a group of about five or six people, and Kalani came and asked us questions and got feedback from us." In addition, she points out, KS held several larger meetings that were widely publicized and attracted dozens of community members.
They also hired an independent researcher to conduct in-depth surveys of North Shore residents. "I'm not sure how much they spent financially," Miller says, "but it was a very extensive, community-based process that generated a lot of community input."
All that is moot, though, unless that input is actually taken seriously. Surprisingly, community members say their criticism and comments actually changed KS's plans. That can probably be seen best in the design for the Haleiwa Commercial Redevelopment Project. The original plans featured a simple line of storefronts along Kamehameha Highway. The architect certainly tried to retain the North Shore feel, using the various motifs and idioms associated with plantation architecture. In fact, one of the main reasons KS has garnered the support of organizations like the North Shore Chamber of Commerce and the Neighborhood Board has been its ready acquiescence to the design standards of programs like the North Shore Sustainable Communities Plan and the Haleiwa Special District. Nevertheless, as Antya Miller puts it, the early plans for the Matsumoto development "seemed a little strip-mall-y."
Later designs, though, reflect the suggestions of community members: The façade was broken up; the buildings became more freestanding; alleys were introduced between the buildings to provide better access to the parking in the rear. KS says they even consulted an expert in historic buildings to see if there was a way to save Aoki's Shave Ice, or to reuse some of the material from the old building. All this, Fronda says, was possible because KS listened to the community with an open mind.
In fact, he says, some members of the community were irritated that KS didn't put a more complete plan before them from the beginninng. Neil Hannahs, director of the Land Assets Division for KS, says that was an integral part of honest community engagement.
"We didn't have a preconceived notion," Hannahs says. "We walked in there and worked with the community and said, 'Here are the assets. Here are the strengths and weaknesses and opportunities. Here's our mission; this is what we're trying to do. What's important to you? What would you like to accomplish?' "
North Shore Master Plan
It's important to remember that the Haleiwa Commercial Redevelopment Project is just one part of a much broader plan for the 26,000 acres of land KS owns on the North Shore. Most of that land – about 15,000 acres – is zoned conservation. Another 9,000 acres are agricultural lands. Only about 2,200 acres, mostly along Kamehameha Highway and within Haleiwa town, are zoned rural and available for limited residential and commercial development. The schools' North Shore Master Plan, which was adopted in 2008, includes six planning elements that serve as a guide for managing those assets:
Increase natural and cultural resource stewardship and management;
Expand educational opportunities;
Establish alternative energy uses;
Enhance diversified agriculture and food production;
Develop/redevelop rural commercial; and
Develop rural residential.
Kekoa Paulsen, KS's director of community relations, explains that the trust's North Shore Master Plan is built around several "catalyst" projects. "These are projects that, from the time the plan was completed, kind of stood out as the things that we could do that would have the greatest impact and help us to actually implement the plan and get it rolling." By way of example, he describes KS's irrigation project for its North Shore agricultural lands, which cost between $2 million and $3 million.
"We wanted to get farmers on the land," he says, "but they couldn't get there until they had water. This was an irrigation system that was built at the turn of the 19th Century – so, it was early 20th Century tunnels, ditches, weirs etc. All those things had fallen into disrepair. So, that kind of rose to the level of catalyzing, because once those things were done, we could start finding farmers and crops that we could successfully move to the land." He points out that all those repairs have been made now: the ditches have been piped to minimize evaporation; the tunnels sleeved to prevent cave-ins; and the dams safely restored.
KS's other catalyst projects run the gamut of its North Shore assets. Work has already begun on the restoration of Loko Ea Fishpond, behind Jameson's By The Sea restaurant, so that it can be used as an educational facility and to produce fish again for the community. This summer, construction will begin on KS's ambitious Kawailoa windfarm, which will be the largest on Oahu. And KS has signed a contract with a local consulting firm to manage the environmental restoration of Okoa Marsh, the third largest wetland on Oahu. In the future, KS plans to build a cultural learning center in Kapaeloa, near Waimea Bay, and sell small tracts of land on Papailoa Road and in Kapaeloa for market housing developments.
But the catalyst projects that will have the most effect on Haleiwa itself will likely be the Town Center Commercial Development, which will include approximately 85,000 square feet of retail space, and Haleiwa Residential Village, which will create 350 new residential units, 130 of which would be affordable housing.
Those are the big plans that will take more than a decade to build. They also mean Fronda and his team still have a lot of work to do to build community support. Last year, though, KS won the American Planning Association's National Planning Excellence Award for Innovation in Sustaining Places for its community outreach and values-based planning process.
Strategic Plan
KS's North Shore Master Plan represents a dramatic change in how it manages its assets. For nearly 100 years, the trust had been a hands-off landlord; it's now becoming a highly engaged developer. According to Neil Hannahs, that transition from passive to active land manager can be traced back more than two decades to the slow demise of Big Sugar, and to Kamehameha Schools' own painful crisis surrounding Bishop Estate and the Broken Trust scandals in the late 1990s. Prior to these changes, Hannahs says, KS didn't need a plan for its North Shore assets. "The plan was simple: Collect Waialua Sugar's rent."
Of course, when Waialua Sugar died, that plan no longer worked. At more or less the same time, KS was undergoing an internal transformation that would change how decisions were made. For example, one result of the Broken Trust scandals was a restructuring of KS's governance, moving from a trustee-dominated organization to a more CEO-based structure. That helped create a more rational, objective policy-making process. But the most transformative outcome from the scandal was a court order requiring KS to develop a strategic plan that directly linked financial and educational objectives.
Through this strategic planning process, KS developed seven goals to guide its actions. Given the court directive to consider both financial and educational objectives, some goals were inevitable: to provide "a wide range of integrated, quality educational programs", and to optimize the value of both "financial and nonfinancial resources." Clearly, these goals help clarify KS's objectives and responsibilities on the North Shore. But those objectives and responsibilities are also shaped by goals that direct the trust to "cultivate, nurture, perpetuate and practice … Hawaiian culture," and to practice "ethical, prudent and culturally appropriate stewardship of lands and resources."
These goals fundamentally changed how KS looked at land assets. "Rather than just seeking economic maximization, we were to seek an optimal balance of economic, cultural, environmental and community returns," Hannahs says.
Local Perspective
Because the neighborhood board gave the Haleiwa Commer-cial Redevelopment Project unanimous support, it's tempting to think it's uncontroversial. But even those who strongly support the plan still have reservations about its details. For example, Antya Miller believes there's a strong demand for more commercial space in Haleiwa. For many years, though, she ran Haleiwa Main Street, a program that emphasized preserving the historic character of the town. For Miller, then, one of the biggest concerns has been the potential destruction of the buildings housing Aoki's and Iwa Gallery.
"From the neighborhood board's point of view," she says, "and from having been here and trying to implement the Main Street Program, obviously we're very concerned about the fact they're going to have to demolish a couple of historic buildings that are on the inventory."
She's not particularly sympathetic to KS's protestations that the buildings are too run down to save. "Part of the problem," Miller says, "is that the historic buildings that are owned by Kamehameha Schools are on month-to-month leases. Obviously, if you're month-to-month, you're not going to invest in keeping the building up. That's part of the reason the historic buildings are falling down." Despite her equivocations, though, Miller remains a supporter of the project.
Another community member who expresses qualified support is neighborhood board chair Mike Lyons. He hopes the Haleiwa Commercial Redevelopment Pro-ject will reverse what he sees as the town's slow dissolution. "I looked at it as kind of bringing back old Haleiwa," he says.
Even so, his support for the project is still provisional. "I'm definitely interested," Lyons says. "But I want to see the final plans, because any little thing could change it. Access alone could change the whole perspective of the project – if we don't have the right ingress and egress to the project. If the sewage plan isn't up to par that could throw everything out the window, so to speak. If we don't have adequate distance from the road, as we don't right now, that could change things."
Other North Shore residents and business leaders appear ready to give the school the benefit of the doubt for now. But it's important to understand that many community members must be careful about criticizing KS or its development plans. Most businesses are KS tenants, often on month-to-month leases. KS also has been a generous funder of many area nonprofits; they fear that criticism might endanger future support.
That's not to say KS has threatened anyone with retaliation for opposing its North Shore Plan. Quite the contrary, even those who are against any development in the area – in our informal polling, most are equivocal – admit that KS has scrupulously sought public comment and has altered its plans to accommodate many suggestions. Nevertheless, there's an undercurrent of cynicism about how much support the plan actually enjoys. As more than one Haleiwa resident pointed out, given the choice, most community members would prefer no change at all.
Tenants
That's the undercurrent of the conversation when you talk to the tenants. KS has made a point of saying they want to keep their current tenants, and that they plan to fill the new development with local businesses, not big national companies or chains. The real question is: Can the current tenants afford to stay?
Although neither side would comment on negotiations, it's widely believed that the current lessees – particularly the shave ice stores, who are viewed as "anchor tenants" for the new development – will be offered favorable rates. KS says it plans to charge "prevailing market rates" – $3 per square foot, more or less – for the new development, which current tenants describe as a substantial increase in rents. In addition, under the new leases, tenants will likely be responsible for additional costs, such as common area maintenance fees, property insurance and property tax. These new costs enter into their calculations as they try to decide whether to be part of the project. KS claims to have letters of agreement for seven or eight of the 20 spaces in the new development, but neither of the shave ice stores is a sure bet yet.
For Cathy Aoki, who, with her father, Michael, runs Aoki's Shave Ice, and Noriko Matsumoto, who owns Matsumoto General Store with her husband, Stanley, the challenges of joining the new development are clear. Both worry whether their small stores will be able to generate enough income to cover the higher costs. Although they hope the project will attract additional customers, they also expect new competition.
"Right now," Aoki says, "when a family of four pulls into the parking lot, all four come into the store and get a shave ice. Once the development is together, is it just going to be the two kids getting a shave ice, and mom getting a latte, and dad getting a smoothie? Or a beer? The new variety will be great for some people, but it might not be so great for some of us who are already here."
Another concern is that, in order to afford higher rents, the shave ice stores will have to increase prices, which they fear will drive away local customers. And locals, Aoki says, are key to their survival.
Matsumoto also worries that a price increase could threaten her family's business model. "We want to sell shave ice cheap," she says. "Not only for tourists, but for local customers. We don't want to charge high prices; we want them to come everyday."
These are existential questions for a small business. "For us, as a mom and pops business," Aoki says, "we've had family discussions about: Are we ready to maybe not be a mom and pops anymore, but maybe more of a big business. Our shave ice store is so small. We're not like multilevel management and stuff; it's just me and my father and our workers. But, when this project comes up, we're going to need to change our procedures."
"My accountant says we might going to be bankrupt," says Matsumoto a little more succinctly. "So, we're still negotiating."
KS has already said it's keeping the Matsumoto building, and that the family business doesn't have to move out for renovations. So, for Matsumoto, the decision to sign the new, 15-year lease might be a little easier. But, as Noriko points out, her husband is already 60 years old. "He'll be 75 when the lease is over," she says.
Of course, the situation is even more nerve-wracking for the Aoki family. The demolition of their old storefront will mean essentially starting over. Cathy Aoki points out that her family has been in business in Haleiwa for over 100 years, but she's still not sure the shave ice operation can weather the coming changes. To hedge their bets, the family has bought the building across the street and opened a new business there.
"It was to guarantee that we survive, I guess," says Cathy Aoki. "If our old mom and pops is gone, at least we have our new mom and pops."
She smiles wanly at the prospect of starting over before adding, "Maybe that will keep us going another 100 years."