A New Locally Owned Hotel Company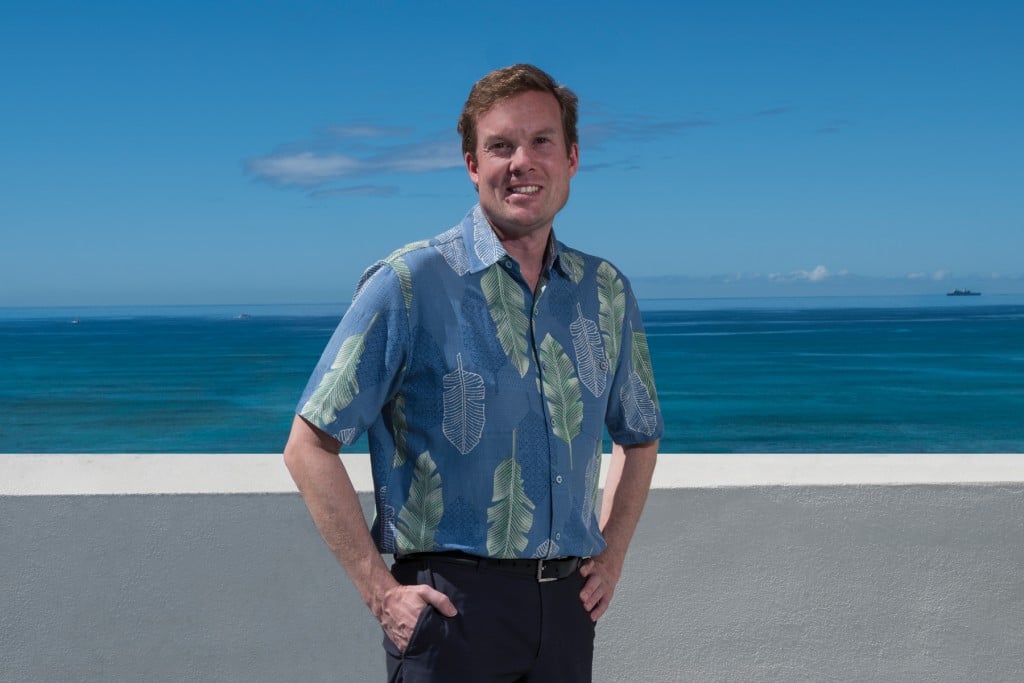 Ben Rafter, who previously ran Aqua, wants to turn OLS Hotels & Resorts into "the next great Hawaii hotel operator"
In an era when Hawaii's hotel industry is dominated by offshore owners and operators, Ben Rafter wants to build Hawaii's best locally owned hotel chain.
Rafter, previously president of Aqua Hotels & Resorts, is now CEO of OLS Hotels & Resorts, a nationwide operator of 23 branded and boutique hotels that plans to move its headquarters to Hawaii.
He says the company's Honolulu office will eventually be larger than the current Los Angeles headquarters, so the plan is to make the Honolulu office the new company headquarters in the near future, while retaining the L.A. office.
OLS currently operates five Hawaii hotels: Royal Grove and Hotel Renew in Waikiki; Plantation Hale Suites and Banyan Harbor Resort in Kapaa and Lihue, Kauai, respectively; and Ainamalu at Waikoloa Beach Resort on Hawaii Island.
Rafter, who also serves on Hawaii Tourism Authority's board of directors, owns the White Sands Hotel in Waikiki, separately from OLS.
In an era when private equity companies dominate the hotel industry in Hawaii and elsewhere, Rafter says there's no private equity or institutional capital in OLS. He says OLS executives own more than 50 percent of the company. The local owners are Rafter and:
Longtime hotel executive Mike Paulin, founder of Aqua Hospitality;
Jon McManus, owner of Hotel Wailea;
Patrick Kobayashi, president and CEO of Kobayashi Group;
Rob Robinson, former Highgate executive in Waikiki and current VP of OLS.
Here are highlights from an interview with Rafter, with answers lightly edited for clarity and conciseness.
Q: OLS is 30 years old, with an emphasis on California, the Southwest and a handful of Hawaii hotels. Why shift the headquarters to the Islands?
A: Historically, Hawaii has always had a great local operator, going back to the Kelley family with Outrigger and Andre Tatibouet of Aston. These companies have been gobbled up. There are companies that have their headquarters here, but they're all owned by people on the Mainland. We want to say that we're owned locally by local residents. I think it's important, because if you're here and the money the company makes stays here, you're extremely committed to the community. Our big goal is to be the next great Hawaii hotel operator and to continue carrying the mantle that Outrigger and others have carried over the years.
Q: How do you approach each hotel project?
A: We look at each hotel's strength and weaknesses. What we liked about Hotel Renew is it has a great location and great rooms, but it has very limited common areas. So at Renew we're embracing the wellness component of Hawaii. The wellness component is not a spa or gym in the hotel; it's the idea that you have all these wellness activities throughout Waikiki and Oahu. We're turning wellness on its head and saying wellness, especially in places like Hawaii, should happen outside the hotel.
We're doing rooms that are based on a modern apothecary – a very clean, lighter and brighter style – and building the amenities around wellness, then infusing the wellness activities with amazing things that happen in the community. There are so many different things people do for wellness on Oahu. I think Renew provides a great vehicle for visitors who want to get out and see what do people really do in Hawaii for wellness in addition to visiting a spa or going surfing or hiking.
Q: What's your vision for Waikiki that involves both locals and visitors? 
A: The next generation of chefs has emerged – Roy Yamaguchi and Alan Wong and all those Hawaii fusion chefs paved the way – but a lot of the next generation of chefs ask, "Why would I go to Waikiki?" Let's try to bring some of those chefs back: Ed Kenney did it for us at Surfjack. Waikiki used to be the heart of Oahu, and so one of the things that everyone, from us to Hawaii Tourism Authority, is asking is, "How can we bring people back to Waikiki?" I would like to bring some of the food and beverage that you see in Chinatown or other parts of Oahu back into Waikiki, rebuilding it as this is the place that is the heart and soul of Oahu. Locals and tourists will want to come here for events.
And that's why I think it's really important that we bring back things like Sunset on the Beach and other things into the park, because those are things the locals and tourists can enjoy. Bring back food choices that aren't just going to be either 95 percent locals or 95 percent tourists. I think that makes for a better experience for everybody.
Q: How is OLS designing experiences for visitors to Hawaii?
A: Everything we do is going to be localized to the community. The people we are targeting are all about a more localized experience. In my mind, these visitors coming to Hawaii are gravitating away from experiences like sitting with 1,000 people who aren't local in a chain restaurant that has 300 locations on the Mainland.
And since our hotels are smaller environments, we can target very hyperlocalized experiences around either food, the wellness components and other activities that happen in Hawaii. Our renovation of the White Sands Hotel is a good example: To everybody else, it was a run-down walk-up, but I walked by and saw it was super green and lush inside. If you took an overhead of Waikiki, you'd find this one little square on Kuhio between Nahua and Nohonani where there's all these green trees and everything and that's the White Sands.
To me, there's the chance to take the nostalgic factor and say this is what Hawaii looked like in the '60s and this is the Hawaii that was built out during the Jet Age, and it used to be that every single hotel generally looked like that. I think the idea of you walking into this hotel that's one of the older ones in Hawaii and will be the last walk-up, and you see green through and through, is going to be exciting to guests. This is going to be a little oasis in Waikiki.
Q: You began your career in tech, then switched to hospitality when you joined Aqua. What is it about hospitality that drives you?
A: When we sold Aqua, a lot of people asked, "Are you going to go back into tech?" I said no, I'd rather stay on the hotel side. Frankly it's a lot more fun. You're part of somebody's experience. Designing a hotel, operating a hotel to provide a great experience, you can immediately see a response from someone.
We're restoring the White Sands to the original 1960s look and feel of the hotel. You can see the engagement the guest has with what Waikiki was like in that era. That's something you don't get, particularly in the area of tech that I was in, which is much more like 12 people sitting in a basement room with a little tiny bit of light, working all night to build something.