Your Next Hire Should Be a "Hidden Worker"
Nontraditional workers such as former veterans and caregivers often outperform traditional employees.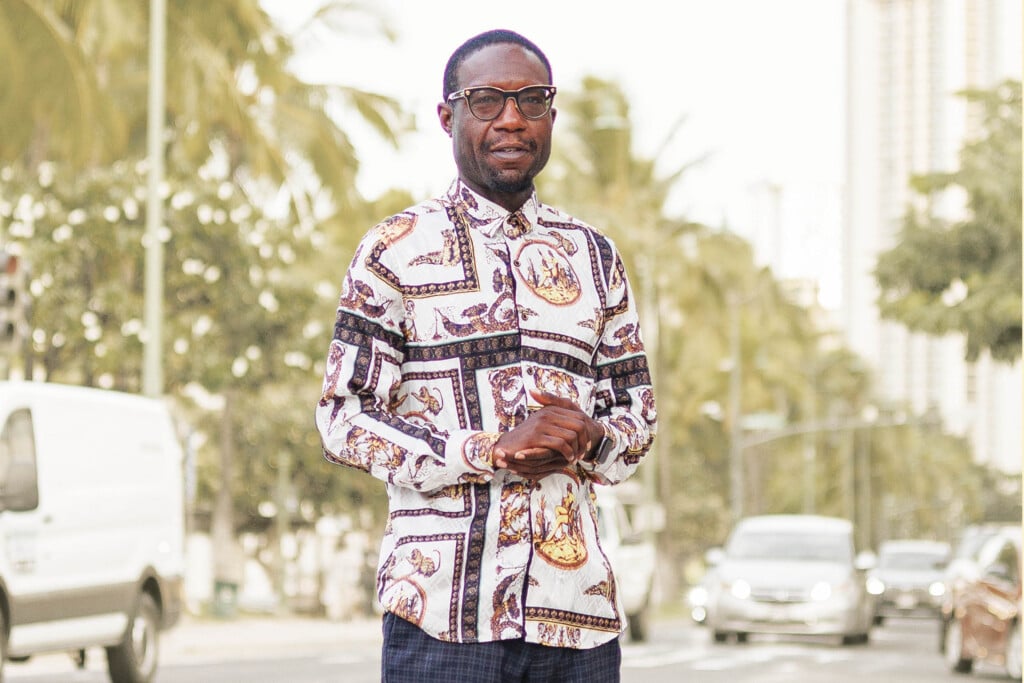 Rickey Welch was 19 when he enlisted in the Air Force shortly after the attacks on Sept. 11, 2001.
He served five years and says his biggest challenges when he returned to civilian life were post-traumatic stress disorder and being able to trust people.
"The expectation when you get out of the military is that people are going to have your back," says Welch.
He worked in high-end retail, but says it was "super competitive," and wanted a position where he felt like "part of a family."
U.S. Vets, a nonprofit that helps veterans transition to civilian life and start new careers, helped him get a job at a hotel in Waikīkī.
Veterans are among the "hidden workers" – a relatively untapped pool of talent for companies nationwide – identified by a 2020 Harvard Business School study. The report says these hidden workers come from many backgrounds: They include one-time caregivers who are returning to the workforce, immigrants, refugees, those with physical disabilities, and people who've moved from one place to another and are now looking to get back to work.
The Harvard study surveyed over 8,000 hidden workers and more than 2,250 executives across the U.S., United Kingdom and Germany. It says these individuals want to work but have trouble getting jobs because they don't meet hiring requirements. The study concludes that many of these people could perform well in the jobs, but never get the chance.
"Companies that don't hire hidden workers foresee only problems, while companies that do hire hidden workers recognize the risks, but also see the gains," the study reported.
The gains are widespread, according to executives with companies that hire substantial numbers of hidden workers. "Nearly two-thirds of all such business leaders reported that, once hired, previously hidden workers performed better or significantly better in six key areas that matter most to employers: attitude and work ethic, productivity, quality of work, employee engagement, attendance and innovation."
Hawai'i had approximately 46,500 job openings as of November 2022, according to Dr. Eugene Tian, the chief economist at the state Department of Business, Economic Development & Tourism.
Job Training Opportunities
The nonprofit Easterseals Hawaii has services that help people with disabilities or special needs, including its Employment Services Program, which connects participants with employers and provides job training.
CEO Andrea Pettiford says the program lets companies "tap into a group of prospective employees that they may not have known about and benefit from their commitment."
It provides training to an average of 90 people annually. When Hawaii Business talked with Easterseals Hawaii in August, there were 15 people enrolled in the program. Each participant receives tailored training and guidance on how to create a resume and apply for a job.
Pettiford says Easterseals Hawaii tries to match participants with companies where their skills and interests are a good match. That way, she says, employees receive the support they need to succeed and employers have a more seamless way to fill their workforce gaps.
Derena DeJesus, an employment services manager with Easterseals, helped 28-year-old Dylan Grantz get a job at Don's Grill in Hilo in 2019.
Grantz works as a busser at the restaurant, and says he enjoys the job because he can practice socializing with customers and co-workers. He goes in three days a week for four hours at a time and has multiple duties, including leading customers to tables and bringing them food and drinks.
"Having this job at Don's has been a blessing and very rewarding for him," says Rochelle Grantz, Dylan's mom. She says her son has learned to work during "busy, stressful hours, and with large groups coming in all at once," which has added to his confidence.
Danielle Hoopii, manager of Don's Grill, says the restaurant has had workers with special needs before, but "always in the back of the house, in the kitchen." Grantz was the first to work in the front of the house.
"He interacts with the customers really well and we don't really give him special treatment," she says.
Grantz tries to do everything, she says, but because of his physical limitations, he's unable to carry heavy things. But, she adds, "He'll try and try."
Hoopii's hiring model is, "If you want to work, I don't care if you have experience or not, I'll train you."
Her advice to other employers: Be open-minded and have patience when working with individuals with learning curves.
"Everybody needs that first opportunity to get started," she says.
---
Who Are the "Hidden Workers"?
A 2020 Harvard Business School study says there 27 million hidden workers in the U.S. It splits them into three categories:
• Missing hours: Individuals working one or more part-time jobs but are willing and able to work full-time.
• Missing from work: Individuals who have been unemployed for a long time but are looking for jobs. These include mothers who raised children and other caregivers, and people out of the workforce while dealing with illnesses.
• Missing from the workforce: Individuals who are not working and not looking for jobs but are willing and can work depending on the circumstances.
Read the full report at tinyurl.com/HBSHiddenWorkerStudy.
---
Revamping Job Descriptions
Some employers use applicant tracking and recruiting management systems to organize and track resumes and how people apply for jobs. These tools "are designed to maximize the efficiency of the process," according to the Harvard study, by filtering out applicants based on keywords and keeping the candidates that seem best suited for the job.
However, the study says, this process excludes "viable candidates whose resumes do not match the criteria but who could perform at a high level with training." Many companies acknowledge this flaw: 88% of employers in the Harvard study said "qualified skills candidates" were left out of the hiring process because they did not match exact criteria in the job description.
Kaleikaulana Castillo, workforce development coordinator at U.S. Vets Hawai'i, says veterans bring a lot of experience to the workforce but have difficulty translating that into resumes. She says veterans were required to do a variety of tasks in the military, so they have valuable skills in leadership, teamwork and working hard.
In the military, she says, "They don't really just have one job, they really do it all." She says her organization helped 185 veterans in Hawai'i find jobs in the last fiscal year.
Greg Williams, executive director at U.S. Vets Hawai'i and a veteran himself, says a typical military person is going to be a "very loyal employee."
"If they like your mission and they're brought into your mission, they're going to do whatever it takes," he says. "Because the military mindset is, 'I may grumble about it, but I'm gonna figure out how to get it done.' "
Welch, the Air Force veteran, says persistence and hard work helped him get his current hotel job. When Hawaii Business talked to him last November, he was two weeks into his job and in the process of finding an apartment.
"Just having a routine is something that the military definitely instills in you," he says.
---
Employers Highly Rate the Performance of Hidden Workers
Business leaders were asked to rank the performance of hidden workers relative to the performance of their traditional workers. Here is the percentage who said hidden workers on average performed better.
---
Being More Inclusive
Prior to the pandemic, the state's employment rate for working-age people with disabilities was 38.9% compared with 80.1% for working-age people without disabilities, according to a database funded by the National Institute on Disability, Independent Living, and Rehabilitation Research.
Because they often face discrimination in hiring and promotion, many people will not disclose their disabilities. A 2017 study by the Center for Talent Innovation estimated that only 39% of employees disclosed their disabilities to their managers.
About 19% of adults 18 years and older in Hawai'i have a disability, according to the Centers for Disease Control and Prevention. It says the most common issues are with mobility (involving 8% of all Hawai'i adults), cognition (7%), hearing (5%) and vision (4%), and that some people have more than one disability.
Easterseals' Pettiford says that taking advantage of "the hidden workforce helps us foster and create a more inclusive community where everyone can contribute in a meaningful way."
Sense of Security
U.S. Vets, which has locations in Wai'anae and Barbers Point, offers monthly classes in which veterans learn how to write resumes, interview for jobs and dress professionally. The program also helps employed veterans find higher-paying jobs or more "meaningful" positions, says Castillo.
"We're not just a job placement program, we're a meaningful job placement program," she says.
Williams agrees and says veterans are "not looking for a handout."
"I feel like we owe it to them to give them the best opportunity we can to find meaningful, gainful employment, to be a productive citizen," he says.
The nonprofit provides other support for veterans, including helping homeless veterans find housing. Based on U.S. Census Bureau data, the national Housing Assistance Council estimates that 5.5% of the 101,975 veterans in Hawai'i live in poverty and 485 Hawai'i veterans are homeless.
Welch says U.S. Vets continues to help him through his journey by providing a "sense of security." He calls himself a "naturally confident guy" but admits he was nervous about applying for a job.
"They offered me words of encouragement, and for me that was huge because I was able to feel more comfortable," he says.