Not Your Parents' College Degrees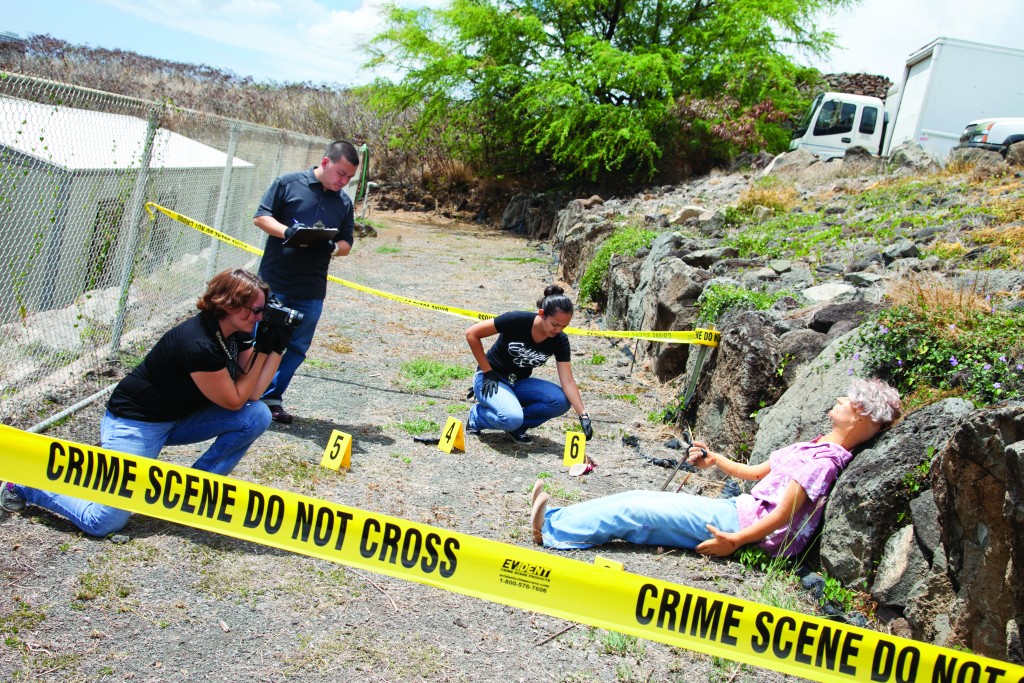 The world will always need people trained in traditional fields such as education, medicine and law. But many college students today are looking to emerging fields where the number of jobs are growing, not shrinking, or careers that seem more meaningful or more fun than the average 9-to-5er. Hawaii's colleges and universities have responded with innovative majors in fields such as engineering technology and food security. Other, more traditional programs, such as marketing and environmental science, have been retooled to meet advances in technology and changes in society. Here is a course catalog for seven college degree and certificate programs that probably weren't around when you went to school.
Forensic Sciences
For Students with Iron Stomachs and Keen Eyes
If you watch the TV shows "Dexter," "Bones" or "CSI," and think, "I would love to do that," minus the whole serial killer M.O., then look no further than a bachelor's degree in forensic sciences from Chaminade University. Lee Goff, the program's entomology professor, is a consultant for the Las Vegas-based drama whose initials stand for crime scene investigation.
"People have always been interested in crime or stories related to it, whether they're novels or radio programs or television programs or film," says assistant professor and program director David Carter. Yet, the national trend for forensic sciences degree programs didn't begin until the late 1990s and early 2000s, he says, and Chaminade's was launched in 1998. Before then, students would get a degree in biology or chemistry and learn the rest on the job as a forensic scientist. There's still rigorous course work in both sciences, but now students also learn to read blood splatter in a "crime house" and photograph trace evidence.
Notable Courses
Detection and Recovery of Remains: Use your best surveying techniques to find and recover the decomposing remains of pig carcasses hidden on the slope of Chaminade's campus overlooking Diamond Head. Budding forensic investigators will draw from anthropology, entomology, archaeology and geophysics to solve the case.
"My No. 1 rule in death investigation is never wear nice shoes," says Carter. "I see on TV that they're coming up to this death scene in Prada heels, (but) you'd never wear those, because you'd never get the smell out. I almost look like a hobo when I go to a death scene, because I don't want that stuff on good clothes."
Forensic Biology Laboratory
Chaminade boasts first-class laboratories dedicated to forensic science that house light microscopes and fuming chambers to illuminate fingerprints on objects. Students help enroll volunteers in the program's own Automated Biometric Identification System, which stores fingerprints, headshots and iris scans; similar systems are used by the state attorney general's office and the Honolulu Police Department.
Real-World Experience
Students spend time in the program's "crime house," handsomely furnished from Goodwill. Several rooms are used to stage and solve mock crimes, including the blood-stain room, complete with a diagrammed wall for blood-splatter analysis. Who killed the two residents? (Don't worry: They're dummies, one dressed in Aloha wear, the other as a French maid.) Strike another dummy head – filled with stage or pig's blood – to figure out the distance, points of impact and more.
Internships
State Department of Public Safety, narcotics enforcement division
Honolulu Police Department, scientific investigation unit
Honolulu Medical Examiner's Office
Careers
Military's Joint POW/MIA Accounting Command Central Identification Laboratory, Honolulu Police Department scientific investigation unit, Hawaii Criminal Justice Data Center, FBI
Pay Range
$30,000 to $60,000
Carter, who moved here from Nebraska in 2012, says he regularly sees forensic job listings on global websites. Nonetheless, "It seems like every crime lab I go to or every investigative agency I work with, they're always understaffed, because so many of them are funded by the government," says Carter, who has consulted with several investigative agencies. "You'd think there'd be more willingness to invest in those types of jobs, because they're trying to make society safer."
---
Environmental Sciences & Studies
For Mother Nature's Guardians with Scientific Know-How
Regina Ostergaard-Klem, chair of Hawaii Pacific University's Environmental Science and Studies program, begins every school year at the Hawaii Loa campus on Windward Oahu by bringing a plastic water bottle to class. "What do you think of when you see this?" she asks. The water bottle, she says, is the perfect conversation starter to talk about HPU's environmental science and environmental studies programs, both of which were created in 1996.
"If you're an environmental science major, you'd look at the water bottle and think about what energy went into making it," she says. "Coming from an environmental studies (major), you'd look at that water bottle and see the HI-5 and understand that there's a bottle deposit on it, and the policy, the economic incentives."
Ostergaard-Klem, who also teaches environmental science, says students in both of the similar-sounding majors take some of the same core classes, such as applications and principles of environmental science. The science majors go on to learn biology, chemistry, physics and calculus, while studies majors enroll in anthropology, philosophy and economics.
Notable Courses
Photovoltaic Systems Design: Learn the principles of solar energy and the inner workings of photovoltaic systems, i.e., solar panels. By the end of the semester, everyone takes a test administered through the North American Board of Certified Energy Practitioners and, if you pass, you are certified to work in the solar industry.
Geographic Information Systems
Environmental studies and environmental science students take this data geography course, commonly referred to as GIS, where they learn to capture, analyze, manage and manipulate various types of geographical data. "It's a critical tool for environmental science," says Ostergaard-Klem.
Field Trips
"We're always looking for opportunities to take the students into the field," says Ostergaard-Klem. When environmental science and environmental studies students aren't in class or the lab, they're outdoors in diverse environments. That sometimes means sampling water and soil in Heeia Stream to study and reduce erosion or surveying Lanikai Beach. For the more adventurous, there are summer field courses on Kauai and in Costa Rica that focus on issues such as geology, sustainability and conservation biology.
Sustainability on Campus
Last year, environmental science and studies students created a rain-catchment garden by placing native plants in a depressed garden bed near one of the Hawaii Loa campus buildings. The plants efficiently absorb the runoff rainwater from the roof and lawn.
HPU also boasts its own sustainability coordinator, whose job is to make the campus more energy efficient and sustainable. "That job didn't exist when I first came here five years ago," says Ostergaard-Klem. Starting in fall 2016, all HPU undergraduates will have to take a sustainability class. "Hawaii is the perfect place to take environmental science or studies," she says.
Internships
State Department of Business, Economic Development & Tourism
State Department of Land and Natural Resources
Hui o Koolaupoko (nonprofit monitoring Heeia Stream)
Oahu Army Natural Resource Program (clearing invasive species)
Career
State Department of Business, Economic Development & Tourism's Energy Office, Nonprofits, including Garden Island Resource, Conservation & Development, Hawaii Invasive Species Council (state agency), Environmental consulting firms, Hawaii solar industry, Environmental lawyers
Pay Range
$35,000 to $85,000
---
Engineering Technology
For Designers Who Love to Build Computers
UH Maui College's Engineering Technology degree programs were "specifically designed for the needs of the local community," says assistant professor Jung Won Park. "To prepare Hawaii college students to advance as early-career scientists." The program is a partnership with the Akamai Workforce Initiative – itself a collaboration between Hawaii's high-tech industries and its research and training institutions – to provide students with internships and a future in the local astronomy, remote-sensing and other technology fields.
Park says the Maui college program began with an associate's degree in electronic and computer engineering technology in 2010, but students can now graduate with a four-year bachelor's of applied science degree in engineering technology. So far, the bachelor's program has had 12 graduates, 11 of them men. Park hopes that ratio will change and, in fact, two women will graduate this May.
Notable Courses
Applied Robotics: This hands-on class introduces robotics programming. Learn the design aspects, including motion, sensing, navigation and more.
Power Systems: Study the principles of electromechanical energy conversion and power generation, including single, three-phase and poly-phase circuits, transformers and DC machines. "The main difference between engineering and engineering technology, is that engineering (programs) are more focused on math," say Park. Engineering technology "is less math, more computer technology."
Field Work
Students collect data from the Haleakala Observatory, local computer-networking systems or sustainable-energy companies, and design a project around their findings. They present their work to both the UH-Maui College faculty and the local engineering and tech community.
Internships
Maui High Performance Computing Center
UH Institute for Astronomy
HNU Energy
Oceanit
Careers
Maui High Performance Computing Center, Ardent Management Consulting, HNU Energy, Pacific Defense Solutions, Boeing
Pay Range
$55,000 to $95,000
---
Animation
For Artists Armed with Talent and Technology
The Academy for Creative Media's animation track at theUniversity of Hawaii at Manoa takes aspiring artists and molds them into capable animators, filmmakers, directors and more, says associate professor Daniel Boulos. He teaches animation students the drawing fundamentals and guides the creation of their portfolios. When he's not in class, Boulos draws animations for his own company, Wiki Wiki Cartoons.
While technology has transformed the industry, students and professional animators still spend much of their time drawing in traditional ways. "People sometimes think we're in an entirely technology-based (industry), but the reality is 3D animation represents about one-half to two-thirds of the animation that's being done currently," he says. "It dominates feature films and video games, however, it hasn't done the same in television programming."
Notable Courses
Character Animation: "The core of what makes our program unique: We focus on character animation," says Boulos. Learn the principles of animation through acting and the various personalities an animated character can have.
Computer Animation Production: Creates your own one- to two-minute animated film. "(Students) come up with characters, script and story board, voice casting, music for their soundtrack, and then execute all the shots for their film and do their final edit," says Boulos, adding that it helps them build their demo reels for internships and jobs.
The Tech Part
Even though students need a natural hand for drawing, they also must have the tech chops, too. Here's what they must be able to handle: Apple MacBook Pro (or equivalent Windows machine), Maya animation software, Adobe Creative Suite
Careers
Animation storyboard artist, Visual-effects editor, Character designer, Technical director, Lighting artist
Pay Range
$23 to $46 per hour according to the Animation Guild labor union, when contracted with major motion-picture studios.
---
Food Security
For Organic Farmers with Business Acumen
The inspiration for Leeward Community College's certificate in food security arose from community needs, says program coordinator Summer Miles. "The state of agriculture in Hawaii is dire. We need to do something about it, especially on the Waianae coast," she says. "We need to provide them jobs in their own community." To do that, in 2006, the community college partnered with MAO Organic Farms to train anyone interested in learning the inner workings of an organic farm, or about a career in farming, food or health.
Notable Courses
Sociology of Food: "Everyone has a food memory," says Leeward CC sociology professor Eunice Brekke. For this course, students interview the oldest person they know, someone their age and someone younger and ask them about their favorite foods; the goal is to understand how food consumption has changed and the relation between food and culture.
Then there's the "eat healthy, eat local, eat organic challenge." Can you do it for six weeks? "They came out with a real grasp of who controls the food system," says Brekke. "What you choose to eat and not eat can make a difference."
Organic Agriculture: Learn the essential principles of soil science, plant cultivation and pest management – without using pesticides. No better place to learn that than at MAO, tucked up against the Waianae mountain range.
Internships
Kamehameha Schools Nanakuli education programs
TOWN restaurant
Careers
Organic farmers, Restaurateurs, Chefs, Educators
---
Marketing
For the Businessperson with Social Media Savvy
Many of Qimei Chen's students in the UH Shidler College of Business Marketing classes are of the Net generation. Rather than scolding them for using their smart phones or tablets while she's teaching, she encourages it. "The Internet has changed the fundamentals of marketing as a discipline," says the marketing department chair and professor. "For example, it's changed the traditional pricing model, fixed pricing. I want to give (students) the skills to know the marketing strategy and relate it to the whole business model of Internet marketing." Chen and her classes embrace technology to learn how it's changed and improved the marketing industry.
Notable Courses
Internet Marketing: Examine how the Internet is used to market goods and services and provide targeted marketing research and business strategy. Chen says students choose, evaluate and analyze the current business practices of real companies and "suggest changes for their business marketing practices."
Marketing Communications: In-depth coverage of the major communication tools used in marketing: social media and online marketing, advertising, public relations and sales promotion and how they're woven together to create integrated marketing strategies.
Field Work
In Chen's Internet marketing course, students not only critique the business plans of existing businesses, but also come up with their own. Dubbed the Idea Derby, marketing students propose and submit ideas for an innovative business model and marketing strategy. Chen and industry evaluators pick the best idea and the winner is invited to pitch it in front of the Pacific Asian Center for Entrepreneurship. One former winner, she says, built a website for a new business startup.
Internships
The Founder Institute, an entrepreneur training and startup launch program in the Silicon Valley
HMSA
Blue Hawaii Lifestyle
Careers
Product manager, Account executive, PR specialist, Merchandiser, Marketing researcher, Marketing manager, Marketing information system manager
Pay Range
$34,000 to $94,000
---
Agripharmatech
For the Green Thumbs with Technical Mastery
In the summer of 2000, botany and microbiology professor Ingelia White offered free plant-science workshops. The turnout was strong, so she approached University of Hawaii administrators about starting an official program for students. Today, White heads the Windward Community Collegeagripharmatech certificate program, which prepares students for careers in plant biotechnology and plant-based product manufacturing.
Notable Courses
Orchid Culture: Learn everything about orchids, including Hawaii's and the world's orchid cultures and how to identify, breed and grow the tropical flower. The Windward campus also boasts its own orchid and tropical plant identification center, Kuhi Lau Au. "We provide plant identification to community members for free," says White.
Plant Propagation: Learn to grow fruits, vegetables and other nutritious and medicinal plants by seed, cuttings, grafting, budding, layering and division.
Field Work
Much of what the students do is hands-on learning in the program's bioprocessing medicinal garden complex. The complex houses a climate-controlled greenhouse, an aquaponics system, a medicinal garden featuring plants from Hawaii, Southeast Asia and the Pacific islands, and a bioprocessing facility. "We make plant-based products in that facility, such as medicinal lotion, soap, tablets, salve, chewing gum and fruit bites," says White. The students publish their findings in a journal and display their products at campus fairs. White says she hopes someday to establish a way for them to sell their goods.
Internships
Hawaii Agriculture Research Center
Careers:
Tissue culturist
Orchid wholesaler
Plant-nursery manager
Agriculture inspector
Biotechnician
Fragrance or oil extract manufacturer
Pay Range
$36,000 to $52,000