Nothing Ugly Here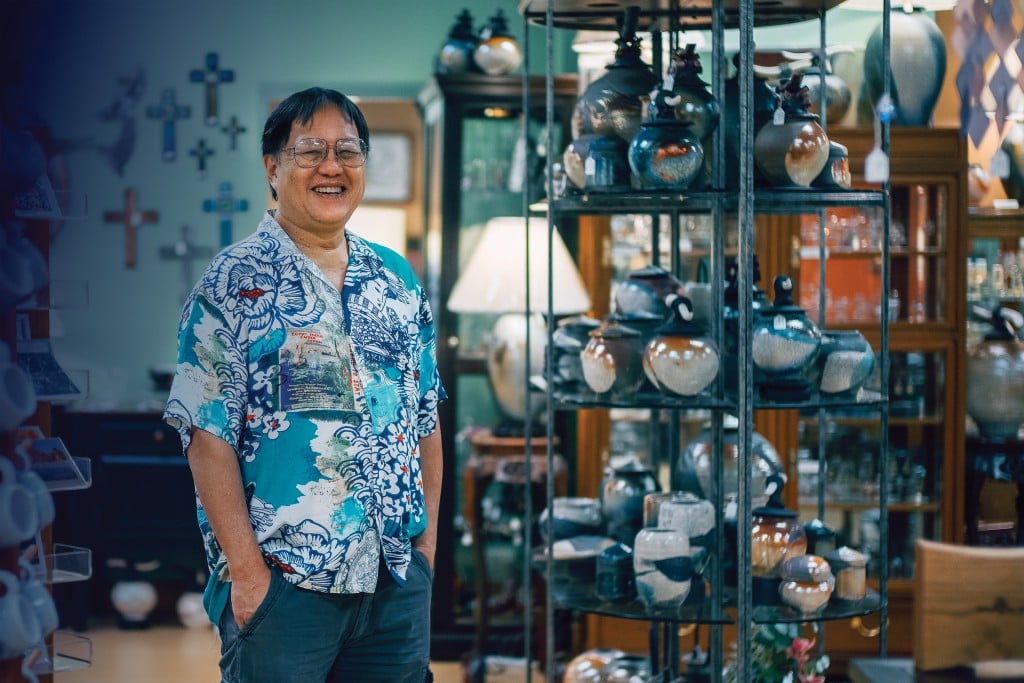 Jeff and Karon Chang have come full circle.
When they opened their first gallery in a former house along Kamehameha Highway in Kaneohe in 1996, the couple had three goals, recalls Karon, co-owner of Jeff Chang Pottery & Fine Crafts. "We were trying to provide a place for our own work, and we were trying to provide a marketplace for other artisans and, finally, we were trying to bring handmade items to Hawaii residents that they couldn't get without traveling to the Mainland."
The business grew and grew, and at its peak had five stores on Oahu. Now, the only location is in Kaneohe at Windward Mall.
"For most people, owning a single store is more than a full-time job," says Karon. "Now it feels easy to us, because we had several at one time, which is nice as we get older."
Today, these self-described "hippie kids" have become "Social Security-collecting senior citizens" (Jeff is 69 and Karon 65) with 40 years in the pottery and crafts field.
Jeff is a UH Lab School graduate who enlisted in the Navy for four years to avoid the Vietnam War ("I figured they couldn't shoot back at me there," he jokes), then attended Pacific University in Oregon, where he fell in love with Karon as well as potting.
Karon Schultz grew up on a cattle and horse ranch in rural Oregon. She had worked at secretarial positons at Pacific University before she and Jeff met on campus. The couple dated for four months, then married in 1973.
Although Jeff's love was pottery, his degree was in business economics, so he became a management trainee at Bank of Hawaii after he graduated. But he didn't like it and Karon challenged him.
"Do you really want to be a banker?" Karon asked, channeling her independent German background. "Pretend we won the lottery: What would you like to do instead?"
The answer was easy: pottery. So in 1976, Jeff left the bank and went into potting full-time.
The couple first showed Jeff's wares at the Kamehameha Drive-In Swap Meet and at small bazaars – "This was in the day before craft fairs," notes Karon. A few months later, a buyer for the Liberty House department store invited them to join a group of local artisans selling their crafts through the retailer. Of the initial group, "We were the only ones that stuck," Karon remembers. "Liberty House just kind of scooped us up and embraced us as their own and ran articles in the paper about us and took care of us, and we were with them for 23 years."
The rest is history, with store openings at Windward Mall, Pearlridge Center, Kailua, Fort Street Mall, Sheraton Waikiki, Waikiki Shopping Plaza and Ward Centre, though only the Windward Mall location remains.
Karon handles "everything retail," according to Jeff, including choosing the pieces for their store. About 200 artisans from across the country are showcased there, in addition to Jeff's pottery.
"When we opened our first gallery back in '96," Karon reminisces humorously, "a customer commented on how beautiful everything was in the store and how he'd love to buy it all. I told him it was because I didn't allow anything ugly there."
Jeff says he enjoys "the process of potting – I find it relaxing and soothing," though he admits he wasn't the fastest or best student in his ceramics classes at Pacific University. But he was the most persistent.
"When my instructor would discard my pots because of mistakes I made, I'd just pick them up, fix the mistakes and re-submit them."
Now Jeff teaches his own students in popular classes held weekly at the Hawaii Potters' Guild at 2480 Bingham St., adjacent to Church of the Crossroads, and at the Kaneohe Recreation Center. "I tell them I had to experience all the bad consequences to learn how to do pottery."
Chang's signature style could be called "Island Asian," and he's known for his glazing technique, which is poured, with brush work, according to Karon. He specializes in functional pottery, using Japanese raku, Native American horse hair and saggar-firing pottery techniques.
The couple's sales took a hit during the Great Recession, starting in 2007, and are still recovering. "It's always a struggle for art stores," Karon says. "First of all, not everybody buys art, and then it's a special-occasion sort of thing. It's definitely not a way to become wealthy."
Their customers are about 80 percent local and 20 percent visitors. Randall Shimoda, 57, an engineer for Pural Water Specialty Co., has been a customer for more than 10 years.
"Over the years, my wife and I have purchased a wide variety of items, like coffee cups, dishes and jars, to other items such as glass figurines, framed sand artwork, etc.," Shimoda says. "My favorite piece is the solar-powered chimes which sit on my desk at work.
"Jeff and Karon have an excellent eye for items that interest folks and always have time to answer questions about their products.
"Their prices range from very inexpensive to hundreds of dollars, so anyone could buy something nice from their shop."
---
Each month, Local-Kine Biz tells the story behind a Hawaii small business. If you know a business we should cover, email localkinebiz@gmail.com.