Hawaii to Play Key Role in Obama Foundation's Programs, Former President Says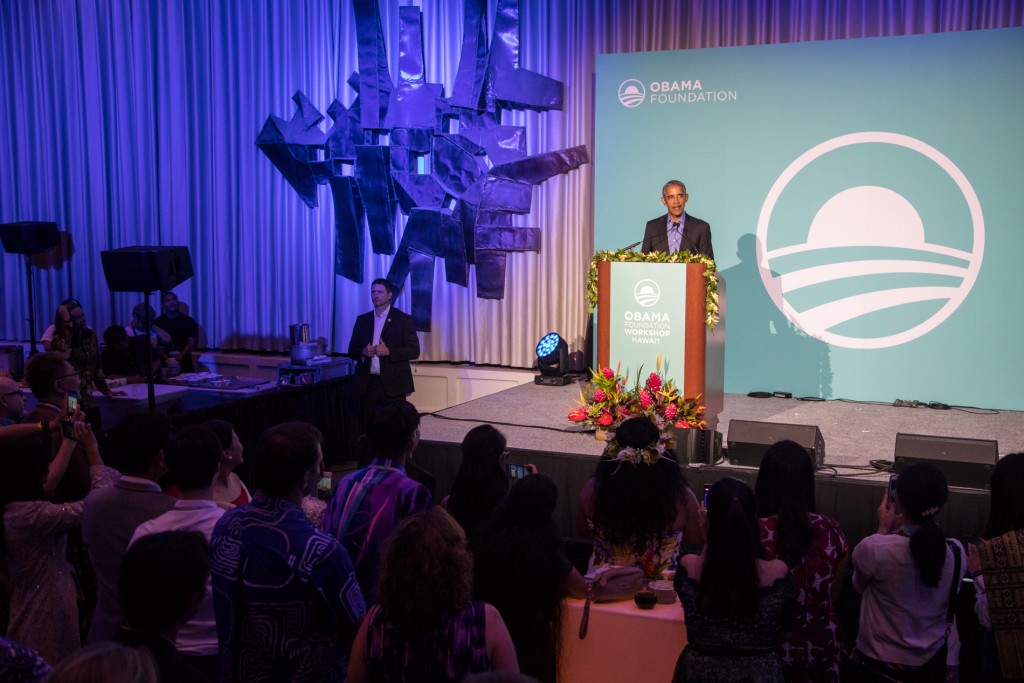 Former President Barack Obama said "Hawaii is going to be indispensable" as the Obama Foundation launches its leadership development program in Asia-Pacific and throughout the world.
"Hawaii has always been a bridge between East and West. It is part of the fabric of the United States and it is also part of the broader community of the Pacific Islands and the Asia Pacific region. So as we launch and build this program, Hawaii is going to be indispensable. It is going to be a convening space, a resource and an example of the kind of community-based solutions that we promote."
Obama spoke at the East-West Center on Sunday evening – his first speech in the state where he was born since he stepped down as president two years ago.
The speech honored the inaugural cohort of Obama Foundation Leaders: Asia Pacific. The initial group of 21 emerging leaders, including two from Hawaii, represents 16 countries and is expected to grow to about 200 members.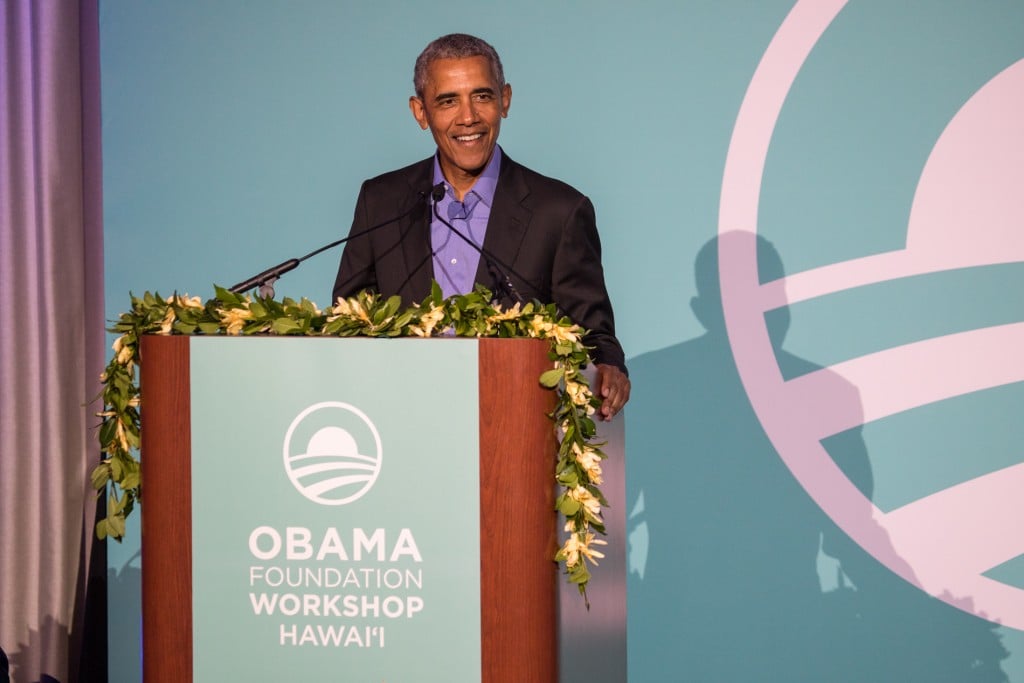 "Our theory at the Obama Foundation is very simple: If we can get these young people together and give them more tools and give them more resources and shine a spotlight on the work that they are doing; help them scale success; help them learn from their failures; connect them to each other so that they can learn from each other. When the whole becomes greater than the sum of its parts, they will change the world. They will transform the world and solve the problems that we face."
The initial participants convened in Hawaii to work with Obama and foundation officials on the design of the leadership program for Asia Pacific. "The input that we get from these leaders today will ultimately inform the type of resources and structure for the broader program that we launch in the coming months," said Bernadette Meehan, chief international officer for the foundation.
Obama spent the first part of his speech reminiscing about the role Hawaii has played in his life. Glancing over his shoulder toward the East-West Center's garden, he said "my parents met on a bench near here."
"Hawaii is a pretty important part of my life. I could not be happier to see the leaders that have come to the East-West Center. My mother who ended up living and devoting her life to developing issues in Asia, particularly those affecting women, always viewed the East-West Center as a base and connector to the work that she was doing. She would be so proud."
The Obama Foundation Leaders program is a global initiative designed to cultivate emerging change agents. The first leg was launched in July with a cohort of 200 members representing countries across Africa, according to Meehan. The year-long program started with a five-day meeting in Johannesburg, which Obama attended, that included workshops, speakers and a day of service. "We lead through service to others," Meehan says. "It is a core component of what the Obamas believe leadership is about."
The overall goal of the program is to empower and inspire future leaders and to train them on strategic skills such as fundraising and marketing so they can advance their goals.
"We hope to model the Asia Pacific cohort in a similar way." Meehan said. "But, of course, Asia Pacific is different than Africa, which is why we are having this program design meeting so that we can tailor it."
Obama explained that after he left the presidency, he knew there are many causes he cares deeply about. "I have no shortage of causes that I want to work on. But the single most important thing that I can do – and Michelle feels the same way – is to empower the folks who are coming behind us, that they have a platform and an opportunity to channel their amazing energy and passion and imagination in order to bring a whole new set of eyes and ideas and possibilities to the world."
Several times he returned to the subject of Hawaii. "Growing up here, I experienced how people from different backgrounds can learn from one another and work together to create a thriving community."
"Hawaii also taught me not to get too high or too low based on a given moment, but instead to try to stay focused on doing what's right and think about the long term and be patient. To be committed to a sense of our common humanity."
The Obama Foundation preserved two slots in its initial leadership cohort specifically for applicants from Hawaii, according to Meehan. "President Obama has such a love and deep respect for Hawaii and the people of Hawaii and the culture here," she said. "He was very clear in conveying that anything we do in Asia Pacific should be rooted in Hawaii because it plays such an important role between the East and West. The two individuals that were selected are an asset to the cohort and we are happy to have them."
The local leaders are:
Leanne Kealoha Fox, 34, is Ka Pou Kākoʻo Nui at the Office of Hawaiian Affairs. As executive manager and special assistant to OHA's CEO, Kamanaʻopono Crabbe, she works with him managing priority projects that promote the overall health and well-being of Native Hawaiians.
Kealoha said she is honored to be chosen and keenly aware of the responsibilities that come with that honor. "I am passionate about Hawaiian culture's concept of kuleana. When we come together with the foundation and the resources and the leaders, we can collectively have a positive impact on our companies, our communities and our countries." she says.
Marvin Kaleo Manuel, 34, acting planning program manager at the state Department of Hawaiian Home Lands.
Manuel manages a team of community development specialists to channel homesteading resources strategically to improve the lives of Native Hawaiians. Manuel is particularly proud of the organization's work around water advocacy and management.
He said he is thankful to Obama for inspiring him. "He has pushed boundaries and built bridges. He has created futures for my generation and for future generations. Our world is going to change for the better."