Our Kakaʻako: Connecting People and Place
Past or present, people remain the soul of Kakaʻako Ewa-uplifting its concrete facade, splashing color and character across sullen streets, and creating new spaces for communions and opportunities.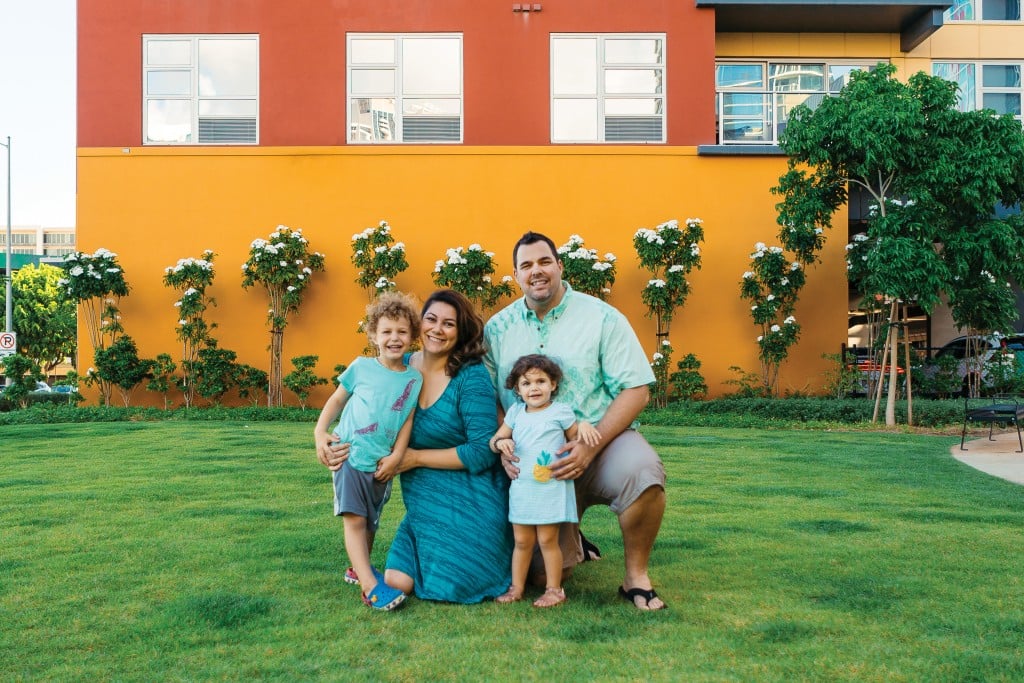 Kakaako: The People's Place
Kakaako has lived many lives. Before grey industrial complexes squared the streets there were families and communities-diverse immigrant camps sharing culture, food and stories-and, even before then, there were fishing villages, salt ponds and the ancient beauty of an unburdened night sky, vibrantly peppered with starlight. These lands were called Kaakaukukui, roughly translating to 'the northern light'-perhaps a foreshadowing of the neighborhood to come, an urban beacon of growth, art and human togetherness.
Kamehameha Schools has held these lands since the beginning of private land ownership in Hawaii, dating back to the late 1840s. Princess Bernice Pauahi Bishop inherited the acres of salty marshlands from Victoria Kamamalu and Mataio Kekuanaoa, who were the original majority landowners in Kakaako West at the time. In the early 1940s, the area's zoning changed from residential to commercial, ushering in auto-body repair shops and shipping warehouses, and saying farewell to generations of communities. Many legacy families stayed close-moving up blocks near Ward Avenue and continuing to work in the emerging factories and facilities.
"My favorite part of living and working in this neighborhood is the ability to see the changing landscape of Kakaako."

-Jason Alapaki Jeremiah, Director of Natural and Cultural Resources for Kamehameha Schools
Past or present, people remain the soul of Kakaako Ewa-uplifting its concrete facade, splashing color and character across sullen streets, and creating new spaces for communions and opportunities. "Our neighborhood has gone through some really big changes," says Jason Alapaki Jeremiah, Director of Natural and Cultural Resources for Kamehameha Schools, and local resident of Kakaako Ewa. "In 2007, I started working in Kakaako. I still remember the Keola Lai being under construction and lunch trucks on Kawaiahao Street. My favorite part of living and working in this neighborhood is the ability to see the changing landscape of Kakaako."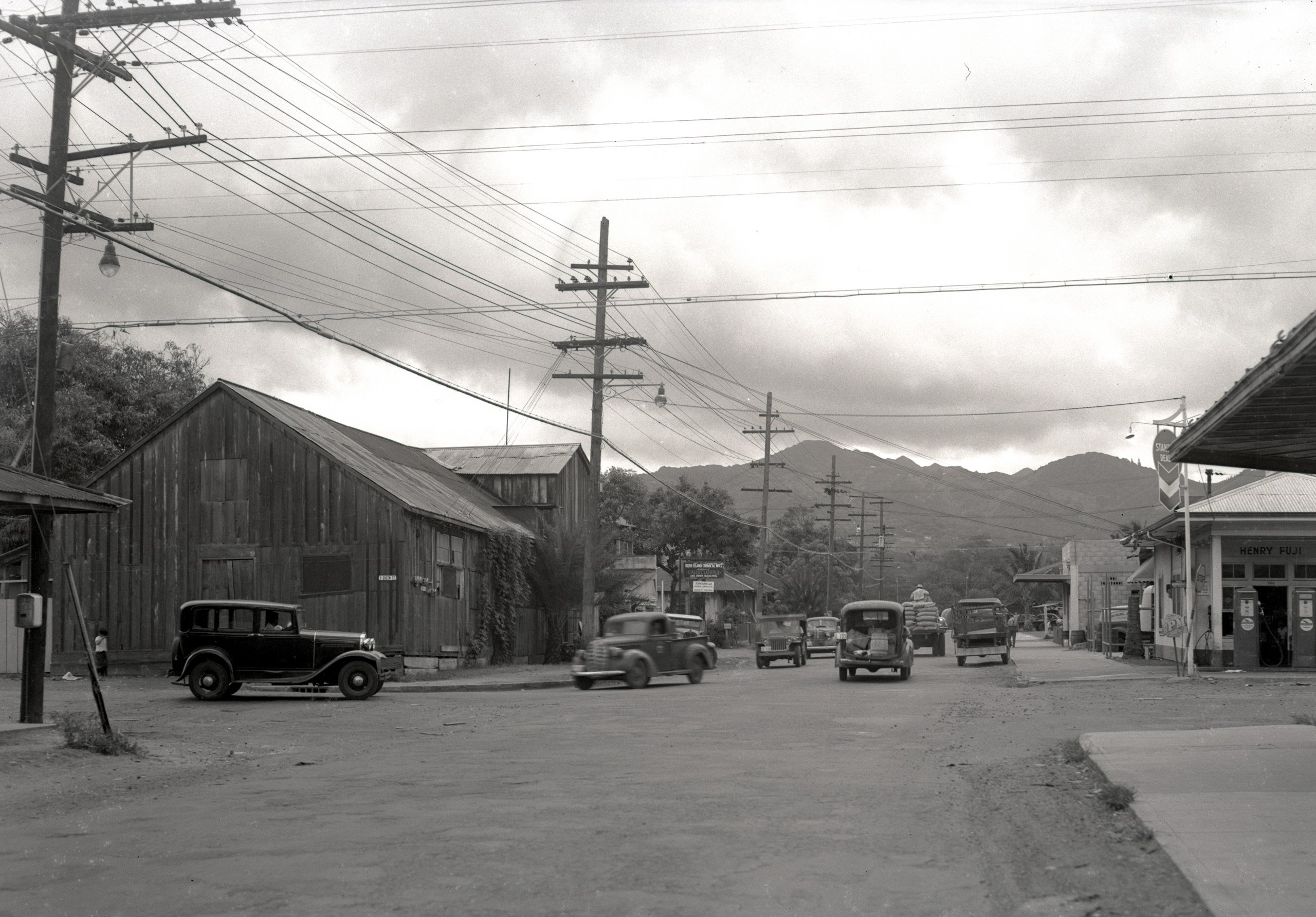 Jeremiah's academic training is in urban and regional planning. Living and working in Kakaako allows him insight into the dynamic between the built environment and those who inhabit it-an urban love affair between people and place. Emme Tomimbang, local veteran broadcaster and TV personality, grew up on Ohe Street in the 1960s. Her playground was the Oahu City Dump, now the Children's Discovery Center, and she says she continues to visit the area-a neighborhood she always refers to as "home"-to reminisce on the valuable life lessons accrued from cool, salty-aired mornings and sun-heated afternoons in this heartfelt Honolulu district.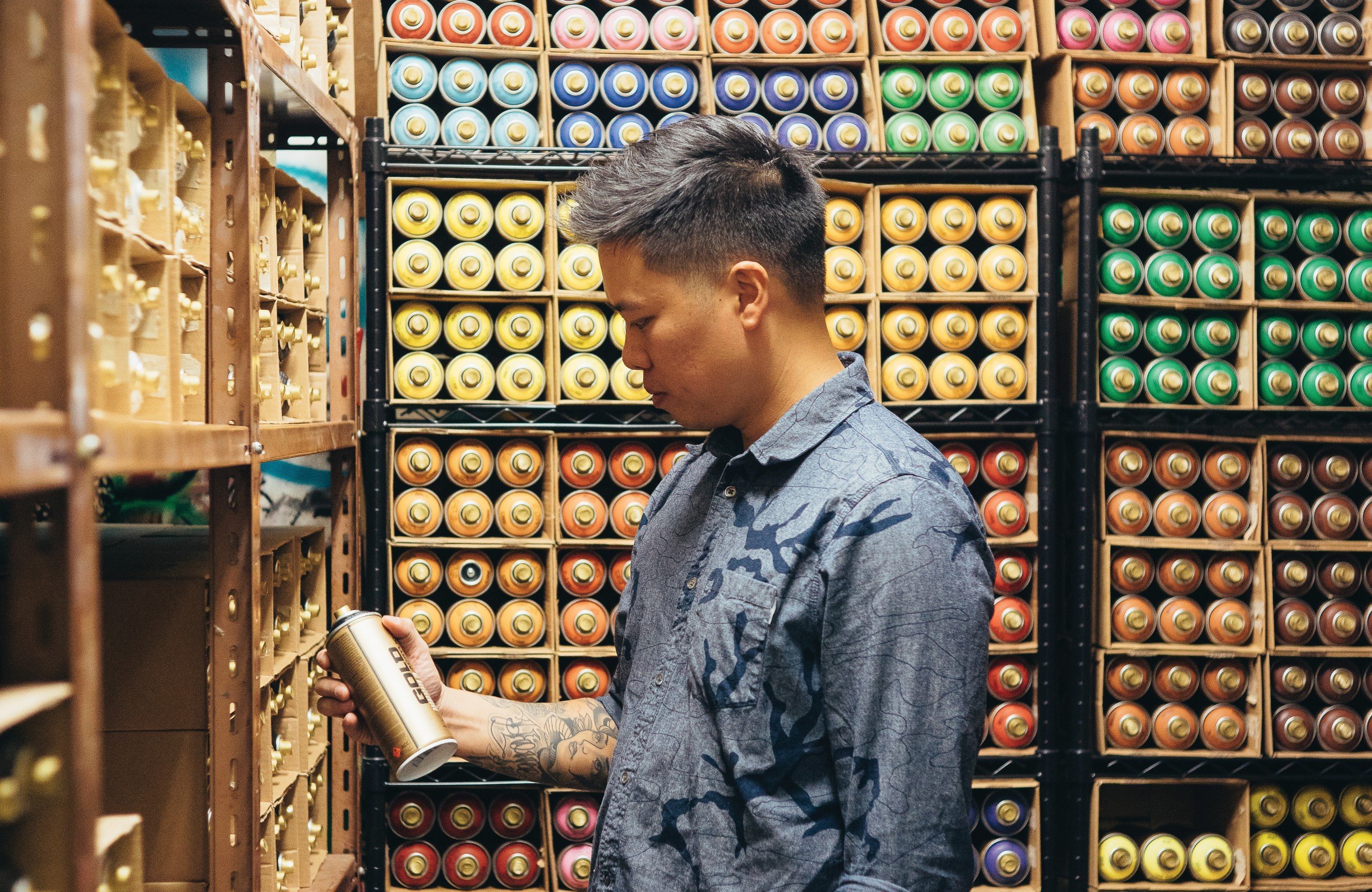 "No one used to walk around that neighborhood and now we see people photographing murals and discovering new shops and restaurants along the way."

-Jasper Wong, Founder and Lead Director of POW! WOW!
The people of Kakaako handle change well-in fact, they thrive on it. The shift in landscape hasn't swayed their affection for this community and it seems their love grows stronger as its evolution continues. Boutique stores, innovative startups, homegrown eateries and affordable residences are sprouting up along the historic walk-ways of this reenergized region, forging a newfound sense of pride and excitement in local inhabitants of Kakaako Ewa.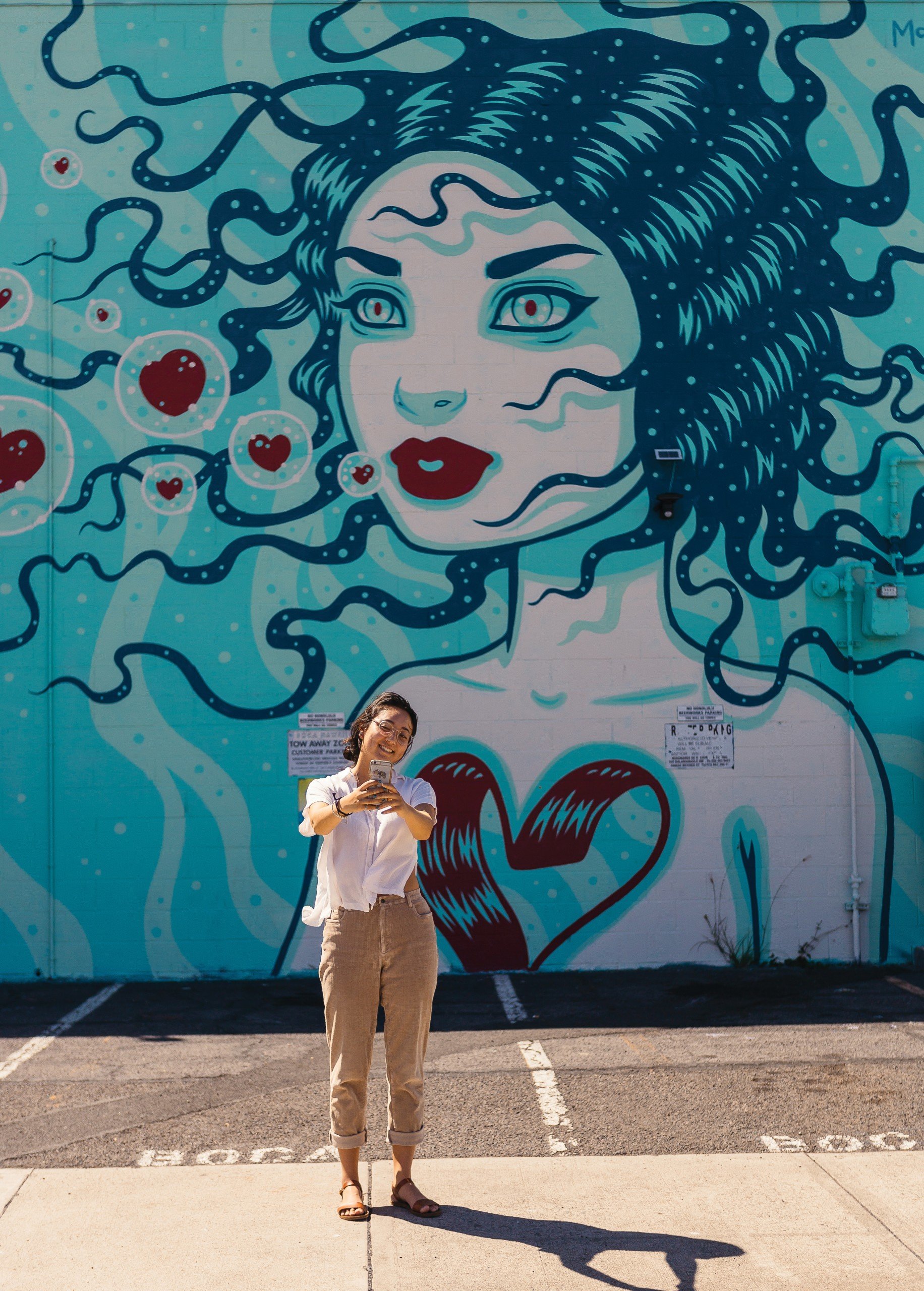 "History, tradition and culture are great building blocks for communities," says Al Guzman, General Manager at The Collection-one of Kakaako Ewa's new housing communities. "I can envision the people of the past living and working in this area long ago and I feel that The Collection and its ownership are contributing to the re-evolution of Kakaako; one that honors the lifestyle and communities of the past, but in a newer and modern way."
---
Letter: Kamehameha Schools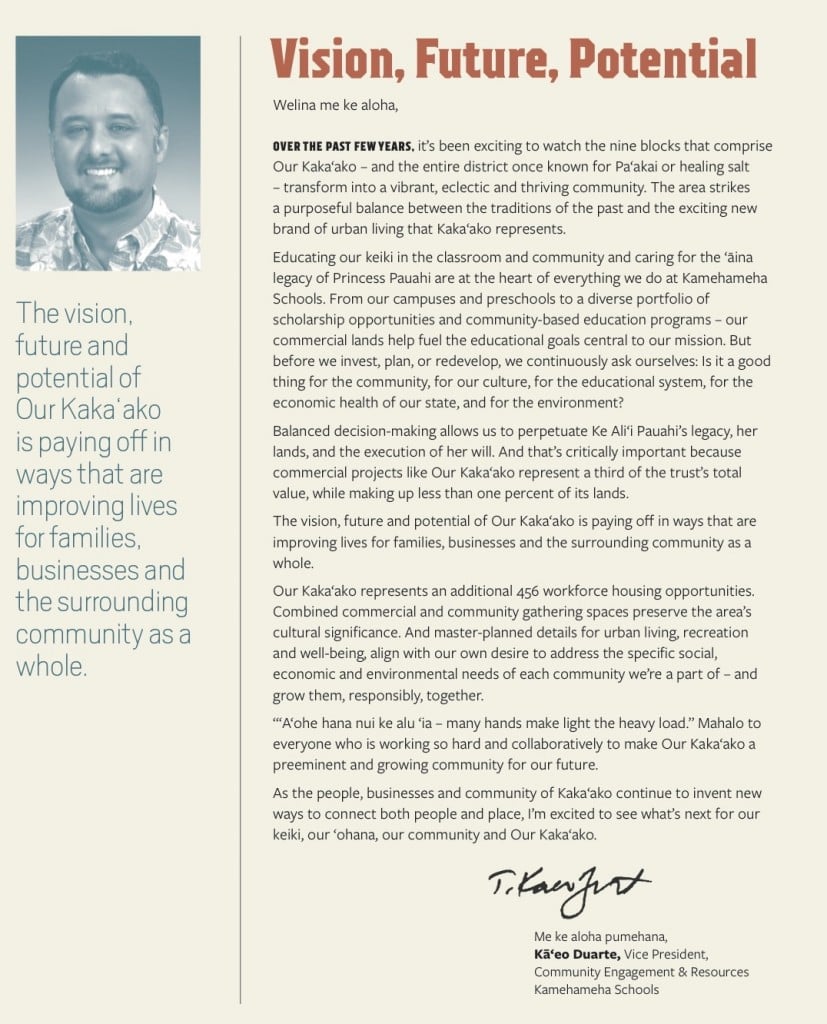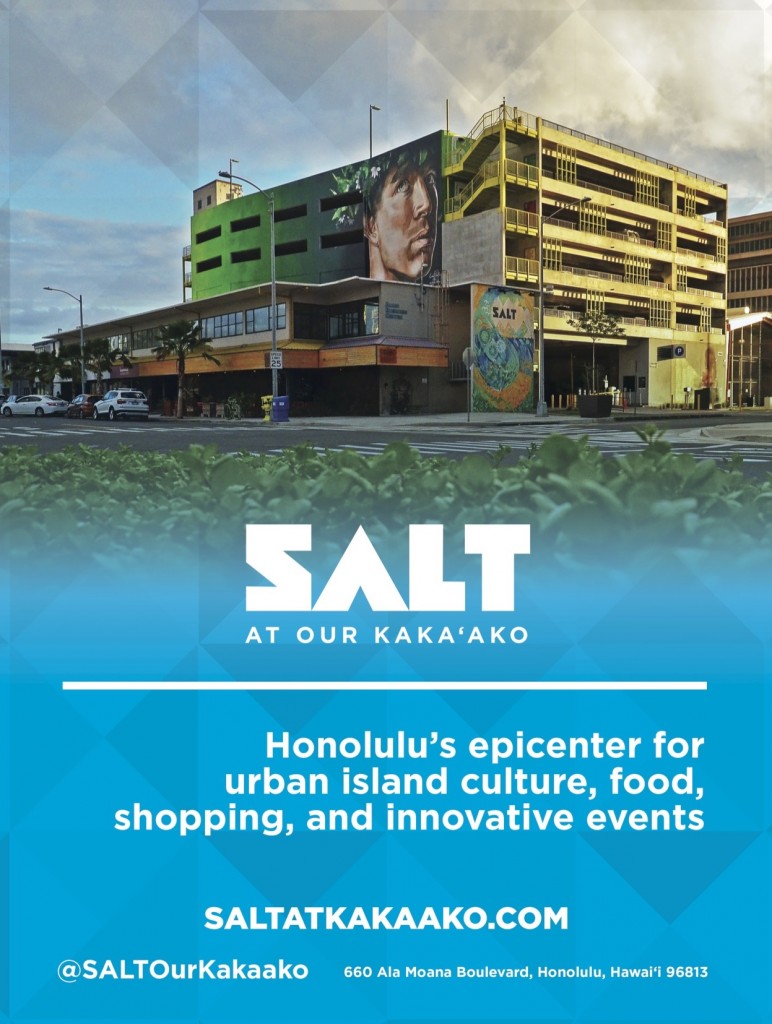 ---
Letter: Kupu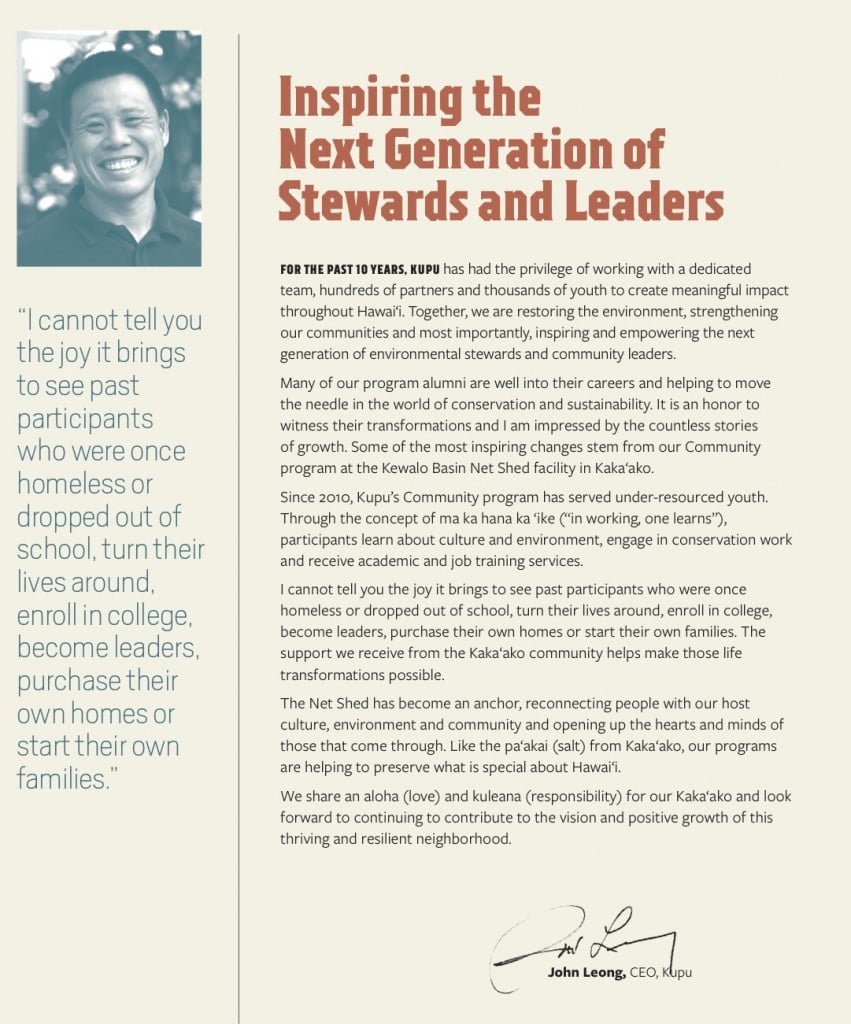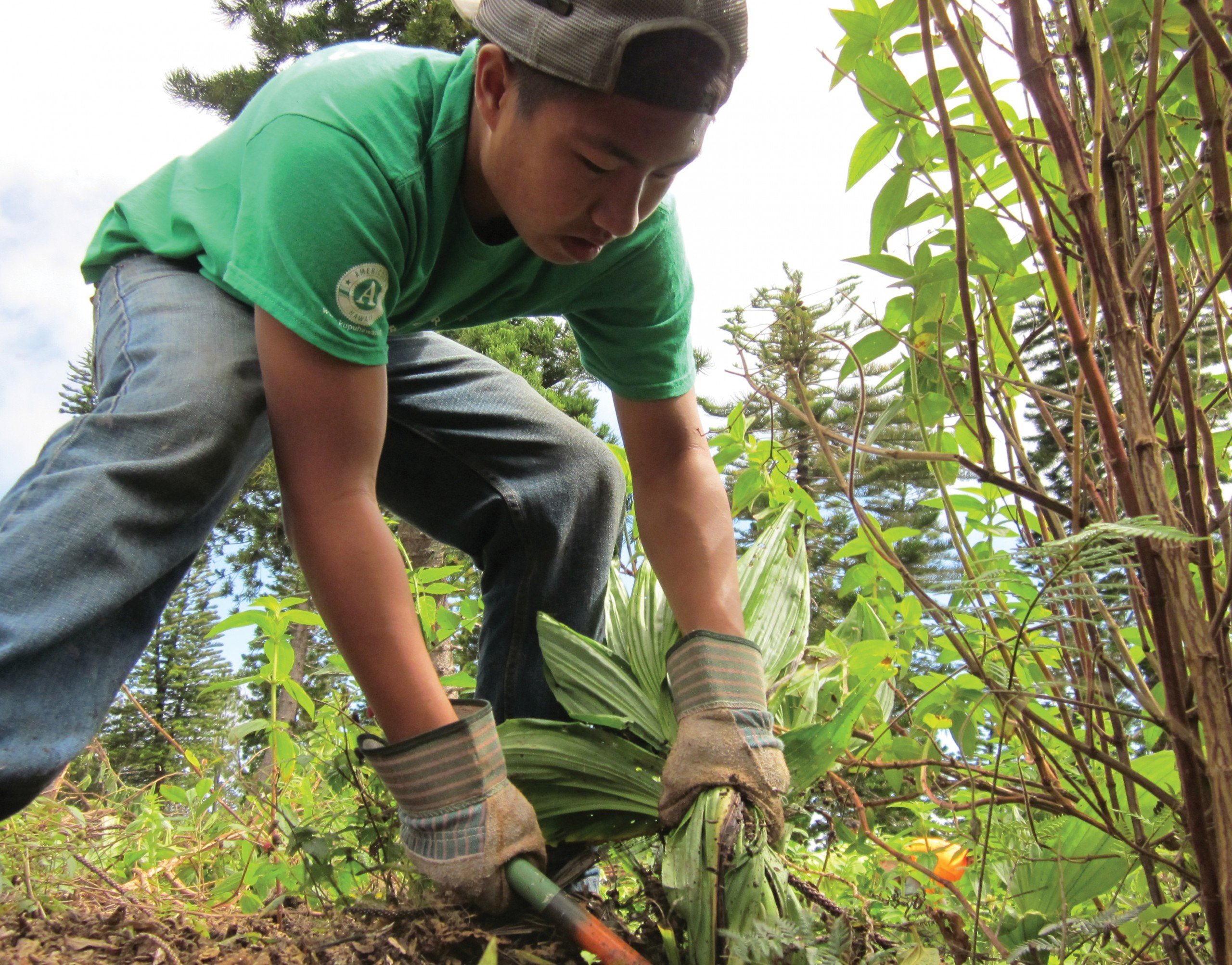 Kupu's Community program celebrate Kupu Kupuna Day at the Kewalo Basin Net Shed. Participants learn about Hawaiian culture and conservation through workshops, classes, field work and events like these.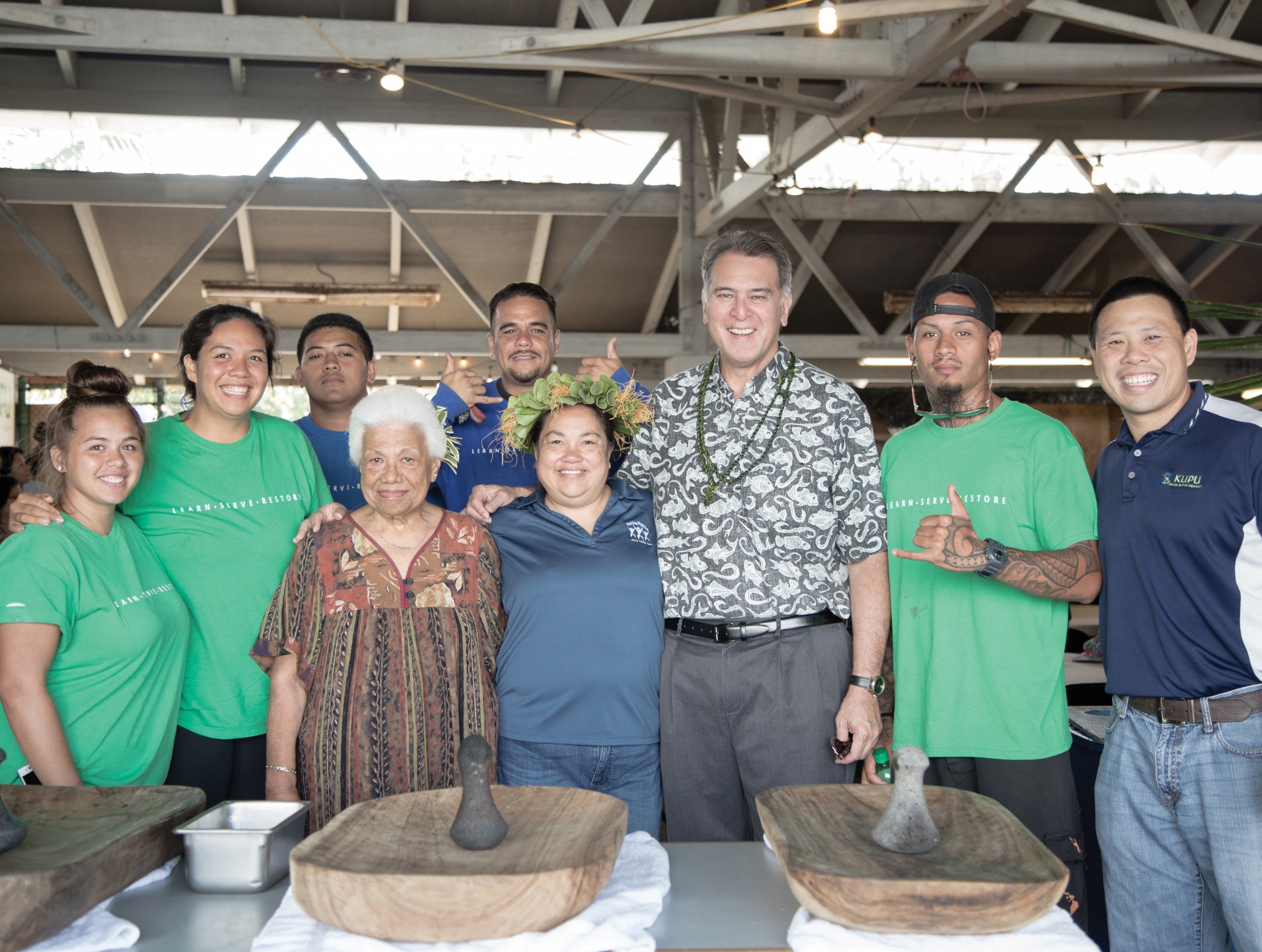 ---
Letter: Stanford Carr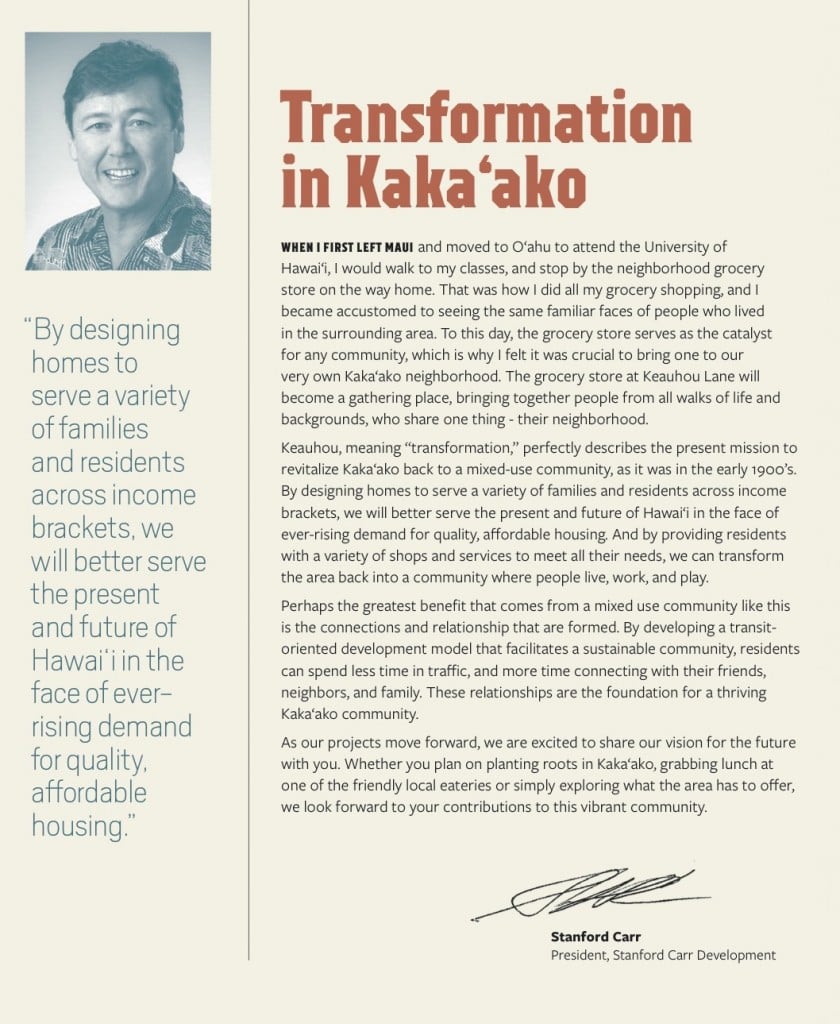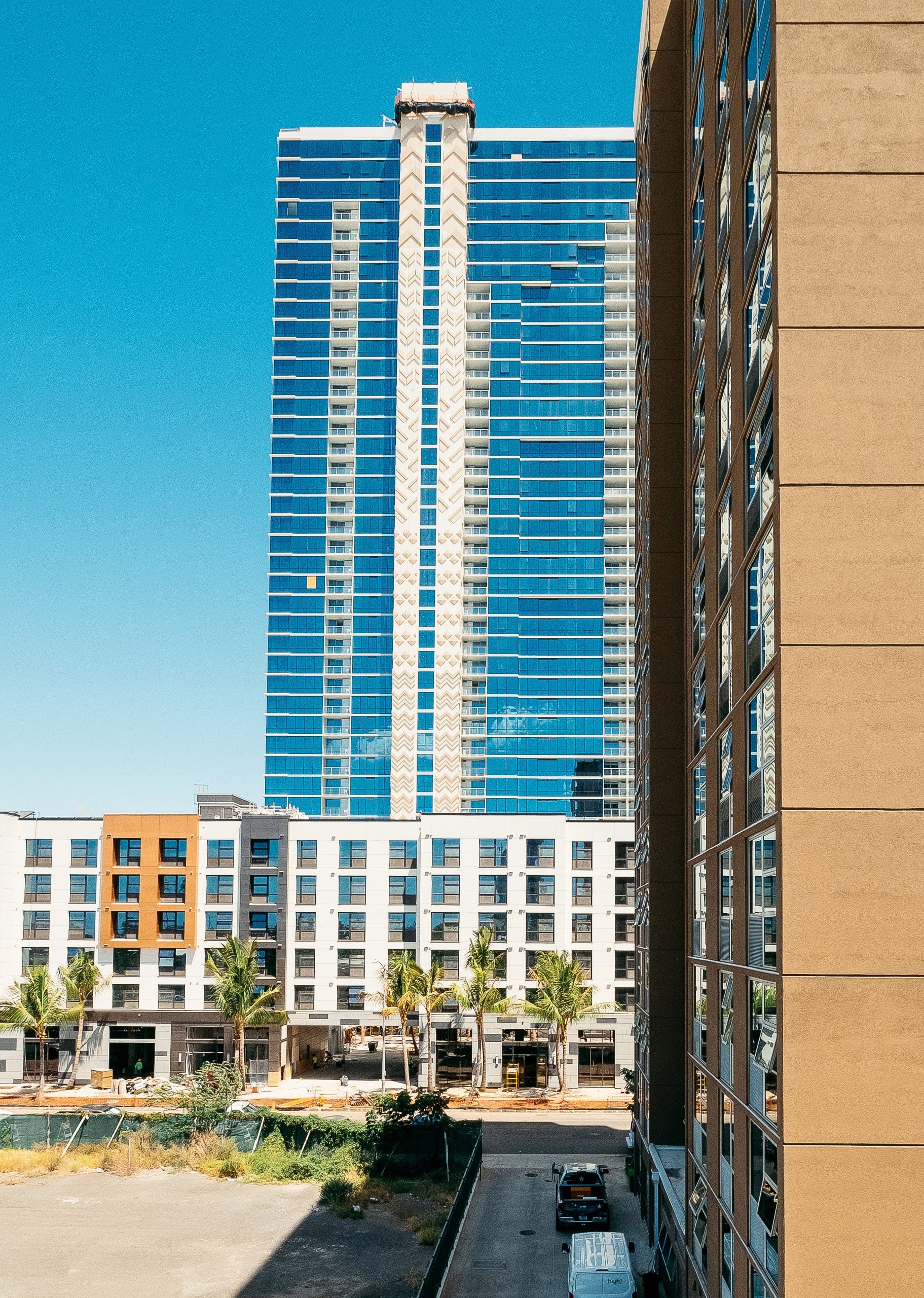 Keauhou will be a mixed-use community providing families and residents across income brackets with a variety of shops and services to meet all their needs.
---
Our Kakaako: Services
Kakaako's greatest strength lies in its innovative environment. Businesses are bridging the gap between traditional and modern, and familiar faces are finding new spaces. Artists are collaborating on concepts, and visionaries are introducing new ideas to the community. In this section, we've selected some of the local makers and the shakers of Kakaako who are building connections between the past, the future and each other.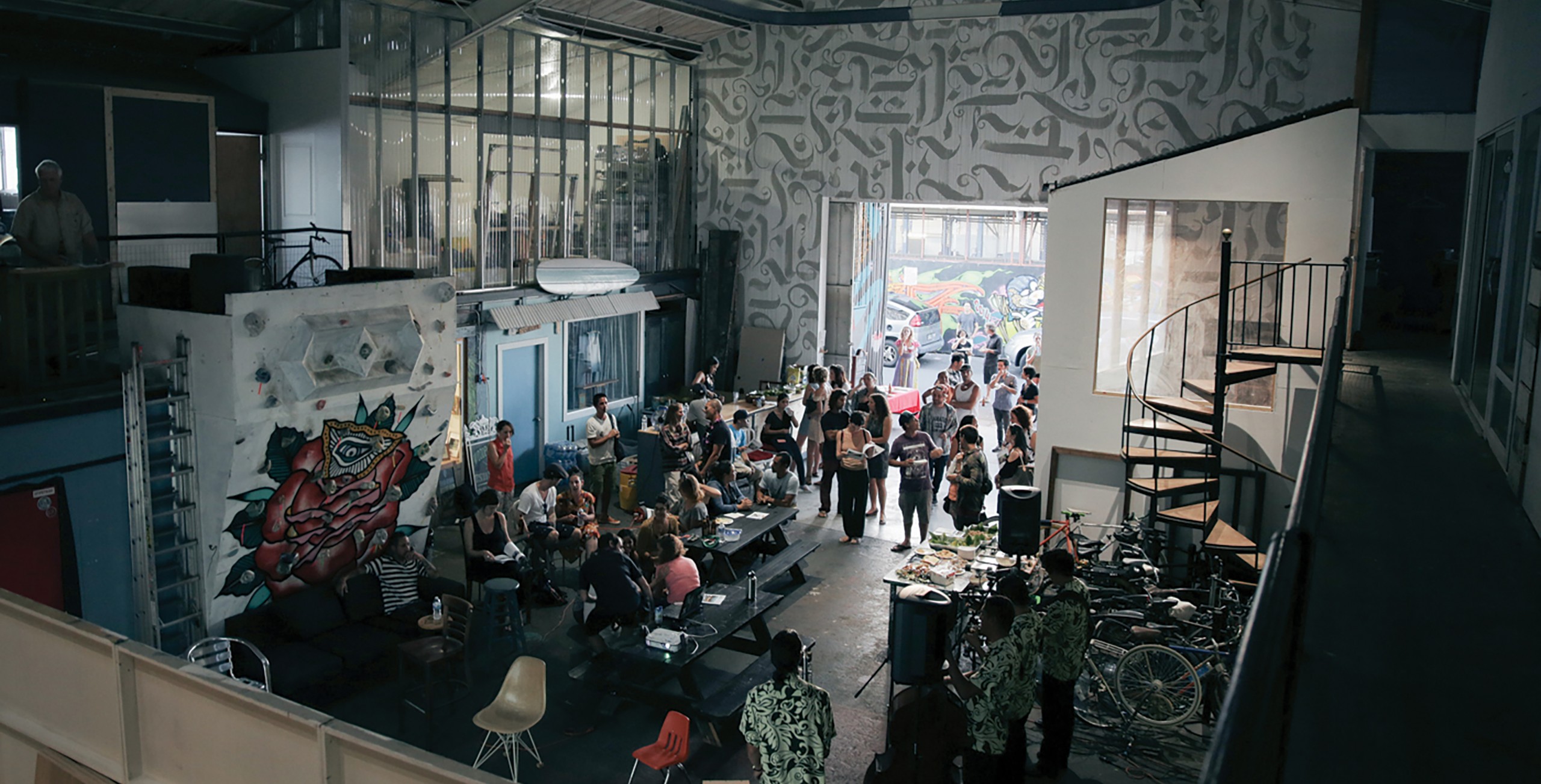 Lana Lane,
Creative Working Space:
A hum of soft conversation and laughter echoes in the rafters of Lana Lane studio. Behind glass windows, other artists work in concentrated silence from the privacy of their own studios. The coworking space, founded by Jasper Wong, Kamea Hadar and Jeff Gress, provides collaborative working space and studios for 30 hand-picked creatives. Here, artists from a broad spectrum of backgrounds can find an affordable studio to work and create, in part thanks to an affordable rent agreement with Kamehameha schools.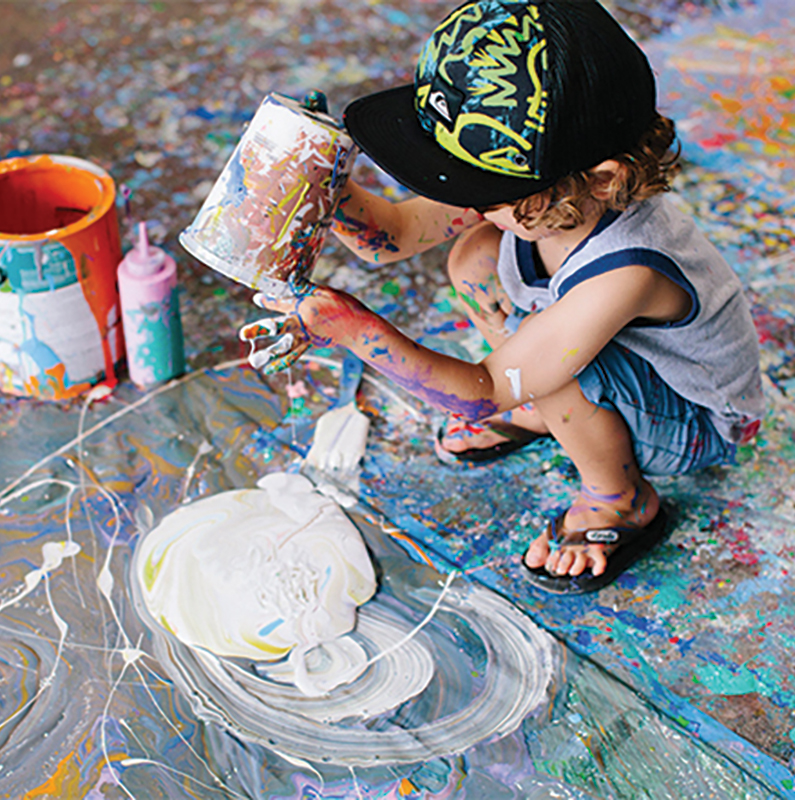 But perhaps the most powerful impact lies in the shared common spaces, where creatives connect and collaborate with other motivated creatives and business-savvy minds. The nearby cafe ARVO stands as testimony to the networking power of Lana Lane. The business traces its beginnings to a collaboration between creatives working out of Lana Lane. Local creative team Mason & Dixie Rose dreamed of starting their own cafe, and Paiko founder Tamara Rigney was looking to bring on new businesses to tackle rising property costs. Paiko's newest addition was born, and Lana Lane co-founder and artist Jeff Gress even hand-lettered menus for the grand opening.
"Lana Lane really offers creatives an affordable place to work, share ideas, learn from each other, and collaborate on projects together," says Gress.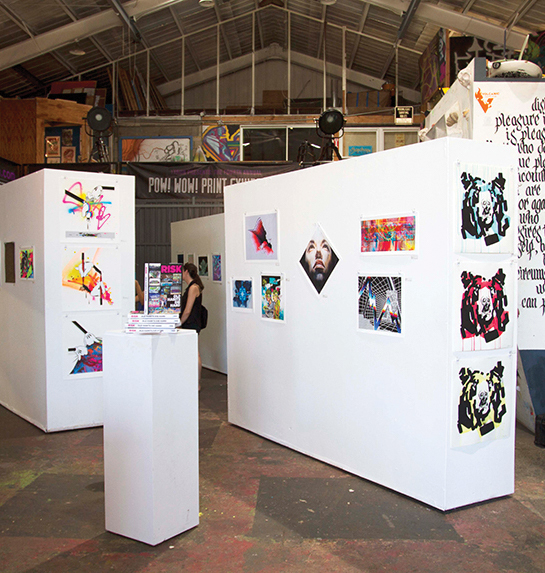 Additionally, the studio offers services to local businesses, operating as a one-stop shop for everything from letterpress printing, painting, graphic design, illustration, videography and photography. For the general public, Lana Lane continues to offer a variety of community events, including various talks, film screenings and classes. "We are a working studio, but we like to interact with the surrounding community and foster art within the community," Gress adds. For upcoming events, or to apply for a workspace, check out lanalanestudios.com
---
Our Kakaako: Food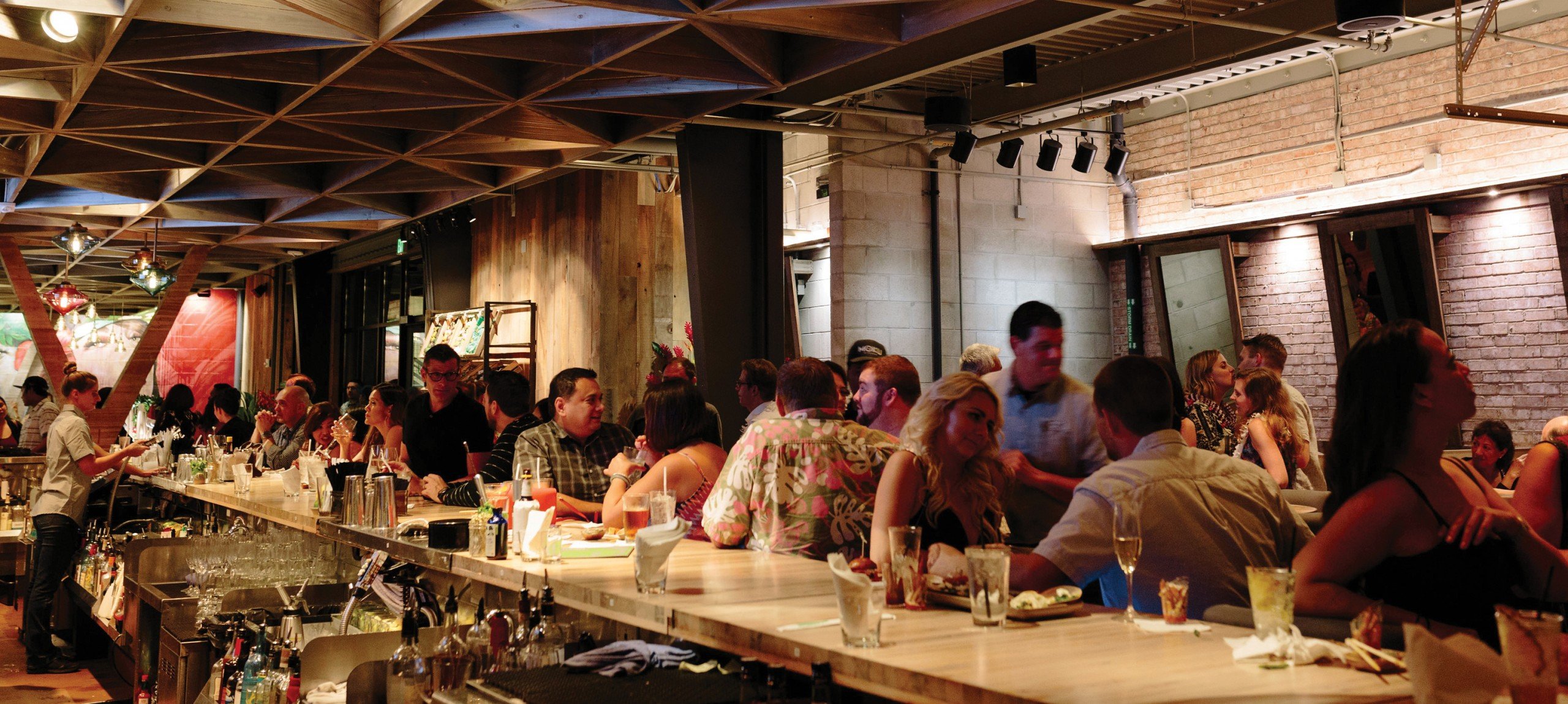 Moku Kitchen:
When the doors opened for acclaimed chef Peter Merriman to start a new restaurant in Kakaako, he jumped at the opportunity.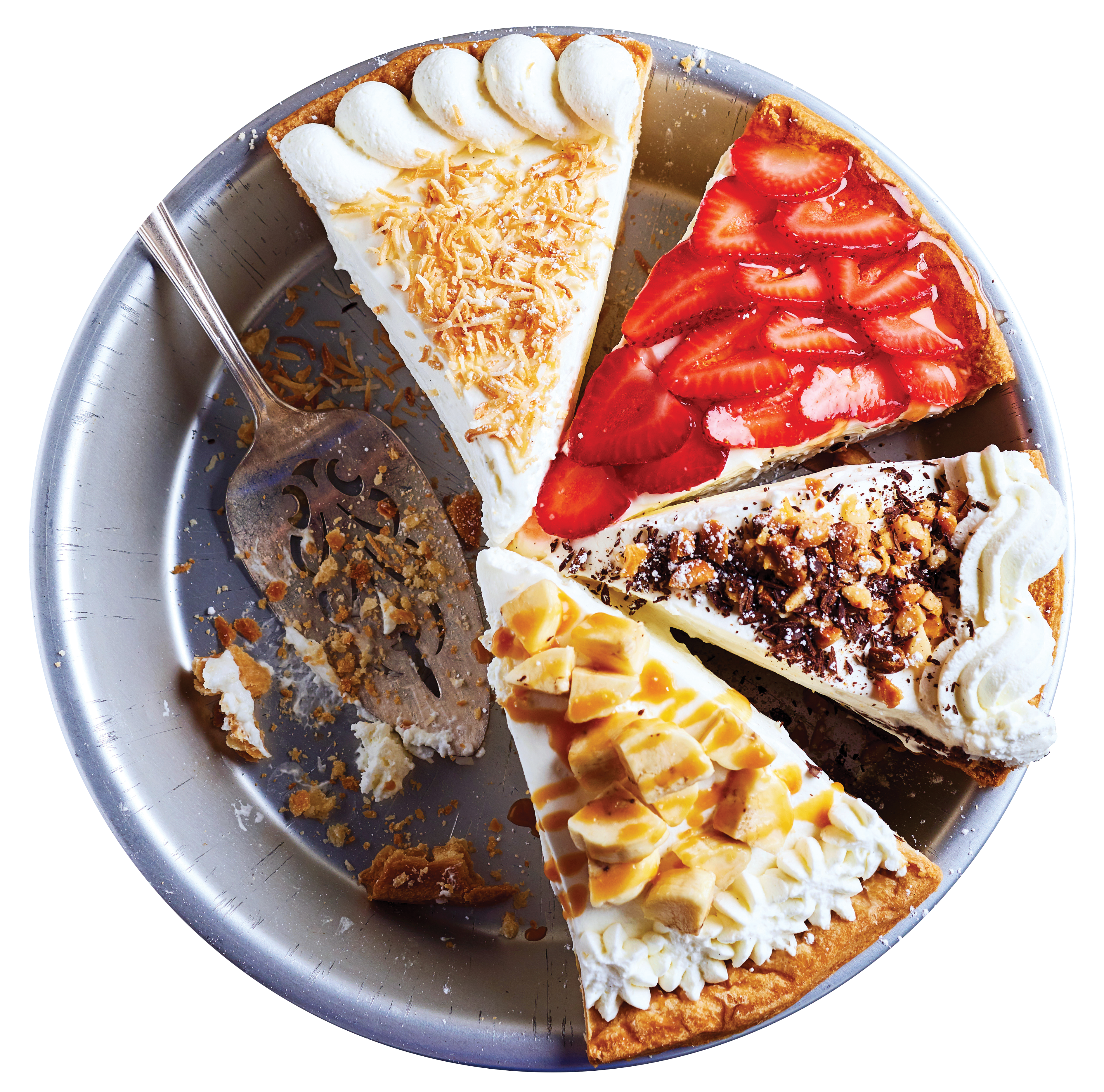 "We really thought it was a good location to attract a variety of local residents, and we loved the dynamics that SALT was creating," says Merriman.
In creating Moku Kitchen, Merriman saw the opportunity to create something similar to his already successful Monkeypod restaurant, but with local families in mind. Here, diners can savor simply prepared dishes, infused with flavors that reflect the culinary fusion that is Hawaiian cuisine. Each dish is crafted with locally-sourced produce to provide the freshest food, while supporting the local agricultural economy. The restaurant offers a variety of innovative dishes, but the regulars swear by the strawberry cream pie, a creamy filling set in a buttery flaky crust and topped with fresh local strawberries.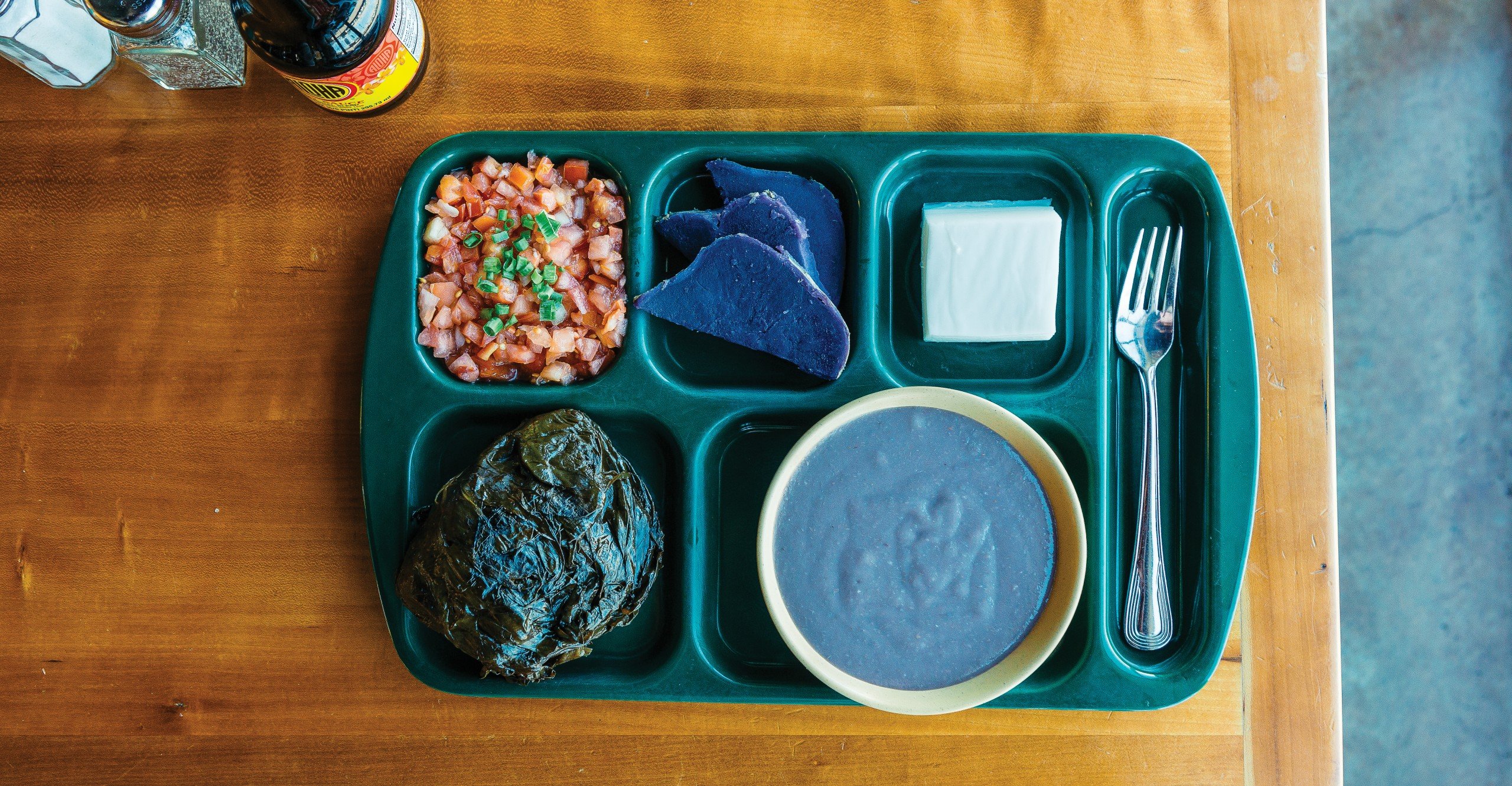 Highway Inn: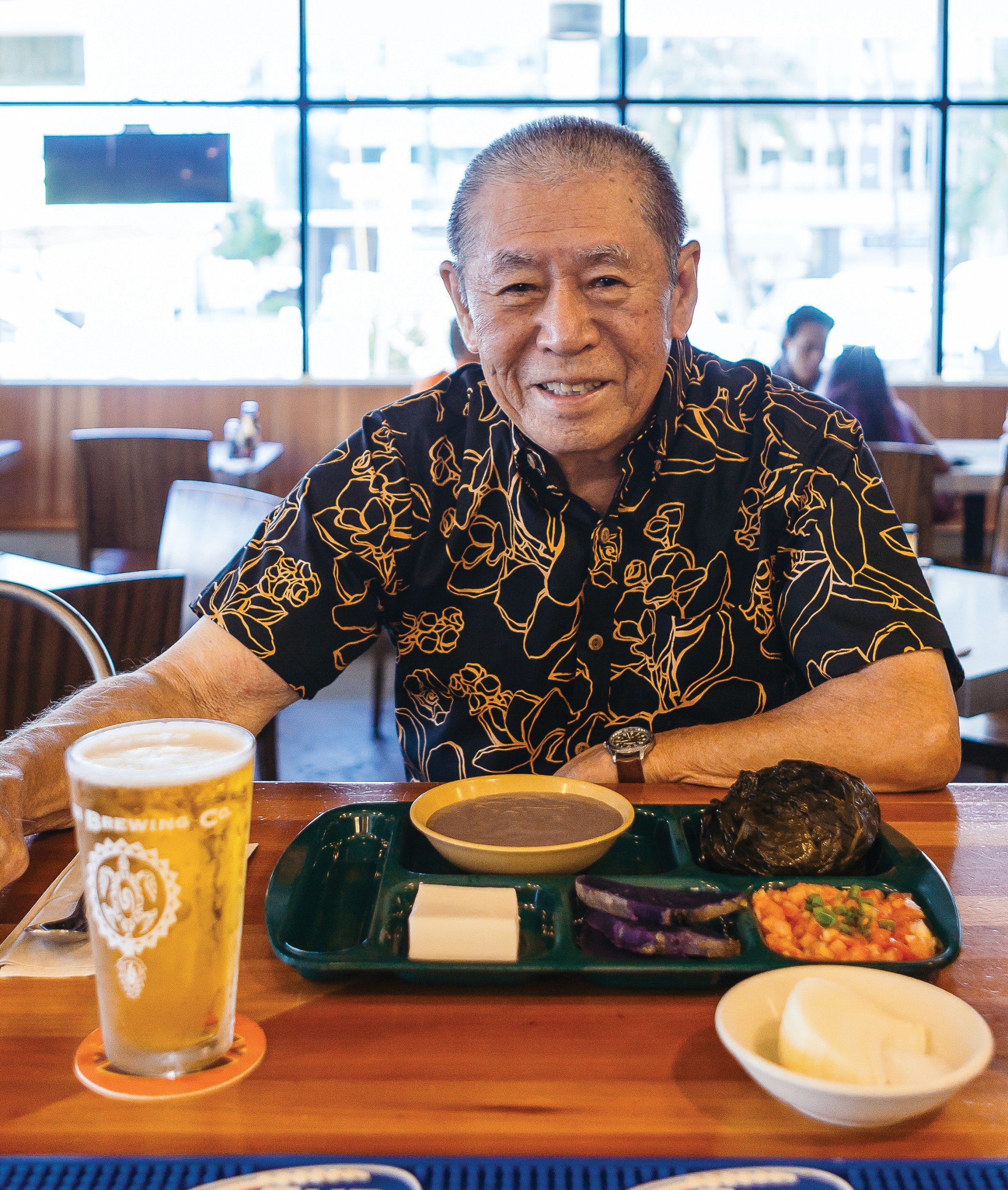 Every Wednesday morning, Bobby Toguchi wakes up at 5 a.m. to hand-wrap lau lau, a labor of love he has been doing for almost 40 years. The former owner of Highway Inn is technically retired, but he still takes great pride in preparing traditional Hawaiian food for the restaurant's newest branch in Kakaako. The biggest challenge for this location lay in finding ways to serve time and labor intensive dishes to patrons on quick lunch breaks, and introducing unfamiliar dishes to tourists. "It's really important to preserve what we've been doing for such a long time and keep that identity," says his daughter Monica Toguchi, current owner of the 70-year-old family business. The location offers a few contemporary menu options not available at their original branch in Waipahu, such as ahi tacos and Big Island burgers, while still offering the traditional favorites locals have come to count on, like lau lau and beef stew. For those new to Hawaiian food, a sidebar on the menu explains the history of each dish, alongside the stories of the local farmers who grow the produce required to prepare these authentic recipes.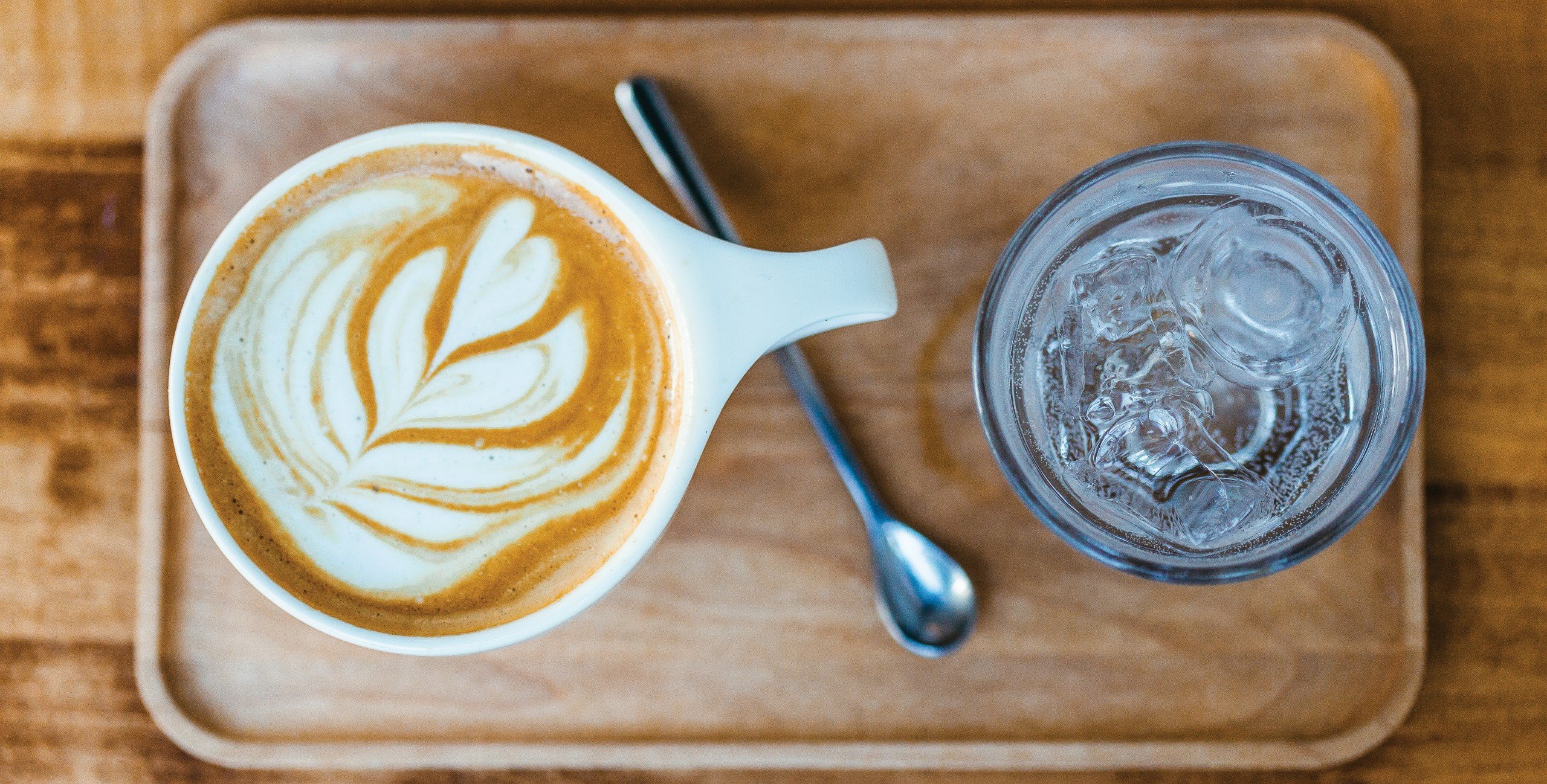 9Bar HNL:
A morning latte, without the midday caffeine crash? That's the word on the street at 9Bar HNL. Try their Jump Start Latte, a latte infused with butter & MCT-oil, said to prolong the effect of the caffeine, without any of the jitters. The creamy drink is served with a glass of sparkling water, used to cleanse the palate in between sips.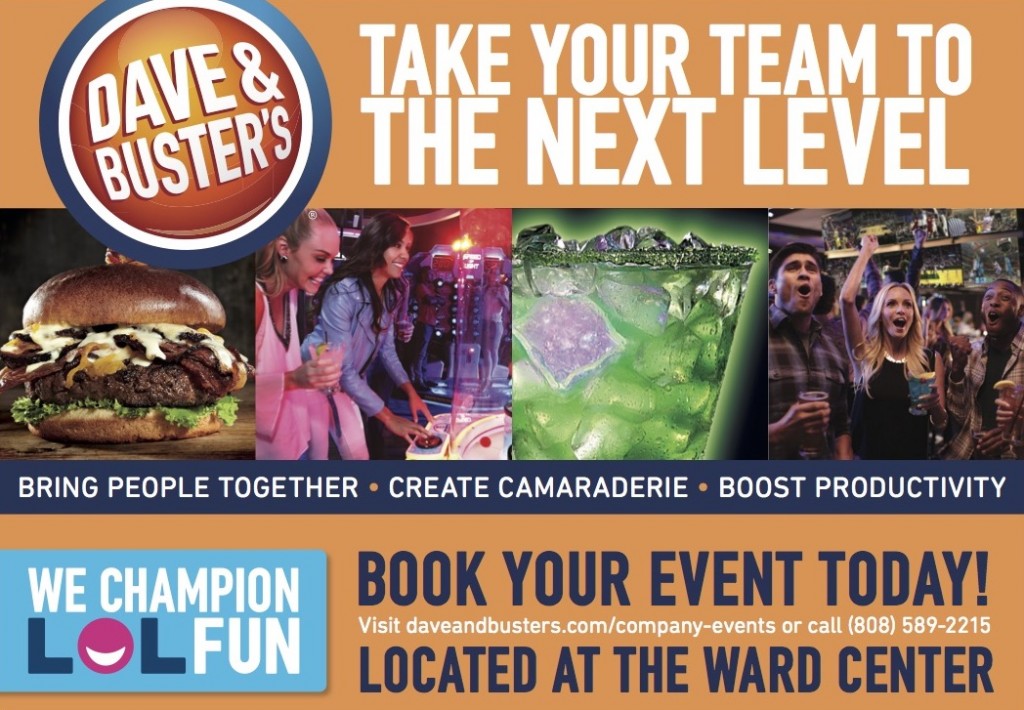 Dave & Busters
www.daveandbusters.com/honolulu
Your company's holiday celebration can be the culmination of a successful year, and Dave & Buster's is the perfect place to hold it. We're in the business of creating memorable events, and we're proud to say we excel at it.
The fun begins with our venues. Choose between the Sports Lounge with nine HDTVs and a giant 120-inch projection screen; the split-level Pa'ina Hale Showroom, which has a stage, Internet access and state-of-the-art audiovisual equipment; the open-air Sunset Lanai, where spectacular views stretch from Diamond Head to the Waianae Mountain Range; and several semi-private spaces.
A premium bar and a delectable buffet keep everyone in a festive spirit. Diversions can include arcade games, casino tables, caricature drawings, strolling magicians and dancing to live music or hits spun by a DJ. Team-building activities inspire collaboration, competition, camaraderie and problem solving.
Event planning can be daunting, so leave that to Dave & Busters' party professionals who will cheerfully and efficiently take care of all the details. Even better, if you book by December 7, you'll save 20 percent!
---
Our Kakaako: Retail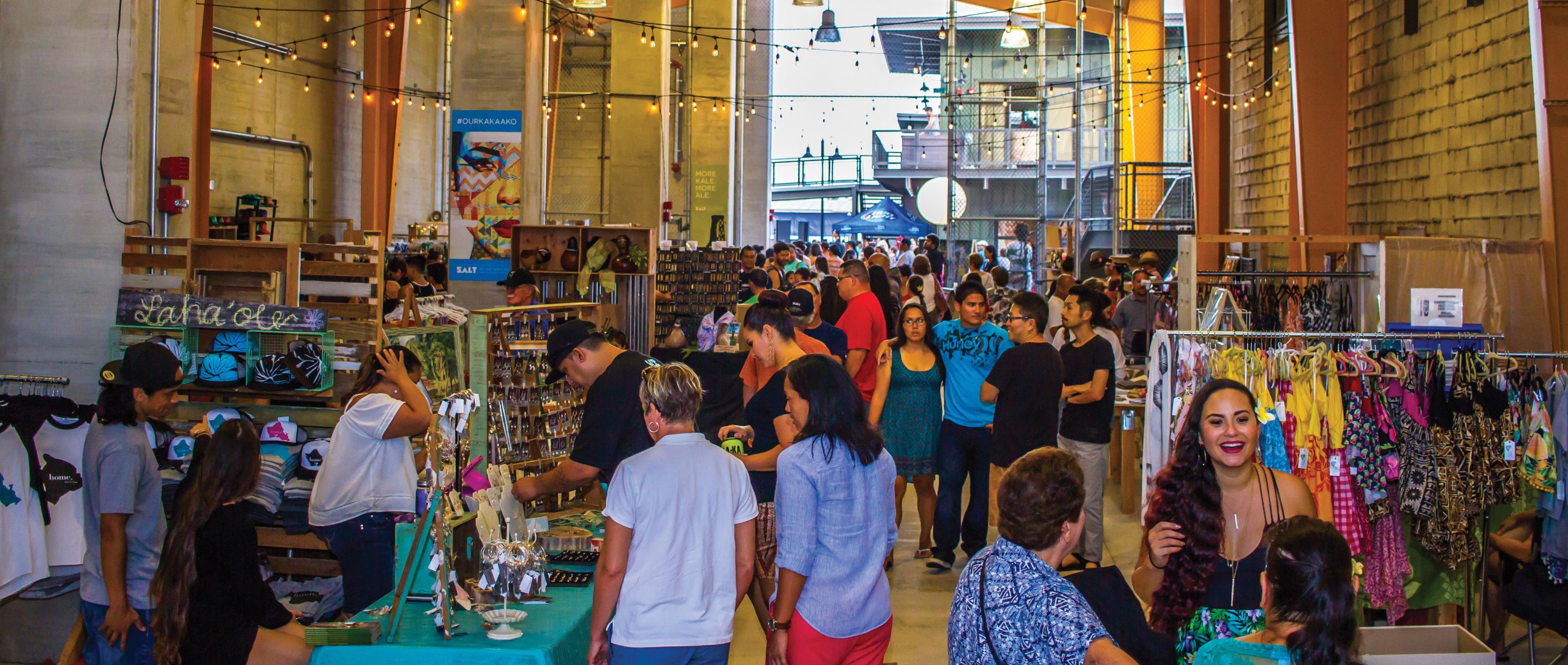 Paakai Marketplace:
Investing in a brick and mortar storefront can be a daunting task for new businesses, but at Paakai marketplace, all an artist needs is a table in order to connect with hundreds of potential buyers. The monthly marketplace, which features local artists, crafters and businesses, was created by the Pai Foundation in a movement to rally the community and support new and budding local artists. Here, established artists and students showcase their work side by side, attracting new clients and gaining invaluable business experience.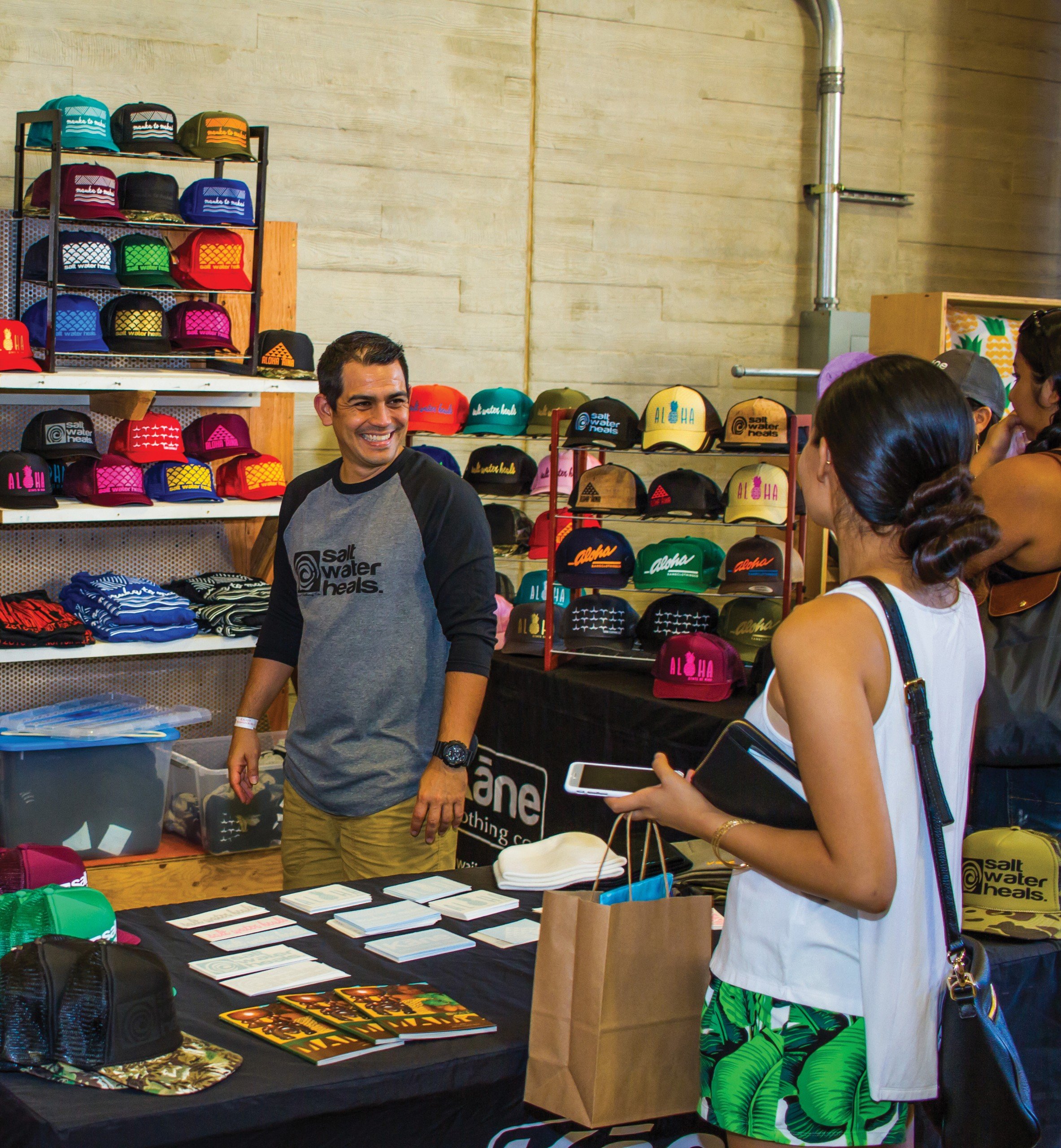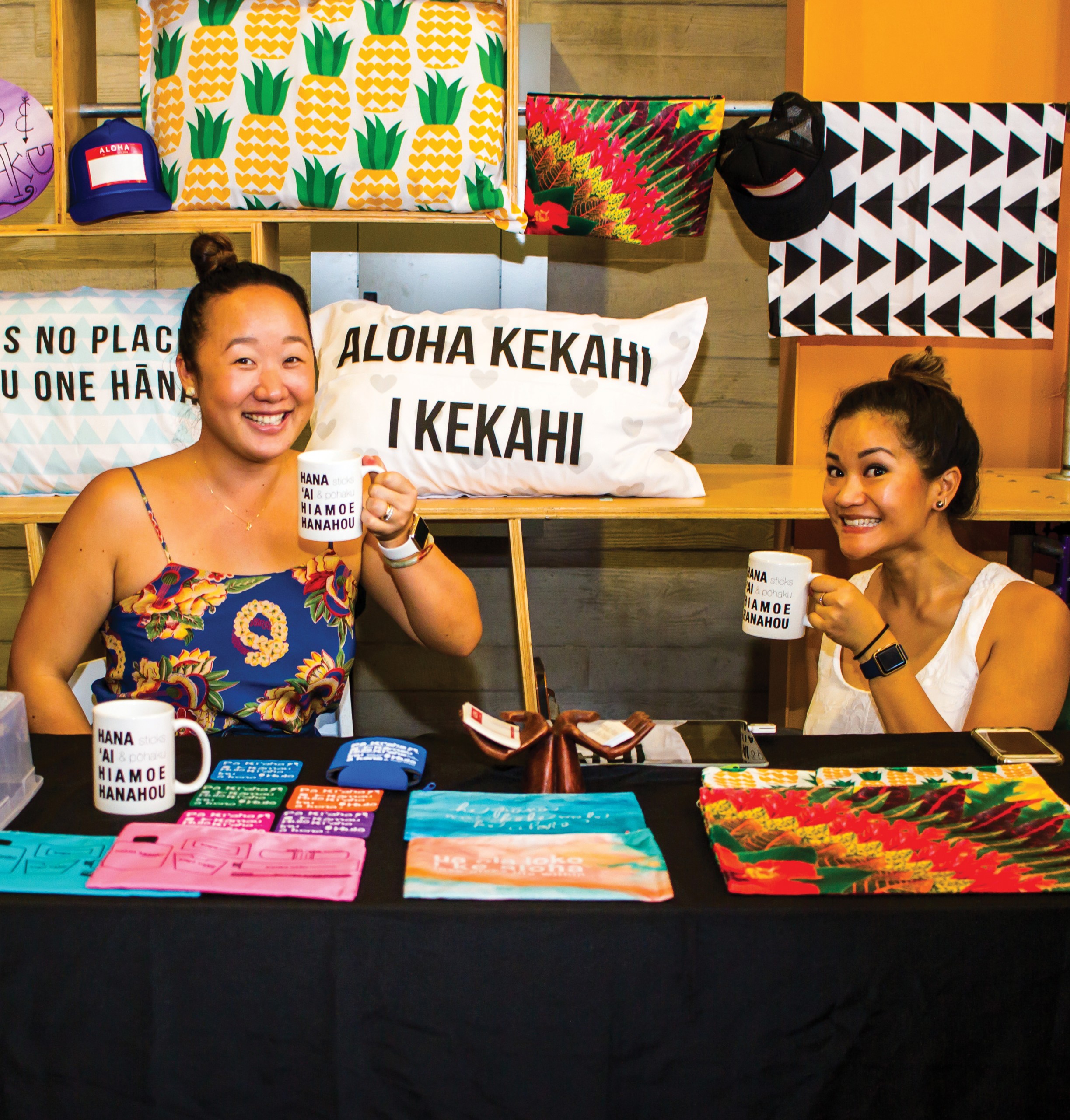 Founder Vicky Takamine says they are placing a high priority on including providing professional development for upcoming artists, and they work with certified trainers to offer tips on everything from marketing and presentation, to better salesmanship and finding the right price points. Takamine says the marketplace is becoming a monthly tradition, and they're already starting to see a solid base of regular customers. "It's a really fun and unique gathering of families and friends working together."
Applications to become a vendor are available at paifoundation.org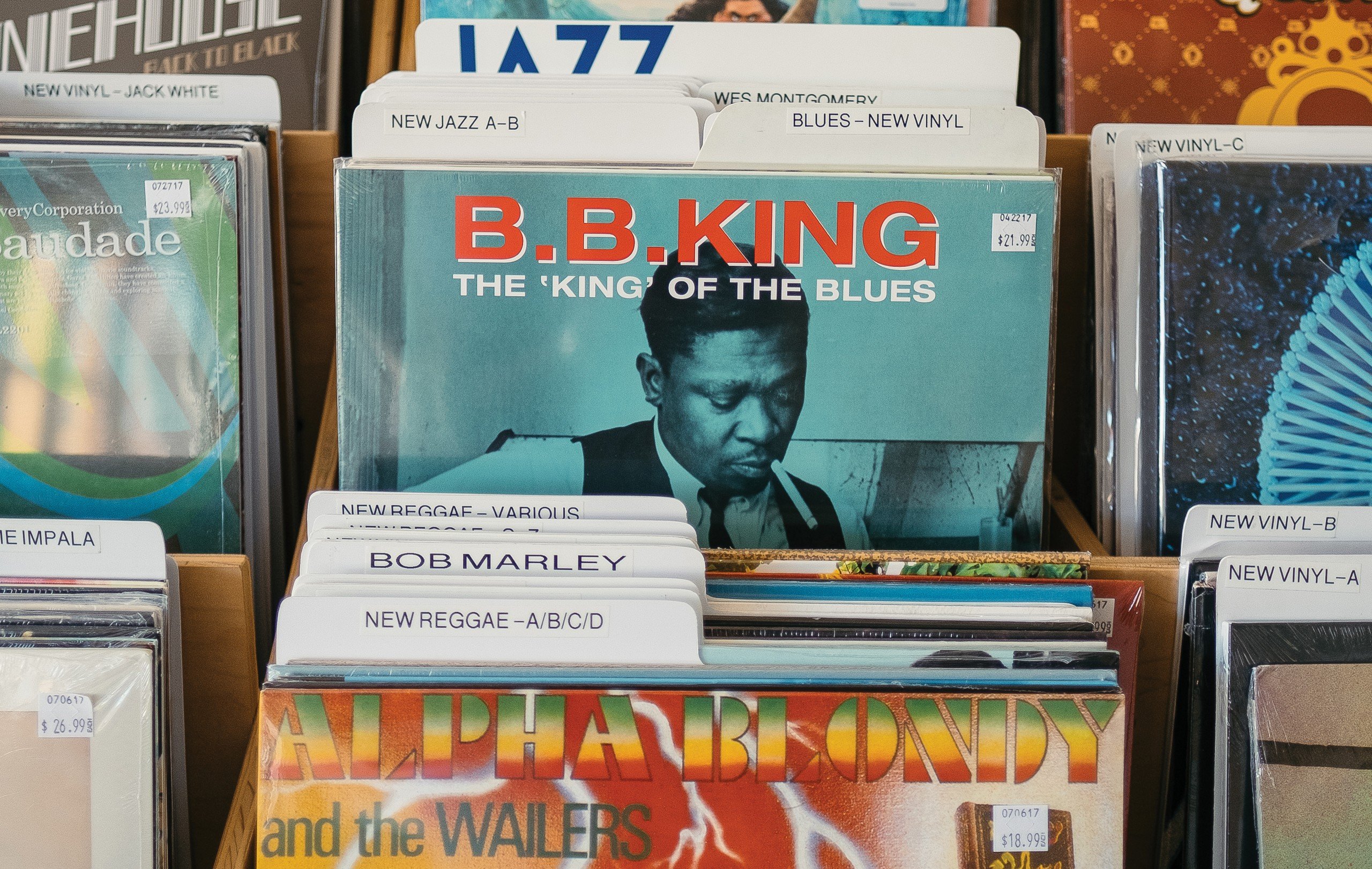 Hungry Ear Records:
Vinyl sales have doubled in recent years, and this year experts predicted the vinyl record industry was on track to become a billion-dollar industry – music to the ears of business owners like Ward Yamashita. Yamashita runs Hungry Ear Records, Hawaii's oldest vinyl store. He has been closely watching vinyl sales for a long time, anticipating the rising swell in interest.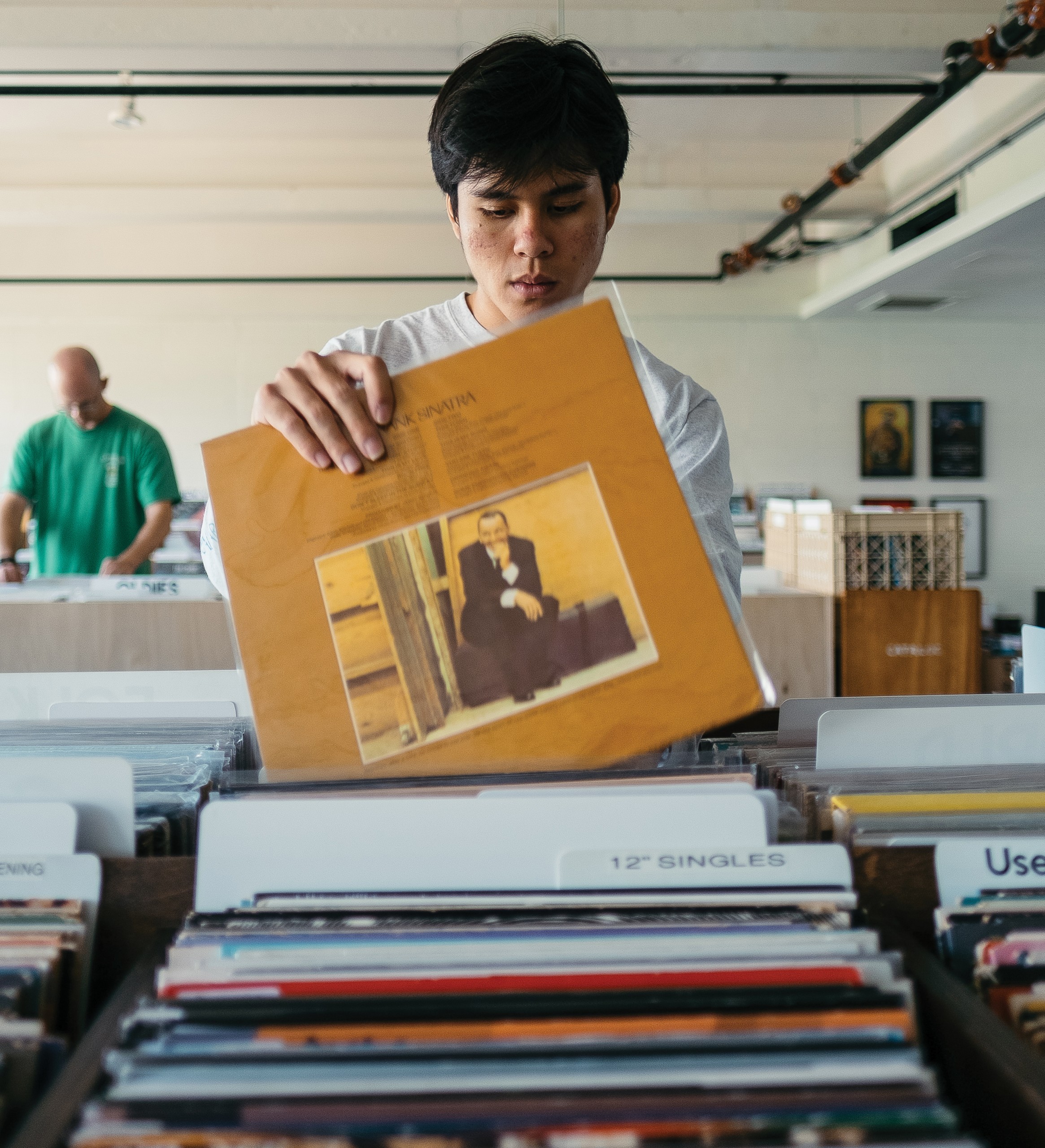 The shop has moved multiple times in recent years due rising rent costs, but it recently found an affordable home in the new SALT complex, where Yamashita hopes it can stay for the foreseeable future. The shop offers a menagerie of classics, new hits, and local favorites, including Jake Shimabukuro and Israel "Iz" Kamakawiwoole. Although many local musicians find it hard to justify the cost of offering a vinyl edition, Yamashita hopes the increased interest will encourage them to reconsider. Dedicated vinyl collectors make a point to stop at the local record store of each city they visit and purchase a new vinyl for their collection.
Inside the store, soft music crackles from a record player as a blend of young and old faces peruse the stacks. The clients are an equal mix of regulars, who have followed them around over the years, and fresh new faces. While some attribute the growing appeal to a difference in sound quality, Ward says there's something more that goes beyond that. Whereas a CD or MP3 can be taken on the go, you have to sit down at home in order to listen to vinyl. "The quality is better simply because you're giving more of yourself to it," he explains, "it's a kind of a personal meditative experience."
---
Our Kakaako: Development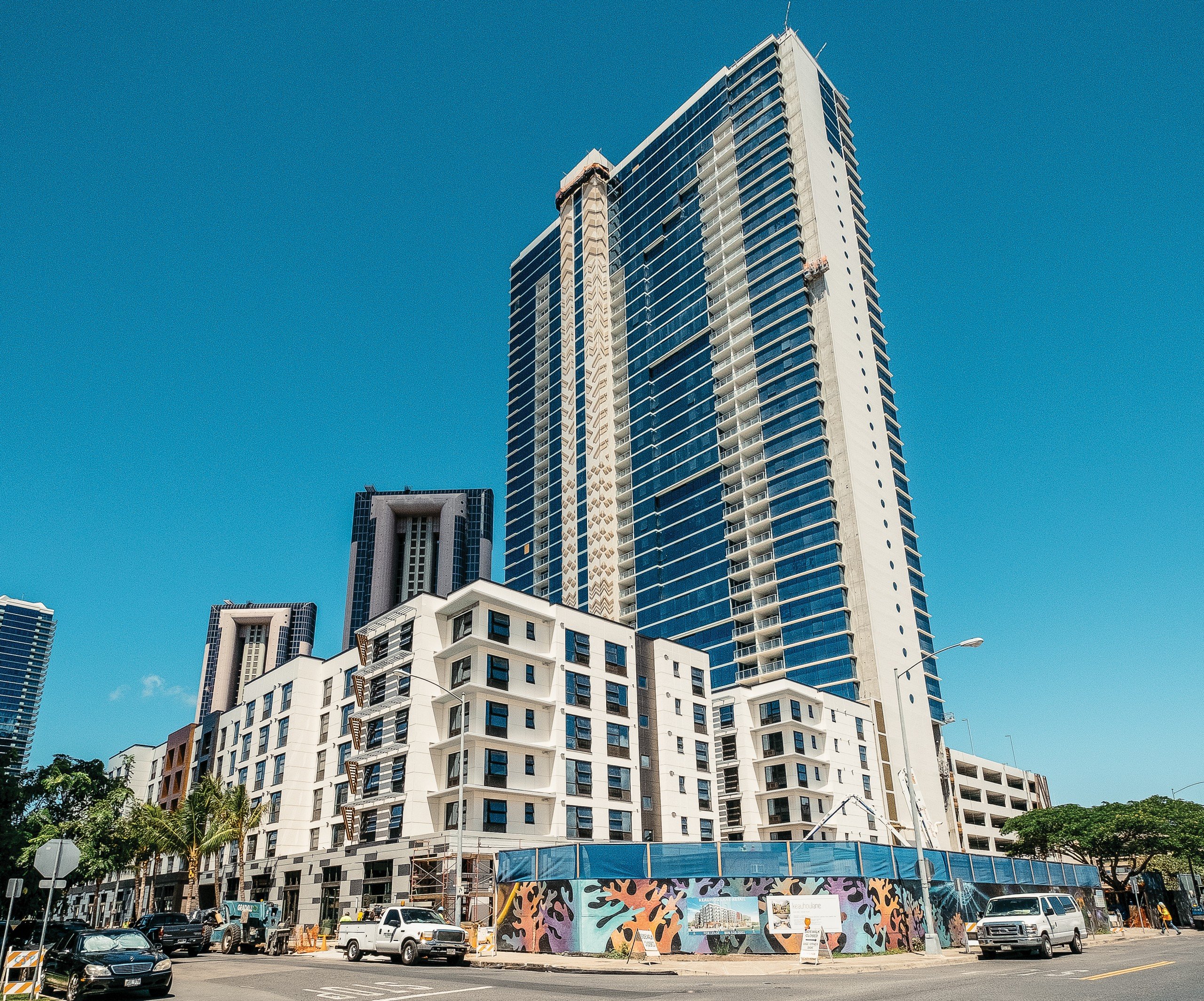 Keauhou Place:
Could you go an entire week without your car? That's the idea behind the Keauhou site, a mixed use development that will offer a variety of housing options in tandem with a network of shops, services, and even a grocery store. The project is based on a 'transit-oriented development' model, a conceptual buzzword that is taking urban cities by storm. The idea is relatively straightforward; create an energy efficient, compact neighborhood that meets the day-to-day needs of residents and is near rail transportation, thereby reducing the need to drive a car.
Keauhou Place offers a variety of leases and for-sale apartments, and the adjacent Keauhou Lane will offer townhomes alongside restaurants, retail and a grocery store. Both developments will offer affordable options for families below the AMI. By offering housing options for lower incomes, developer Stanford Carr says he hopes to reduce the number of people who have to commute from far away by providing the workforce with affordable places to live within the community. "It's really important to have a cross section of different households, it really creates a symbiotic community," says Carr.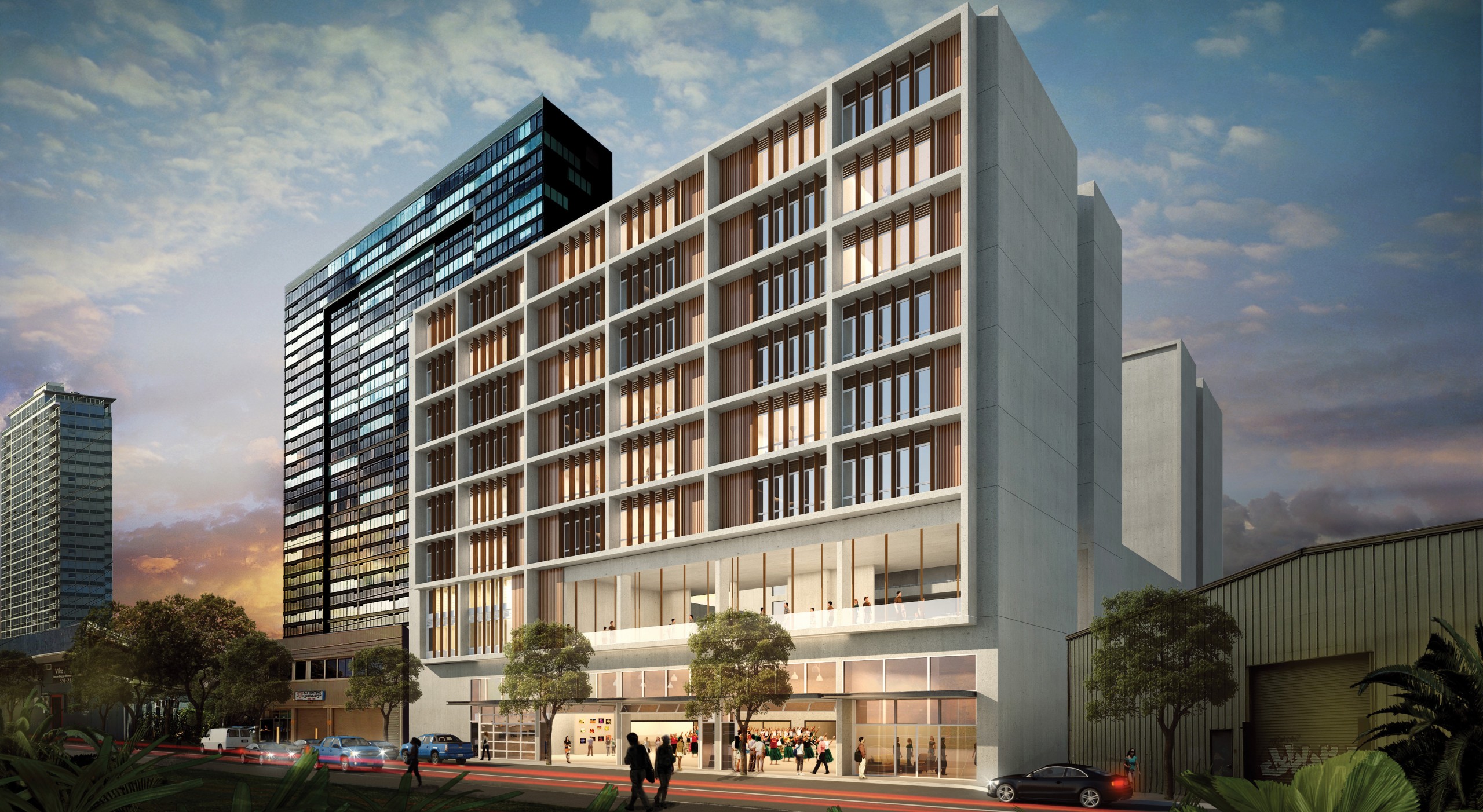 Ola Ka Ilima Artspace Lofts:
Struggling artists may soon be able to invest more time in their art with the most recent Ola Ka Ilima Artspace lofts development, which broke ground in August. The project is a collaboration between Artspace, an organization which develops affordable places for artists to live and work, and the Pai foundation, which seeks to preserve Native Hawaiian arts. The development will feature 84 affordable housing units, specifically designed to alleviate the financial burden on working artists, and allow them to focus on their creative work.
"For areas that have developed around the artist community, it's really important to provide reasonable options to keep the artists there if you want to keep the same character of the neighborhood that made it special in the first place," says Andrew Neuman, project manager.
The development is being created with a long-term goal of reduced costs and utilities for their tenants, and with a little ingenuity, they've found ways to design spaces that is both affordable and sustainable. The project will be LEED certified, and will include rain cisterns that capture rain from the roof and feed it into community gardening planters below. Additionally, the building will utilize natural resources for cooling through solar shading and through-ventilation.
Rooms will include a variety of 2 bedroom & 3 bedroom lofts, and 1 & 2 bedroom flats, and residents that work in the art industry will be selected through a portfolio review.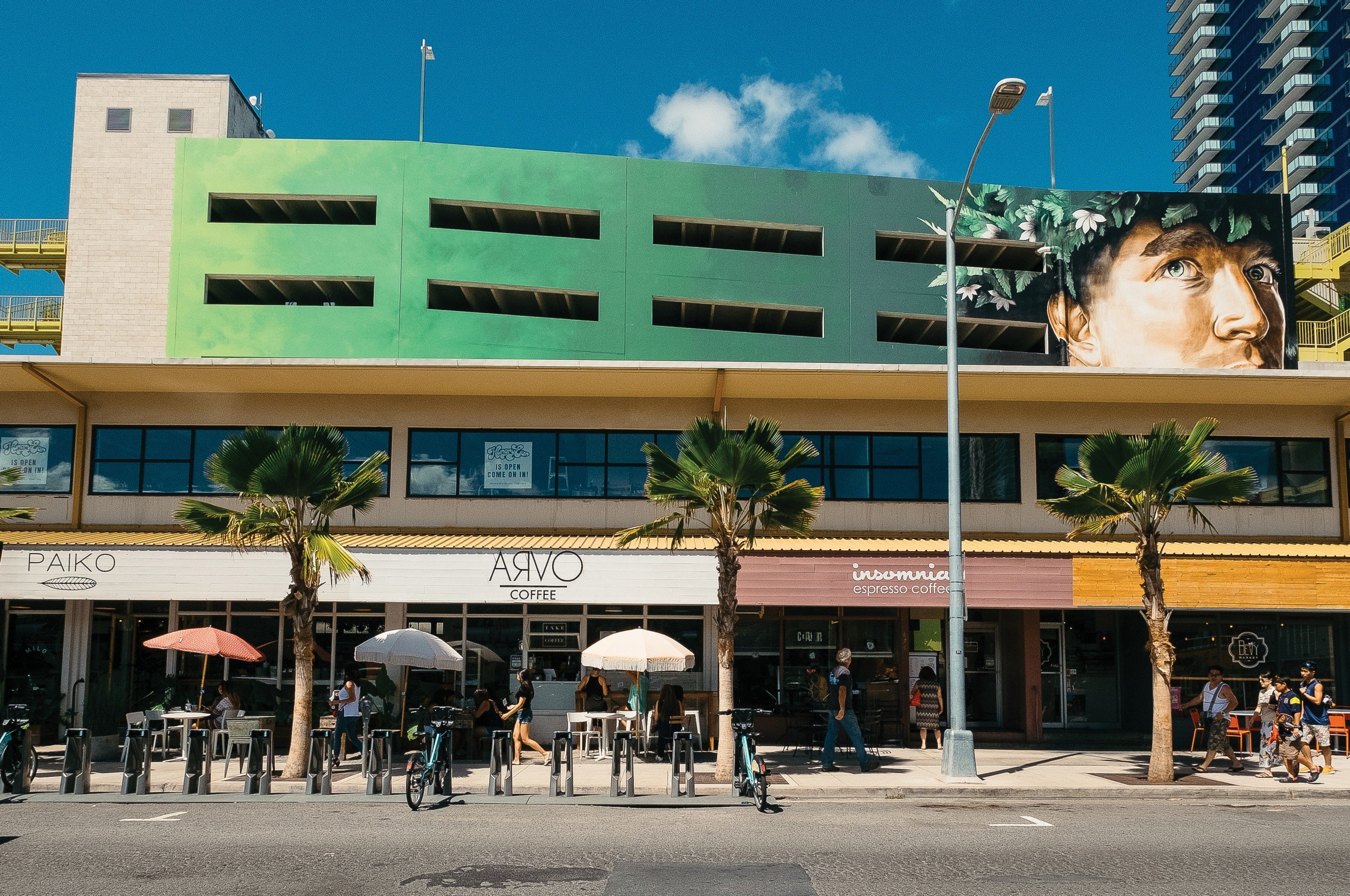 Our Kakaako
West Kakaako continues to develop new connections between people and places. Former aging, industrial city blocks have been replaced with promising new commercial, residential and recreational opportunities. Developers are leveraging resources to provide housing that meets the needs of individuals from diverse backgrounds, and community leaders are fostering collaborations between people with new perspectives.
Through these efforts, a community is emerging where residents can learn, grow and interact in meaningful ways. Together, the people of Kakaako continue to build a vibrant, thriving community into Our Kakaako.