Outrigger's Strategy for 2022: Upgrades and Acquisitions
CEO Jeff Wagoner talks about major renovations in Waikīkī and Kona, new properties purchased in the Maldives and Thailand, and a major challenge facing the entire hospitality industry.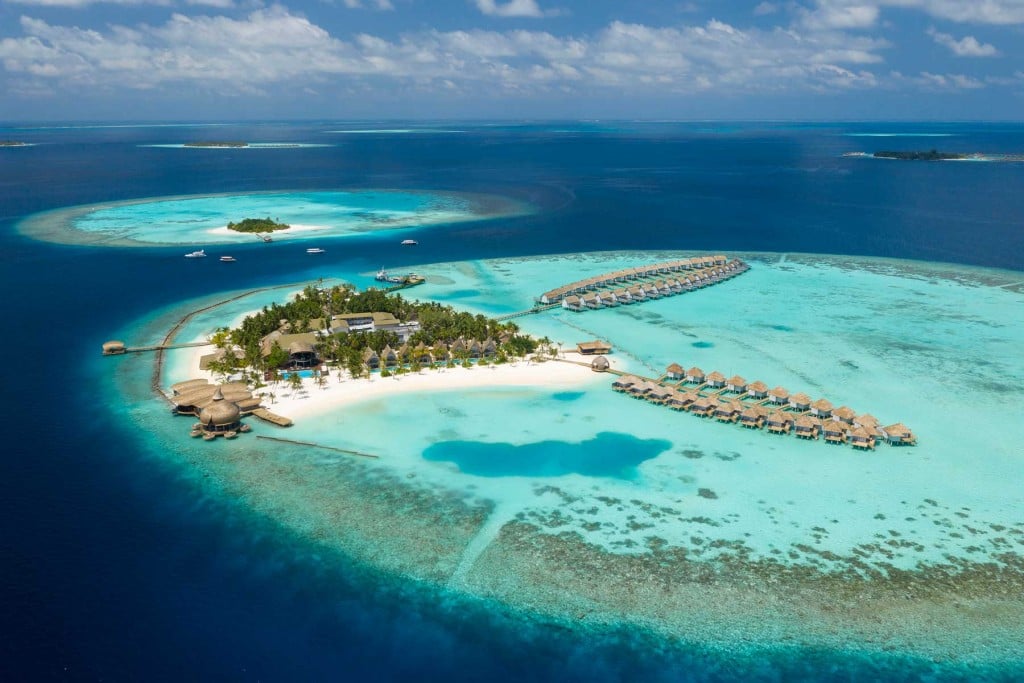 Hawaii Business Magazine is interviewing the CEOs of important local companies on their plans for a near future in which change and uncertainty often seem to be the only certainties.
Here is our conversation with Jeff Wagoner, CEO of the Outrigger Hospitality Group. The interview has been lightly edited for conciseness.
What are your major plans for 2022?
Two key areas are property enhancements and new resort acquisitions. We allocated $200 million to reinvest in our Hawai'i assets and I'm pleased that after two years of headwinds, we're back on track with fulfilling this plan.
On O'ahu, our $80 million top-to-bottom transformation of the Outrigger Reef Waikiki Beach Resort is nearly complete. Kani Ka Pila Grille has live Hawaiian music nightly and our new A'o Cultural Center is a hub for celebrating Hawai'i's rich heritage. The project's capstone is Monkeypod Kitchen by Merriman, which is slated to open by year's end.
On Hawai'i Island, Outrigger Kona Resort and Spa, a 22-acre property that we acquired from Sheraton in July 2021, is in the planning stages of a remodel. We're looking to invest $40 million into this oceanfront resort above Keauhou Bay – birthplace of King Kamehameha III – focusing on the area's history and culture
Two other hotel properties we're upgrading are Waikiki Malia by Outrigger and Ohana Waikiki East by Outrigger
You've also added to your overseas properties.
Yes, we recently announced the acquisition of a five-star resort on a private island in the Maldives that is the epitome of barefoot luxury and a great addition to our portfolio.
And Outrigger purchased three resorts in Thailand last July; the properties in Phuket and Khao Lak reopened earlier this year following complete renovations and the third, in Koh Samui, is scheduled to reopen this summer.
Escalating  problems and rapid changes mean Hawai'i and the world are facing a new era. What are the biggest opportunities facing your organization or industry?
I see tremendous opportunity in the ESG space (environmental, social, and governance) for Outrigger and the hospitality industry at large. Five of Outrigger's properties recently received Hawai'i Green Business awards and we're on track to be the first Hawai'i hospitality brand certified by Green Seal.
Our global conservation platform called Outrigger's Zone (OZONE) focuses on protecting coral reefs because ocean stewardship is integral to preserving the beauty and health of our destinations. Our partnership with Kualoa Ranch for the Mālama Hawai'i voluntourism initiative and Polynesian Voyaging Society for our A'o Cultural Center are a few examples of how we're encouraging mindful, ultimately regenerative tourism.
What is the biggest challenge you and the tourism industry face?
It is inspiring the next generation to get excited about the hospitality industry. This field has an incredibly broad range of career opportunities – from operations and management to finance and marketing. My own career started with an overnight shift at a 1,000-room Marriott in L.A. and from there I was hooked. I loved every minute of my career and still do.
To meet current labor challenges we need to take exceptional care of our employees and work with others in Hawai'i to help shed light on the benefits of the hospitality industry and the viability of a career in it.
There is widespread pessimism about the future. What gives you optimism?
Outrigger celebrates its diamond anniversary in September: 75 years of capturing the hearts of travelers from around the globe. These last two years proved the power of travel and the desire to connect with people and cultures in meaningful ways. There's no Zoom background that mimics the feeling of your toes in the sand or smell of a lei around your neck.
I'm optimistic for the future of travel with a new generation of travelers who want to see the world in an authentic and meaningful way.