Part-time Job, Full-time Rewards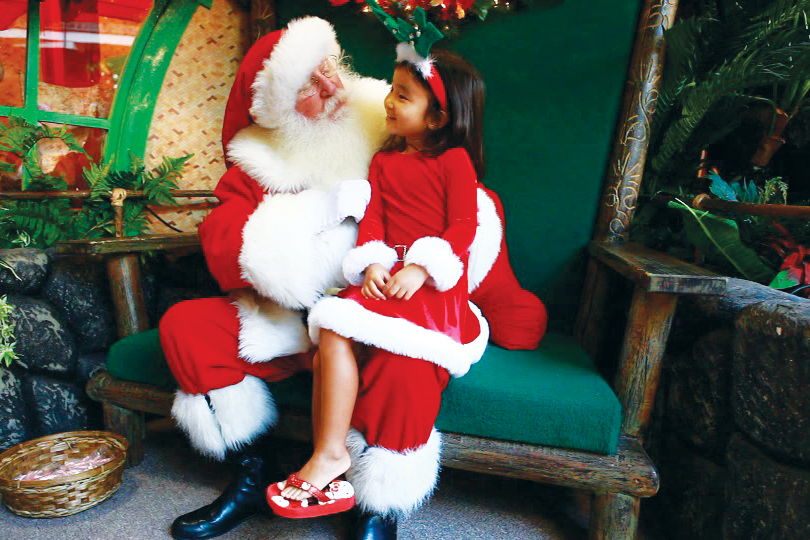 Michael Kennebeck was recruited to play Santa Claus by an Ala Moana Center staffer who recognized that his personality and bushy beard made him a natural for the part. That was 18 years ago and Kennebeck has been playing the role at the mall ever since.
The first year was "scary," he says, because he didn't know how to act. "But I learned to be natural, to be happy and have fun with the kids. And above all, don't promise them anything. Our job is to give them the dream and the hope that there's something out there."
He earns his living as a driver for TheBus, but every holiday season he finds it rewarding to know that kids still believe in Santa. "They tell me things they won't tell anyone else," he says. And he's heard it all, from kids who want laptops and iPhones to some who just want cash.
"I tell them, do I look like an ATM?" he says, laughing. "The parents really like that."
But there are heart-wrenching stories, too. A girl about 9 years old visited him the Christmas after the Sept. 11 attacks. She handed Kennebeck a letter she wrote. "She said she really didn't want anything for herself. But she wanted all the children who lost their families in the collapse of the World Trade Center to have a good Christmas."
Kennebeck loves seeing familiar faces and new people. Last year, a 95-year-old woman sat on his lap — her first Santa visit ever. "She was giggling and laughing and talking about her great-grandchildren," he says. "She was just tickled pink, and that made my day so great."