Preparing For When This is Not a Drill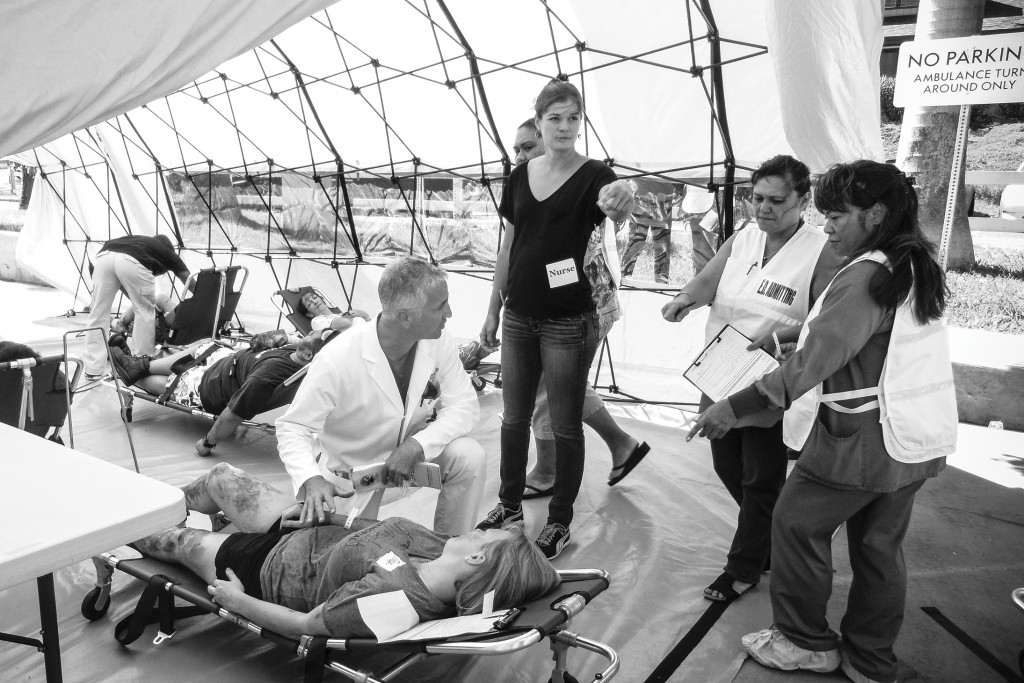 "Are you breathing?"
Emergency-room doctor David Williams leans over a "patient" covered in realistic-looking ash and blood. Surrounding him in the pop-up hospital tent lie a dozen more volunteer victims, ready for triage after a plane has crashed at Kahului Airport.
Don't worry yet, it's a simulation, part of a training program by Maui Memorial Medical Center and other local emergency-service providers to prepare their staffs for a mass casualty disaster.
In the triage tent, Williams continues examining his patient, who lies, unresponsive, on a gurney. "Can I feel a pulse?" he asks.
She opens her eyes briefly. "No."
"I need a transporter!" Williams calls to the waiting orderlies. "This is a red patient, needs immediate care. She's going straight into the ER."
Hawaii's hospitals must be ready to respond to any emergency, whether a major hurricane, the outbreak of an exotic disease, a plane crash or an act of mass violence. But how prepared is the healthcare community for Hawaii's next disaster?
A 2015 report by the U.S. Office of Emergency Management praised the state for its high level of cooperation and communication among agencies and hospitals to plan and prepare for emergencies, and for developing a reserve of emergency supplies and equipment distributed across all islands.
But the organization that has taken the lead in coordinating those efforts, the Healthcare Association of Hawaii, is coping with funding cuts that could jeopardize its programs. Two years ago, the organization's annual federal grant was cut from $1.4 million to $920,000, a loss that could mean fewer services if local hospitals and other member organizations don't make up the difference, says HAH's emergency services director Toby Clairmont.
"(In a disaster) people panic, they're afraid, their natural instincts surface. My hope is to get enough training so there's some level of organized chaos."

— Gail Miyahira, Emergency management coordinator, Maui Memorial Medical Center

"It's especially problematic because of our physical location," he says. "It costs us more, and it's harder to protect our population than somewhere on the mainland."
HAH, a coalition of 180 different healthcare entities around the state, serves many roles, including preparing and coordinating health services organizations for a future disaster. Currently, 100 percent of its budget for disaster preparation comes from an appropriation by the federal Office of Emergency Management Hospital Preparedness Program.
While Clairmont and others hope an infusion of funds could get the program back on track, local hospitals face other challenges in preparing for a disaster that will be harder to surmount. Geography means Hawaii can't approach emergencies with the same assumptions as mainland communities.
"Hawaii is the most remote populated island group in the world – that's a simple fact," Clairmont says. "What it means for emergency planners is that nobody's going to drive across the (state) border to help us, and that includes the federal government."
The issue is compounded by the state's regulatory environment, which seeks to create an economically sustainable health-care system by limiting the growth of facilities through a certificate-of-need process, he says. "The downside is, there's no excess bed capacity," Clairmont says.
Geography and the distribution of beds and resources across many islands also limits the ability of local hospitals to easily support each other by absorbing patient overflows, he adds. The health-care community has worked to overcome that separation by building a strong coalition that works closely to coordinate response between facilities and from island to island.

"Our hospitals in Hawaii do compete, but on the issue of disasters, they don't," Clairmont says. "We think that's cultural – Hawaii people believe in working together, and they understand that we're vulnerable, so they've done more than expected."
Back at the Maui Memorial disaster drill, orderlies have pushed the unresponsive "patient" into the emergency room, only to find a pileup in the hallway. With victims from the simulation rapidly filling up the ER, a nurse starts assigning two to a room. But one patient isn't cooperating. Even though she wears a red tag, she claims to be fine. "Get me out of here!" she shouts as she climbs out of her hospital bed. A nurse calls for security.
"They're very good. They never break character," says Gail Miyahira, the hospital's emergency management coordinator, about the volunteer patients. In the past, she has invited other emergency-service providers to participate in exercises as victims. Going through the drill as a patient can help people like paramedics and administrators better understand what an emergency looks like from a victim's point of view, she says.
Although Clairmont and others working in the field tout Hawaii's coordination and planning as strengths in its emergency-response efforts, at least one advocacy organization gave the state low marks for preparedness.
Low bed capacity was one of the main issues that earned Hawaii a poor rating on the American College of Emergency Physicians' emergency care report card in 2014. While the association gave Hawaii an "A" grade for public health and injury prevention, and a "B-" for quality and patient safety environment, the state received an "F" for both access to emergency care and disaster preparedness, ranking Hawaii 44th and 41st in the nation in those two categories.
Dr. Jon Mark Hirshon, chairman of the 2014 ACEP report card task force and an emergency physician in Maryland, says Hawaii's low total number of inpatient beds, combined with a high average daily occupancy meant that hospitals' ability to absorb a sudden surge of patients is severely limited.
"Hawaii had the second-lowest bed-surge capacity of any state," he says. "You're stretched during normal times, but, if you had a disaster, your ability to get additional beds is pretty limited."
An overall shortage of physicians, specialists in particular, exacerbates the problem, he says.
"The issue I would like to see the state work on that would have the greatest impact is increasing access to specialty care," says Dr. Will Scruggs, president of Hawaii's ACEP chapter. He says reforming medical liability laws could help attract more specialists to the state. ACEP gave Hawaii a "D+" for its medical liability environment.
Clairmont disagrees.
"The report is wrong," he says bluntly. He says ACEP's rating system didn't look at measures like training, stores of medical supplies, including fully stocked pop-up hospital tents and communication systems, but instead focused on the association's political priorities to build more bed capacity and pass medical-liability reform. "Those are factors, but they're not significant factors" in disaster preparedness, he says.
Instead of surge capacity, Clairmont says, assessments should consider "immediate bed availability," or a hospital's ability to free up 20 percent of its medical resources, including beds, supplies and health care workers, within four hours. By that measure, which is used by the federal government to measure emergency readiness, Hawaii exceeds national standards, he says.
"We have a 150-bed portable hospital system here, but (ACEP) never counts that," he says.
In fact, the 2015 Hospital Preparedness Program report praised Hawaii's "large capability with medical-surge equipment and supplies" as one of the state's strengths, along with its strong coalition of health-care providers and well-managed training program and communications system.
Miyahira agrees the close coordination of the Islands' medical providers was one of Hawaii's strengths.
"I'm sure there are pukas in some areas, but I don't think the (ACEP) report card took into account the efforts the coalition has made to unify what all the hospitals can offer, whether it's supplies, equipment, the ability to support each other, to deploy response teams," she says. "That scorecard, to me, was misleading."
HAH's pop-up, portable hospital system is a key piece of infrastructure to the state's emergency preparations, Clairmont says. The modular facility can be assembled to support as few as 20 hospital beds or as many as 150. "That's bigger than a third of our hospitals here in Hawaii," he notes. Units are located on every island, and can be transported by military aircraft to be quickly combined into a larger facility. Each unit includes tents, lights, showers, sinks, hospital beds, oxygen, medication, and medical supplies and equipment. "If you can think of it, we've probably got it," Clairmont says.
The organization also maintains caches of emergency medicines and medical supplies around the state, with 40-foot containers on every island, including Lanai and Molokai, as well as a bulk supply cache in a temperature-controlled underground bunker on Oahu. "It would absolutely survive the worst of the worst hurricanes," Clairmont says.
HAH also coordinates emergency-response teams, including the Disaster Medical Assistance Team, with up to 120 medical professionals from across the state who can be called up to respond to disasters ranging from a major plane crash to an infectious disease outbreak, to a mass shooting. Specially trained to provide medical services in the field, the team deploys to at least one major emergency outside Hawaii each year, and has assisted in the responses to Hurricane Katrina, the 9/11 terrorist attacks, and typhoons in Guam and Saipan.
"(Disasters) aren't frequent in Hawaii, and that's why we go to other states and territories," Clairmont says. "We take our people out there, and we bring them back experienced."
Other response teams coordinated by HAH include an incident management team that can provide specialized assistance to hospitals for specific crises, such as an infant abduction or hazardous materials. A third team deploys potentially long-term backup personnel to a hospital in crisis, from facilities that have been unaffected, providing relief to local doctors and nurses who may themselves have been victims of the disaster.
What are the weaknesses in Hawaii's health-care disaster plan? "I think, for all the hospitals, water," Miyahira says. While two hospitals in Hawaii are equipped with backup water sources, most others would rely on water brought in by tankers. In an emergency, hospitals would be one of the top priorities for water distribution, but, even so, "there's only so much water they can deliver, and in health care, water is kind of critical," she says.
Another potential issue is mass sheltering. Miyahira and Clairmont say shelters must be better equipped to care for people with chronic illness who can't take care of themselves. Without that capability, shelters may end up sending those people to a hospital, she says. "A hospital is not the place for people with chronic illnesses – especially in a disaster when you are trying to keep beds open for people who are acutely ill," she says. "What do you do? A hospital is not a shelter."
Like many other hospitals, The Queen's Medical Center expanded the scope of its safety programs to include emergency preparedness and disaster management after Sept. 11, 2001, says Gary Dias, director of the hospital's Department of Security and Safety Services. Part of the hospital's preparation efforts included adopting the nationally recognized "incident-management system," which coordinates and centralizes all disaster responders under a single commander. "You can scale this model to meet the smallest disaster to the Hurricane Katrina type of disaster," he says. "That's the model we follow."
The system includes analyzing vulnerabilities before a disaster occurs; taking steps to prepare, such as securing supplies and conducting training and drills; responding to a disaster in progress; and recovering and providing services in a disaster's wake.
"Hospitals must have a much wider perspective on recovery than, say, a school," he says. "You can shut the school down for two weeks while you fix it, but you can't do that to a hospital. So the effort we make is to ensure we can continue providing services to the victims while we recover."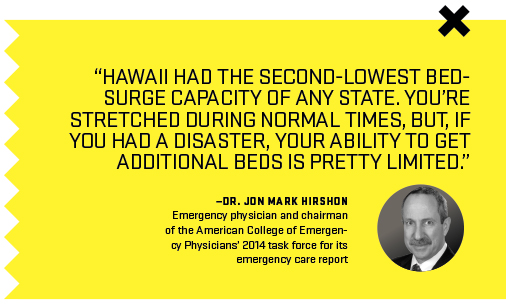 That includes ensuring Queen's has what it needs to continue operating in the immediate wake of an emergency, including water, food, medicine, supplies and its own power plant.
"We have a 96-hour sustainability plan that covers all aspects of providing medical care to people," Dias says.
At Maui Memorial, one of Miyahira's major efforts has been to preach the message of personal preparedness. "Hospitals can't shut down – they're a 24-7 operation," she agrees. "You're not going to want to come in if your family's not prepared and, if you're at work, we might not be able to let you go home if there's nobody to replace you."
She tells staff to be prepared to bring their own food, water and bedding to work in an emergency. The hospital's 96-hour reserve of essential supplies "goes to the patients first," she says.
Like other hospitals, Maui Memorial also runs regular emergency and disaster drills, simulating crises from mass-casualty events to pandemics to how to move patients down stairwells during an evacuation.
What are the biggest threats facing Hawaii's hospital systems? According to a 2013 report for the Hawaii Department of Health's All Hazards Emergency Response Plan, the top five hazards facing the community are hurricanes, earthquakes, volcanic eruption, pandemic and tsunami.
Hirshon largely agrees. "Anything that would substantially increase the number of patients" would be a concern, given the state's limited bed capacity, he says. Beyond hurricanes and tsunami, infectious disease would be a top concern. "You're a relatively isolated area," he says. "If someone brings in something like ebola, it has the potential to spread widely."
For Clairmont, a category 4 or 5 hurricane that crosses the state is a very real, and very frightening, worst-case scenario. "The scenario there is very, very bad – basically bringing Hawaii to its knees," he says. "That's the one that keeps me awake at night."
Beyond natural disasters, Dias thinks about smaller crises with the potential to cause big problems for his hospital – like an internal fire that significantly damages the facility.
His biggest fear? "Violence," says Dias, who spent 27 years in the Honolulu Police Department and retired as a major. "Just violence in general. You know the hurricane is coming, you know the tsunami is coming, you might even have indications a contagious disease might be coming, but you never know that someone might walk in with designs of hurting people."
The hospital has prepared for such a scenario with training and drills, and has had isolated incidents where officers have responded to people who are unruly or drunk, but no serious violence to date.
"You cannot wait for the disaster to occur and then figure out what you are going to do," he says. "It's got to be something you plan and you practice."
Back at Maui Memorial, Williams has finished in the triage tent and is now back in the emergency room, checking on victims. After ordering a chest X-ray for one person, he moves to the next bed, asking questions about symptoms as a nurse administers "pain medication." After talking with security officers and a check by a doctor, the uncooperative patient is released, and heads out to the hospital cafeteria where staff have set up a makeshift area to accommodate the "walking wounded" and discharge patients.
Exercises like the crash simulation helps Maui Memorial identify and work out the kinks in its system, and also gives staff an opportunity to experience what a disaster feels like. "No matter what happens, there's chaos. People panic, they're afraid, their natural instincts surface," Miyahira says. "My hope is to get enough training so there's some level of organized chaos."