Private Jets Bring Wealthy to Hawaii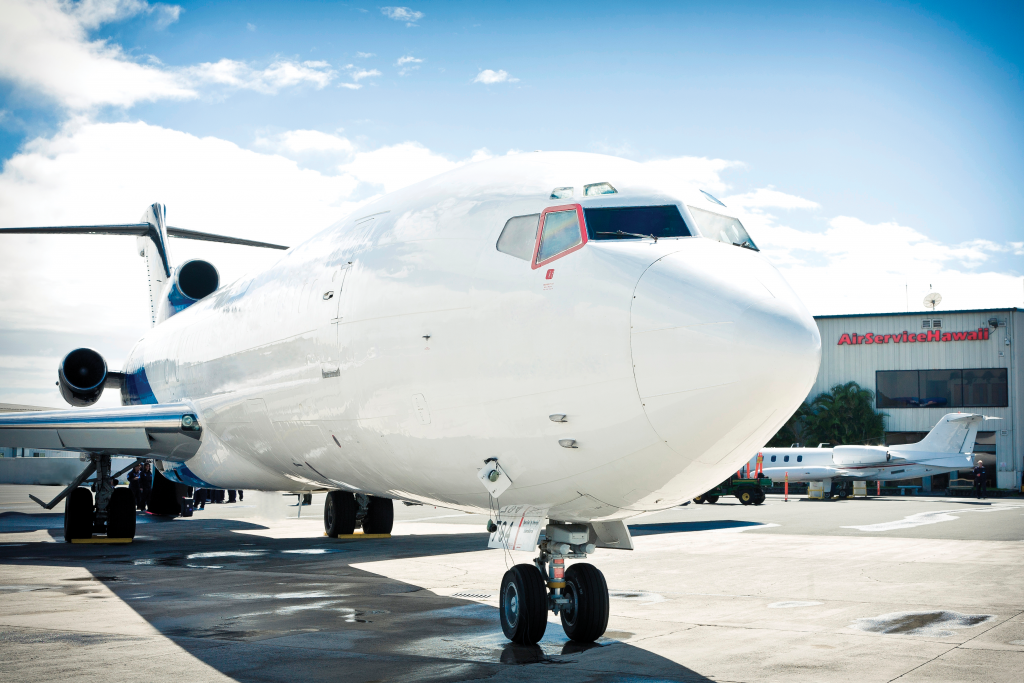 Travel by private jet – a leading economic indicator for lifestyles of the rich and famous – increased by double digits at key Hawaii airports last year, which was great news for dozens of local companies that fuel, feed and ferry these wealthy fliers.
During the recession, the sector was dragged down by a combination of financially required thriftiness and public disapproval of private planes as corporate excess. But those days appear to be over.
Takeoffs and landings in private planes at Kona Airport rose 27 percent last year compared with 2009 – the first increase in two years, according to the state Department of Transportation.
The increase was 16 percent at Kahului Airport on Maui and 14 percent at Honolulu International Airport. Behind those numbers are celebrities such as John Travolta and Oprah Winfrey, says James Pratt, Honolulu's airport manager. In Kona, computer billionaire Michael Dell and other high-tech entrepreneurs are leading the charge of the flight brigade.
The price tag on most business jets is $5 million to $20 million, with rented jets costing thousands of dollars an hour. A steep price, but you avoid the many things we all hate about airline travel: restrictions on carry-on luggage; long, slow-moving lines at the security gates; and intrusive TSA pat-downs.
Private jets can fly you in and out of airports that are much closer to your actual destination, they arrive and leave whenever you want, and your limousine can drive right up to the plane.
"The flight never leaves without you," says Jerry Agrusa, a professor of travel management at Hawaii Pacific University. "That is important to a traveler nowadays, especially since it can be an hour before you go through the security line at some airports. That is a big reason people who can afford it are flying in private planes."
The extras are so tempting: Private-jet cabins offer fine food and drink, room to stretch your legs and tables on which you can spread your work. No one will recline their seat into your lap or overhear your conversations. There are in-flight phones and Internet in some jets, and beds and couches in others. And pets get to fly alongside their owners – instead of in a cage with the luggage.
Statewide, landing fees from private jets were up 9.3 percent in 2010, generating $590,586 in income for the state, according to the Department of Transportation.
"Hawaii is a popular private-jet destination for us," says Greg Johnson, founder ofOneSky Jets, a New Hampshire-based company. "People like to be able to go there comfortably when they can. We fly a lot of people to the Big Island. And they are paying north of $100,000 to do a round trip."
The most economical options for his clients traveling to Hawaii are chartered jets that cost $4,000 to $6,000 an hour, Johnson says. But that doesn't include extras such as fuel surcharges, overnight crew accommodations and catering.
"We are seeing a lot of larger groups going to Hawaii for either some sort of special event or a memory of a lifetime. Business is up pretty dramatically, from 10 to 30 percent year over year. It's been on the rebound since the fourth quarter of last year."
Business executives across the country are also back in their private planes after cutting back as much as 35 percent in late 2008 and 2009, says Dan Hubbard, senior vice president at the National Business Aviation Association in Washington, D.C.
"Flights by business aircrafts are not where they were in 2007, but we began February of this year about 10 percent ahead of where we were a year earlier," Hubbard says.
"We are also seeing a healthy number of business jets," says HNL's Pratt, referring to major national corporations, such as American Express, Chevron and Sprint Mobile, that have a strong presence in Hawaii.
The rebound has been good for business at SpeediShuttle LLC and Arthur's Limousine in West Maui, says Cecil Morton, the company's president and CEO.
He says the company has seen a sharp increase in group business from American and foreign corporate executives flying into Maui on private jets. They are booking everything from a Mercedes-Benz Sprinter for 11 people to a Bentley that rents for $400 an hour.
"The demand for service from private air travelers in the first two months of this year has increased significantly over the first two months of last year," Morton says.
At Krystal Enterprise Limousine Inc. in Honolulu, owner Clint Chuc also credits flights by business aircraft for the boost his business received at the end of last year, when he started getting more calls to pick up passengers from private planes at the airport. "The money started flowing from tours that would last up to 10 hours," says Chuc, who charges $70 an hour for a tour.
In Kona, Clare Bobo, co-owner of Blue Sky Catering, went from laying off one staffer in April 2010 to rehiring that person and adding another in November to keep up with the in-flight catering demands of clients, who include a Hollywood movie director and a computer executive.
"Between Christmas last year and New Year's Day, I was working 18-hour days," she says, adding that "strong optimism" best describes her outlook for her sector of the economy. "Our business is just getting warmed up."
Conversely, Wayne Kuwaye, president of Kuwaye Trucking Inc., which was making as many as 16 trips daily from Hilo to Kona hauling up to 100,000 gallons of jet fuel, expressed "anxious caution" about a robust recovery for his livelihood.
That was largely due to increased competition from people who have been buying trucks to cash in on this lucrative sector and reducing the demand for Kuwaye's services. "There are a lot more trucks on the road today," he says.
Christopher Sauer, Kona station manager for Bradley Pacific Aviation, has spent 18 years at the helm of two different business-jet fueling and ground-handling operations on the Big Island.
"I saw a busy day go from two or three business jets parked (in 1994) to over 70 this past Christmas season," Sauer says. Nowadays, the daily average is 2.5 jets parked, he says.
At Air Service Hawaii, marketing manager Claudia Tzaschel has noticed over the years that Honolulu only seems to attract celebrities when they are shooting movies, quarantining pets or refueling planes. "They'd rather go to Kauai, Kona and Maui for the privacy," she says.
Tzaschel has also noticed a steady climb over the years in corporate jets carrying international as well as Mainland executives.
Pratt expects a big, new market for private flights to Oahu soon. Once a fueling station opens this year at the Kalaeloa air strip, private jets will be able to land much closer to the Aulani, the Disney resort opening in Ko Olina.
"Putting a fueling station at Kalaeloa will further strengthen business from corporate jets," he says. "We will see more celebrities and business executives wanting to go to Ko Olina."