Pro-Business Legislators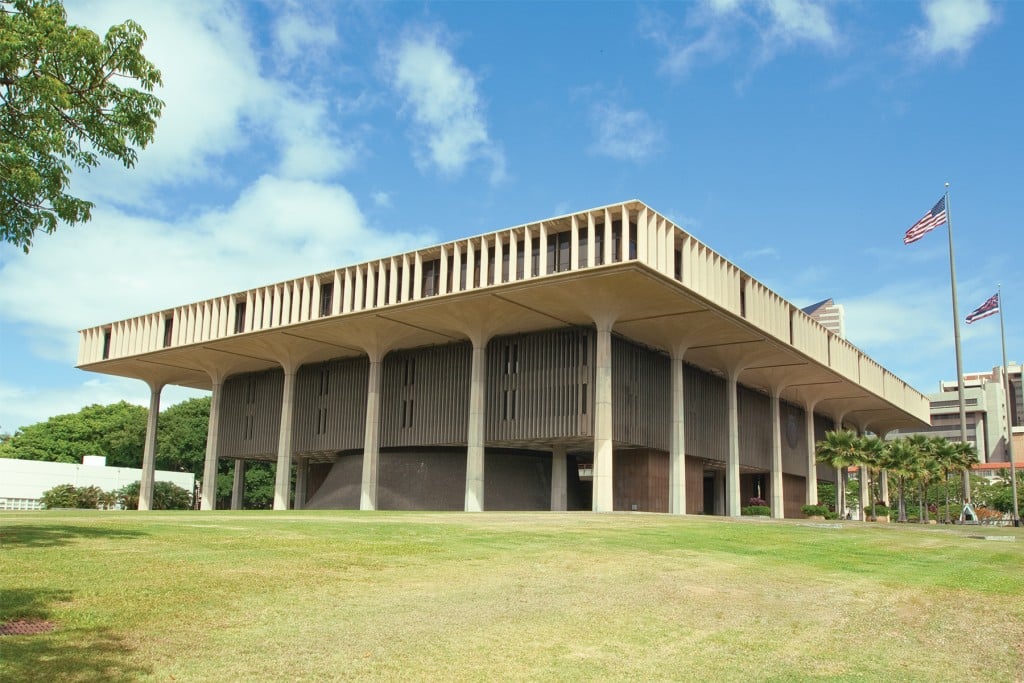 Some Republicans and Democrats stand out as best, but when we tried to ID the worst, business leaders were reluctant to name names.
In this time of severe budget cuts, lots of people are unhappy with their state lawmakers. But for many in the Hawaii business community, the unhappiness is far more than temporary.
Local business leaders have complained for years that the Hawaii Legislature is more concerned with its own agenda – some say the agenda of unions – than with the health and welfare of the job-creating, tax-paying backbone of the economy.
"Hawaii is most difficult for small entrepreneurs due to the really excessive tax rigmarole, regulation, labor restrictions and so forth," says one legislative observer, who has worked with and for the business community for many years. "So-called 'big' businesses like Monsanto are also constantly being attacked by a combination of socioecological weirdness not found elsewhere.
"Hawaii is parochial, savagely and excessively pro-union, and has a near-confiscatory streak when it comes to the idea of profit," the observer adds.
Those feelings are no surprise to anyone who follows local politics. Hawaii Business thought that, if this atmosphere is ever to change, it would be useful to identify the best friends and worst enemies of business at the state Legislature.
We sent a questionnaire to dozen leaders of business groups, business lobbyists and other champions of local business. One essential question was: Which legislators "on balance, usually make good decisions for the business and economic health of the state?"
Frequently named by business leaders as generally the best advocates for business at the state Capitol were the six Republicans and three Democrats shown in the chart at right. Fred Hemmings and Sam Slom, the only two state senators widely praised by the business leaders we surveyed, are also the only two Republicans in the state Senate.
Some of those surveyed also gave a nod to Senate President Colleen Hanabusa and Sen. Donna Mercado Kim, both Democrats.
In followup interviews, most of the business leaders were understandably reluctant to go on the record with their opinions of the Legislature – particularly their negative opinions. None were willing to help us identify the worst lawmakers for business at the state Capitol.
Slom, wearing his hat as president of Smart Business Hawaii (formerly called Small Business Hawaii), a group that works to improve Hawaii's business climate with a focus on small businesses, was one of the few business leaders willing to go on the record, but even he was unwilling to comment negatively about any of his colleagues in particular.
"The Legislature as a whole has done little – despite testimony from business as to what it needs – to improve and much to worsen Hawaii's already hostile business climate," Slom says. "It deserves an 'F.'
"The Legislature has little concern for independent business and a lack of knowledge of the burdens that business must overcome to be successful in Hawaii.
"Unions get the bacon; business gets the rhetoric."
Others active at the Legislature make similar points. Richard Botti, who represents legions of small- and medium-size businesses and trade groups over the years, credits lawmakers with being accessible but not always responsive.
"They all listen, but not all hear," he notes.
Botti gives the Legislature credit for the swift passage this year of a bill designed to reduce a dramatic surge in unemployment insurance taxes. But he says it wasn't enough, considering the overall business climate. In fact, many in the business community cite the quick action on the unemployment fund as the highlight of the 2010 Legislature from a business perspective.
"The most significant action was the passage of the unemployment insurance tax relief bill," says Sherry R. Menor-McNamara, VP for business advocacy and government affairs with theChamber of Commerce of Hawaii.
"The bill passed early in the session, which is quite rare," she notes. "This was largely due to the support and recognition of the business community's concerns by leadership, led by Senate President Colleen Hanabusa and Speaker Say and key committee chairs."
Several observers also credit the Legislature for its quick action in an October 2007 special session that allowed the Superferry to go forward even while environmental studies were being done.
"The legislation to allow the Superferry to go forward was excellent," says veteran lobbyistJohn Radcliffe. "It said that Hawaii was at long last willing to knit the islands together into a whole community. But the Hawaii Supreme Court killed it. The entire thought process that killed the Superferry encourages the continued Balkanization of Hawaii and serves to advance parochialism."
Menor-McNamara echoes comments by others that the issue isn't getting legislators to listen – they are generally accessible – but getting them to respond to the needs of business.
"Quite honestly," she says, "the legislators have always been open to hear the business community's concerns. Prior to each session, we meet with Senate and House leadership as well as with as many legislators as we can to discuss the chamber's legislative agenda. Although some may not agree with our positions, at least they have an understanding of our positions and vice versa."
Legislative leaders in both the House and Senate cite Act 2, the bill to reduce unemployment insurance taxes, as a key achievement of 2010's session. House Majority Leader Blake Oshiro says it became quickly obvious that the No. 1 priority of business was reducing a planned 10-fold increase in the unemployment insurance tax caused by tens of thousands of layoffs statewide. He says the Legislature's fast action – Act 2 was the second bill passed in 2010 – indicates the Legislature's sensitivity to its importance to business.
"The Legislature has little concern for independent business and a lack of knowledge of the burdens that business must overcome to be successful in Hawaii. Unions get the bacon; business gets the rhetoric."
But achievement is not always measured by what passes, Oshiro adds. It also can be measured by what doesn't pass. He says businesses should be pleased that lawmakers resisted heavy pressure to raise taxes to offset declining revenues and cuts in government services.
Despite steady pressure from constituents concerned about Furlough Fridays and other budget cuts, and fierce pressure from the unions, "we didn't raise the general excise tax or income tax on 97 percent of filers," Oshiro said. By contrast, many budget-strapped states on the Mainland have been steadily increasing taxes.
"Business would have been kicking and screaming if we had raised the GET," Oshiro says.
Other items on the business agenda were not dealt with, he acknowledges, but might be next year. These include reforming regulations and reining in the cost of workers' compensation insurance.
Oshiro's counterpart in the Senate, Majority Leader Gary Hooser – who has since resigned to run for lieutenant governor – made a similar argument. Hooser says it is not surprising that business was disappointed with the session. Many other interest groups were, too, he says.
"The most difficult responsibility we have as legislators is to prioritize," he says. Over the past two years, when the budget was strained to the breaking point, "we looked very hard at the core responsibilities of government: health, safety and the environment. Those come before lower taxes for business. We were facing the pressure of the here and now. It was survival."
Nonetheless, Hooser says, there are areas where the Legislature can and should act on behalf of business without enduring major new expenses. One area is business regulation and the permitting process. "That's where the Legislature needs to focus.
"There are many things we can do to improve the business climate that don't necessarily cost money. It might even save money," he says.
Though some business leaders are happy there was no GET increase or other new mandates that would raise the cost of business, one lobbyist was sarcastic. Business should be thankful to the Legislature for not raising taxes, he wonders, for not adding insult to injury?
For a while during the 2010 session, a broad tax increase seemed possible. Key lawmakers called in representatives of major business groups – banking, insurance and others – and presented them with a choice: Either the Legislature would increase the GET or raise targeted taxes that many businesses pay in lieu of the GET. One observer calls it little more than a threat.
"The recent actions (by several legislators) to bring in literally hundreds of business people and threaten them one at a time with business-killing tax increases and new taxes was bizarre," the observer says. "It reminded me of the scenes from 'The Departed' when Jack Nicholson was going through the inventory of his own gang members in order to find the rat."
Scorecard
Many national interest groups, from business lobbies to environmental organizations, issue "scorecards" that grade members of Congress on how their votes align with each group's interests. Most local groups avoid this approach, but there is a scorecard from the Grassroot Institute of Hawaii, which generally advocates for less government.
Its 2010 scorecard, "The Freedom Test," is based on six issues: taxes, business climate, spending, individual liberty, special funds, and scope of government.
In the House, the top six scorers were all six Republicans in the chamber, with the top three being Lynn Finnegan (score of 56 percent), Barbara Marumoto and Kimberly Pine (both with 54 percent). The highest-scoring Democrat was Tom Brower (27 percent). Five Democrats shared the lowest score of 2 percent: Gilbert Keith-Agaran, Marilyn Lee, Sylvia Luke,Hermina Morita and Mark Nakashima.
In the Senate, top scorers were Republicans Sam Slom (98 percent) and Fred Hemmings (78 percent), and Democrat David Ige (24 percent). Ten Democrats shared the low score of 5 percent, including 2010 Senate President Colleen Hanabusa.
The full report is at http://bit.ly/99FEAr
Another National Slam at Hawaii's Business Climate
Several national rankings by major U.S. media, including the Wall Street Journal and Forbes magazines, have criticized Hawaii's business climate. The latest comes from cable network CNBC, which in July listed Hawaii as third worst in its survey of America's top states for business in 2010. "But at least it's Hawaii," the survey wryly notes.
Ranked below Hawaii were Nevada and West Virginia. The top state was Texas, followed by Virginia and Colorado. The complete report is available at tinyurl.com/273kff4.
This story was based on interviews and an e-mail questionnaire with business lobbyists, business groups and other business advocates. The questions were:
1. Over the past few years, what in your opinion has been the most significant action (or actions) taken by the Legislature to improve the business climate in Hawaii?
2. During the same time frame, what in your opinion has been the most significant action taken by the Legislature that harms or hinders the business climate in Hawaii?
3. Outside commentators have often remarked that Hawaii has a remarkably "unfriendly" climate for business. Is this reputation warranted?
4. The job of a legislator is, by definition, one of compromise. Still, decisions must be made. Can you name three to five legislators who you think on balance usually make good decisions for the business and economic health of the state?
5. Can you name three to five legislators who more often than not make decisions that – whatever their value might be to specific constituencies – are not good for the business and economic health of the state?
6. Overall, do you think the political vitality of Hawaii, as expressed by the Legislature, is healthy or unhealthy?
7. When you have an issue or concern that needs legislative attention, who is most likely to listen to you? Who is least likely?
8. Will you, on the record, list the three legislators who best meet the interests of you or your organization and three who do least well meeting the needs of you or your organization?
The longest answer we received to the final part of question 8 was "No."