Professional Videos sell Real Estate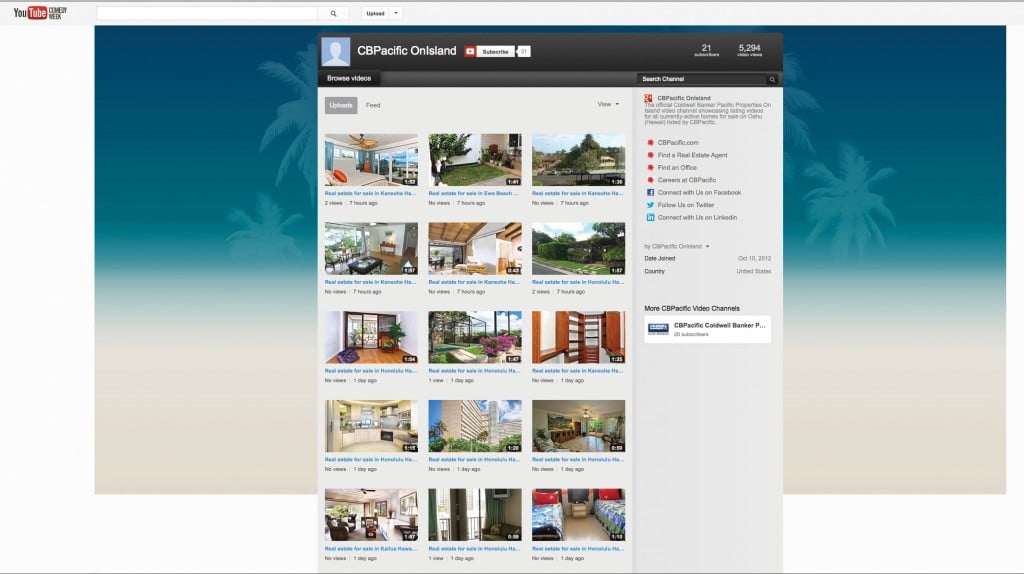 Imagine buying a home without visiting it. That's what a California buyer did to a Waikiki penthouse listed by Realtor Margaret Murchie, thanks in part to a video the buyer first saw on YouTube.
Such videos, unlike a virtual tour, tend to have more features, such as background music and multiple views of the property. The videos are professionally produced rather than made by an agent walking through a property holding a camera or iPhone.
Kevin Miyama, president of Honolulu Board of Realtors and a business coach with Prudential Locations, says videos are increasingly being used to promote upper-end properties.
"It's easier to depict the lifestyle that we're trying to portray for the buyer," Miyama says.
Murchie's company, Coldwell Banker Pacific Properties, is working with Delaware-based RealBiz Media Group Inc. to create and upload videos on YouTube – all within 24 to 48 hours of the property being posted.
Daniel Skoglund, VP of marketing at RealBiz, says that, while it is hard to compare real estate markets of different states, areas that adopt video for real estate promotion are "still ahead of the pack."
Murchie, who has more than 30 years of experience in real estate, says she had been trying to do the videos herself, at her own expense. A video can cost as much as $1,000. But she found the technology cumbersome, such as when a listing needed updating.
"When I had to ask, 'How do I post it?' I ended up not doing it." She adds, "I was flushing money down the toilet."
The current setup with vendor RealBiz works much better, she says, and there is no cost to CBP's agents. The company also updates the video with changes, such as price reductions.
CBP eMarketing manager Justin Smith says the relationship with RealBiz allows agents to focus on the business of real estate rather than trying to become videographers.
"It's really, really convenient for us," Murchie says.