Project Vision Hawai'i Brings Medical Services to Remote Communities
When COVID-19 hit Hawaiʻi late in the winter of 2020, everyone had to adapt. Project Vision Hawai'i was no exception.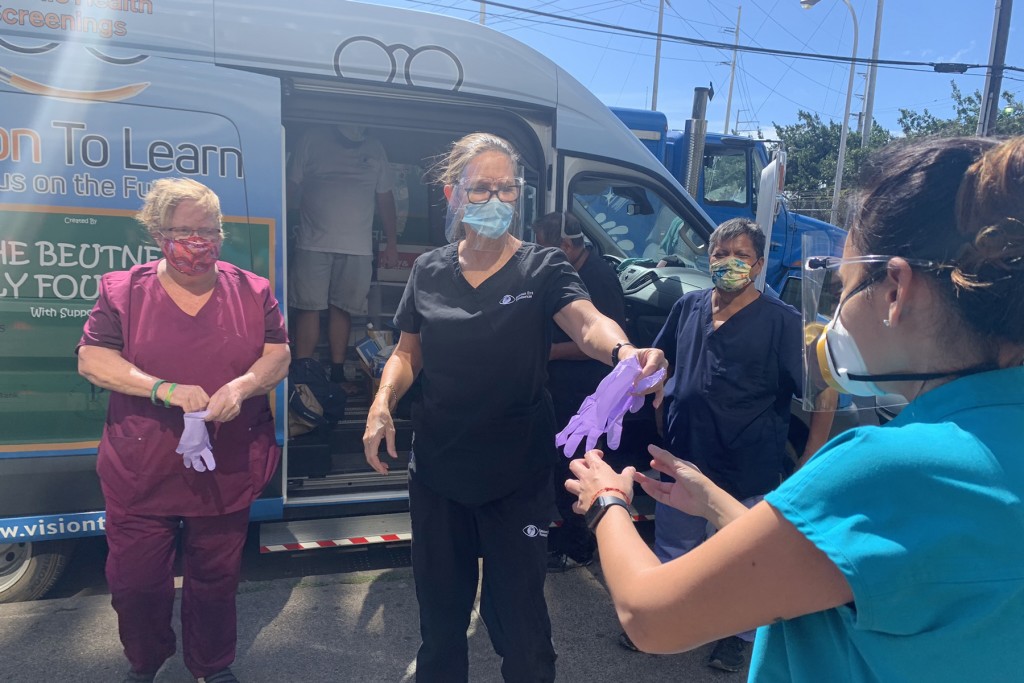 Due to pandemic restrictions, the ophthalmology-focused nonprofit could no longer offer its statewide sight-saving services directly—in schools, prisons or the community in general—so the team explored alternatives. How could they contribute their medical resources and expertise to combat the COVID-19 pandemic for Hawai'i's most vulnerable populations, including those who are houseless, isolated, low-income or incarcerated?
Ready with doctors and nurses on staff , as well as PPE, the organization swiftly partnered with state agencies including the departments of Health, Public Safety, Community Services and Human Services as well as other nonprofits like the Institute for Human Services, Family Promise and ALEA Bridge.
"We're invested so we can be advocates for communities that are unable to speak for themselves…"
– Darrah Kauhane, Executive Director, Project Vision Hawaiʻi
With their fleet of 10 vehicles, including mobile clinics and hygiene trailers, the organization took their mission-driven work of providing access to quality vision care and expanded their scope to reach rural and remote communities, as well as the houseless, for COVID-19 tests. "We have the capacity to disperse and mobilize, that's what sets Project Vision Hawai'i apart," executive director Darrah Kauhane says.
By June, Project Vision Hawai'i began COVID testing in shelters, encampments, prisons and remote communities; in eight months, Project Vision Hawai'i tested nearly ten thousand of Hawai'i's houseless. The organization received funding from the Hawai'i Community Foundation by way of CARES Act dollars.
This frequent cadence of testing has helped Project Vision Hawai'i and their partner organizations to form bonds of trust with their clients, which leads the way for other services like housing placement.
The nonprofit now has its sights set on helping with vaccine distribution, including via their mobile clinics. In January, Project Vision Hawai'i received a grant administered from Hawai'i Community Foundation's Hawai'i Resilience Fund to help support the vaccination of the houseless in partnership with the Department of Health. In the first five weeks, they have vaccinated 8,000 people on O'ahu with the Department of Health's Behavioral Health Administration, including homeless service partners, prison guards, and mentally ill kupuna in group homes where outbreaks have been most rampant.
"It's been a true honor to serve during this time," Kauhane says. "It's a blessing to be part of that solution."
Project Vision Hawai'i's COVID work spans across the state: On O'ahu, they've been doing COVID testing and vaccinations for the houseless and kupuna; Hawai'i Island also needed COVID testing support; Maui families needed help registering for Supplemental Nutrition Assistance Program (SNAP); for Kaua'i, it's a mobile hygiene program and work on outreach in partnership with eight other organizations.
The nonprofit won't forget their roots in ophthalmology, but 2020 solidified a shift to move closer to mobile health and social services for Project Vision Hawai'i. "We're invested so we can be advocates for communities that are unable to speak for themselves," Kauhane says.
To learn more about Hawaiʻi Community Foundation's COVID-19 response and donate to the Hawaiʻi Resilience Fund, please visit hawaiicommunityfoundation.org/coronavirus.