Pupu Cooler Keeps Your Food Safe While You Party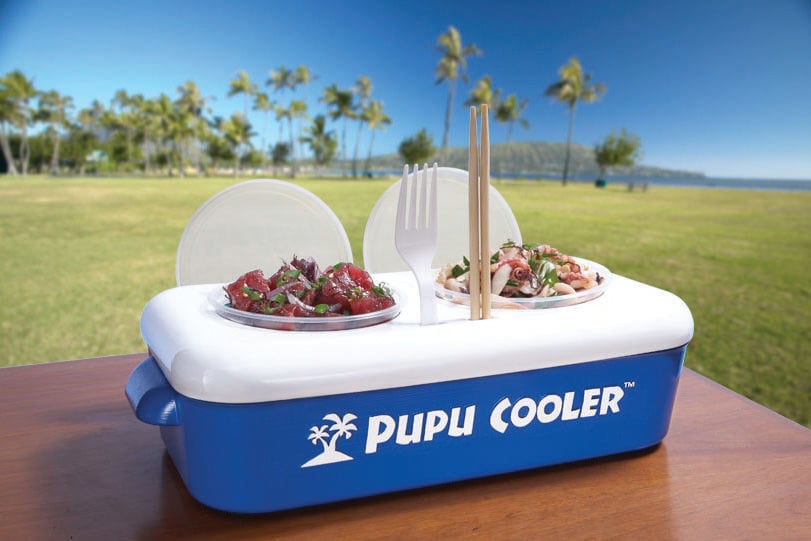 PHOTOGRAPHY BY DAVID CROXFORD & COURTESY OF PUPU COOLER
---
Problem:
How long did you leave poke out at your last party? According to the FDA, seafood and other perishable food should always be kept cool in a refrigerator, on ice or in a cooler to prevent bacteria from breeding. Lukewarm poke can make you sick.
Creator:
About four years ago, firefighter and paramedic Mark Nobori noticed poke sitting out at holiday and Super Bowl parties.  "Hours would go by with the poke unrefrigerated," he says. Because fish is expensive, many people eat it anyway – despite the risk.
Nobori, who's always been passionate about inventing, created the Pupu Cooler to keep snacks cool in Hawaii's warm weather. His first prototype was concocted out of a doggy bowl insulated with surfboard foam, cooled with an ice pack and banded together with tape. When he found how well it kept things cold, he kept refining.
Product:
Before a party, Pupu Cooler goes directly into your freezer, no ice needed, for a minimum of 12 hours. Once frozen it can keep your perishables cool for 8 to 10 hours. The gel ice is housed in the cooler and insulated with foam, which prevents condensation and keeps the whole container chilled, not just the bottom. There are two spots for your poke or chip-and-veggie-dip containers, plus spots for lid holders and utensils, and a place underneath to write your name. Yet it's small enough to fit in your crowded freezer.
User:
Pam Yee is a big fan. After buying her first one in Hawaii, she bought another for her home in Michigan. "The Pupu Cooler is a wonderful product to keep dips and salsas cool for parties here and in Michigan when the temps are warm," she says.
Pupu Cooler
$19.99 at stores such as City Mill, Don Quijote, Foodland, Simply Organized, Tamashiro Market and Tanioka's.
www.sachikitchenware.com