Raising the Bar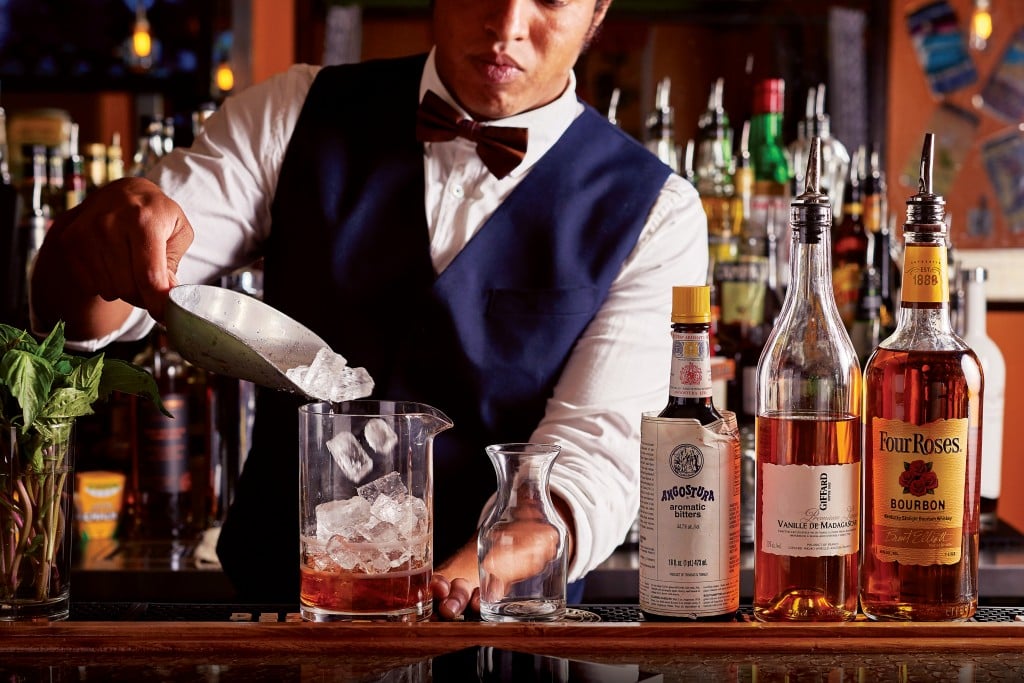 When Sky Waikiki director of mixology Jen Ackrill debuted such wild ingredients as turmeric-infused vodka, spicy chili liqueur and absinthe spray as part of a new series of surf-inspired cocktails, we were impressed.
Her innovative new take on cocktails was part of a trend in craft bars across Oahu that go way beyond drinks being shaken or stirred. Today's adult beverages are assembled with the attention and processes of a science experiment: smoke, CO2, liquid nitrogen, pressurized, aromatized, vacuum-sealed, the list goes on. Ingredients are local when available, organic when possible, infused with original or unusual flavors and house-made always.
There are cotton-candy cocktails, where the spun-sugar floss melts when you pour the drink on top. Cocktails that change color when you mix the spirits or are layered, with booze carefully stacked like one of those red, white and blue carnival Bomb Pops. Many ingredients in drinks these days aren't even liquid; they're herbs, spices, fruits and vegetables, even bacon.
"The way people are drinking is incredibly different compared to when I opened Pint + Jigger four-and-a-half years ago," says Dave Newman, president of the United States Bartenders Guild, Hawaii chapter. In addition to owning and operating the popular Moiliili gastropub, Newman is known in the local bar scene for exploring the "sous vide" drink prep method: mixing cocktails and aging them in oak casks to let the flavors come together. Traditionally, the process takes weeks or months, so Newman developed a workaround. Instead of big barrels, he seals cocktails with toasted wood chips in airtight mason jars that sit in a water bath. This achieves a similar flavor to the barrels and reduces the aging time from weeks to days, even hours.
Innovation is the name of the cocktail game now, from scientific methods to the creativity of the person behind the bar. "Our bartenders will create a cocktail just for that day, come up with something new, put it on the blackboard and see if people like it," says Troy Terorotua, owner and chef of Real a Gastropub at Ward and Brew'd Craft Pub in Kaimuki. "And we haven't seen the bartenders fail yet. People are trying these drinks that were made up that day, for them."
With locations that balance a full bar and kitchen, Terorotua is seeing something of a crossover between the worlds of food and drink. "It used to be the chefs would come in early to prep materials, and now the bartenders are coming in, too, because they're preparing ingredients with the same complexity," Terorotua says. "They're prepping as much as the kitchen guys sometimes. A bartender'll be using a colander and the chefs will say, 'Hey, I need that!' "
At Palate Craft & Eatery, a gastropub co-owned by Terorotua, Lisa Kim and Pat Kashani, owner of Tropics Tap House at Puck's Alley and Tropics Ale House on Hawaii Island, cocktails are all over the map, some with coffee, others that double as aperitifs or liquid desserts.
"You're starting to see a lot of cocktails now using cold press: fruit, juice, coffee. Seasonal fruits are always popular, whatever's available and fresh," Kashani says of new trends. "But it's about adding those extra elements while also keeping it simple."
Kashani notes that the concept of "craft cocktails" goes back nearly a century. There are photos from the 1930s and '40s of bartenders using jiggers, mixing spoons, strainers and all the same equipment used today. In the "Iliad" and the "Odyssey," Homer describes ancient heroes enjoying Kykeon, a Greek cocktail of drinking wine, ground barley and goat cheese as a kind of old-school digestif. Today's bartenders are more sophisticated than their forebears, but the idea of assembling ingredients to create a great beverage remains the same. It's about bartenders reclaiming a classic pastime – beginning with their names.
"We take care of our bar and our guests. It's about knowing how to make drinks, what tastes best, finding new tools and doing the research. 'Mixology' is an old term but maybe it's time to take that back," says Joey Joyce of the Breaking Bread Hospitality Group, which includes downtown hotspots Lucky Belly, Livestock Tavern and The Tchin Tchin! Bar. "For me, it's been refreshing these days to see more lower-proof cocktails available. Aperitifs and the use of vermouth, the lighter stuff. It's like we're in Europe; nice to be able to drink for a while and still be able to function."
Punch is also making a resurgence, Joyce says. Sailors aboard East India Co. ships in the early 17th century enjoyed strong brandy with citrus (to combat scurvy) and water (which may not have been potable without alcohol's sterilizing effects). Punch in bowls for sharing has been appearing on drink menus in Honolulu, including Ackrill's Sky Waikiki selections.
The trick is to offer now-popular beverages before they wear out their welcome. Remember how Moscow Mules became cool again out of nowhere a few years ago? Now they're everywhere. People even began stealing those plump copper mugs from bars, an unanticipated (and totally uncool) side effect that stemmed from the popularity of the cocktail.
"Personally, I'd like to see the end of all those million different-flavored bottled vodkas you see on shelves," Terorotua says, chuckling. Kashani agrees: "Yeah, why is someone using strawberry vodka when they can just be prepping fresh strawberries themselves?"
The one thing all bartenders seem to agree on is that people should order whatever they like most.
"My favorite drink is the one you make for someone when they don't know what to order, and they ask you to make something and they tell you what they like. Then they try it and say it's perfect," Joyce says. "It doesn't have to be fancy or crazy, but just when you make their night with a drink they love. That's my favorite cocktail; that's the best kind there is."