Re-Birth on Rice Street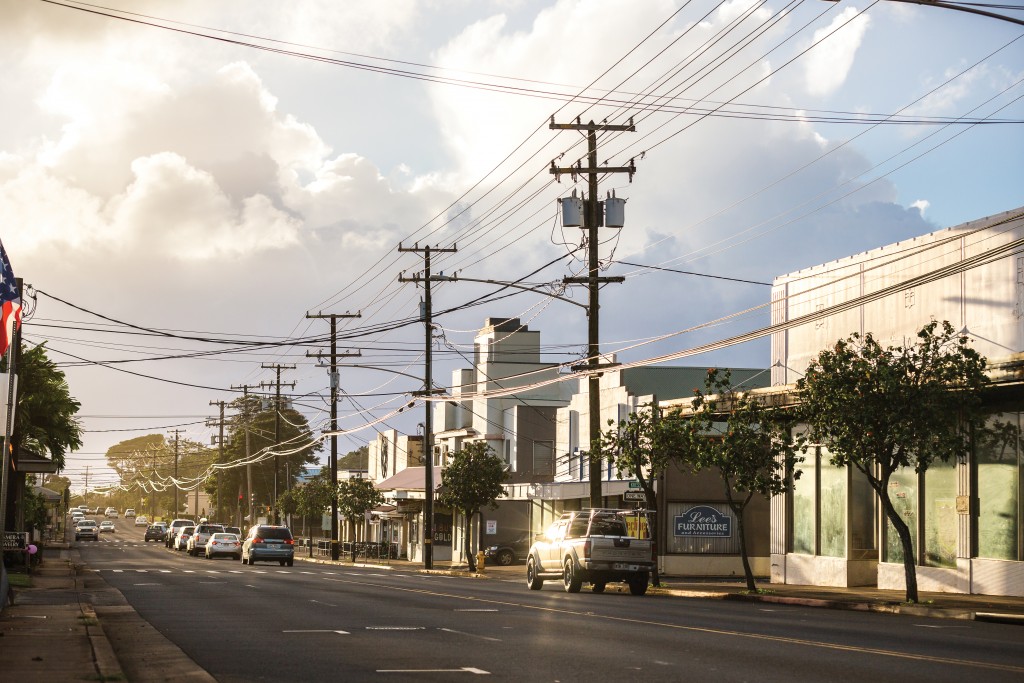 The best days passed decades ago for downtown Lihue. Today, sidewalks are narrow, cracked and littered. Parks, lawns and benches are hangouts for the homeless. Once a proud gathering place, Rice Street is now little more than a thoroughfare for motorists en route to someplace else.
---
There's pretty much nothing to do," says Jade Nguyen, 21, a dental assistant and mother of three who lives in Lihue's town core. "I've taken the kids to the bowling alley, but it's kind of run-down. It would be nice if there were some parks with things to play on. There's a park on Rice Street, not too far from the house, but a lot of the homeless hang out there. It's not good for kids."
The heart of Lihue has gone from boom to bust. There were decades of concentrated commercial growth in the Rice Street district, followed by decades of strip mall construction on the town's outskirts. What remains in the city core is a hopscotch of empty storefronts, a smattering of brave new businesses and a thinning cohort of holdouts, such as the 101-year-old hardware supplier Tanaka Store and the fourth-generation Hamura Saimin lunch counter.
"It's the heart of Lihue, but when you look at it, it's the dying heart of Lihue," says Karen Ono, executive officer of the Kauai Board of Realtors.
Though not yet visible, Lihue is poised for rebirth. The rotting Rice Street district is the subject of a plan touted by Kauai County officials and business owners as the spark for an urban renaissance. Not only does the effort aim to improve the town core's economic viability, it also seeks to restore its sense of place, history and civic pride.
"Investments and economic growth way out at the perimeter of the town core in the last 40 years kind of pulled the life out of the center of the town," says Palmer Hafdahl, an architect and VP of the Lihue Business Association. "What we're trying to do is put the life back in. People still want to go to a place to see and be seen and to enjoy a vigorous sense of community, and that's what we want to build."
STREET MAKEOVER
A pivotal element is a redesign of Rice Street that would reduce traffic from four lanes to two, plus designated left turn lanes. The lane reduction is designed to improve speed-limit compliance and safety, and make people more willing to ride bicycles and walk. Plans also call for widened sidewalks, curb extensions, full-time designated street parking and bus stops improvements.
The project is made possible by a $13.8 million grant from the U.S. Department of Transportation. County officials applied for the highly coveted grant, called the Transportation Investment Generating Economic Recovery award. TIGER was awarded in October 2015 and county, state and federal officials are working to implement it. Road construction is slated to begin in 2018.
"TIGER is the catalyst. It's not going to solve all our problems, but it's going to get us closer to where we are hoping to be," says county transportation planner Lee Steinmetz.
The overall plan includes a campaign to rebrand the Rice Street district as a modern center for shopping and civics, while paying homage to its roots as the center of Kauai's once thriving sugarcane plantations. Another Rice Street rejuvenation strategy is a new toolkit of planning codes to guide future development. The codes, which have already been instituted, encourage historic preservation, appealing and uniform building design, attractive streetscaping, mixed-use zoning and more affordable housing options.
Under the new codes, front-street buildings that meet the pedestrian at the sidewalk, formerly outlawed by the planning codes for the Rice Street district, are now required for new construction. Incentives are in place for businesses to provide bicycle parking. Strongly encouraged are awnings, windows, balconies, porches and outdoor seating to promote use of the street front and provide space for social interaction outside of businesses.
All of these components, town planners say, target the goal of increasing the town core's appeal and urban vitality.
"The answer is infrastructure," said Kaaina Hull, deputy planning director for Kauai County. "If you build it, they will come."
FEW REASONS TO COME
Binding a bright vision for Lihue's future with its storied past, a new Rice Street district logo has been crafted for use by the county and businesses within the core. The logo, which features a modern depiction of green blades of sugarcane grass, is intended to help establish a sense of cohesion among Rice Street district businesses and services. At the Kauai Beer Company, for example, the logo is featured on the cardboard coasters that come served under every pint.
Lihue is a utilitarian town. Few would describe it as attractive or alluring. There are pragmatic purposes to visit, such as a trip to the bank, a law office, the car dealership or the civic center that houses the seat of the Kauai County government, but it is otherwise not much of a destination. Kauai Beer Company's ability to draw a crowd for revelry and nourishment is one of few anomalies in the Rice Street district.
On a recent Tuesday night, Katrina Gomez, 23, of Boston, nurses a light-bodied pale ale at Kauai Beer Company as she explains to a reporter why she chose to dine at the same Rice Street microbrewery twice during a six-day Kauai vacation.
"This looks exactly like it could be in Massachusetts," Gomez says, gesturing at a sparsely decorated dining room.
There were no tiki torches. No hula dancers. Not even the quintessential Mai Tai dressed with a pink umbrella.
"I can't even tell I'm in Hawaii right now," she continues. "If I were here longer, I'd come again."
Kauai Beer Company, with its stark, industrial interior, was abuzz that evening with young men in trucker hats drinking pints, middle-aged professionals sampling beer flights and a couple, flanked by two ornery children, feasting on beer-battered oyster mushrooms, sauteed soba noodles with spicy eggplant and homemade root beer. Guests bounced about the big, boxy dining room, exchanging conversation and smiles. The atmosphere was modest, warm and cozy.
"Basically, I like it here because it doesn't feel like Disneyland," Gomez says, pausing to order a glass of intensely malty Oktoberfest. "If I wanted that, I would go to a luau every night."
ONCE A MAGNET
A hundred years ago, when Hawaii's plantation era was approaching its zenith, Lihue was breaking the company town mold for a shot at a more pivotal role as Kauai's center of commerce and governance. Sugarcane was slashed to make way for the stately new seat of county government. The bricks of the popular Tip Top Theater were being laid at the site of the old Lihue Plantation stables. And a general store as impressive as the grandest Honolulu emporium was drawing shoppers from all corners of the island. Independent professionals began joining what had primarily been a village of immigrant field laborers.
Standing on present day Rice Street, County Transportation Planner Lee Steinmetz evokes the district's historic transformation from mill town to pulse of the island. Then, gesturing toward a reinforced concrete building from the 1930s, he began to imagine its future.
Microapartments, he suggests. Maybe a food market. The building, presently home of the Salvation Army's thrift store, has recently garnered proposals from developers seeking to build both.
"There's interest because people see that there's promise," Steinmetz says. "It's not going to happen overnight, but we know we can make this place come alive again because it's been done before."
GROWING POPULATION
Going forward, town planners expect Lihue to expand so as to take on more of the island's projected population growth.
On Kauai, development is often likened to a four-letter word. Wide-open green space is revered over just about everything else. The sort of development county planners are trying to curate in the Rice Street district, however, is strategically aimed at preserving Kauai's rural beauty by reversing a trend in which new homes are built in rural areas.
"We want to preserve our rural lifestyle, but we want more jobs and more housing," says Hull. "So, to manage that, on the islandwide level, we needed to start focusing growth in Lihue."
All told, 40 percent of homes built from 2003 to 2012 were erected on land with either an agriculture or open district designation, says Marie Williams, the county's long-range planner. During the 1990s, Williams says, the population of Lihue actually declined.
To help reverse that trend, a 90-unit affordable housing complex is under development in the Rice Street district for people ages 62 and up. Kanikoo offers easy pedestrian access to public transportation, a nearby park and businesses. Monthly rents for phase I are $851 for the one-bedroom units and $1,022 for the two-bedroom units, electricity and water included. Phase two is under construction.
The county also recently approved redevelopment for a small microapartment complex a short walk from the senior housing project.
"The big scream we hear is that we're over-developing, and we're doing it for the rich guy from California that's coming in and taking all of our land," Hull says. "That's happening to a degree, but most of our growth comes from natural births. We're having more kids, and it's outpacing our death rate. Our growth is our own. If we take this no-growth approach, essentially we're saying to the keiki of the island, 'You've got to move out.'"
ONE OF THE AREA'S DRAWS
By a stroke of luck and good timing, Kauai Beer Company has become the Rice Street district revitalization project's harbinger of success. In three years of business, the microbrewery has asserted itself as an unlikely destination, drawing island-wide residents for locally sourced meals and frosty pints to the surprise of just about everyone. Not even the brewery owners were prepared for such enthusiasm. When Jim Guerber and his son Justin set out to brew quality craft beer in Kauai's nexus, the restaurant and bar component of the business wasn't part of it. It came as an afterthought.
"For the most part, Rice Street has just been a conduit," said Larry Feinstein, Kauai Beer Company's spokesman. "It's been a place you travel through in order to get to someplace else, often the airport. But now we get tons of people with luggage coming in here to eat and drink either on their way to or from the airport. And they come to us because the food is good and the beer is good and the service is good, but also because there's a complete absence of pretense or posturing. We purposely don't have televisions. Instead, we have board games. Locals will travel an hour in the car for that kind of authenticity."
Kauai offers world-class experiences for those seeking to enjoy nature. But equally important to the community are places of cultural and economic exchange. In this department, many would say the island is lacking. But with its big, kitsch-free dining room, Kauai Beer Company offers a little taste of what's missing, says Chris Hardi, a faithful patron who lives and works an hour north of Rice Street."It's one of few places on the island that affords the opportunity to mix and mingle with different types of people," Hardi says. "I'll drive for an hour to be a part of that."
Feinstein recognizes that the unique social opportunities provided by the brewery are as valuable to patrons as the India pale ale and the bourbon bread pudding. In fact, the business capitalizes on it by hosting trivia game nights and charity pint events.
"If our beer was lousy or our food sucked or our staff yelled at our customers, then people wouldn't come," Feinstein says. "But there's also a degree of luck and a degree of magic happening that we simply can't take credit for. It's a fortuitous combination of events, but there is no question that Rice Street can come back to life again, and we have a real sense of responsibility and gratitude that we are often singled out as the example of why that is."