Realtors Locally and Nationwide Step Up to Support Maui's Survivors
The president-elect of the Realtors Association of Maui estimates about 40 to 50 agents lost their homes and possessions, and one is reported missing.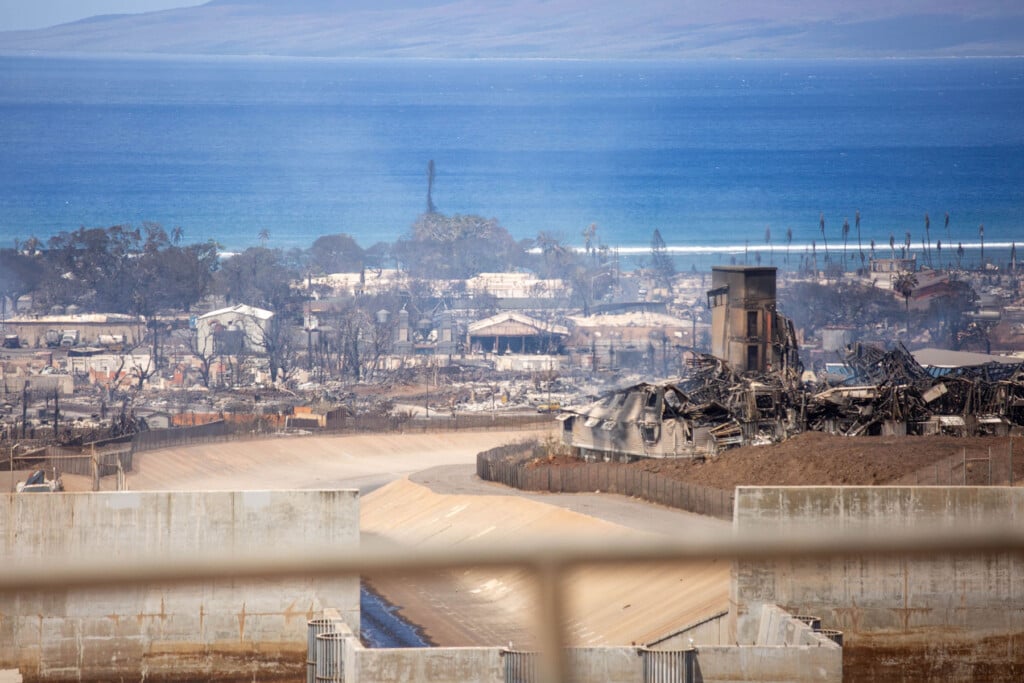 Steve Baker was on the mainland when deadly wildfires tore through residential neighborhoods in West and Upcountry Maui, displacing thousands, including 15 of his agents at Coldwell Banker Island Properties.
Baker, the firm's principal broker and VP of corporate development, says about 40 agents from the three largest brokerages on Maui have lost everything, and estimates the total number now-houseless real estate agents is closer to 50. Among the hundreds of people reported still missing is at least one agent.
During the fire, Baker was in Chicago attending training at the National Association of Realtors. While there, he says people from Realtors associations across the U.S. approached him and other Hawaiʻi agents about providing tens of thousands of dollars in donations to the Realtors Association of Maui Foundation relief fund.
One speaker in Chicago auctioned a painting that sold for $7,500; the proceeds will benefit Maui relief. A Realtor from a Florida Coldwell Banker franchise said her local real estate community wanted to hold a supply drive for Maui, so Baker told her of the need for baby supplies such as formula and diapers.
She later messaged him to say her local association would be sending $10,000 to the Realtors Association of Maui Foundation relief fund.
"And she also told me, 'You'd better have a large office because we have raised enough money that your office is going to be loaded with supplies,' " he says. "She told me that next week it'll be delivered and it's going to be a lot of stuff."
The National Association of Realtors made a $1.5 million donation from its foundation to the statewide Hawai'i Realtors association, which will work with the Maui association to help provide housing assistance for families and individuals who lost their homes.
"The outpouring of support from the Realtor community at large has been absolutely amazing," says Baker, who is the president-elect of the Maui association.
"Our Community is Coming Together"
The Realtors Association of Maui is helping distribute supplies on the island and has raised at least $20,000 from its members. Individual firms are also raising money: Baker set up a GoFundMe page for his Coldwell Banker Island Properties agents; Hawaiʻi Life is matching donations to its Hawaiʻi Life Charitable Fund at the Hawaiʻi Community Foundation; Keller Williams Realty Maui is raising money through KW Cares, which has a form for people to offer housing to those displaced by the fire.
The Realtors Association of Maui also created a website, MauiKokua.com, with help from other local Realtors associations, Hawaii Information Service, Maui Economic Opportunity and the Rotary Club of Kihei-Wailea. The site offers housing resources and connects people who need housing with people who are offering it and encourages donations to the Council for Native Hawaiian Advancementʻs Kākoʻo Maui fund, HCF's Maui Stong Fund and Maui Food Bank's disaster relief fund. There is also a link to an Amazon.com wish list set up by Hawaiʻi Island Realtors for items to be sent to the Realtors Association of Maui, which will distribute them to the community.
"The heartbreak we feel for Maui following the devastating wildfires is challenging to put into words," says Realtors Association of Maui CEO Mei Wright. "We're overcome with emotion as we learn more about this evolving disaster and how our community is coming together to support one another and rally aid."
The state has warned of predatory buyers making unsolicited offers to buy properties from the people who've lost their homes, but Baker says no one he knows has done so – and he knows many people in the Hawaiʻi real estate industry after working in Maui real estate for 25 years.
"I can't imagine a single one of them doing it," he says.