Your Guide to Remote Workplaces in Hawaiʻi
Here's our guide to some of the best remote workplaces on Oʻahu and the Neighbor Islands.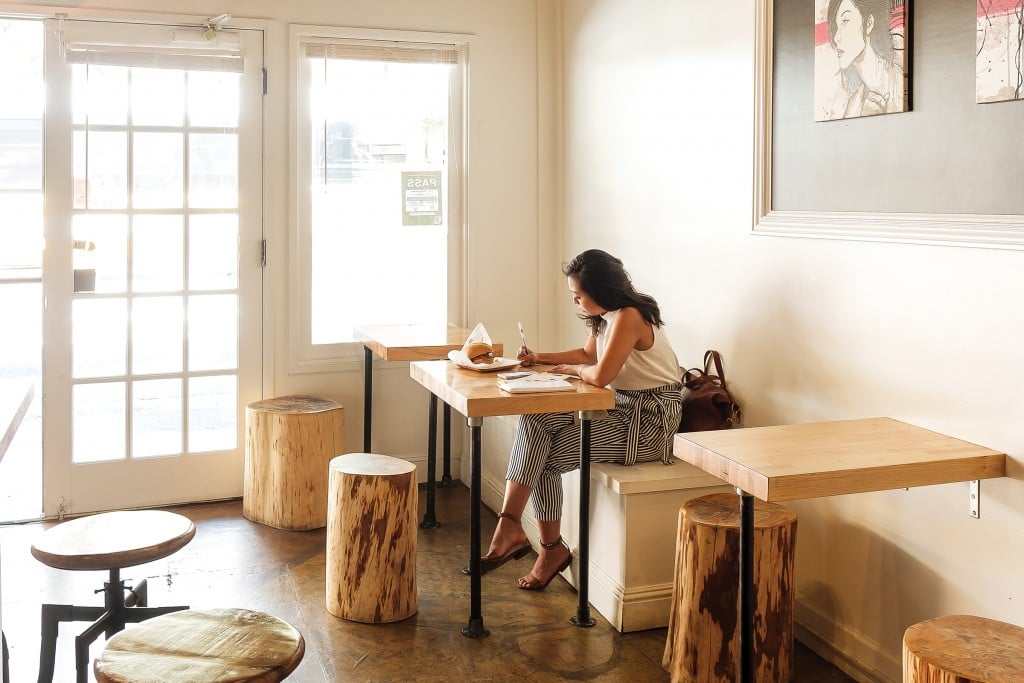 Some people work remotely all day every day, while the rest of us require a temporary workplace occasionally.
Either way, we need to know if a Wi-Fi decal in the window means low background noise, a decent restroom and a table where you can work.

Waikiki
Starbucks has 10 locations in Waikiki, delivering close to 24-hour accessibility at its shop in the Royal Hawaiian Shopping Center, open from 3:30 a.m. to 11 p.m. daily. A few blocks away on Kalakaua Avenue, the Starbucks in the Waikiki Beach Marriott Resort & Spa is open from 4:30 a.m. to 11 p.m.
Amid the hubbub of Waikiki are several independent coffee shops as well, with free Wi-Fi. The off-the-beaten-track Coffee Shop 831, adjacent to The Pearl Hotel and near the Kūhiō Avenue parking entrance to the International Market Place, serves delicious cooked-to-order food. While it has limited tables and no A/C, it delivers on ambiance, personality and Wi-Fi.
The Banyan Breeze in the Waikiki Banyan on Ohua Avenue caters to working professionals with plenty of table space and electrical outlets.
Finding a parking space in Waikiki is no easy feat. Street parking is metered, often with a one-hour time limit. Parking garage prices can range from $3 a half-hour to $50 for the day. Some spots validate, like Island Vintage Coffee upstairs in the Royal Hawaiian Shopping Center, so it's worth asking.
Ala Moana Center
The center's expanse of free, often covered, parking makes it a viable telecommuting option. The mall offers free Wi-Fi in designated areas for users who sign up online for the Ala Moana Center eVIP Club.
There is a small Starbucks connected to Macy's on the second level that offers outdoor seating but the best Starbucks in the mall for telecommuting is on the lower level near the post office. It opens at 4:30 a.m. Fridays and Saturdays and other days at 5 a.m.
For indie coffee shop devotees, Island Brew Coffeehouse delivers the best workspace environment. Located on level 3 right outside of Bloomingdale's, it's tucked away and modern, with plenty of electrical outlets. It opens at 7 a.m. daily.
A five-minute drive mauka on Keeaumoku Street will bring you to Spero Spera on Young Street. It's open 9 a.m. to 9 p.m. Mondays through Fridays; its upstairs loft makes for a great working space. Electrical outlets are available on both levels.
Bread & Butter, a cafe on Kapiolani Boulevard next to the Shokudo restaurant, has nice bathrooms, comfortable seats (with pillows), lots of delicious food choices and Wi-Fi.
Blue Tree Café at 1009 Kapiolani Blvd. near Blaisdell is a quiet place to get work done. It has its own line of juices and good organic, vegan and gluten-free options, but the Wi-Fi can be spotty.
Tea Boss Kissa, formerly Kissaten, is in the KHON2 building, across from Ala Moana Center on Piikoi Street. It opens daily at 10 a.m. and closes at midnight Fridays and Saturdays and 11 p.m. other days. Lots of students study here and there are plenty of electrical outlets.
Kakaako
Salt, at Auahi and Coral streets, offers a mix of retail, restaurant and specialty shops. Morning Brew is a spacious corner establishment that opens daily at 7 a.m. There is ample seating upstairs along the countertop, in the comfy armchairs, downstairs at numerous tables with electrical outlet access, and outside. The menu features fresh breakfast and lunch options, a variety of ways to satisfy a caffeine fix, and baked goods. The Wi-Fi is unlimited. Morning Brew validates parking in the Salt garage and the lot on Ala Moana Boulevard.
Also on the street level in Salt is Insomnia Espresso Coffee, which opens weekdays at 6:30 a.m. Its wide menu features breakfast, Vietnamese specialties, coffee and tea. There are indoor and outdoor tables.
The Starbucks at Ward Avenue and Auahi Street opens at 3:30 a.m. Mondays to Thursdays and 4 a.m. on other days. It's popular and often crowded but the Starbucks on Ala Moana Boulevard, near Coral Street, is less known, less crowded and great for cofficing and meetings.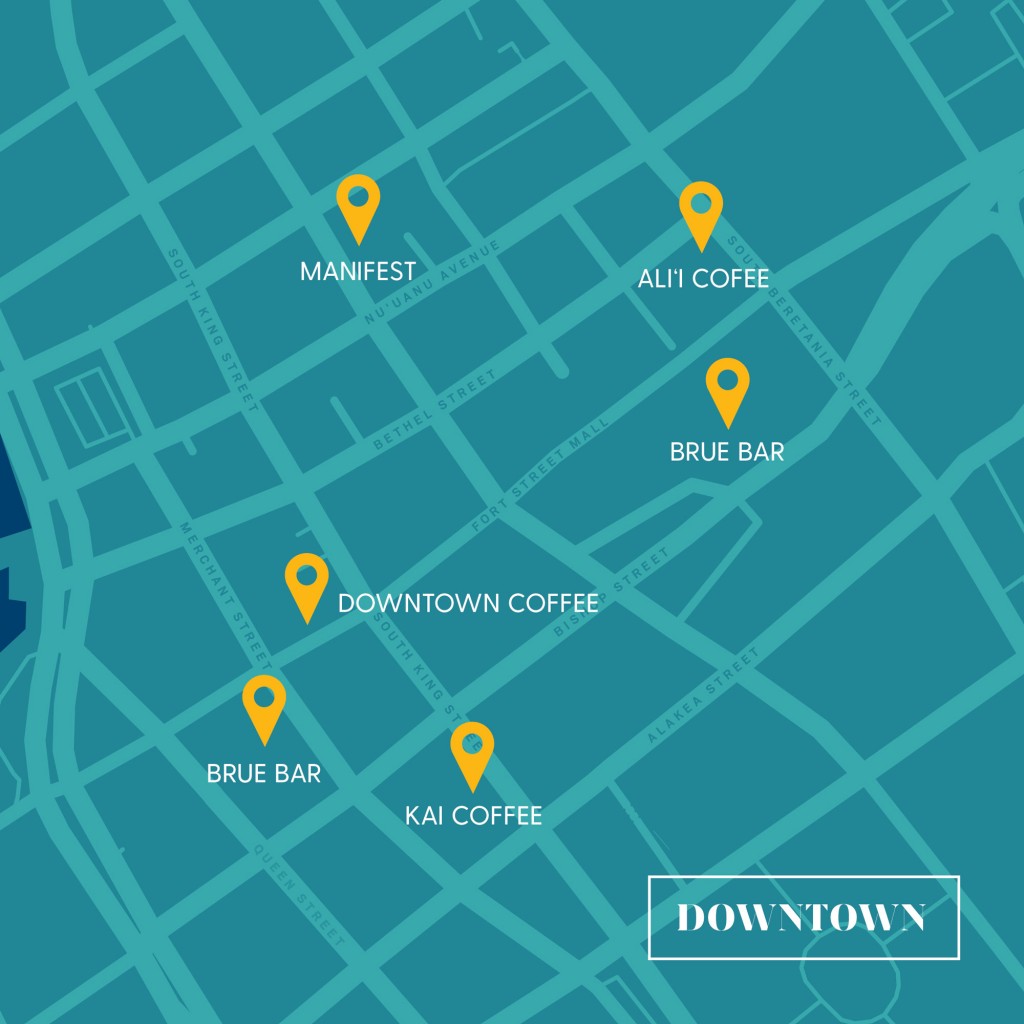 Downtown
Both Brue Bar locations – in the Finance Factors building on Bishop Street and on Merchant Street across from the back of Bank of Hawaii's headquarters – are open from 7 a.m. to 4 p.m. Mondays through Fridays. Even with their small footprints, there's usually plenty of open seats at the counters or tables because many patrons take their brue to go. A key is required to access the restroom upstairs on Merchant Street. Both Brue Bars provide Wi-Fi codes that are good for an hour, but they're generous about giving another.
In Chinatown, Alii Coffee on Beretania Street, near Bethel, receives raves for its cold brew beverages and its rustic décor provides unique seating: tree stumps.
Downtown Coffee on Fort Street Mall in Pioneer Plaza opens at 6 a.m. with limited workspace.
The three Starbucks downtown offer the earliest open times in the area. The location at Merchant and Bishop opens at 4 a.m. weekdays, 6 a.m. Saturdays and is closed Sundays; the Alakea Street location just above the Central Pacific Bank headquarters opens at 5 a.m. weekdays only; and the location at Bishop and King streets opens at 5 a.m. weekdays and 6 a.m. weekends.
Manifest on Hotel Street near Smith serves delicious local coffee and tea, plus light snacks. It's spacious with lots of table space, a few power outlets and free Wi-Fi. Manifest opens at 8 a.m. and closes at 1 or 2 a.m., except Sundays, when it closes at 9 p.m.
Kai Coffee Hawaii, on the makai/Diamond Head corner of King and Alakea streets, prides itself on serving locally grown, hand-crafted Hawaiian coffee. Along with free Wi-Fi are electric outlets for customers and daily specials on food and drinks.
Manoa
Prefer a collegiate vibe? On King Street, just Diamond Head of University, is Glazer's, a local favorite independent. It's open late, until 10 p.m., with some parking in the lot beside the café and on the street.
The Coffee Bean & Tea Leaf has a spacious spot in the Manoa Marketplace. There are numerous tables from which to work starting at 5:30 a.m. daily.
Morning Glass Coffee and Café on East Manoa Road, just mauka of the Manoa Marketplace, isn't open as late as the other cafes in Manoa, but it's famous for its Mac and Cheese Pancakes, an unusual – and popular – combination.
There are three Starbucks locations near UH Manoa: the shop across from the marketplace on East Manoa Road opens the earliest, at 4:30 a.m. daily.
Kaimuki
On the corner of Waialae Avenue and 12th Avenue, Coffee Talk delivers ample seating and a bright decor, with tempting pastries to complement your choice of caffeine. Electrical outlets aren't available at every table, so check before settling in. Parking is available in the nearby lot or at one-hour street meters.
Island Brew Coffeehouse is nearby on 11th Avenue. There are many tables along the window side of the shop for working with a street view, cozy armchairs near the coffee counter, tables and chairs, and even a chair swing. It has a homey, relaxed feel. The restroom is just outside the coffee shop.
The folks at The Curb, at Waialae and 8th avenues, are experts about the coffee they serve – and it's 60 cents off if you bring your own cup. The shop, which has a small parking lot out back, opens at 6:30 a.m. Mondays through Fridays and 7 a.m. on weekends, and closes at 3 p.m. each day.
East Honolulu
Island Brew Coffeehouse's waterfront location in the Hawaii Kai Shopping Center opens at 6 a.m. and is an idyllic setting to plug-in and caffeinate while kayakers glide by. Its proximity to Costco, Longs, Safeway and many eateries makes it a convenient place around which to center the day. There's a Starbucks in the same shopping center that opens at 4:30 a.m. daily and one in the Koko Marina Center on Kalanianaole Highway that opens at 4.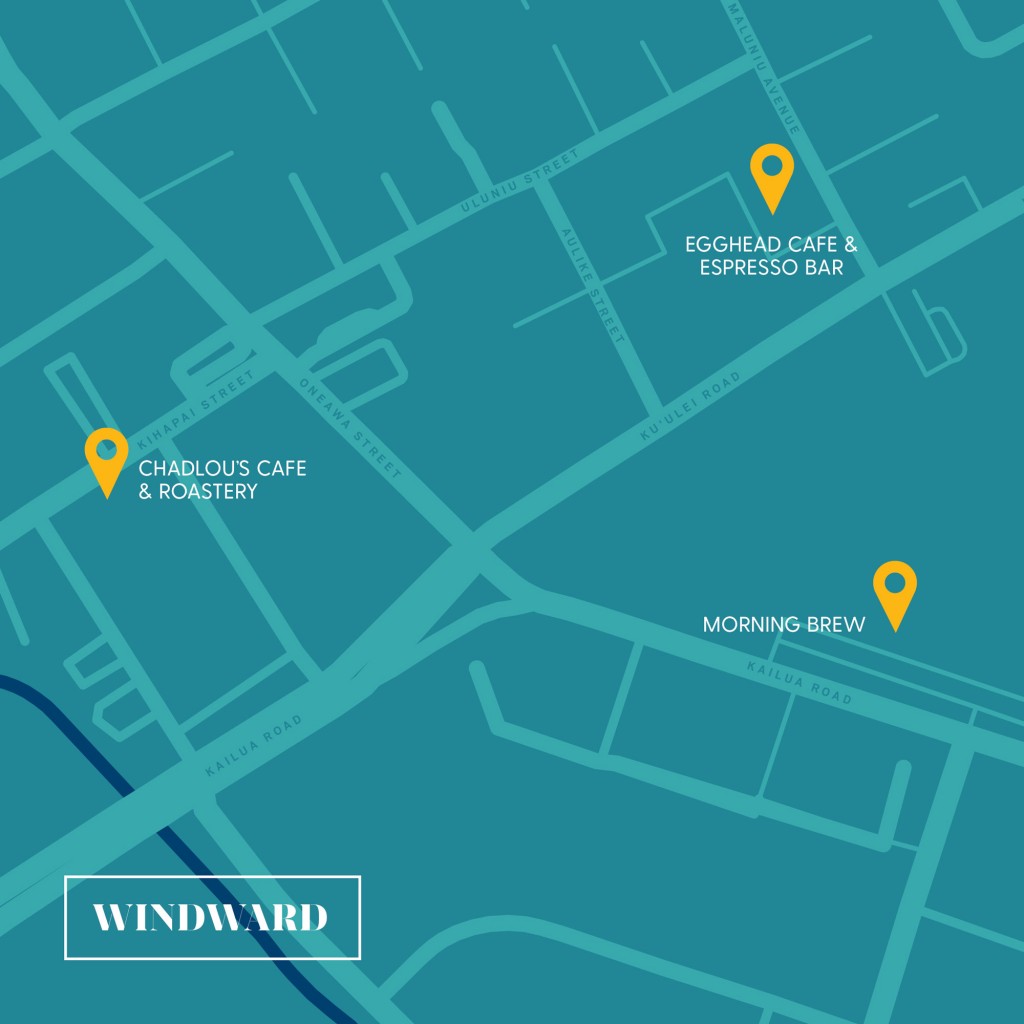 Windward
Kailua's Morning Brew location is open from 6 a.m. to 6 p.m. daily. The airy two-story shop offers unlimited Wi-Fi, breakfast and lunch options and hot and cold beverages served with flair. While it's popular with tourists, a table inside or outside usually becomes available within about five minutes; the upstairs seating area has A/C and is ideal on a hot day. Electrical outlets are available at all tables alongside the walls and extension cords provide access to some inner tables. Parking in the lot is free for up to three hours.
ChadLou's Coffee Roasters opens at 7 a.m. daily; it's on Kihapai Street in Kailua, across from Hardware Hawaii, with free unlimited parking behind the shop and metered street parking. In this cozy space, the staff cooks up delicious breakfast and lunch options, which can be enjoyed from one of the two large shared high tables, a number of two-seater tables, or at a vintage desk straight out of the 1980s. There are electrical outlets and a single gender-neutral restroom.
Egghead Espresso, which shares the same interior parking lot with Cinnamon's restaurant, is the newest addition to Kailua's coffee shops. It opens at 7 a.m. and is closed Mondays. It is modern, with a large shared high table and two-seaters inside and out. The Wi-Fi code offers unlimited connectivity, the A/C is powerful and the menu is healthy. Metered parking is available in the lot and on the street, so bring coins.
For those working Mainland hours, the Starbucks in Kailua Town Center opens at 4 a.m. daily and the Enchanted Lake location opens daily
at 4:30 a.m. Parking is free at both shops.
Need to be online even earlier or later? The Kaneohe Bay Shopping Center Starbucks is open from 3 a.m. to midnight on weekdays and 3:30 a.m. to midnight on weekends. The Windward City Shopping Center Starbucks is open from 4 a.m. to midnight Sundays through Thursdays, 4 a.m. to 10 p.m. on Fridays, and 3:30 a.m. to 10 p.m. on Saturdays. Inside Kaneohe's Windward Mall there's a Starbucks open from 6:30 a.m. to 9 p.m. Mondays through Thursdays, 6:30 a.m. to 9:30 p.m. Fridays and Saturdays, and 6:30 a.m. to 7 p.m. Sundays.
Westside
Kapolei has three Coffee Bean & Tea Leaf locations with free Wi-Fi, the one in the Ka Makana Alii mall being best-suited for telecommuting because of its ample table space. The Makakilo Drive location has only outdoor seating; the third location is inside Foodland.
Teapresso on Farrington Highway, in the plaza next to Kapolei Regional Park, provides a modern working environment with ample places to plug-in.
Kapolei also has three Starbucks locations: The one at Kapolei Parkway and Kamokila Boulevard opens at 3:30 a.m., the one at the Halekuai Center on Farrington Highway opens at 4 a.m. and the one inside Target opens with the store at 8 a.m.
More of a local coffee fan? Island Vintage Coffee on Olani Street offers free Wi-Fi, features taro bagels on the menu and has table space to work from beginning at 6 a.m. daily.
Central
Cutting up the middle of Oahu? Starbucks in Mililani Town Center opens at 4 a.m.
Wahiawa's independent Surfers Coffee offers a cozy atmosphere with oversized armchairs to work from as well as tables of varying styles.
Maui
Free Wi-Fi at independent coffee shops are easy to come by on Maui. In Kahului, Maui Coffee Roasters and Sip Me offer great spaces to work with plenty of electrical outlets. Maui Coffee Attic in Wailuku opens at 6 a.m. with an eclectic array of seating upstairs and down, from couches to armchairs, tables to counter space.
Kauaʻi
The Coffee Bean & Tea Leaf in Kapaa opens at 5:30 a.m. daily. There are also a number of independent coffee shops on the island offering free Wi-Fi and working space, such as Dark Roost in Koloa, Ha Coffee Bar in Lihue and Aloha-n-Paradise in Waimea.
Hawaiʻi Island
Among the independent coffeehouses offering free Wi-Fi are Hilo Sharks Coffee and Waimea Coffee Co. Kailua-Kona offers the most choices, with two standouts being The Coffee Lounge and Kona Haven Coffee.
---
Cubicle vs. Coffee Shop
Will cubicles become a thing of the past and coffee shops become the go-to workplace? Full-time telecommuter Dan Lowrie of Kailua says, "I go for the coffee and the change of scene, especially if my kids are home and there's a lot of background noise."
McDonald's
McDonald's is famous for its fast food but it also offers free Wi-Fi at most locations. If you're on a deadline or you work in a different time zone, some locations are open 24 hours. Parking is often as readily available as the cheeseburgers and fries. There are over 30 locations on Oahu, four on Kauai, 10 on Maui and nine on Hawaii Island.
Grocery Stores
Need to get work done and also pick up some chicken thighs for dinner? Whole Foods Market locations provide unlimited Wi-Fi to customers in its dine-in areas. There are numerous tables to choose from, inside and out, but few electrical outlets. The Lifestyle Safeway in Kapahulu is open 24 hours with free Wi-Fi and tables to work from.
Local Vs. Chains
Independent coffee shops deliver on ambiance and homemade, often locally sourced gourmet grub, whereas chains like Starbucks and McDonald's serve their standard fare along with unlimited free Wi-Fi. Starbucks shops generally open earlier and close later than the independent coffeehouses.
Free Wi-Fi Hot Spots
When Oceanic Time Warner Cable was taken over by Charter Communications, Spectrum was required to provide at least 1,000 new public Wi-Fi hot spots throughout the state to provide access to users. At the time of this writing, Kauai, Maui and Molokai have active hot spots that deliver one hour of free Wi-Fi per day to anyone; services on Oahu and Hawaii Island are coming soon. To see a map showing which free hotspots are active, visit the Department of Commerce and Consumer Affairs website using this shortcut: tinyurl.com/HifreeWiFi.
Coworking Spaces
In the October 2018 issue, we published a roundup of coworking spaces across Hawaii, which also accommodate remote workers. You can find the story here.
---
Know a spot we missed?
We plan to regularly update the online version of this story so email us at feedback@hawaiibusiness.com with the essentials: name of the business or organization, location (nearby landmarks are helpful too), hours, amenities and what makes the place special.