Small Business/Big Challenge: David Uno, President, Aiea Copy Center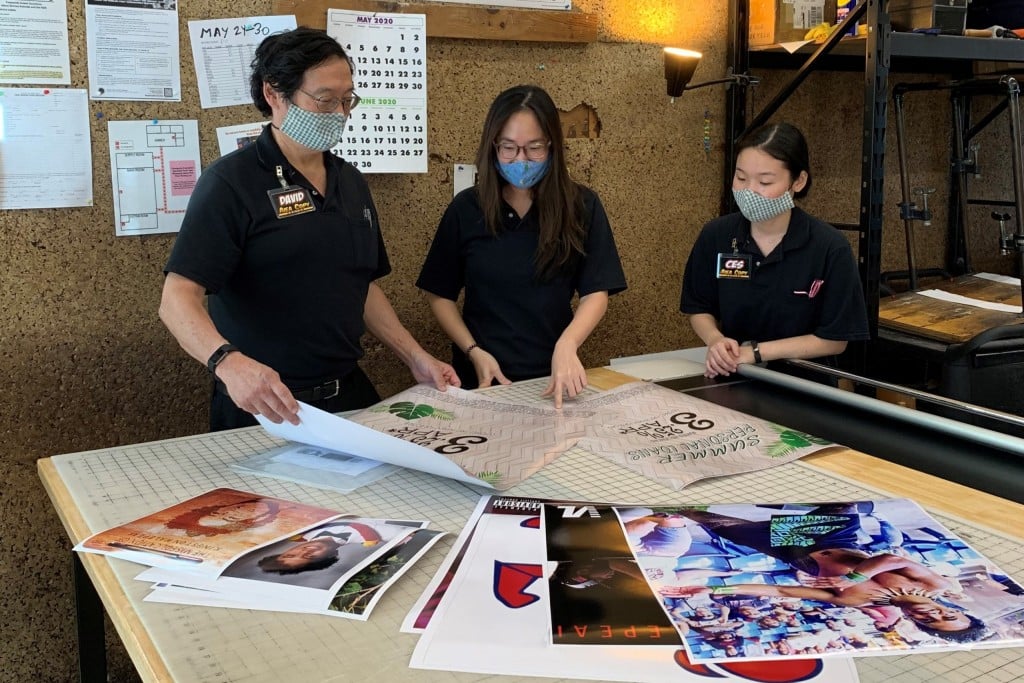 What has been your company's latest pivot or innovation?
Aiea Copy Center was fortunate to be designated an essential service provider which allowed us to avoid a shutdown. But it has not been easy. Sales dropped 70% in April.
Our customers generally fall into three categories: personal, business and nonbusiness organizations (like government agencies and nonprofits). We continue to serve those customers' needs, but our production mix has changed dramatically since the pandemic. Wide format printing has taken a much larger share of our production.
One new opportunity was graduation banner printing for the new drive-thru and drive-in graduation events. Parents are now decorating their cars with banners and magnets instead of printing signs that would normally be used to locate graduates at the traditional lei-ing after the ceremony. Some schools have been allowing graduates to hang banners on campus.
Another opportunity revolves around the printing needs of our customers due to business reopening and new government directives. This increases the need for new signs, banners, flyers, menus and forms.
However, many businesses remain temporarily closed with no need for printing, and event related printing has vanished since large gatherings are no longer allowed.
How has your company's experience been with any level of government during this crisis? 
Aiea Copy Center was fortunate to receive a PPP loan. The application process was easy but waiting for approval and funding was nerve wracking. We understand the SBA and our credit union created a new program in a few weeks and problems obviously would occur.
The loan allowed us to bring back all of our employees at full pay for 8 weeks and added cash flow that will sustain our business for at least another 4 to 6 months. We are still struggling to figure out the loan forgiveness feature of our PPP loan.
As an employer, we are doing our best to navigate the unemployment process. Unfortunately, we are unable to get many of our questions and appeals answered.
Our goal is to provide our employees with income stability, even if they were not working. We had most of our employees on reduced hours and partial unemployment before our PPP loan was funded. We may have them go back on partial unemployment at the end of our 8-week PPP timeline. With partial unemployment, our employees received their partial Aiea Copy Center pay plus the Hawai'i and the additional $600 federal unemployment benefits. Over 80% of our employees will see little or no decrease in income thru July of this year. Employer health coverage has also continued during this time.
In what ways do you think your business will be different at the end of this year?
Change and adapt. Change and adapt. Change and adapt. Repeat!
While in the beginning, it seems we needed to make changes every day, we still need to make frequent changes to our operation to meet the needs of our customers and to protect both our employees and customers.
We are probably looking at some economic improvement by the end of the year, but do not foresee any major improvement until an effective vaccine is widely available.
What advice do you have for other companies?
We recommend that every business calculate their burn rate – how much cash your company needs to survive each month. The information will come from your old profit and loss statements. Then you'll have an idea of what cash outlay will be needed to sustain the business and what sales and gross profit you will need to break even.
We worked on this projection in early April to see how much cash we would need per month to continue operations and what sales we would need to reduce our monthly cash loss or possibly break even. If you have your burn rate and poor prospects for eventual return to profitability, you may be better off closing the business and restarting a new business later.
We recommend that each business investigate and apply for the government loans and grants that they think will help their business survive.
We would highly recommend that each business try to join a business owners group that is industry specific. We are in the National Print Owners Association. This organization has been instrumental in helping my business prosper in the past and survive during this pandemic. We can ask questions by group email and receive email discussion about solutions.
As a last thought, we are constantly changing our operation to survive this pandemic. Don't be like an ostrich with your head in the sand. See what changes you may need to help your business survive. Weigh the upside potential vs. the downside and if changes are needed, do it now rather than later. Change is good. Your business survival may depend on it.