Interview: Troy Benevides, Business Manager and Financial Secretary, IBEW Local 1357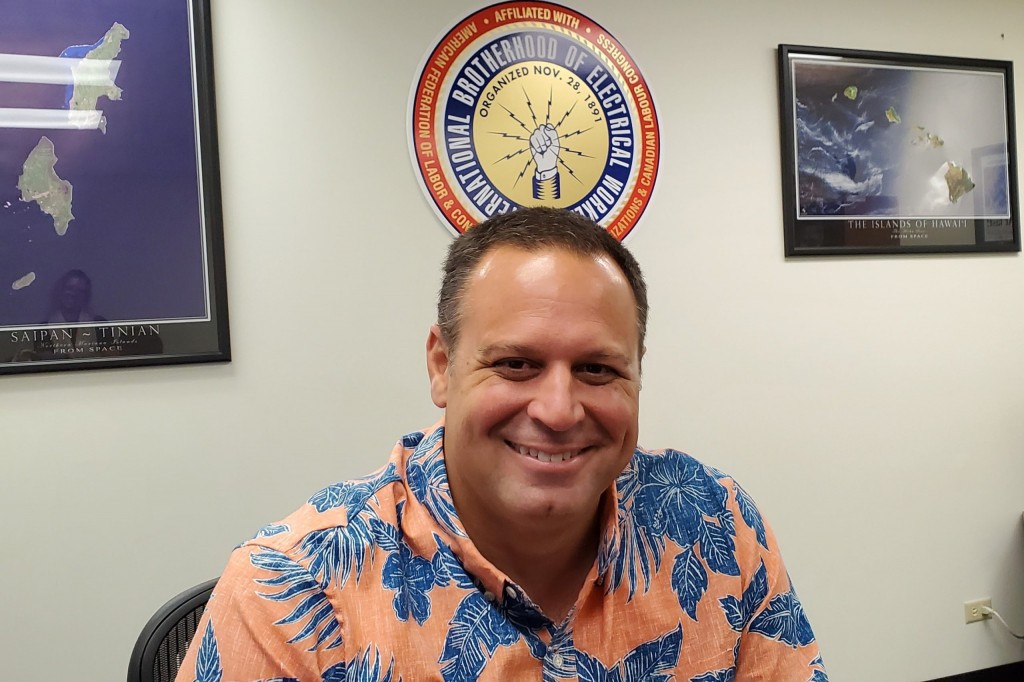 These are tough times for working people. Please us how your members have been affected?
Our members are fortunate because they continue to work full-time hours. Being telecommunication workers, our members are essential workers and they are proud to keep Hawai'i connected locally and to the world. With the influx of people transitioning into a work from home environment, demand for services has increased. However, the added workload during the pandemic is challenging and on any given day, a field technician may visit up to seven different homes and is confronted with the potential of cross contamination. No one wants to put their health or others at risk. To mitigate this, extra steps were taken for everyone's safety, such as cleaning their vehicles and tools after every job, wearing gloves and masks, and limiting contact with the other technicians throughout the workday. The added steps to keep our technicians safe are also there to help protect our customers and community as well.
What is your organization doing to support them now?
In the beginning of this pandemic, personal protective equipment was difficult to obtain because there was a rush on masks and gloves, and employers struggled to locate those items for employees. Our union was able to obtain a large number of gloves and masks for our members, enabling them to work safely without putting our communities or themselves in jeopardy.
IBEW 1357 is active and donates to the Hawai'i State AFL-CIO's Labor Community Services Program that provides direct services to union members and their families throughout the islands. The LCSP has been doing weekly food distributions in partnership with local food banks and has distributed more than 330,000 pounds of food to the public. We know our union brothers and sisters in other industries have been hit hard by this pandemic and we will continue to do our best to help where needed.
What do you see as the most important steps that government, business and nonprofits should take to help everyone who is struggling in Hawai'i?
I feel the most important step is to put people first. For so many years it has been profit before people and in a crisis such as this there should be a conscious effort to make sure that people are a priority. If our government continues to pass stimulus efforts to help the business community, they need to hold them accountable to use those funds on the employees to keep people working and safe. When people have a stable job, they will spend money, which will then invigorate the economy, pulling us out of this tumultuous time. Also, being able to effectively communicate a standardized plan for reopening by this administration will help put a lot of people's anxiety at ease.
Sometimes there are a few silver linings in a crisis? Have you found any?
It is amazing to see the abundance of aloha that we truly have here in the islands. People helping people, members helping members, it's a wonderful thing to witness. Even from some of the other unions whose members have lost their jobs, the desire to help during this pandemic is inspiring. Members who are not getting a paycheck are still volunteering at the food distributions sites, week after week, providing much support. That makes me proud to live in Hawai'i and be a part of a community that is one big 'ohana.