Interview: Lori Teranishi, Principal, iQ 360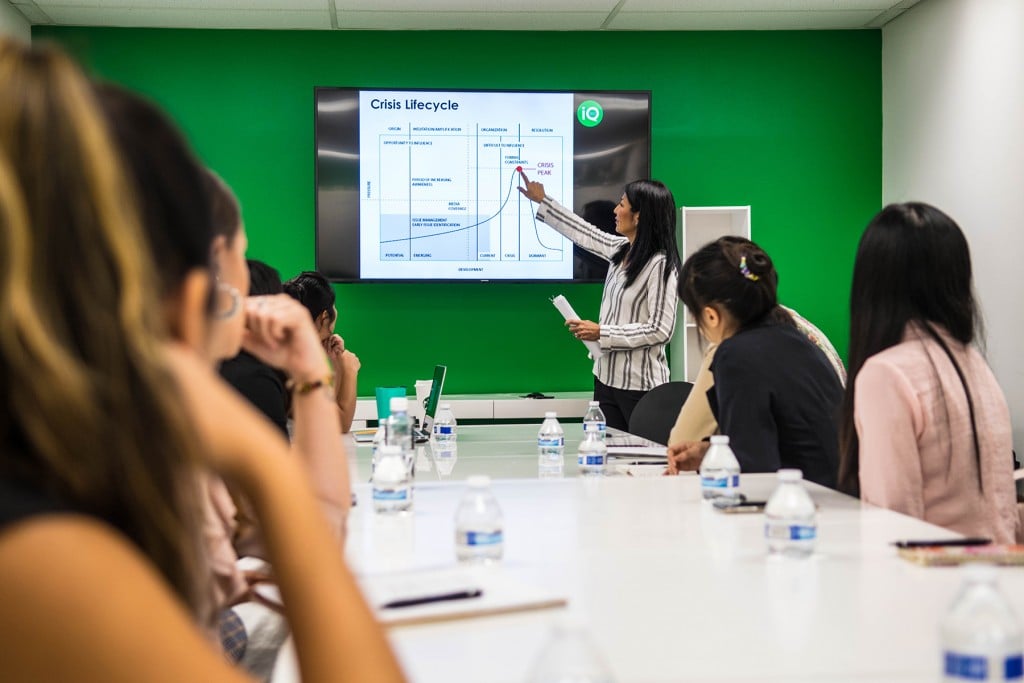 Please describe how and when you are conducting your return to your offices or other physical locations.
Our agency is opening our Honolulu office on July 1. Those who prefer to come into the office to work can do so, but we encourage working from home for those who want to limit their exposure. This period has shown that we can be equally effective as a team even while working remotely and we'll continue to keep that door open for employees and allow them to have flexibility. We also know that coming into the office won't look like it did before the pandemic. We'll limit the number of people in the office to 50% capacity, with employees scheduling what days they'll be coming in, and rearranging desks as needed to promote social distancing. We will be working with our clients to determine how they want to meet — whether it's by phone or video conference. We'll have fewer meetings at our office, and when we do, we will be careful about scheduling so we can clean and sanitize the conference rooms as needed before and after.
After your transition period ends, how do you think your "new normal" will be different from your old normal?
The current environment has caused catastrophic upheaval for individuals across all aspects of their lives. The economic uncertainty, worry over health and well being, and concerns for the future have pushed all of us into a new frame of mind and there is no going back. This applies to iQ employees and the employees of our clients. As communications professionals, we have the added responsibility to help our clients navigate this new normal and keep their organizational cultures intact. Communicating internally and externally will be crucial to maintain strong cultures and aligned goals when people are feeling unsettled and fearful.
Also, our new normal will involve expanding our capabilities to suit our clients' needs. Take for example, virtual events. More of our clients are looking for ways to keep their employees and customers engaged in the absence of in-person gatherings, so we've invested in training and technology for our staff and now offer virtual event services. Our virtual media trainings and presentation training sessions have been extremely effective. In some cases, the remote environment actually enables more concentrated analysis and in depth feedback.
How do you think your new normal will affect your finances and customer service?
This pandemic has been devastating for our economy and we know that so many businesses are struggling right now. As a professional services firm, we've felt those effects as some of our clients have had to put projects on hold or pause their marketing to focus on keeping their business afloat. Our responsiveness and level of service hasn't changed, even though we're all working remotely. In fact, we've found that clients are counting on us even more right now. This is an opportunity to demonstrate our commitment to being good partners to our clients and supporting them in any way we can. We've had to help several of our clients navigate crisis situations during this difficult time.
How are you going to ensure good employee performance and engagement under your new normal?
As a firm with employees on the Mainland, we've always felt it was important to communicate not just by email, but by phone and video conferencing, too. Every month, we conduct an all-agency meeting by video conference, and during the office closure we've increased the frequency to twice a month just to give us all an opportunity to see each other and find out what's new with the team. We've sent care packages to everyone at home to open on our video calls as a way to keep everyone engaged. We also hold virtual happy hours on Zoom to have fun and talk story with each other. We have a close-knit team and we've made a concerted effort to keep our office culture strong during this time.
Are there other important lessons your organization learned from this crisis?
This crisis has shown all of us that we need to be adaptable in the face of change — whether it's businesses pivoting to manufacture PPE and hand sanitizer or individuals learning to work from home while homeschooling their children. As a company, we've had to adapt to meet the various needs of our clients throughout this crisis. We've helped businesses break difficult news to their employees and worked with them to announce closures to their customers. We've helped them navigate taking public positions on racial justice and have worked with several to hold large-scale virtual employee town halls, webinars and panel discussions.
We are seeing an increase in communications right now (daily briefings from elected officials, more frequent check ins within the corporate setting, and even among family members) because these are uncertain times and uncharted waters. We do not know what the new normal will look like because it may look different every day. But, we do know that effective communication will be the foundation for any successful enterprise.