Interview: Howard Lee, President and CEO, UHA Health Insurance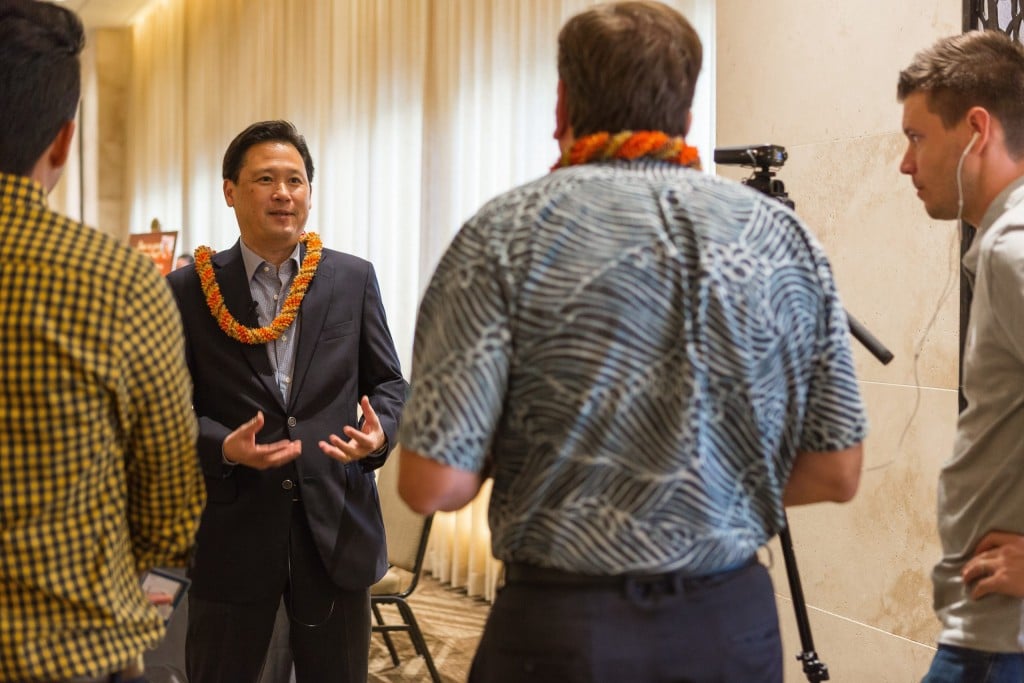 As Hawai'i's people return to offices, stores, restaurants and other shared locations, what do you think are the main health precautions we should focus on?
First and foremost, act with caring and aloha for others. Health rules are devised to protect the most vulnerable – like kūpuna or those with underlying conditions – in the community, as well as ourselves.
Keep up with preventive health care for yourself and your keiki. See your primary care physician regularly, have recommended vaccinations and continue with specialists like cardiologists who help manage chronic conditions.
Get a flu shot. Our rates of flu vaccination are below the national average, and it's critical for Hawai'i to raise those rates this year.
Anxiety and depression have skyrocketed all across the country. At UHA, we have long believed that good health makes each of us happier and even more productive – but take as much care of your mental health as your physical health.
Follow the current guidance of our public officials, who are making policy decisions based on information updated by local and national health organizations.
Wear a cloth face mask in public and maintain social distancing to keep at least a six-foot distance from all others who are not in your household "bubble."
Continue with good personal hygiene by washing hands often and using hand sanitizer.
Stay home when sick and try to limit interactions with others in your household to keep the infection from spreading.
What unintended consequences of the COVID-19 precautions should local residents guard against?
There are some who are neglecting regular medical check-ups because of COVID-19 concerns. For example, keiki vaccination rates are decreasing, as some parents have postponed well-child visits to the pediatrician. When vaccinations are delayed, that puts them at risk of preventable diseases and increases the chances of outbreaks of illness like measles.
Adults may not be visiting their primary care physicians for their physicals or getting their annual flu shots. At UHA Health, we believe it is absolutely critical to maintain our health with regular medical check-ups to monitor chronic conditions, screen for disease and vaccinate against preventable illnesses.
Staying at home more does not mean that we are condemned to a sedentary life! Unintentional weight gain can be avoided during this time.
Do not allow physical distancing to limit your connections to others. Most of us have an array of technology available to stay connected to family and friends.
We have emphasized physical and mental well-being at UHA for a long time as we believe that better health means a better life; even during these unprecedented, challenging times, we hope that everyone in Hawai'i will invest in their health to – as we like to say at UHA – Live Well, Be Well and Work Well.
From a public health perspective, how would you rate Hawai'i's response to COVID-19 compared with other states and other countries?
Hawai'i has responded well, based on the low number of cases across the state. While every death is tragic, we should take heart that, as a community, we made sacrifices that flattened the curve, making it that much easier and faster for us to re-open.
While this has been extremely painful, we look forward to having children return to school, the re-opening of our economy and the creation of a new normal for all of us in Hawai'i.
That said, we at UHA believe that it's critical that the community remain vigilant until a vaccine is developed – possibly not be until 2021.
In addition, medical researchers believe that a second uptick of COVID-19 infection is likely for us later this year. At UHA, we believe firmly that we as a community and each of us as individuals must all be prepared both with supplies (such as masks, personal protective equipment, etc.) and health policies.
We will continue to raise awareness and encourage everyone to get their flu vaccination this season. People with seasonal influenza will exhibit similar signs and symptoms as COVID-19 (fever and cough). Getting more people protected against influenza will reduce confusion and the burden on our local healthcare system along with protecting those who are most at risk for serious flu complications.
What have the last two months taught you and your organization about how to create a better health care future for Hawai'i?
We know Hawai'i does not have enough medical professionals. Given that, UHA continues to encourage the homegrown development of local physicians through our financial support of UH's John A. Burns School of Medicine.
Food security is a major concern for us as an isolated island state. We're supporting local food drives like one recently held by our Teamsters union group for their members. We at UHA believe that healthy diet is part of good health, so food issues like access, quality and nutrition, are concerns. Given that, we're looking into ways to support investment into local agriculture or food distribution
Specialists in infectious disease have feared a pandemic like this for years. The past few months have many lessons for us, including the need to prepare for the unimaginable. In response, we collaborated with others in Hawai'i's medical community like the Queen's Health Systems, Hawai'i Pacific Health and local physicians to promote telehealth.
Many of us at UHA are optimistic about Hawai'i's healthcare future. Together, the people of Hawai'i sacrificed and adapted over the past few months because we believed that doing so is for the common good of our entire community; I feel confident in our ability to build a healthier Hawai'i because of the strength of island residents' commitment to each other.