Interviews with Union Leaders: Gemma Weinstein, Union President, Unite Here Local 5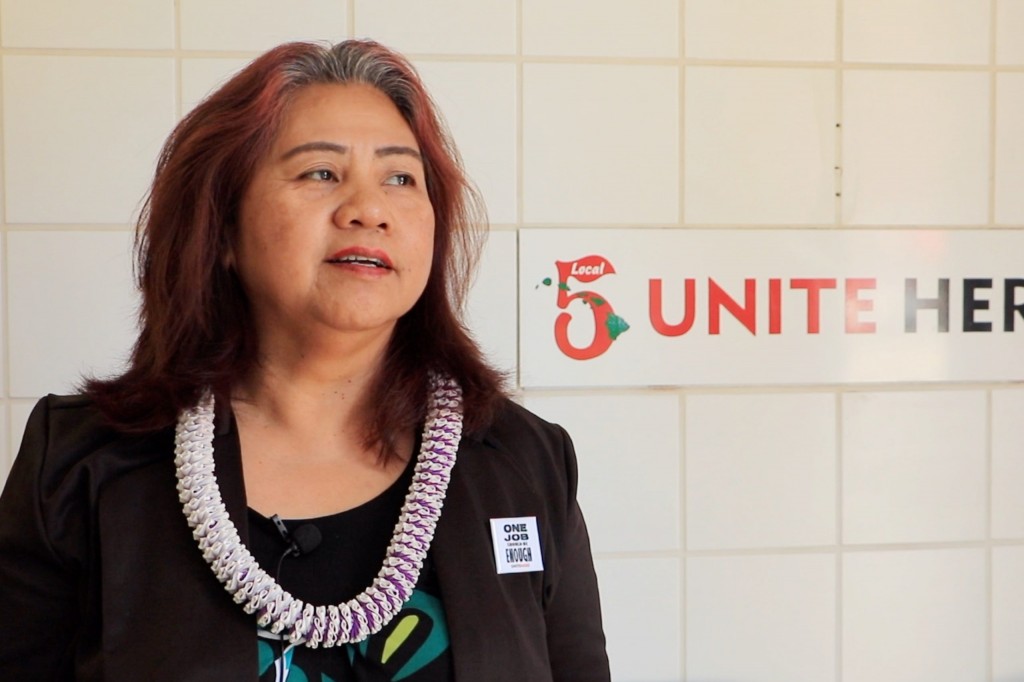 These are tough times for working people. Please tell us how your members have been affected?
COVID-19 brought the tourism industry in Hawai'i to a halt. Hotel occupancy took a plunge, forcing hotels to shut down. Today, about 80% of our 12,000 members across the state have temporarily lost their jobs. They are currently on unemployment – many of them have to wait for weeks to get their benefits. Our members who work at the food service sites at Honolulu, Līhu'e and Kahului airports are now without health care coverage due to their employer cutting the benefit. Many of workers have to rely on food distribution and other community resources to survive.
What is your organization doing to support them now?
Since the start of the pandemic, we ramped up our organizing to ensure our members stay connected to the union. We continue to dialog with our government leaders, tourism officials, local business leaders, other unions and nonprofit groups to develop stringent safety guidelines for the safe reopening of our tourism industry. 
Because of our efficient organizing system, a great majority of our membership is connected through text and email. This allowed us to mobilize thousands of our members via weekly video meetings and daily text updates. We send out valuable news related to COVID-19, as well as union and community resources. This includes information on food distribution, financial resources, childcare, kūpuna care, mental health, etc. To date, our trained staff and member leaders have helped thousands of our members with unemployment applications.
We are currently organizing our members to address hotel safety issues, and we are demanding through impact bargaining that our unionized employers agree to detailed operational safety measures in preparation for reopening hotels. For instance, we are advocating that no hotel or airport worker should be working without medical insurance coverage.  Nor should any worker be forced back to work without pandemic safety precautions in place.
What do you see as the most important steps that government, businesses and nonprofits should take to help everyone who is struggling in Hawai'i?
Our state government should focus on public and health safety. We need to have mass testing – both for potential visitors and Hawai'i workers to ensure that COVID-19 is contained. In the process of reopening our hospitality industry, the state should be involved in enforcing the health and safety protocols and holding our employers accountable in keeping our state COVID-free. Workers shouldn't have to choose between health and wealth. Workers can have these both only if government and employers will do the right thing. Test, Test, Test. 
In line with the public health and safety focus, workers should have guaranteed health care coverage. This responsibility falls to our state government and employers. No one should be worrying about medical coverage in a middle of a pandemic.
Finally, we need to get money in the hands of Hawai'i's working families. The funds that the state received from the federal government should be used to increase unemployment benefits, subsidize healthcare and boost the care-centered services that our communities have developed and successfully executed throughout the duration of this crisis.
Sometimes there are a few silver linings in a crisis? Have you found any?
The most visible, positive aspect of this crisis is our communities coming together. Our shared aloha to our 'āina and to our people created a system centered on taking care of one another. Our communities organized food drives, children and kūpuna care, and other important services catered to our most vulnerable members.
COVID-19 forced many of us to reflect on our economy. We realized the fragility of our overdependence on tourism. We opened conversations on diversifying our industries; creating opportunities that put workers – the economy's driving force – in the heart of these dialogues.
Our union is an organizing union. This pandemic proved that our workers are strong and resilient, even in midst of unprecedented challenges. Our members stepped up and embraced their leadership – reinforcing our connection and our collective strength as we fight for our jobs and for our families. This is a pivotal point for Hawai'i workers to reclaim our power, to reopen the industry on our terms.
The silver lining, if you ask me, is us actualizing our truth. The people of Hawai'i found ways to create and to do more when COVID-19 forced us to slow down, to be still.