Rookies Start Their First Restaurants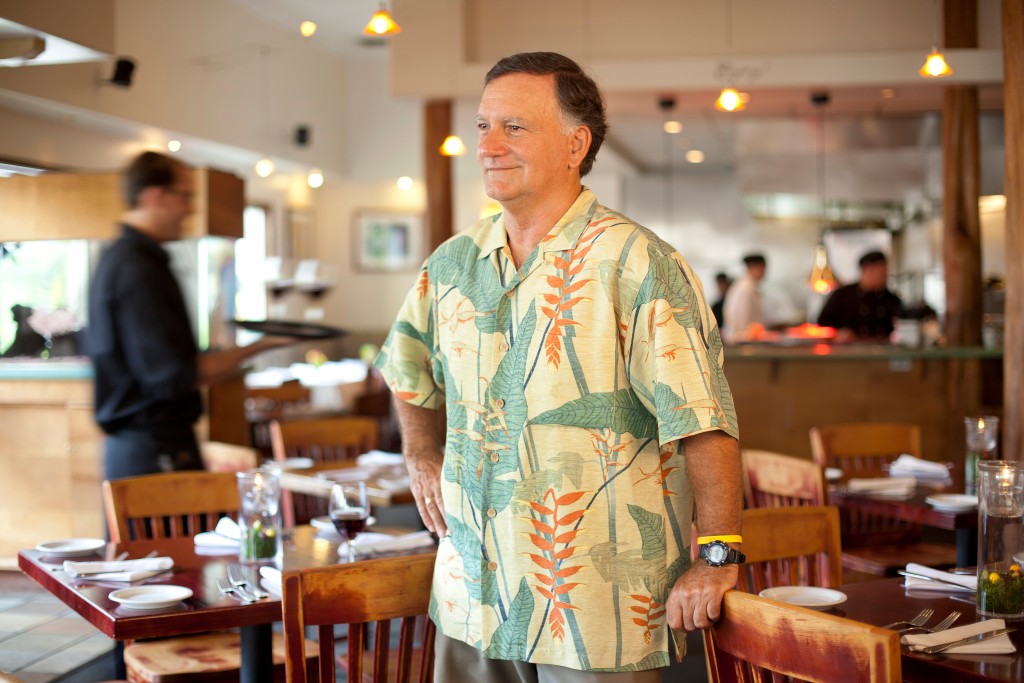 It was about two hours until dinner service, and there was a steady movement in, out and around The Grove, a family-owned restaurant that opened in Kailua in December.
As bartenders got organized and cooks prepped for dinner, there was someone in the restaurant who didn't seem to fit in. Dressed in shorts and Quiksilver slippers with a pair of sunglasses sitting on a windblown mess of hair, Bud Antonelis looks more like a retired marine biologist from Ventura, Calif., than a restaurant owner in Kailua.
And, yet, he's both.
For more than a decade, Antonelis, 64, was the chief of the Protected Species Division of the National Marine Fisheries Service in Honolulu, overseeing the monitoring of the state's endangered Hawaiian monk seal and green sea turtle populations. He retired in January and joined his son, Troy, and accomplished chef Fred DeAngelo, who's married to Troy's wife's sister, to open the restaurant on Aulike Street.
"I enjoy the company of people and feeding them a good meal," says Antonelis. "Maybe it's a Greek thing, but when you come to someone's house, you show your love and appreciation by feeding them."
What better way to share that love than with a 4,000-square-foot restaurant that seats 120 people between the indoor and outdoor dining areas?
"It just takes the right people," says DeAngelo, who also owns the award-winning Ola restaurant at the Turtle Bay Resort. "We are a family and we approach (the business) as such. We treat everyone – the employees, our customers – as family."
Like many newcomers to the business, Antonelis had long wanted to open a restaurant. But running a restaurant takes more than a passion for food.
"A lot of people who want to open a restaurant like the social aspect of it, but they don't realize there's a lot of back-office work you don't see as a customer that needs to get done in order to keep your costs in line," says Jerry Prendergast, lead consultant of California-based Prendergast & Associates, a restaurant consulting firm that has developed projects from New York City to Tokyo, and several in Honolulu.
"They think, 'This can't be hard. You make food, you bring it out, you put it on the table and somebody pays for it.' But they don't realize that, in some ways, a restaurant has more moving parts than almost any business you could get into."
The moving parts include tracking inventory, managing workers, meeting health-department and building codes, balancing books, developing menus and everything else tied to owning a small business. Most people –including Antonelis – have little experience in these facets of the business, but they can make or break a restaurant.
"You are taking raw products and producing an end product. You're setting up a delivery system to deliver that end product to consumers. And you're doing all the accounting and bookkeeping and cost controls necessary for multiple businesses all in one business – and sometimes all in one night," Prendergast says. "It's not easy."
From all walks of life
It's not a new trend for people with little or no experience in restaurants to buy, start or invest in them. Athletes, celebrities, politicians and other public figures have been doing it for decades.
Even those with extensive connections or sales and marketing savvy often enter the restaurant business, too, relying on their professional and networking expertise.
People from all business backgrounds – such as carpenters, baristas, lawyers, engineers and school teachers – follow their dreams of restaurant ownership, many quite successfully.
"(Restaurateurs) come from all walks of life, and I think that's a good thing for the restaurant industry," says Roger Morey, executive director of the Hawaii Restaurant Association, a nonprofit trade organization that represents more than 3,500 restaurant locations employing 82,000 people in Hawaii. "They bring different points of view and that's a good thing."
The association gets so many inquires about restaurants – how to start them, what's needed, what the state requires – that it's compiling all that information as a resource for newbies.
"Opening a restaurant is not like opening up any other business," Morey says. "There are so many different things involved. … It's a very difficult business. But it has been my experience that people who do start restaurants are highly motivated and sincere in what they're trying to do, and the result has been a wonderful thing."
Kristin Jackson thought she was being reasonable in her plans to open a restaurant.
The public relations and marketing veteran first wanted to operate a food truck because the startup costs and commitment were far less than opening a brick-and-mortar establishment. But plans fell through and, instead, she took over the lease of her friend's small restaurant in Puck's Alley near the University of Hawaii at Manoa.
After two months of renovating the 700-square-foot space – Jackson and her family did everything from install the church-pew seating to replacing the tile floor with wood – Kiss My Grits opened on Sept. 14.
The restaurant, which features a menu of authentic North Carolina staples such as buttermilk fried chicken and oyster po' boy sandwiches, was met with rave reviews. But the price of success was grueling 16-hour days. "In my life, I've moved in the middle of school years, my house burned down, and I went to (Marine Corps) boot camp and broke both my legs. And this has been the hardest," says the North Carolina native. "It was the combination of stress, physical labor and everything costing more than I thought. But we've been lucky. We've been busy and doing well."
She invested all her savings into the restaurant, and then devoted a lot of time creating an authentic menu by digging up family recipes and taking months to perfect one for biscuits.
Before the restaurant served its first plate of fried okra, Jackson created all its branding, logo and marketing materials. The website, social media accounts and identity were all ready by opening day.
Yet, she still runs her PR company on the side for needed, extra income.
"You really, really, really have to love it," Jackson says. "And even then, I don't know if I would do it again."
Everybody loves "Papu"
Dressed in an aloha shirt and a smile, Antonelis walks around the dining room, chatting with customers as if they're sitting in his living room. Sometimes, he tells stories about the 10 summers he spent on the Pribilof Islands in the Bering Sea studying northern fur seals, or his work on San Miguel Island off the California coast near Santa Barbara, where he lived with his family several months a year for 12 years as he studied the marine mammals called pinnipeds. Customers usually walk away having learned something unexpected, and that's part of The Grove's success.
"We call it the 'Papu Factor,' " says his son, Troy, using the Greek word for grandpa. "He makes sure they're happy and they feel at home."
"I get the best job," Antonelis chimes in with his big smile.
The way the owners of The Grove have made it work is by finding specific roles for everyone: The wives designed the restaurant's interior and outfitted the wait staff; Troy is responsible for the front of the house, a role he has played for 15 years in other restaurants; DeAngelo runs the kitchen; and Antonelis makes the customers want to come back.
"This really ties in to who we are and what we want to be as a community restaurant," Troy says. "It shows we're a family-run restaurant. He lends a personal touch to customers who come in and dine here."
Antonelis is also the resident handyman. In fact, there's a Papu to-do list in the back, with items like hanging pictures in the bathroom and changing light bulbs.
"The handyman thing is huge," DeAngelo says, laughing, "especially when you've got ongoing maintenance. But it's really his smile, his levity. He's everybody's friend. Everyone loves Papu."
The best part
Meeting customers has been the best part of running a restaurant for Carri Loui.
In 2009, she and her husband, Bryan, opened Kaimuki Grill in a 1,600-square-foot space formerly occupied by Momotaro Sushi. She was wholesaling craft goods; he owned a floral shop. The only experience Carri had in restaurants was working as a waitress for Wong's Okazu-ya for a year.
Her husband loves to cook at home and thought it would be fun to open a restaurant, but quickly found out that being a home cook and a professional chef are completely different. He ran the restaurant for six months before deciding it wasn't for him, leaving Loui to handle it on her own.
"I was apprehensive because, at the time, the economy was so bad and because of our age," says Loui, 53. "My girlfriend, who's worked in the restaurant business for many years, told me it's the hardest work you could ever imagine and worse. And it is. It's a lot of work … but the customers really make it worthwhile."
It's not uncommon for Loui to spend 16 hours at work, visiting wholesalers and helping with catering jobs. Even when the restaurant is closed on Mondays, she's there, doing paperwork and running errands. "And I still feel like I can't catch up," she says.
Starting a restaurant because you like to cook at home is a fatal mistake many newcomers make, says George Mavrothalassitis, chef and proprietor of the award-winning Chef Mavro.
"People think if you're a good cook at home, then it's the same thing at a restaurant," he says. "That's a big mistake."
Mavrothalassitis wasn't formally trained before he opened his first establishment, Restaurant La Presqu'ile, in Cassis, France. He was a mechanical engineer and manufactured helicopter parts. When he was 28, he had earned enough money to pursue his real passion.
"I told my father (also an engineer), 'You know, I think I'd like to be a chef,' " Mavro says. "I almost got killed. You never want to anger a Greek father."
Nonetheless, he bought the restaurant, hired the best chefs and made himself an apprentice in the kitchen for six years. During the winter, when restaurants in the area shut down, he went to learn from master chefs in various three-star Michelin restaurants.
"You realize very fast this is a professional job," he says. "And you're always suffering. You suffer when it's not busy. You suffer when it's busy but you have no staff. You suffer when the economy is bad. It's always something. But aside from that, I love every single minute."
Tips for newbies
There's a lot more to running a restaurant than just serving up tasty food. For restaurant rookies, here's some advice from those who have been there, done that and would do it again, but maybe differently:
• Do your homework: Don't jump into the business overnight. First, talk to other restaurant owners and chefs to find out what needs to be done and how to build a successful business. "It really comes down to personality and how much the person wants to learn before getting into it and how much they'll learn once they're doing it," says Jerry Prendergast, a California-based restaurant consultant.
• Know your strengths: No matter what industry you've worked in, there are skills that transfer to restaurant ownership. Kristin Jackson used her public relations skills to brand and market her restaurant, Kiss My Grits. Carri Loui credits her years in sales for helping her interact with both customers and workers at Kaimuki Grill.
• It's not just about food: Just because you love to cook – and maybe you're even good at it – doesn't mean you can run a successful restaurant. "(My husband) thought cooking at home was fun," Loui says. "But we found out restaurant cooking and home cooking are completely different." She eventually hired trained cooks to work in the kitchen, and that made all the difference.
• Don't do it for the money: The rate of return on restaurants isn't great, says Prendergast. "People don't realize a successful restaurant is going to show 15 percent to bottom line," he says. "That means if it sells $1,000 worth of food, you'll only make $150. And that's a successful restaurant. An average restaurant shows 8 to 9 percent. You have a tremendous amount of sales for a very small amount of profit."
• Hire experts: The best thing George Mavrothalassitis, chef and proprietor of the award-winning Chef Mavro, did when he opened his first restaurant with no prior experience was hire great chefs. Then he learned from them. "I learned the foundation, to have good technique," he says. "After that, you can do whatever you want." You can also hire restaurant consultants like Prendergast for help.
• Consider starting small: There are many options to getting into the restaurant industry. You can, like Bud Antonelis, partner with other restaurateurs. Or you can start a food truck or buy a franchise. "It's a good way of starting in the business," Mavrothalassitis says.
• It's a tough industry: You'll work long hours under enormous stress. It's not an easy business. Take celebrity chef Wolfgang Puck. He works every day in one of his more than 20 restaurants, says Prendergast. "He loves it," he says. "He will tell you to this day his favorite part of the business is getting on the line and running a station. And that's what he does."
• The whole package: Bottom line, you're doing more that just selling food; you are also selling the experience of eating it, which is crucial to getting people to come back. "It's food," Jackson says. "Its essence has the ability to make people really happy. You just have to think about the other half of that."