Sages Over 70: Amefil "Amy" Agbayani
Her decades of work have focused on supporting immigrants and underrepresented students at UH Mānoa.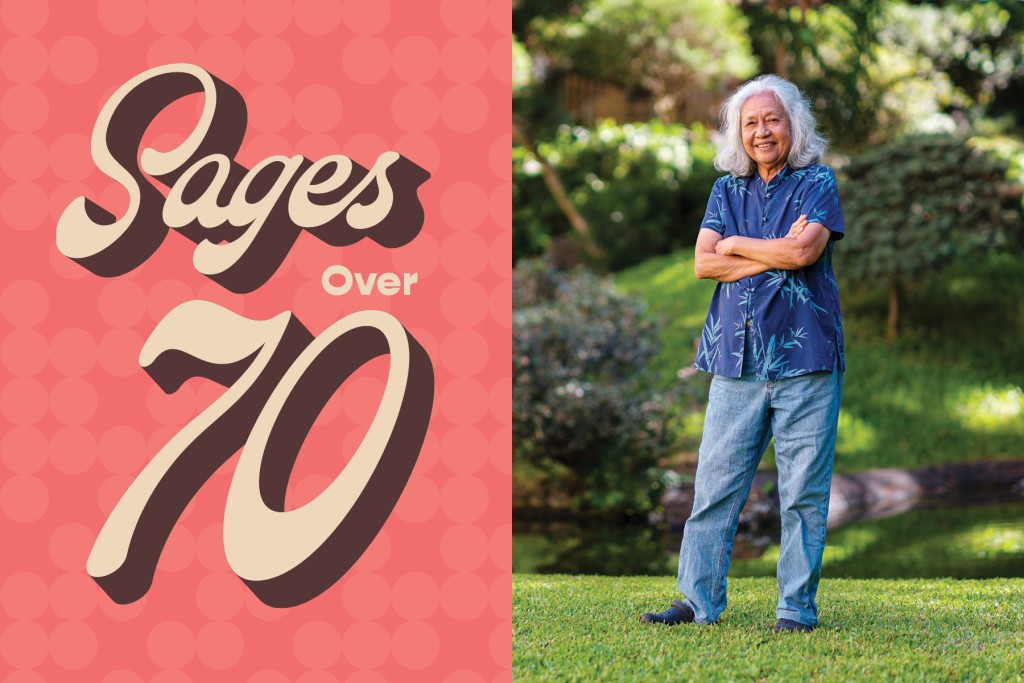 Amefil "Amy" Agbayani has dedicated her life to social justice and diversity since coming to Hawai'i in the 1960s. She helped establish UH Mānoa's office for SEED, or Student Equity, Excellence and Diversity; lobbied for immigrants' rights; and created more opportunities for students who were underrepresented on campus.
She retired from her day job in 2016, but UH's emeritus assistant vice chancellor for SEED is still active. "I'm actually busier now than before," jokes Agbayani, 79.
She currently serves on the Pamantasan Council, a group that addresses the representation and success of Filipinos on all UH campuses; is a board member of the Patsy T. Mink PAC, which supports pro-choice Democratic women for elected offices; is a board member of The Legal Clinic, which provides free legal services to immigrants; and serves on President Joe Biden's Advisory Commission on Asian Americans, Native Hawaiians and Pacific Islanders.
During the pandemic, she helped establish the Filipino Community Center's "Filcom Cares" – a volunteer project that supported access to Covid-19 information, vaccination and testing.
Journey in Hawai'i and Higher Education
Agbayani was born in the Philippines and received a degree in political science from the University of the Philippines. She came to Hawai'i in 1964 for an East-West Center fellowship and earned a doctorate in political science at UH Mānoa.
She intended to return to the Philippines to teach, but she saw something here that disturbed her: A lot of immigrant Filipino kids were being bullied and not doing well in Hawai'i's public schools, she says.
That led to the creation of Operation Manong in 1972, a program for UH students to tutor Filipinos. At the time, Agbayani says, "manong," an Ilokano term of respect for a person older than you, was being used in a derogatory way.
"If you called one of the kids manong, they would have a fight because they were putting down the elderly, low-income single men that were hanging out in 'A'ala Park," she says.
Operation Manong's founders wanted to restore the traditional meaning. So, the university students became "manong" and "manang" to the younger kids, or "adings."
The program was funded by church money until it received federal and state aid, and eventually expanded to help all immigrants and those living in underserved communities. The UH program, now called the Office of Multicultural Student Services, celebrates its 50th anniversary this year.
It falls under the SEED office, which includes the Kokua Program, a support center for students with disabilities; Nā Kūpuna, a senior visitor program that lets Hawai'i residents over 60 participate in regular credit classes at UH Mānoa for free; and the LGBTQ+ Center, a support zone for students regardless of their gender identity or sexual orientation.
Agbayani says it was named SEED because "you cannot have excellence without paying attention to diversity and equity," which she says is vital "when we're addressing issues of student access to higher education."
Upon her retirement six years ago, UH Mānoa established the Amefil "Amy" Agbayani Faculty Diversity Enhancement Award, which is given to a faculty member who shows an ongoing commitment to enhancing diversity.
Growing the Bench
Joey Manahan, who served a total of 13 years on Honolulu's City Council and in the state House of Representatives, met Agbayani over 20 years ago. He was an undergraduate who had just signed up to be a tutor for Operation Manong.
He says Agbayani inspired him to take interest in his Filipino heritage and identity, which gave him a better understanding of the community. That eventually led to his outreach work and service at the state Legislature and City Council.
Manahan is now the director of government relations and public involvement for the Honolulu Authority for Rapid Transportation.
Agbayani says her job has been to "grow the bench" – which she says means to train young people and give them leadership experience so they can get jobs that can make a difference.
She often tells her students that when they are working, "they should be very ambitious and at the same time, humble."
"Amy always encourages new students to participate, to get involved in the process, and to be engaged constantly," says Manahan.
Agbayani, who has decades of experience and success and is well known throughout the local Filipino community, likes to share the credit.
"Most people think I dropped from the sky and became important," she says. "I tell everyone, I used to be important, but before that, I was just a nobody just like them."
Her strategy: "Hire people who are 10 times brighter than me and I would also listen to them."