Should a Hawaii High School Graduate Go to a Local or Mainland College?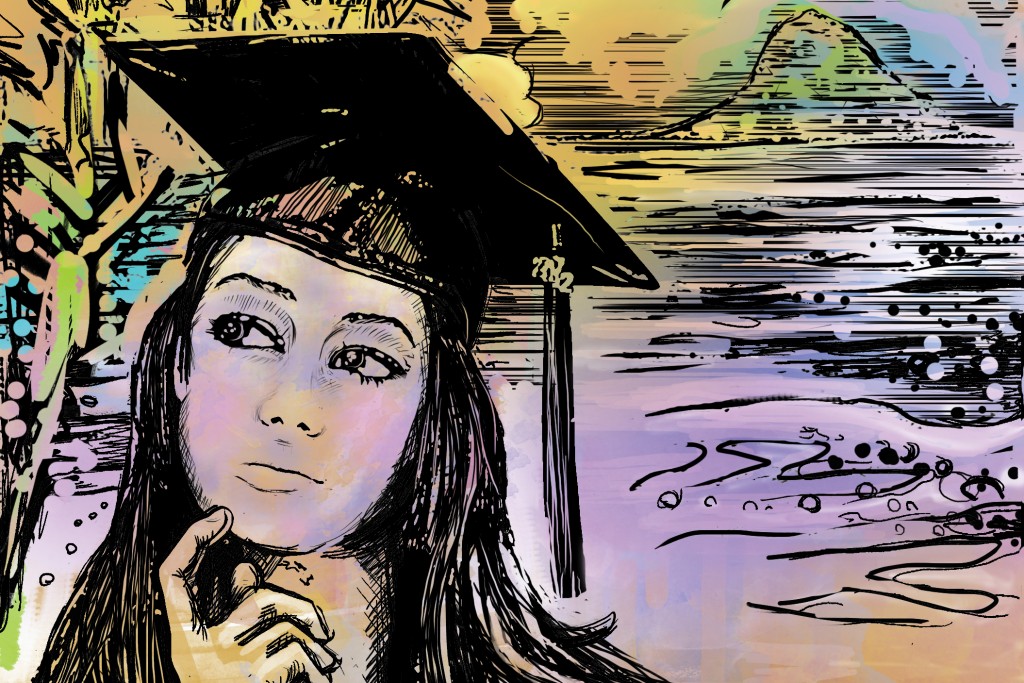 Eric Yeaman runs Hawaiian Telcom, Gene Awakuni leads UH-West Oahu, Karl Fujii is VP and CFO of Hawaiian Building Maintenance, John Komeiji is senior VP and general counsel at Hawaiian Telcom, andRobbie Alm is executive VP at Hawaiian Electric.
The common thread? They're all graduates of the University of Hawaii whose decision to stay home for college gave them networking and other advantages that helped lead to successful careers here.
These five wouldn't deny the benefits of studying on the mainland or abroad, but they also all agree on the advantages of a Hawaii university education.
"Making all the contacts and growing up together, the University of Hawaii has served me very well in my professional life here," says Komeiji. "I belonged to the student government, ASUH and, if I look around at some of the people I met – like Gene Awakuni and Brian Taniguchi, who is now a senator, and Guy Fujimura, a high-ranking official with the ILWU Local 142, and David Cole, formerly a huge AOL shareholder – I have called on all of them to talk about projects. Having the ability to pick up the phone and call people like these has helped me.
"That network, especially if you're staying in Hawaii, is invaluable."
The Hawaii Business Black Book indicates that the path these five men chose is the most common road to local success among people who are born in Hawaii and graduate from high school here. Nonetheless, the prestige and other lures of mainland colleges are powerful. After all, a degree from Princeton, Harvard, Yale or Stanford will always elicit keen interest from an employer in Hawaii – or anywhere else.
"There are some places where, if you show them a Harvard diploma, you may have an advantage with the first job," says HECO's Alm. "But the second (job) is based on how you perform. … (You can't) get a lifetime of security by virtue of the school you go to."
Alm says the "perennial debate" about where to attend college also has an extra dimension as many young people consider the choice of undergraduate and graduate school. Stay home for the first and go away for the second, or the reverse? While Alm studied political science at UH, then earned a JD at the University of Iowa, he says it was his time at UH that truly shaped his future.
"UH allows you to combine town and gown and get the best of both," he says. "The opportunity is there to volunteer, be part of projects, work on a not-for-profit, and to intersect in Hawaii's very people-based environment.
"I ended up doing two (full-time) internships during college, one working at the Legislature, and one at Dillingham Corp. working for William 'Doc' Stryker under the general supervision of Herb Cornuelle, who set it up. I talked to them on a regular basis and they threw me a bunch of issues to research important to Dillingham at the time. They treated me as if I was a full-time employee and had me write papers on a bunch of things. One of the people I interviewed was this young whipper-snapper just starting out at First Hawaiian Bank who they said was a guy I should meet, Walter Dods. Because of those internships I had the opportunity to be at the center of what was happening. That's one of the advantages of being at home."
Komeiji, too, has been on both sides of this on-going debate. After graduating from UH in 1975 with a Bachelor's degree in Education, he went to Hastings Law Schoolin San Francisco and returned to Hawaii to practice. He compares his law-school local network to that of attorneys who went toUH's William S. Richardson School of Law: "You end up practicing with 60 of the 70 graduates. When I came back from law school, I knew five people (from Hastings)."
Many issues influence a student's decision on where to attend college: while cost may be the biggest factor, others include the desire for new experiences vs. enjoying a familiar local culture; choosing the right degree or right academic program; and attending the institution where a parent, sibling or friend went to school. No one path is right for everyone, but many who chose to stay in Hawaii say they made the right decision.
"It absolutely does give you a jump start," says Fujii, a former UH Alumni Association president. "Throughout my career, starting with Coopers & Lybrand, I already knew the people in the industry by joining UH student clubs and interacting with the professionals. When I started to interview for jobs, it was a lot more comfortable. It was more of a talk-story thing because I already knew these people.
"Later on, when I was recruiting, and we had recruits come from the mainland, we didn't know a whole lot about them except what was on paper. But the UH kids we already knew. We could pick up good recruits prior to the formal interview."
Even for those who didn't grow up in Hawaii, but want to make it their home, attending a local college can create an edge. It's all about networking in the business world before you get a diploma. That's how Loryn Guiffre, an MBA grad from Hawaii Pacific University's class of 2011, made herself stand out as a potential hire, especially important because Hawaii is her adopted state and she does not have a local high-school network.
"I had watched people graduate and just completely struggle and not be able to find a job," says Guiffre, who is now a marketing and communications specialist at Maryknoll School. "They had straight A's, they were great students and active on campus. So the most important networking I did was outside of HPU.
"Just because you have an MBA doesn't mean you're going to get a job. Hawaii doesn't work like that. People have to know who you are."
Guiffre asked people to lunch and met them informally to get to know a wide number of contacts. She also volunteered with campus clubs, worked at a high-tech entrepreneurs conference and volunteered at Hawaii Business magazine events that brought her into contact with local movers and shakers.
"I actually met my former employer at one of those events," she says. "His company sounded interesting so I gave him my business card and he said, 'Shoot me your resume.' My networking with local people was the reason I got my job after graduation. … It was all about the relationships I had built. If I knew one person in that interviewer's network, then immediately I gained credibility and trust."
Building a local network is usually harder for those who don't attend a local college, but high school and other contacts can compensate for that disadvantage. So can attending a mainland school that has a strong local connection.
Constance Lau, president and CEO of Hawaiian Electric Industries Inc., went away for college and graduate school, but had deep community connections through her high school years at Punahou and her marriage to Russell Lau, whose family runs Finance Factors.
Also important, Lau says, were the connections she made with Hawaii graduates who went to Hastings Law School in San Francisco – a law school popular with Island students, especially before William S. Richardson School of Law was established at UH in 1973 – and came back home to practice. The Hastings network helped her land a Hawaii job soon after she and Russell moved home for family reasons.
"It was the volleyball connection," Lau jokes. "One of my Hastings classmates, Val Kunimoto, played volleyball with Jackie Erickson, who was one of the first graduates of Richardson Law School and was corporate counsel for HECO. Jackie had mentioned to Kunimoto she was looking for someone and Val said, 'Oh, I know this woman who just came back home from San Francisco. She was my classmate and might be interested in the job.' Val told me, 'You have to go for the interview with Jackie because she's my good friend, and if you don't it's going to make me look bad!' It's that classic Hawaii very relationship-driven thing. I went for the interview and got the job, starting as assistant corporate counsel."
That web of relationships has grown, as Lau has moved up in the company. She was invited to sit on corporate boards, chaired the UH Foundation and sat on many UH advisory committees. From her current perspective, UH connections, especially in professional schools like business and law, can be crucial.
"Frankly I don't see the Ivy League being that important in the sense that there aren't that many of us (Lau is a Yale graduate). It's much more popular to have been at UH. There are many more people you can know and network with, both from undergrad and all the different graduate schools. Later on in life, my high school Punahou network has become very important, for those of us who have come back to Hawaii and chosen to make it our home. Everybody says that's the difference in Hawaii. It goes down to the high-school level."
Robert Nobriga, CFO and executive VP of Hawaii National Bank, offers a similar perspective. Even though he graduated from the University of Notre Dame in Indiana, he went to summer school at both UH-Manoa and Maui Community College, and has an expansive network of friendships from his high school years at Kamehameha Schools.
However, he noticed a difference in the initial prospects between himself, a Notre Dame grad, and his wife, a UH grad, with similar training.
"We were both in accounting and both started off in public accounting," says Nobriga. "Coming out of college, she got more offers than I did and I think (UH) had something to do with it. She had a 4.0, but it seemed it definitely didn't hurt that she went to UH. All the recruiters for the Big Five companies, except for one, were UH graduates.
"Some of it is the people you know," continues Nobriga. "Some is what you know. And some are the inherent qualities in the person, things like leadership skills and integrity. In Hawaii, integrity, leadership skills and people skills are very important. And probably understanding the culture, the local style of doing things, is part of it. You can't just come from New York and expect people to embrace you and conduct business the way you conduct business on the East Coast."
Nobriga says he had to refashion his own highly competitive nature and "dial it back a little" to work effectively in Hawaii. "On the mainland it's no nonsense, get the job done, but here it's connecting with people, talking story at first. The most prominent personality type in Hawaii is an amiable person."
He knows how well UH connections have worked for Fujii, one of his best friends. "Being around him I realized how invaluable his network is. Having that UH background has really served him well in business."
Hawaiian Telcom CEO Yeaman says his four years as an accounting major at UH let him hobnob with the business community long before he graduated. Clubs, honor societies and business get-togethers offered the perfect introduction for a young man with skill and ambition.
"I wanted to work for an international accounting firm based in Hawaii and I met the recruiters of all these firms in my sophomore year of college," Yeaman remembers. "I had my job offer at the end of my junior year. For me, UH was an advantage. It has a good business school and it provides a strong link to the employers in town, which is an advantage. On the mainland, I don't know how that would work. More of a burden would shift to the student rather than just having the employers in front of you and being able to take advantage of that."
Once he graduated and joined the firm of Arthur Anderson, Yeaman was able to test his skills on mainland projects. His work on projects in California built his confidence and the sense that he could compete anywhere.
"I do think the broad experience is helpful in a career," he says, "but I also believe you get out of anything what you invest into it. Would I have the same career path I had if I went somewhere else? I'll never know. But I do know UH served me well."
V. Vance Roley, dean of the Shidler College of Business at UH, says the college places about 450 undergraduates and 75 MBA candidates in internships every year and many lead to full-time jobs after graduation.
"It is very common for our accounting students to have summer internships in junior year and often have a job offer in hand when they start senior year."
Roley says Hawaii is sprinkled with Shidler undergraduates who went on to become managing partners in their firms. But other young people have gone to the mainland for undergraduate studies and come home for graduate school.
"This is a good path and it's recognized as a good path," says Roley. "It's a fact that our MBA programs like master of accounting, resource management, financial engineering, tend to attract students who want to live in Hawaii. Some are making that decision on the mainland, thinking 'How do I best get back into the Hawaii business scene?' "
Awakuni, chancellor at UH-West Oahu, discovered that a UH network can remain strong even if you are gone a long time. He came back to Hawaii in 2005 after a 30-year career as a top administrator at prestigious mainland universities such as Stanford, Columbia and Cal-Poly. Before he left in the 1980s, he'd been president of the UH student body and had worked at the state Capitol. He'd also attended Kaimuki High School with U.S. Rep. Mazie Hirono, and they had been involved in the Young Democrats organization.
On his return, Hirono threw a welcome home party and invited 25 or 30 lawyers, judges and other community leaders. In addition, Awakuni called up old friends like Guy Fujimura, John Komeiji and Brian Taniguchi. "I had lunch with those guys and talked story and they said 'I'll introduce you to so-and-so.' … It accelerated my re-entry into the local community. This is a face-to-face culture. You've got to get in front of someone and talk story and get your issues out and understood and supported. I think my UH connections that span over three decades really helped me."
Last year, when Komeiji was named a UH outstanding alumni, he gave a passionate speech about how the perception of Hawaii's state university has changed over the years, including in the eyes of its graduates.
"We were always being told that all the smart people left the Islands," he said, echoing a decades-old perception. "I always believed that the majority of us at UH couldn't get accepted to a mainland college. Unfortunately, in my mind that translated to the notion that UH, as a school, as an institution of higher learning, was second rate."
But Komeiji said his perception changed as he succeeded in law, and saw other UH graduates rising in their fields and playing key roles in shaping Hawaii.
"I recognized that UH was a school which produced leaders, scholars and is the most important institution in shaping and developing Hawaii's future.
"We all need to adopt a truer view of the UH," he maintains, "and challenge those who would have us believe otherwise."
Disclosure: Bev Creamer is also a part-time communications adviser at the UH's William S. Richardson School of Law.
Hawaii Public School Graduates 2010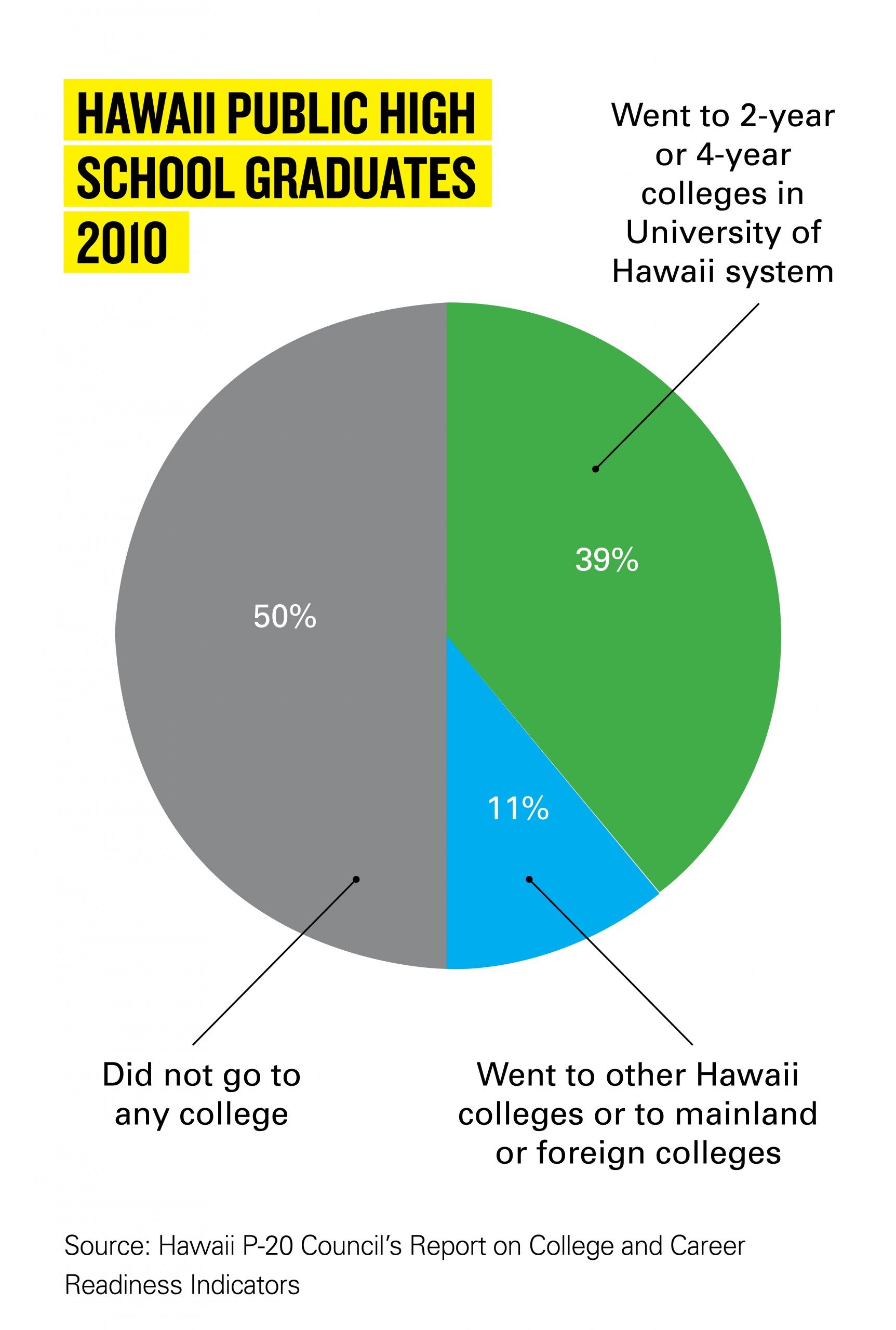 Private High School Graduates
The Hawaii Association of Independent Schools doesn't maintain a unified database of where private school graduates go to college, but individual schools often do.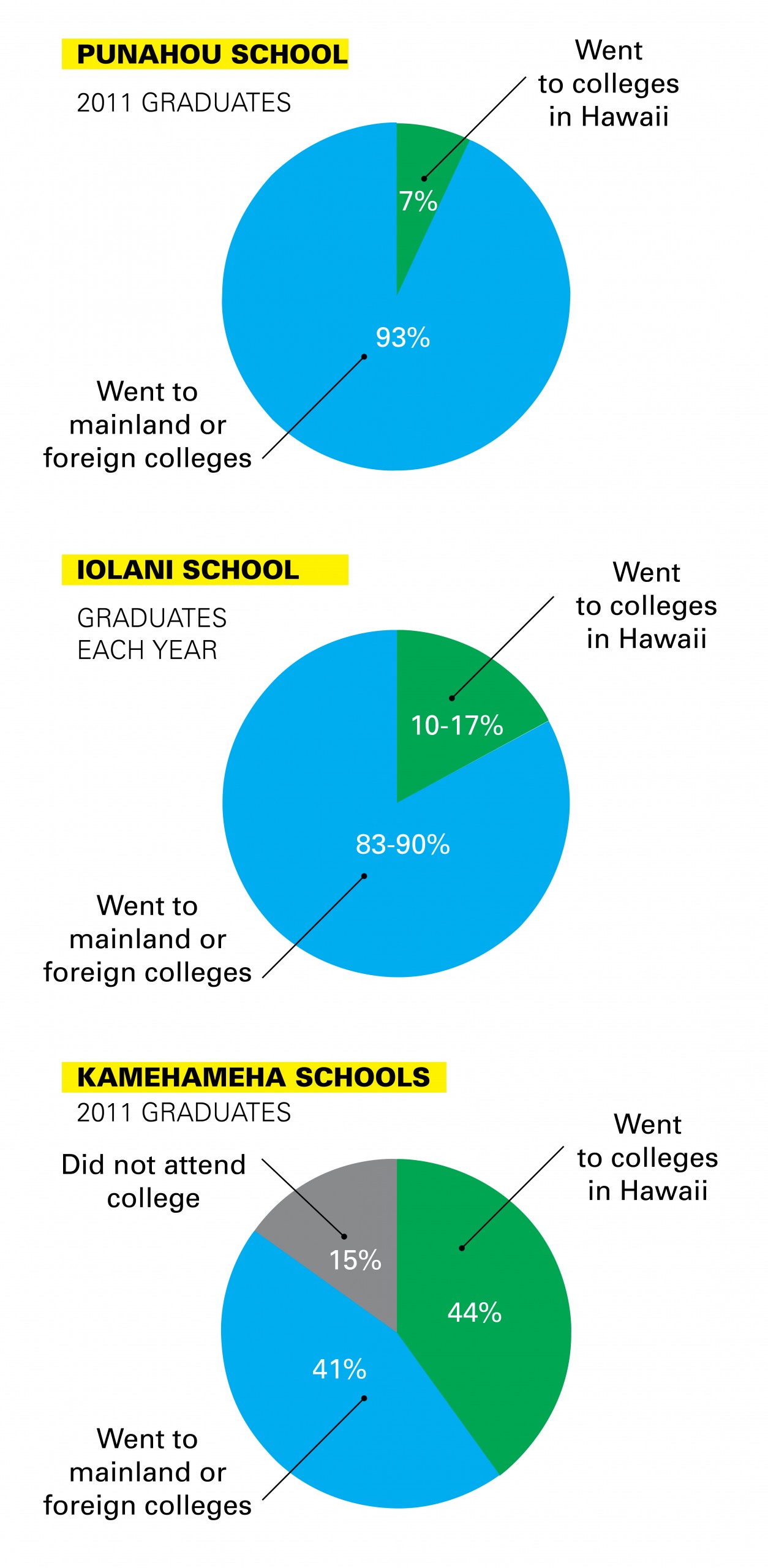 Where Hawaii's Top Executives Go to College
The annual Hawaii Business Black Book is the most comprehensive who's who of business and nonprofit leaders in Hawaii. In the December 2011 Black Book, 293 of the executives listed the high schools and colleges they attended.
Here is the breakdown:
Of the 151 executives who graduated from Hawaii high schools (public and private):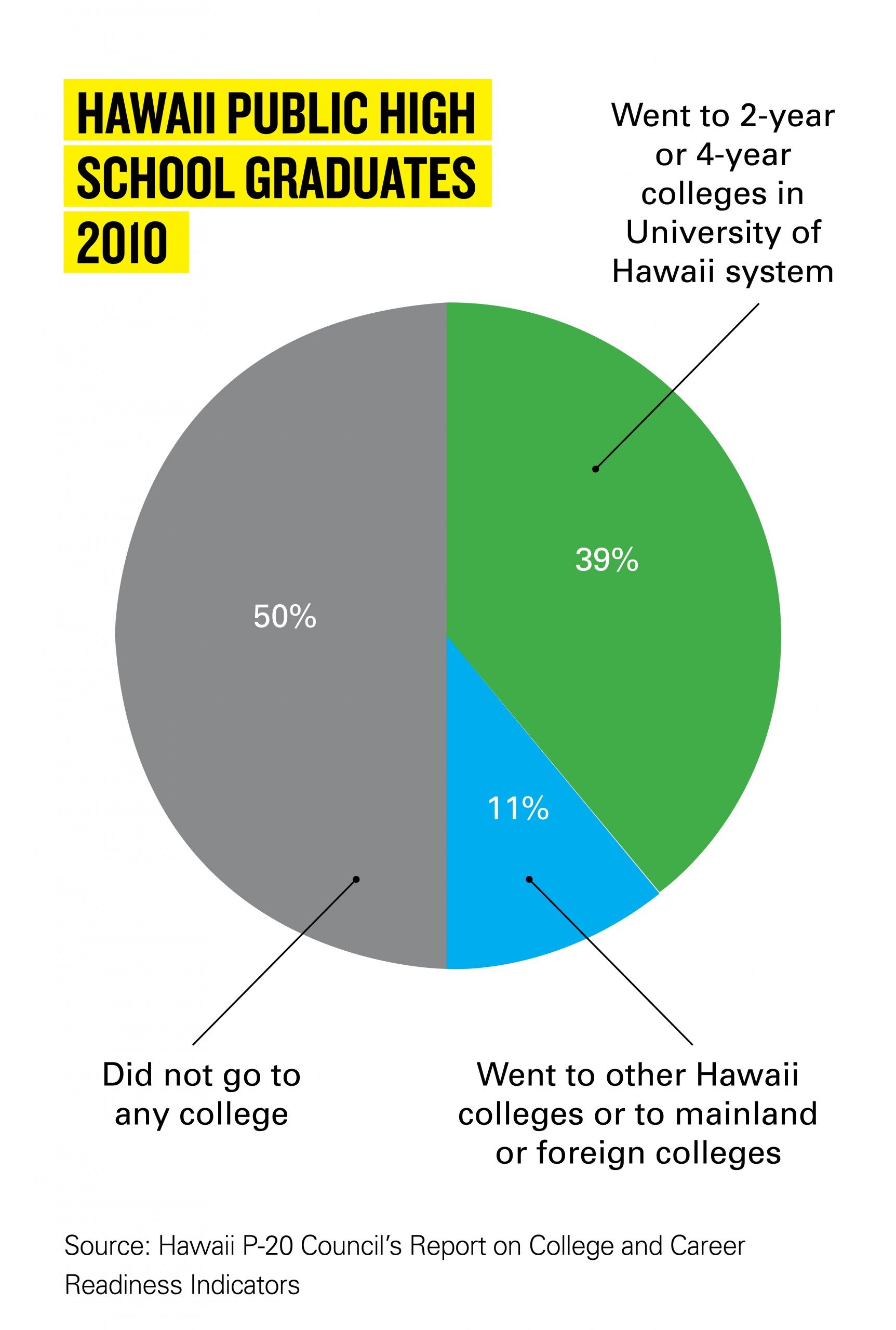 Business Students at 3 Hawaii Universities
(listed by size)
Hawaii Pacific University
3,085 All business students
(part-time and full-time students combine for 2,099 full-time equivalents)
University of Hawaii
944 Full-time and part-time undergraduates
64 Full-time MBA students
88 Part-time MBA students
144 Executive MBA students
21 Full-time and part-time AA student
198 Full-time and part-time undergraduates
81 Full-time MBA students
59 Part-time MBA students
Sources: Each university