Simplified Payroll and Grant Costing for Hawaii Nonprofits [Sponsored]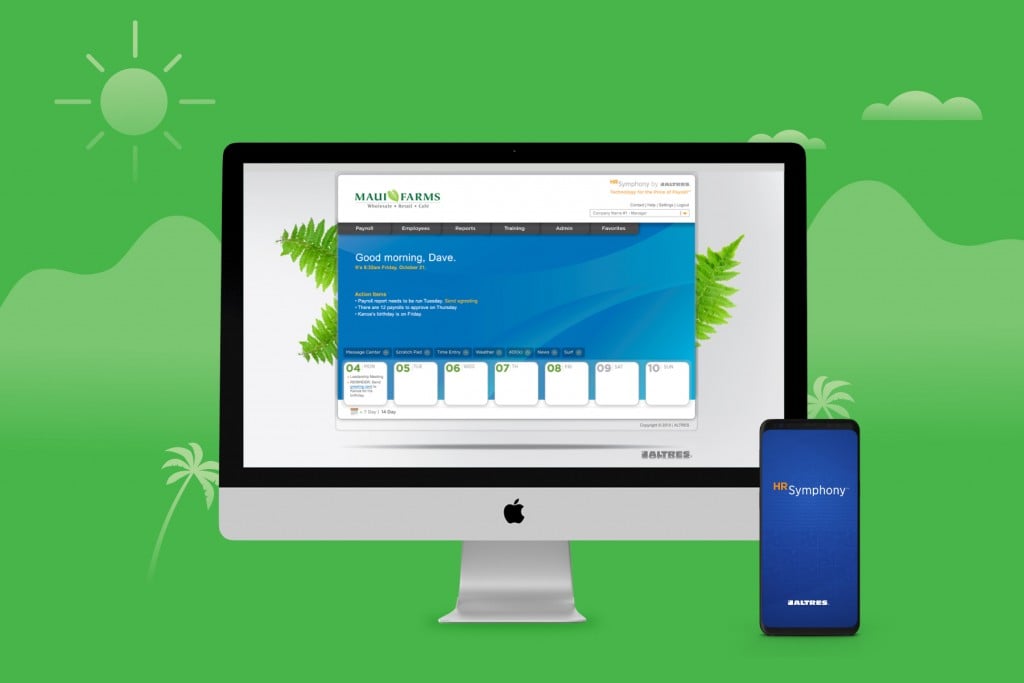 Paper timesheets, manual payroll calculations, reports compiled by hand—some nonprofits in Hawaii still do things the old fashioned way.
Others have hired mainland payroll service providers with mainland customer support hours and a lack of familiarity with Hawaii law. Either way, for many organizations, payroll is a costly area of inefficiency.
To meet the complex challenges of payroll administration, simplicityHR by ALTRES developed HR Symphony®, a cloud-based human resources ecosystem. HR Symphony includes modules useful for local nonprofit organizations to manage mission-critical tasks like administrative cost calculations, grant costing and fiscal reporting. By harnessing the power of technology, HR Symphony helps organizations save time, strengthen accountability, maintain compliance, and even facilitate future grant proposals.
Common nonprofit payroll challenges
No matter how many projects your organization manages, or what mix of individual salaries, indirect costs, and other pay differentials and allowances your organization relies on, payroll automation can save time and money.  With automated payroll processes in place, your staff are freed from time-consuming administrative work to better focus on the mission at hand.
These are some of the most common payroll-related issues among Hawaii nonprofits and how payroll automation can help.
Manual entry is time-consuming.
Automation makes it easy to input, review and process payroll information, all online via web or mobile.
Tracking individual hours on various projects is difficult.
Employee time can be tracked by project and location, making accurate grant costing a snap.
Indirect costs are a mystery.
Administrative hours can be tracked based on employee salaries and the number of projects or grants being administered.
The support team doesn't know Hawaii.
A local automation solution will incorporate meaningful updates that ensure compliance with Hawaii legislation, during times that are convenient for Hawaii businesses.
Generating needed reports is a hassle.
Whether for your board or a future grant proposal, automation makes your numbers easily available in a variety of customizable reports.
Save time and ensure accuracy with HR Symphony
Depending on how things are done in your organization, grant costing (known in some industries as labor allocation) can become quite complicated. Tracking time and attendance and calculating hours spent on different grants from various funding sources is a huge challenge for nonprofit payroll administrators. Yet it is an essential process to maintain compliance in areas including the Fair Labor Standards Act (FLSA), overtime calculations, and financial summaries and audits.
The grant costing features within HR Symphony® offer numerous advantages.
Segment out administrative costs
HR Symphony® calculates administrative costs based on the number of projects and salaries of people in the organization including the financial controller, office manager, and executive director. Organizations can manually assign a percentage of salary to each project or set up salary allocation across the board for the entire organization.
Track employee time worked per project
Whether an individual is tracked through direct labor costing (precise hours worked) or percentage allocation (portion of time spent on a project) employees can make notes on their timesheet or adjustments to the percentages to better reflect how their time was spent. This allows for accurate, consistent tracking across a wide range of projects, grants, and employees.
Generate reports that show all levels of costing
See all your costs at a glance with the numbers at your fingertips in HR Symphony®. Customized reporting tools allow you to easily provide board members, granting organizations, donors, and other stakeholders an accurate financial picture. Payroll Cost Allocation Reports can pull from time worked or time paid and show all levels of costing based on allocated cost centers, whether direct, indirect, or provisional.
As a Hawaii-built and supported product, HR Symphony has your back, from initial setup and customization to ongoing improvements and support. Find out more about how HR Symphony can help with your nonprofit payroll.