SmallBiz Energy Makeover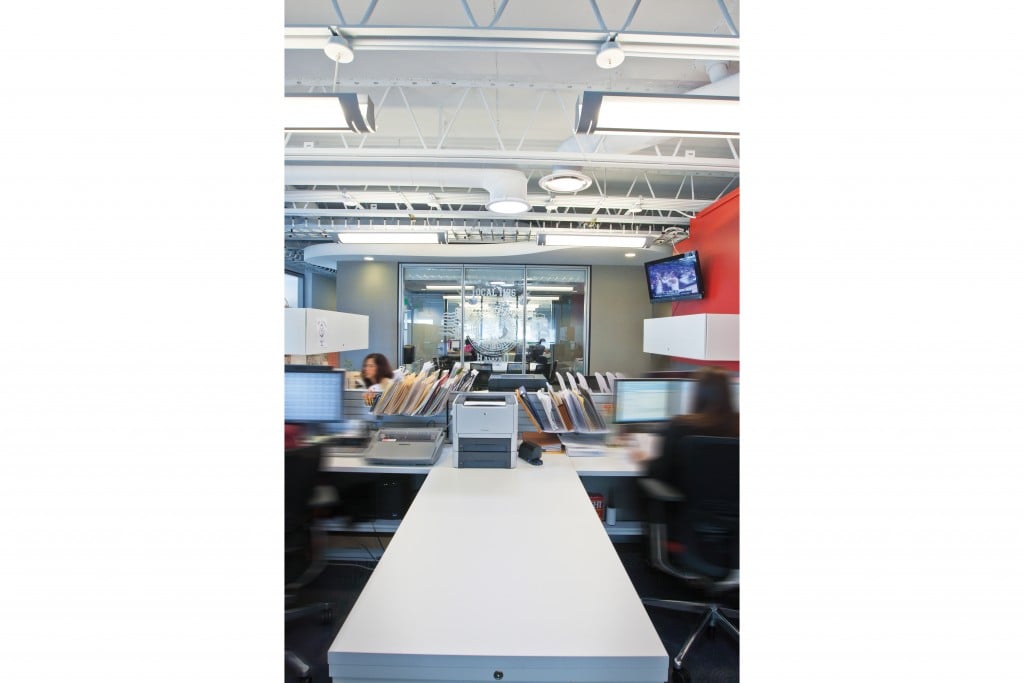 Transforming your workplace from an electricity-sucking abyss to an energy-efficient operation offers tons of benefits – it's good for the planet, could increase employee productivity and morale, and may even win you a few new customers.
But beyond the "soft" gains, experts say, going green can also produce a solid ROI, which means more money for you to invest back into the business. Simple projects such as installing motion sensors to turn off lights, fixing leaks and changing out old-fashioned light bulbs won't break your bank and the benefits will be immediate.
The Blue Planet Foundation and Hawaii Business magazine teamed up to find local companies or nonprofits that recently completed or were in the process of making energy-efficiency and clean-energy upgrades. The following pages describe how Tori Richard and the International Brotherhood of Electrical Workers, Local 1186 – the winners of the first-ever BPF/HB Energy Makeover – retrofitted their workspaces with sustainable elements to reduce their energy costs, maximize operations and decrease their carbon footprint.
When the IBEW, Local 1186, began planning for the renovation of its administrative offices two years ago at the height of the recession, it seemed like the worst time to start a big construction project. Damien Kim, the local's business manager and financial secretary, saw it differently.
"We wanted to do our small part to create jobs and we knew we could get things done at a lower price because everybody was competing for work," Kim says.
For the IBEW, alternative energy means more than just doing the right thing for the planet; it also means work for its members.
"We wanted to show that IBEW is at the forefront of training its members on the renewable energy side and this was the perfect opportunity," Kim says, adding that union members handled all electrical installations for the project. "We want to embrace the changes that are happening and be a part of making our state more energy efficient and energy independent."
The vision was to give the office space an industrial feel and to ensure it had a clean, open ambience. Bill Brizee, president and CEO of Architects Hawaii, which was hired to handle the interior design, says glass doors and walls were installed throughout so that employees can see straight through to the other end of the office from every angle.
Interior designer Beatrice Bergamaschi from Architects Hawaii says the IBEW project is a great example of how companies can completely renovate a space without spending too much money. She says if businesses can't afford to do a major overhaul, they can take small components from the IBEW job and apply them to their workspaces. The project is expected to achieve LEED (Leadership in Energy and Environmental Design) Gold certification.
"A lot of people don't know this, but you can achieve LEED certification or at least be up to those high standards with little or no extra cost," Brizee says. The backend paperwork and application process is time consuming and can be costly, but the design and materials don't have to be expensive, he adds.
Kim says the IBEW office hadn't been renovated since 1976, so the upgrades were overdue. "We had duct tape holding down the carpet and the color scheme was brown so it made everything look dark and old. I think all of our employees and members are happy with the changes we've made."
Simple adjustments such as changing paint color and allowing more natural light and ventilation in can make a huge impact on the feel of the work area. Designers installed big bay windows to utilize natural light and also give the cozy space the illusion that it's bigger. The design team also opted for sliding doors, which are ideal for smaller spaces and give the area a more open feel, Brizee says.
The IBEW project won the Award of Merit in the 2010 Design Awards for the American Institute of Architects, Hawaii Chapter. Although Kim says it's too soon to say exactly how much in savings the upgrades have generated, "I can tell you it's been significant, so we're really pleased about that," he says.
Experts say one of the most important things to remember when devising an energy-efficiency plan is to reduce before you produce. Don't even think about PV before you've taken steps to decrease your energy usage.
Kim says he was thrilled with the IBEW's renovation and attributes the success of the project to three things: "We had a clear goal, we put together a great team of experts, and we made sure all the numbers worked before we started," he says.
But Bergamaschi says sustainability is not just about measuring every dollar and seeing how you can save here and there if you make specific changes. "It's about doing what's right for the planet and your employees. The saving-money part is the added bonus."
International Brotherhood of Electrical Workers, Local 1186
Visionary: Damien Kim, business manager and financial secretary
Employees: 13 administrators and 3,500 members
Contractor: J. Kadowaki Inc.
Area renovated: 3,500 square feet
Total cost: $900,000 construction cost
Duration: 1.5 years; three months actual construction
Project Scope:
•Install daylight and occupancy sensors for each room and area.
•Apply lightly tinted glazing on windows to reduce heat from outside.
•Install water-efficient fixtures in restrooms and pantry.
•Use renewable/recycled and low-emitting VOC (volatile organic compound) materials whenever possible; purchase sustainably manufactured furniture.
•Replace old lighting with high-efficiency T5 and LED bulbs.
•Install high-efficiency HVAC (heating, ventilating and air conditioning) system.
•Install five solar tubes throughout the office to bring in natural light from outside.
•Purchase Energy-Star equipment and appliances.
•Put thermostat controls in every office.
In 2008, Tori Richard became the first manufacturer and retailer in Hawaii to install a commercial photovoltaic system, which covers 94 percent of the company's power needs. Before the upgrades, the company's electricity bill ran about $10,000 a month. Today, it's about $3,000, which Feldman says goes mostly toward infrastructure and demand charges from Hawaiian Electric Co. to run its PV system.
"Everything we've done has an ROI," Feldman says. "To be honest, the big push for us to get more energy efficient had to do with financials. We wanted to reduce our operating costs, which we have significantly. Each phase of the project had at least a three-year ROI."
Tori Richard's lighting retrofit from fluorescent lights to new energy-efficient ballasts and fixtures reduced its electrical load by about 30 percent. Feldman says the most successful aspect of the project in terms of magnitude was the installation of PV, because it significantly offset the company's electrical costs.
"The state and federal governments offer great tax incentives to install solar, so businesses should take advantage of those offers now, before they sunset, because they won't last forever," Feldman says.
As far as ease of installation and lack of complexity: "Changing out our old lighting has made a huge difference for us," he says. "I really can't understand why we didn't do it sooner."
Karpowicz says Tori Richard's energy upgrades were accomplished in phases over three years. Before it installed the PV system in the final phase of the project, the company had reduced energy usage by about 50 percent.
"PV should always be the last phase, because you want to minimize the size of the PV system and you do that by lowering your usage," Karpowicz says.
"If you don't do all these other smaller things first, you're over-sizing your PV system," Feldman adds. "That's a common mistake and I think there are somewhat unscrupulous PV people in town that try to sell you systems without telling you the correct process."
One of the biggest challenges the company faced was figuring out a financing plan for the PV system.
"We ultimately decided to lease the system from Bank of Hawaii, so the credits are built into the capitalized lease cost," Feldman says. That way, Bank of Hawaii gets the credits, but Tori Richard will own the system at the end of the lease, which prevented the company from having to shell out $1.1 million for the system on the front end and then wait for the tax credits to kick in.
Feldman says the best advice he can offer to other small businesses looking to make energy upgrades is to think in terms of small, incremental improvements so the tasks are manageable. He says doing research, hiring a good consultant, going through a competitive bid process and always looking at ROI are also important.
"Don't undergo changes that require a major shift in your corporate culture, otherwise they won't last and won't be effective," Feldman cautions. "As much as possible, we chose projects that required the least amount of human effort to save energy.
Tori Richard
Visionaries: Josh Feldman, president and CEO, and Robert Karpowicz, 
operations manager
Employees: 120
PV Contractor: Sunetric
Area renovated: 22,000 square feet
Total cost: $1.5 million
Duration: Three years, in phases

Project Scope:
•Replace all interior lighting and ballasts to more energy-efficient ones.
•Install new energy-efficient air-conditioning system; desynchronize AC load so all compressors are not running at the same time to reduce demand peaks.
•Install motion sensors for lighting in bathrooms and offices.
•Apply window coating with reflective tint to reduce heat entering the building.
•Apply polymer roof coating that is reflective and insulating.
•Change computer policies to reduce overnight and weekend consumption.
•Install 700-panel PV system.
Energy-saving solutions:
If you can't afford a major renovation, start with small projects that will reduce your energy use and get you on the right track. Duane Ashimine, executive vice president and chief technology officer for Energy Industries, suggests every business follow these five steps to become more energy efficient.
• Encourage energy-saving: Turn off unneeded lights and fix leaky pipes.
• Get an energy audit: Develop a energy roadmap that will improve your bottom line, reduce consumption and lower your carbon-based impact on the environment. Upgrades can be made down the road or in phases, but at least you'll have a plan.
• Consider a lighting retrofit: This is often noninvasive and simple to install, and provides a high ROI.
• Target heating, ventilation and 
air-conditioning systems: They can consume up to 60 percent of your power, so it's worthwhile to invest in efficiency.
• Look at your water or steam heating: The right solar system can save you lots of money.
Ashimine says Energy Industries helped First Hawaiian Bank and Hawaiian Telcom cut monthly power use at their head offices by 130,000-kilowatt hours – a monthly savings of $30,000 to $40,000 per company. "Under our hybrid-energy programs, we generally reduce monthly consumption by 20 to 30 percent through energy efficiency and another 15 to 20 percent through PV energy," he says.
See It on TV
Watch Blue Planet Foundation's one-hour Energy Makeover 
special on:
• Tues., Oct. 12 at 7:00 p.m. 
on KGMB
• Thurs., Oct. 21 at 6:30 p.m. 
on KHNL.