Spaces & Places 2019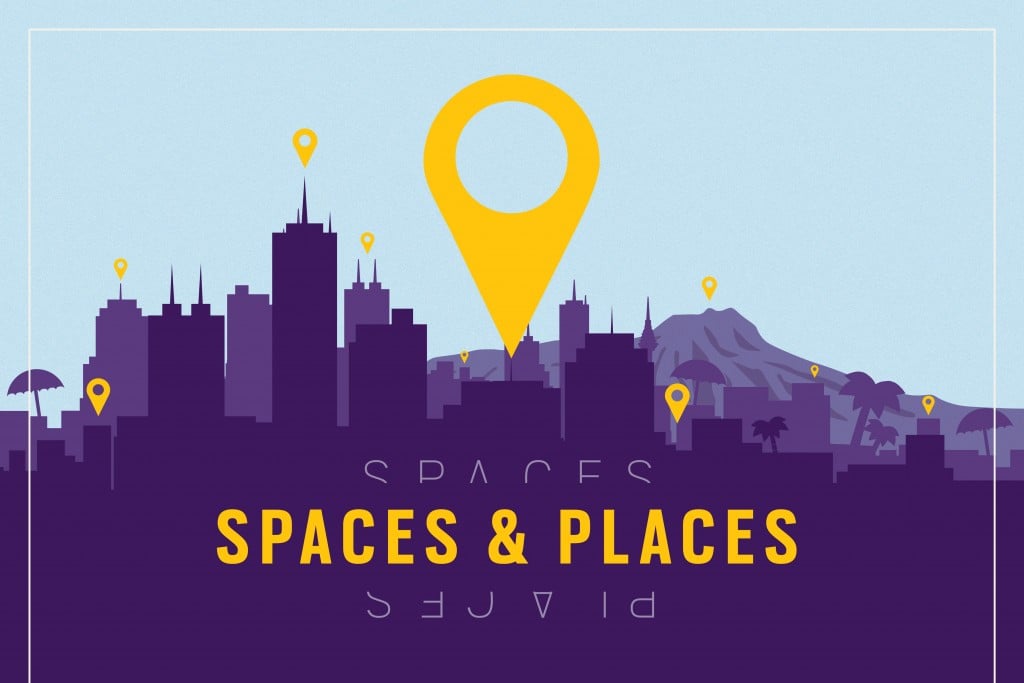 As an ideal meetings destination, Hawaii has everything to welcome guests and hosts inspiring gatherings.
MEETING IN PARADISE
Hawaii's near-perfect weather averages out at 77-degrees Fahrenheit year-round. And its world-class lodging, beautiful setting, and warm hospitality make it an ideal location for business meetings, from large-scale conventions to conferences, off-sites, team building events and strategic planning. Whether you're hosting a trade show, offering professional development seminars, or hosting a series of sales meetings, the array of venue options is sure to both delight and deliver.
The Hilton Hawaiian Village offers a spectrum of options for a successful event, with 150,000 square feet of beautiful indoor and outdoor meeting space, including three full conference centers. The 22-acre resort boasts Waikiki's largest oceanfront private lawn for special gatherings and features two grand ballrooms, one of which can accommodate up to 2,600 people. With 90 shops and services on the premises – not to mention the spectacular Friday night fireworks show – attendees need not look far for fun between meetings or in the evenings.
━━
DECK
It's your big day, and the perfect balmy sunny skies are transitioning to a gorgeous golden afternoon glow. To accent this occasion, the iconic Diamond Head looms as a majestic backdrop to the 1,500-square foot Leahi Lanai. The view is so stunning, it warrants a gasp—and photo opt by in-coming guests to your event.
You are at ease as you look over the finishing touches for the birthday party, or perhaps a corporate event; the talented on-site team worked with you every step of the way to get to this day. There are no to-do lists that run in the back of your mind since every detail—from the floral arrangements to desserts—has been worked out. The ballroom is sure to make a lasting impact with floor-to-ceiling glass windows, state-of-the-art AV equipment. Your reception party will have a menu fit for royalty with world-class catering options by Deck.—whether it's for 250 guests or 25. You've worked out whether you wanted buffet featuring a full seafood bounty or an elegant sit-down banquet.
As you survey the impressive layout in the airy venue your smile widened—you can't wait for what comes next: a party for the ages in the Leahi Room.
Book your wedding, birthday party, corporate event, or any special occasion at Leahi Room and Lanai and let our team take care of you. Contact us at events@deckwaikiki.com.
━━
HILTON HAWAIIAN VILLAGE:


GREAT EVENTS HAPPEN AT GREAT LOCATIONS
Hilton Hawaiian Village is the perfect location for your next event in Waikiki.
The resort boasts over 150,000 square feet of indoor and outdoor meeting space, including three independent conference centers: Mid-Pacific Conference Center, Tapa Conference Center and the Kalia Executive Conference Center. It has an audio-visual company onsite to meet all presentation needs. The very popular Rainbow Suite and Patio on the ground floor of the Rainbow Tower is one of Hilton Hawaiian Village's most popular venues. It overlooks the Duke Kahanamoku Lagoon, and its three rooms open up into one large space.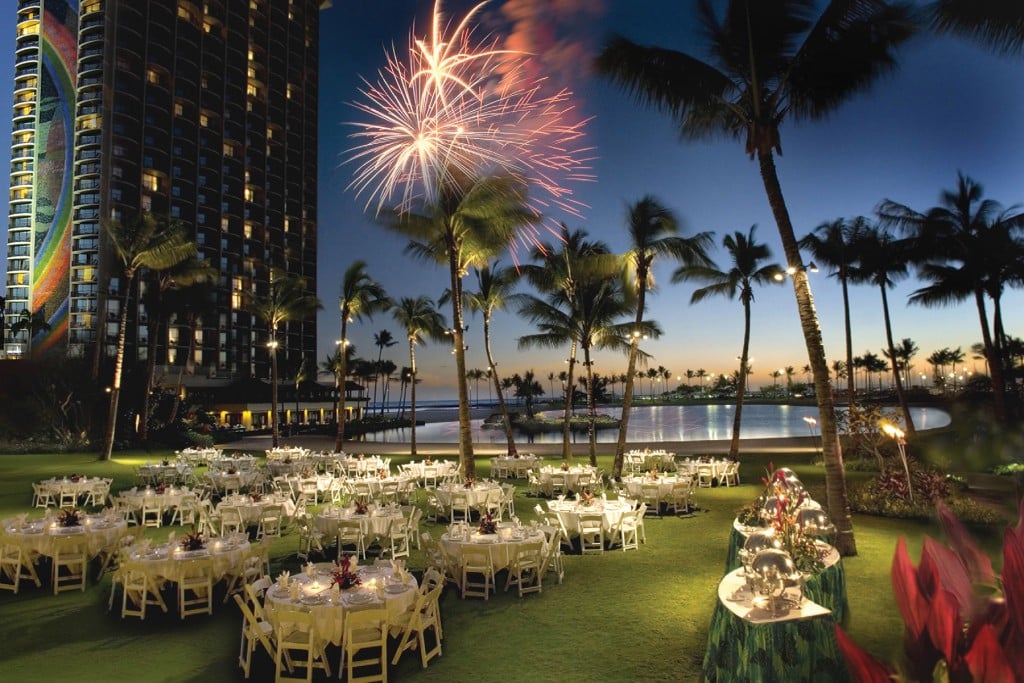 Use our Friday night fireworks to enhance your event in our Rainbow Suite or ask our catering and events team about adding fireworks to your Great Lawn event. Our team has orchestrated events of all sizes, from very large meetings to small intimate events. We even produce our own, very popular local events and have the expertise to help you create successful fundraisers, concerts, banquets and trade shows. Our banquet chefs can create any menu you desire from a delicious outdoor BBQ to a five-star plated dinner.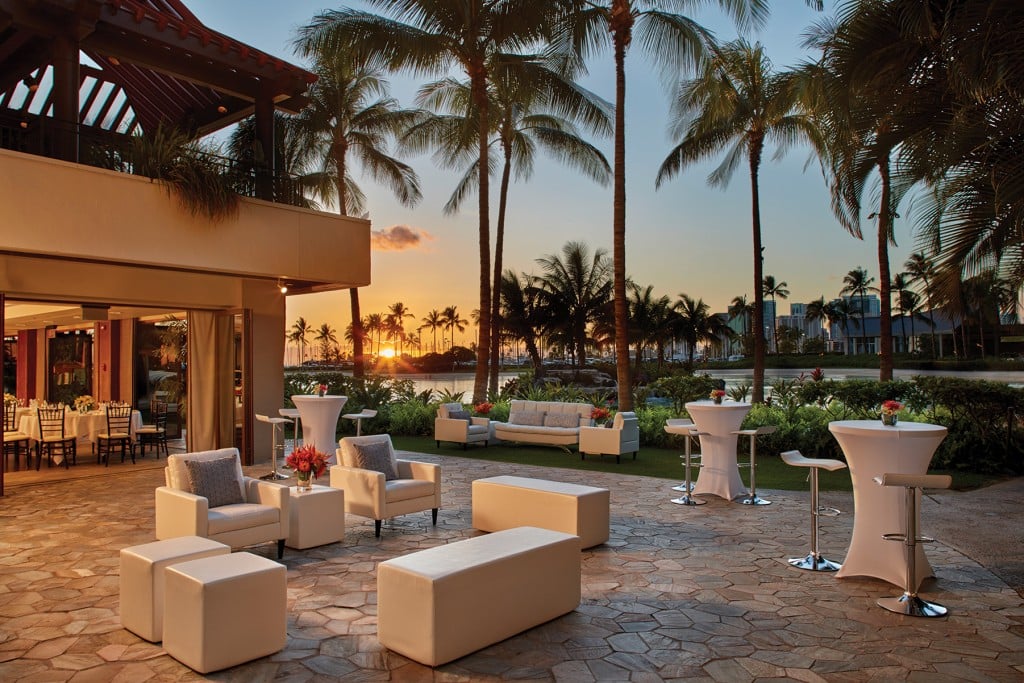 The Secret to Success
Successful event planners surround themselves with experts and take advantage of exceptional facilities.
Hilton Hawaiian Village has five things that set it apart:
The largest private oceanfront lawn in Waikiki
Three independent conference centers.
Oceanfront Rainbow Suite and Patio fronting the Duke Kahanamoku Lagoon.
Friday night fireworks.
Experienced Event Services and Banquets team.
Hilton Hawaiian Village Catering and Events Team
(808) 949-4321 ext 35
www.HiltonHawaiianVillage.com
hnlhv-catering@hilton.com
━━
At the gateway to Waikiki, the Ala Moana Hotel opened in 1970, and it is directly connected to the world-class mall of the same name. Its ballroom and breakout rooms host 3-5 groups daily all year long. Combining stellar service and quality with modern AV and WiFi capabilities, the hotel has been a Kamaaina favorite meeting space for over 40 years. The hotel is proud to host and sponsor an annual 70s Nightclub Reunion, an annual Christmas Show, a special Admin Day Luncheon and a special Mother's Day Event. The Ala Moana Hotel hosts over 2500 events/yearly across all industries including local businesses, fraternal organizations, citywide conferences and conventions.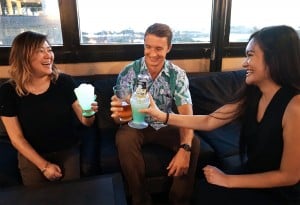 Since opening in 2001 at Ward Village, Dave & Buster's is at the heart of an area being transformed by innovative retail and residential developments. Its newly renovated event space can host a wide array of events, including team-building gatherings and spectacular watch parties on its 120-inch HD screen, ideal for a product reveal. Dave & Buster's offers hands-on event planning assistance to accommodate groups from 10 to 1,500. Hosting 2000 events a year, it is a popular venue for local, tech, collegiate, corporate, real estate, church, and other industries.
━━
PAGODA HOTEL
For over 60 years we've been a favorite place for kamaaina to gather for meetings and special occasions. And throughout these years it's been our honor having generations of families returning again and again to trust us with planning their event.
From garden weddings, baby's first birthdays, graduations, yakudoshis, retirements, meetings and celebrations of life, it's been our pleasure in sharing landmark moments and making each one as memorable as the last. Our banquet and kitchen staff take pride in maintaining the warm Pagoda Aloha and favorite tastes that islanders have come to appreciate and enjoy.
So when it's time for a meeting, reunion or any other occasion, please call us for more information. We always look forward to making new friends and hearing from old ones again.
The Pagoda Floating Restaurant & Catering
Call us at 948-8370
1525 Rycroft Street
www.pagodahawaii.com
━━
DAVE & BUSTER'S
Honolulu is home to Hawaii's only Dave & Buster's location, and those acquainted with the arcade know that it's a favored venue. With newly renovated event spaces, including a new Sunset Lanai, it's the perfect area for happy hour, birthdays or team building events. Dave & Buster's has games galore and a full-service bar and restaurant, functioning as much as a pau hana spot as it does a fun and convenient location for meetings and events.
"Our location in Honolulu is consistently a top performer within our company," says Kendra Murray, senior corporate sales manager. "We offer a great environment with the right balance of work and play."
Get in touch with Kendra at Dave & Buster's to plan your next event today: (808) 589-5006.
━━
If you're looking for a truly unique setting, Honolulu's Pagoda Floating restaurant delivers a 360-degree view of its Japanese koi pond and tranquil waterfall. The Pagoda's Local Flavors menu and buffet showcases the culinary history of Hawaii's past and present. Its large function space can be divided comfortably into smaller rooms to suit a private reception of 75 or a conference of 400. Each space is fully carpeted and air-conditioned, with AV equipment and high-speed Internet available upon request.
At the fully remodeled Queen Kapiolani Hotel, which reopened in October of 2018, the Leahi Room and Lanai includes a 275-guest ballroom and 1500 square-foot lanai where the view of Diamond Head is unparalleled. Whether you're looking to host a company retreat, professional development, sales meeting or conference, the hotel provides newly appointed guest rooms for your attendees. Its location on the edge of Waikiki comes with the added bonus of free parking in the Honolulu Zoo's lot after 6 p.m. For smaller gatherings such as a department off-site, the hotel's DECK. restaurant and lobby-level Knots Coffee Roasters offer intimate and original settings for events for up to 25-30. The hotel strives to use sustainable products and farm-to-table ingredients and delivers a contemporary look and feel in a reinvigorated venue that has long been a local favorite.
━━
EMBASSY SUITES BY

HILTON
Owned by Kapolei Hotel Partners, LLC and managed by Management Western States Lodging, LLC, the hotel welcomes guests to enjoy its two-room suites where travelers can spread out, enjoy a free, cooked-to order breakfast each morning, free Wi-Fi, and complimentary drinks and snacks for each night.
"Our Oahu Kapolei property embodies the modern and inviting atmosphere Embassy Suites by Hilton is known for and more," said Alan Roberts, global head, Embassy Suites by Hilton.
"We are excited for guests to experience all that Embassy Suites by Hilton Oahu Kapolei has to offer," said Reid Yoshida, general manager, Embassy Suites by Hilton Oahu Kapolei. "Business travelers can enjoy our value-added amenities, spacious meeting rooms and the opportunity to turn their business trips into leisure getaways by taking advantage of our local excursion partners."
━━
ALA MOANA

HOTEL
The Ala Moana Hotel by Mantra is conveniently located just steps away from world class shopping and dining, a long stretch of white sand beach, and the Hawaii Convention Center. First class amenities include nearly 15,000 square feet of meeting space, state of the art audio/visual equipment, and catering services that can accommodate menus for all occasions, business or social. Our hotel's experienced Catering and Convention Services team will personally attend to every detail with creative recommendations and flawless execution. The hotel can accommodate 12 to 750 attendees for a meeting or 30 to 500 in banquet seating.
━━
━━
Pomaikai Ballrooms at Dole Cannery, Iwilei, boasts a generous selection of eleven function rooms with options to accommodate parties that range in size from 25-1,000 attendees. The venue's website features an event planning calculator that lists pricing for catering, AV services, and even parking, so you can stick to your budget. Whether you're planning a breakfast breakout session, a lunch seminar, a dinner reception, or another type of event, Executive Chef Freddie Billena creates island fresh menus with flexible options for both plated and buffet style service.
Looking west, The Embassy Suites by Hilton Oahu Kapolei is optimally situated just footsteps from private businesses and state and federal offices. The hotel's 1,200 square feet of meeting space can accommodate up to 80 attendees. After the event, West Oahu has a plethora of culinary, golfing, hiking and ocean options and activities to choose from.
━━
POMAIKAI BALLROOMS
Less than a mile from Bishop Street, Pomaikai Ballrooms is the premier venue for your event because you get the Waikiki caliber of service without the high Waikiki prices. Plus, there is ample free parking! Hawaii Business knows the value of Pomaikai Ballrooms, which is why they hold their C-Suite Speaker series here. There is over 25,000 square feet of impressive event space to fit your event's needs: lobby, lounge, hospitality suite and two main ballrooms that can divide into several smaller rooms. Pomaikai Ballrooms can accommodate intimate groups of 25 to large parties of 1,000 people. Chefs Freddie Billena and Edward Ayau bring decades of culinary expertise and local style flavors to the full-service Pacific Rim inspired menu. The catering team at Pomaikai Ballrooms can customize any menu to fit the style of your event, or take advantage of the popular wedding, graduation party or meetings packages.
Take a digital tour of the space or book your event at www.pomaikaiballrooms.com
━━
FRIENDLY NEIGHBOR ISLES
Hawaii's hookipa (hospitality) sets the bar. With more than 50,000 combined overnight rooms throughout Hawaii's six major islands – Oahu, Maui, Hawaii Island, Kauai, Lanai, and Molokai – the islands are the ideal destination to meet, exchange ideas and recharge.
O'ahu offers the largest number of venues, with more than 30,000 overnight rooms in Waikiki, and the state-of-the art 1.1 million square-foot Hawaii Convention Center. But the Neighbor Islands offer variety and direct flights to and from many mainland cities and even international points.
Maui has more than 19,000 overnight rooms across a range of hotels that, in addition to providing conference and event facilities, often feature luxury spas, world-class cuisine and expansive swimming pools. And Molokai is only a 90-minute ferry ride away.
With 7,227 rooms, the Big Island delivers not only a variety of hotel conference and event spaces, but also lava tubes and ancient petroglyphs at Hawaii Volcanoes National Park and tranquility in Kailua-Kona.
Kauai has 4,000 overnight units and offers some of the most amazing natural beauty in the world, including Waimea Canyon and the Napali Coast's cliffs, which rise 3,000 feet above the sea. From Lihue to all points north and south, the island provides full-service conference facilities on a more intimate scale.
Lanai measures only 141 square miles but it offers world-class golf and luxurious tennis courts. The Four Seasons Lanai offers a 900-seat theater for events.
Cheat Sheet for Event Planners
Successful event planning requires a high level of detail and organization. We reached out to seasoned organizers for tips on how to assemble a successful, seamless, and memorable event. Here are some suggestions:
Visit the locale to ensure it meets your theme and vision. Go on a day when another event is happening to see how everything flows.
Take pictures of venue spaces to share with other stakeholders and get consensus.
Verify if there will be a technician and/or other staff available on the day of the event.
Ensure the venue has the equipment and technology that presenters will need. Be specific. If you need WiFi, make sure it's available.
Sample the menu. Consider including a vegetarian option and labeling for food allergies as a courtesy to attendees.
Make certain to clearly communicate parking locations and any cost to attendees.