Spaces & Places 2020
Hawai'i's idyllic setting allows for meeting spaces at some of the most picturesque locations.
Depending on the type of event you're hosting, whether that be a gala, trade show, seminar, convention or company meeting, the array of spaces to choose from are many. The difficult part is deciding, but the end result will be amazing.
If you're looking for an event that ends with a bang, it's hard to top fireworks. The Hilton Hawaiian Village has 150,000 square feet of indoor and outdoor meeting spaces, and the Great Lawn is perhaps the most spectacular. Waikīkī's largest private oceanfront grass lawn sits in front of a lagoon near the Rainbow Tower, and has a clear view of the Friday night fireworks show.
Inside, there are three modern conference centers, including the Kālia Executive, which is perfect for exclusive meetings; the Tapa Conference Center, an elegant ballroom with atmospheric lighting; and the Mid-Pacific with its capability to host large-scale ballrooms that can accommodate up to 2,600 guests.
Outside of Waikīkī, the Ala Moana Hotel, which opened in 1970, hosts three to five groups daily all year long.
"As a local kama'āina hotel, we do a lot of local meetings and social events," says Michael Dolan, director of sales and marketing for Ala Moana Hotel. "From a business perspective, we have a number of long-term clients that come here regularly."
Businesses utilizing the hotel have included medical professionals, food suppliers, retail outlets and other local businesses, big and small, for all their meeting needs when they don't have space big enough at their offices.
"I think one of the reasons why is the fact that we're not in Waikīkī," says Dolan. "I think the ability to be able to have a hotel ballroom or larger meeting space without having to go into the traffic of Waikīkī is a big draw for a lot of businesses that are located in downtown Honolulu."
First birthday parties, weddings, Christmas parties, galas and dinners are common events organized at the hotel, as are local nonprofit and charitable organization meetings. And a whole catering team is available to handle all food and beverage at a reasonable cost, with offerings consisting of local favorites, carving stations and Starbucks coffee.
"Because of its size, the Hibiscus Ballroom is probably the most popular, especially for the social events, but we do have a variety of different room sizes," says Dolan.
The 6,888-square-feet Hibiscus Ballroom has a banquet capacity of 500 and reception capacity of 1,000, but there are smaller rooms, such as the 2,993-square-foot Garden Lānai room and 1,176-square-foot 'Ilima room, available for theatre, classroom, reception, banquets, exhibits or conferences.
With many companies lacking conference rooms and audiovisual equipment, meeting and conference spaces in Honolulu are filling that void.
Located in Kaka'ako, Entrepreneurs Sandbox is a state-owned tech-focused hub and operated by BoxJelly, Hawai'i's first co-working space. Opened in October 2019, Sandbox's two-story 13,500-square-foot facility includes co-working and collaboration spaces, meeting rooms, a classroom and a makerspace. High-speed wireless internet, teleconferencing capabilities, private "phone booths," smart monitors and digital draw boards are some of its advanced features.
"Everything is mobile," says Daniel Pham, director of operations at BoxJelly and Sandbox. "Everything rolls on wheels. We have projectors, and then we have our event space which is kind of the crown jewel of all our resources."
The indoor event space has a 150 occupancy with a flexible layout. Renters have access to a 30-foot screen and projector, a soundboard with PA system and wireless microphones. There's also a catering option.
Everyone from retail companies to nonprofit groups, freelancers, startups and entrepreneurs have already utilized the space and its high-tech amenities.
"Knowing Hawai'i's technology at Sandbox is very important factor to our mission," says Takaho Iwasaki of Maji Connnection, who's been renting a second floor office at Sandbox and has plans to hold a large-scale event there.
Being connected with the community through the businesses using the spaces, Sandbox also acts as a bridge between members.
"Anytime there's the opportunity of seeing someone who needs help with something, then we try to connect them as best we can," says Pham. "We also have been setting up a lot of events and programs catered towards getting conversation and just getting people to know each other."
Bonding with coworkers and staff is just as important as building a network, and there aren't many spaces in Hawai'i that give you team building games and activities—after brainstorming next year's strategies—like Dave and Buster's has to offer.
The holidays may be over, but memories of a company party or nonprofit fundraiser at Dave & Buster's lasts much longer. Its meeting spaces include 150-capacity Pa'ina Hale, the 200-capacity Sunset Lānai on the rooftop, and the 80-capacity Sports Lounge. Hosting 2,000 events a year for the local tech, collegiate and corporate industries, amenities of Dave & Buster's also includes access to a full-service bar and restaurant. The benefit of this venue is that it seamlessly transitions from day to night, should your group meeting last into pau hana.
Cheat Sheet for Event Planners
Successful event planning requires a high level of detail and organization. We reached out to seasoned organizers for tips on how to assemble a successful, seamless, and memorable event. Here are some suggestions:
✓ Visit the locale to ensure it meets your theme and vision. Go on a day when another event is happening to see how everything flows.

✓ Take pictures of venue spaces to share with other stakeholders and get consensus.
✓ Verify if there will be a technician and/or other staff available on the day of the event.
✓ Ensure the venue has the equipment and technology that presenters will need. Be specific. If you need WiFi, make sure it's available.
✓ Sample the menu. Consider including a vegetarian option and labeling for food allergies as a courtesy to attendees.
✓ Make certain to clearly communicate parking locations and any cost to attendees.
. . .
A meeting and event destination, Honolulu's diverse selection of ballroom and conference spaces inspires gatherings of all kinds.
. . .
Hilton Hawaiian Village is the perfect location for your next event in Waikīkī.
The resort boasts over 150,000 square feet of indoor and outdoor meeting space, including three independent conference centers: Mid-Pacific Conference Center, Tapa Conference Center and the Kalia Executive Conference Center. It has an audio-visual company onsite to meet all presentation needs. The very popular Rainbow Suite and Patio on the ground floor of the Rainbow Tower is one of Hilton Hawaiian Village's most popular venues. It overlooks the Duke Kahanamoku Lagoon, and its three rooms open up into one large space.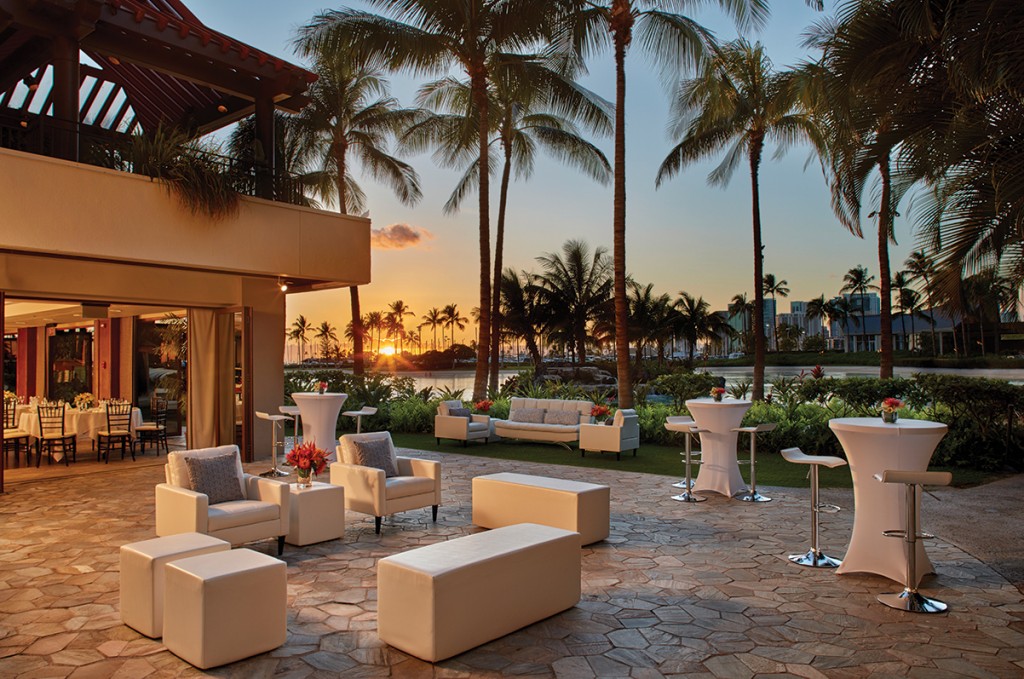 Use our Friday night fireworks to enhance your event in our Rainbow Suite or ask our catering and events team about adding fireworks to your Great Lawn event. Our team has orchestrated events of all sizes, from very large meetings to small intimate events. We even produce our own, very popular local events and have the expertise to help you create successful fundraisers, concerts, banquets and trade shows. Our banquet chefs can create any menu you desire from a delicious outdoor BBQ to a five-star plated dinner.
The Secret to Success
Hilton Hawaiian Village has six things that set it apart:
1. The largest private oceanfront lawn in Waikīkī.
2. Three independent conference centers.
3. Oceanfront Rainbow Suite and Patio fronting the Duke Kahanamoku Lagoon.
4. Friday night fireworks.
5. New Tapa Collection rooms include the Leilani Suite for intimate gatherings.
6. Experienced Event Services and Banquets team.
. . .
Dave & Buster's
Honolulu is home to Hawai'i's only Dave & Buster's location, and those acquainted with the arcade know that it's a favored venue. With newly renovated event spaces, including a new Sunset Lanai, it's the perfect area for happy hour, birthdays or team-building events. Dave & Buster's has games galore and a full-service bar and restaurant; functioning as much as a pau hana spot as it does a fun and convenient location for meetings and events.
"Our location in Honolulu is consistently a top performer within our company," says Kendra Murray, senior corporate sales manager. "We offer a great environment with the right balance of work and play."
Get in touch with Dave & Buster's to plan your next event today at (808) 589-5006.
. . .
Ala Moana Hotel by Mantra
The Ala Moana Hotel by Mantra is conveniently located just steps away from world-class shopping and dining, a long stretch of white-sand beach, and the Hawaii Convention Center. First-class amenities include nearly 15,000 square feet of meeting space, state-of-the-art audio/visual equipment, and catering services that can accommodate menus for all occasions, business or social. Our hotel's experienced Catering and Convention Services team will personally attend to every detail with creative recommendations and flawless execution. The hotel can accommodate 12 to 750 attendees for a meeting of 30 to 500 in banquet seating.
. . .
Entrepreneurs Sandbox
Kakaako's front door to innovation and entrepreneurship is open for meetings and events. The newly built facility features a three-story large format screen and state-of-the-art dual laser projection system. With more than 4,500-square-feet of event and meeting space the Sandbox accommodates groups as large as 150 in the main event space to smaller groups of eight to 40 in its conference rooms and classrooms. Amenity options include catering service by a select group of Honolulu restaurants.
643 Ilalo Street, Honolulu, HI 96813
info@sandboxhawaii.org | sandboxhawaii.org/spaces
. . .
Pōmaikaʻi Ballrooms
Less than a mile from Bishop Street, Pōmaika'i Ballrooms is the premier venue for your event because you get the Waikiki caliber of service without the high Waikiki prices. Plus, there is ample free parking! Hawaii Business knows the value of Pōmaika'i Ballrooms, which is why it holds its C-Suite Speaker series here. There is over 25,000 square feet of impressive event space to fit your event's needs: lobby, lounge, hospitality suite and two main ballrooms that can divide into several smaller rooms. Pōmaika'i Ballrooms can accommodate intimate groups of 25 to large parties of 1,000 people. Chefs Freddie Billena and Edward Ayau bring decades of culinary expertise and local-style flavors to the full-service Pacific Rim inspired menu. The catering team at Pōmaika'i Ballrooms can customize any menu to fit the style of your event, or take advantage of the popular wedding, graduation party or meetings packages.
Take a digital tour of the space or book your event at www.pomaikaiballrooms.com.