Starving for New Experiences?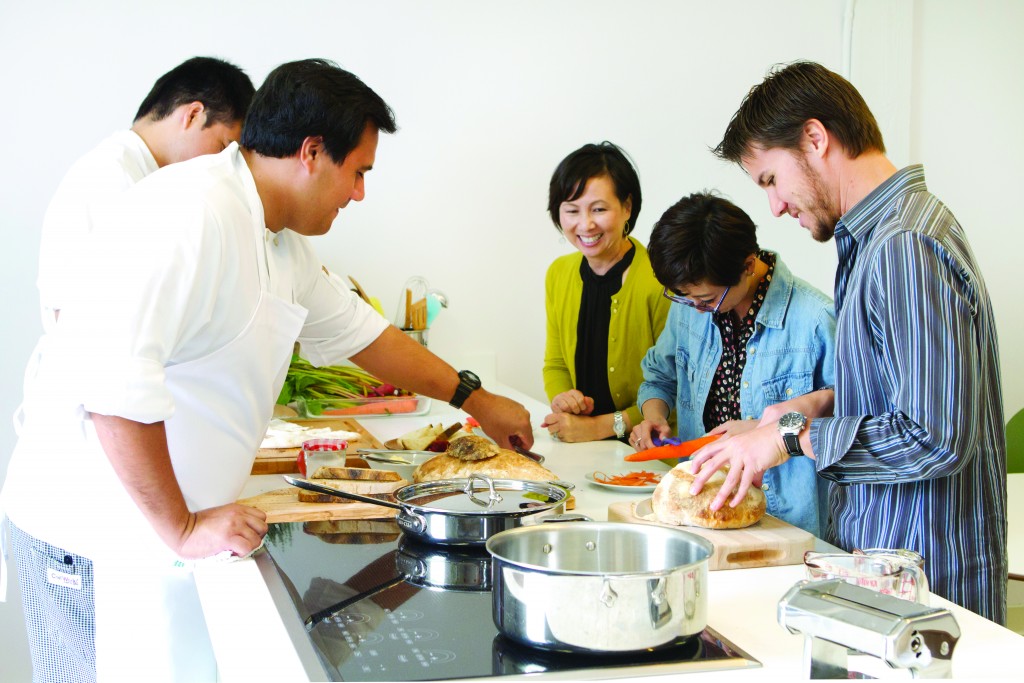 When conjuring up interesting pau hana activities, cooking may not come to mind first. But CookSpace proves you can burn off steam (literally and figuratively) and have fun, whether you're a novice cook, a top chef wannabe or just enjoy pairing food and drink.
CookSpace is an interactive cooking studio with live culinary activities ranging from private and corporate events, to classes for cooks of different ages and skills. The idea was cooked up in 2013 by the foodie minds of Melanie Kosaka of ShareYourTable.com and Good to Grill owner Jason Kim.
The details in the 1,000-square-foot space on the second floor of Ward Warehouse – from the painted yellow doors to the open shelving – make it feel like a friend's kitchen. "I wanted it light and bright and airy. … I think people eat first with their eyes, so I wanted to set the tone of good feeling when they come in," says Kosaka.
Many people are so overworked and overwhelmed in their lives they feel too tired to cook something special at home. But, Kosaka says, "While we're more time pressed, we're also more starved for real experiences."
Some of the experiences she has served: a class in knife skills, a Hawaii farm-to-table private event and her ongoing "Find Your Match" series, which teaches the art of pairing wine and cheese, and sake and sushi. A future "Match" class involves sausage and beer pairing by San Francisco sous chef Grant Cotner. CookSpace is also gearing up for the holidays by offering mandoo, dumplings, and jam and jellies classes.
Kosaka's intention is to make cooking accessible to all. "Our mission, what drives us, is that good things begin in the kitchen," she says.